52.2km as the crow flies. 67.3km train route kilometres.
Those are the distances between Wissembourg (Bas-Rhin, Alsace, France) and Strasbourg (Bas-Rhin, Alsace, France).
And I want to travel between the two by train after dinner on Saturday 21st October. Fair enough, surely? France the country of good food and wine and all that.
No, it doesn't work.
Here are the evening train times on that Saturday: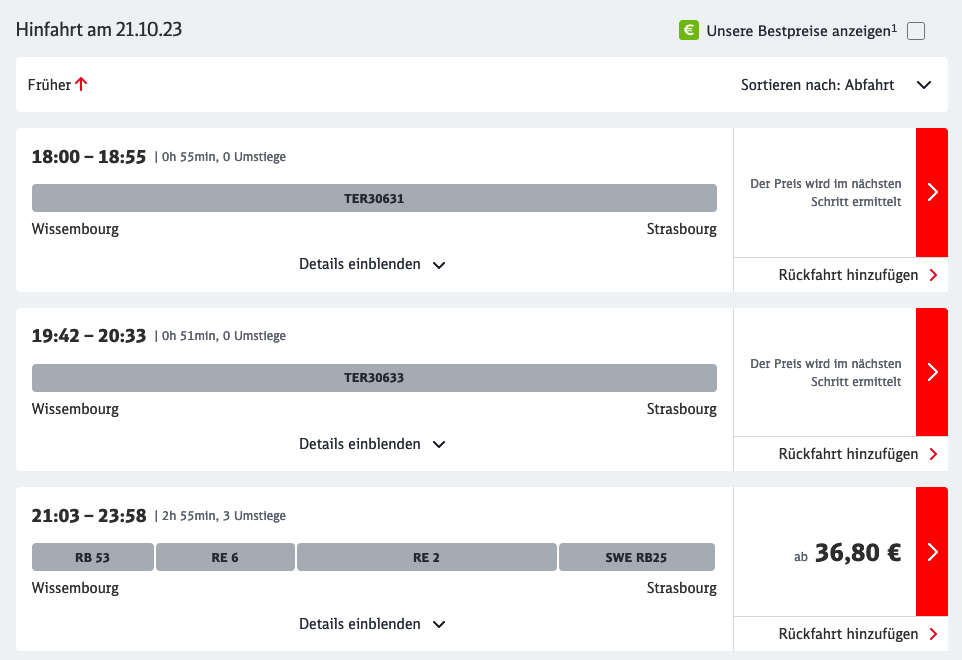 The last train, French side, goes at 19:42. And that's not just the last train to Strasbourg, it is the last train into France that evening, full stop.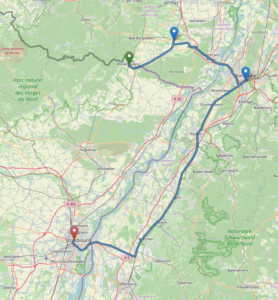 Oddly there is a later train – at 21:03 to Germany, towards Landau(Pfalz). Taking that one, and changing in Winden(Pfalz), Karlsruhe Hbf and Appenweier gets you to Strasbourg at 23:58. Total route-kilometres – 129.
But ah you may say, no one wants to go out to dinner in Wissembourg, but they might in Strasbourg. But the timetable there is little better – the last Strasbourg-Wissembourg train departs at 20:05, arriving 21:01.
Want a night out on a Saturday in Alsace?
Buy a car.
Oh but don't drink and drive of course…