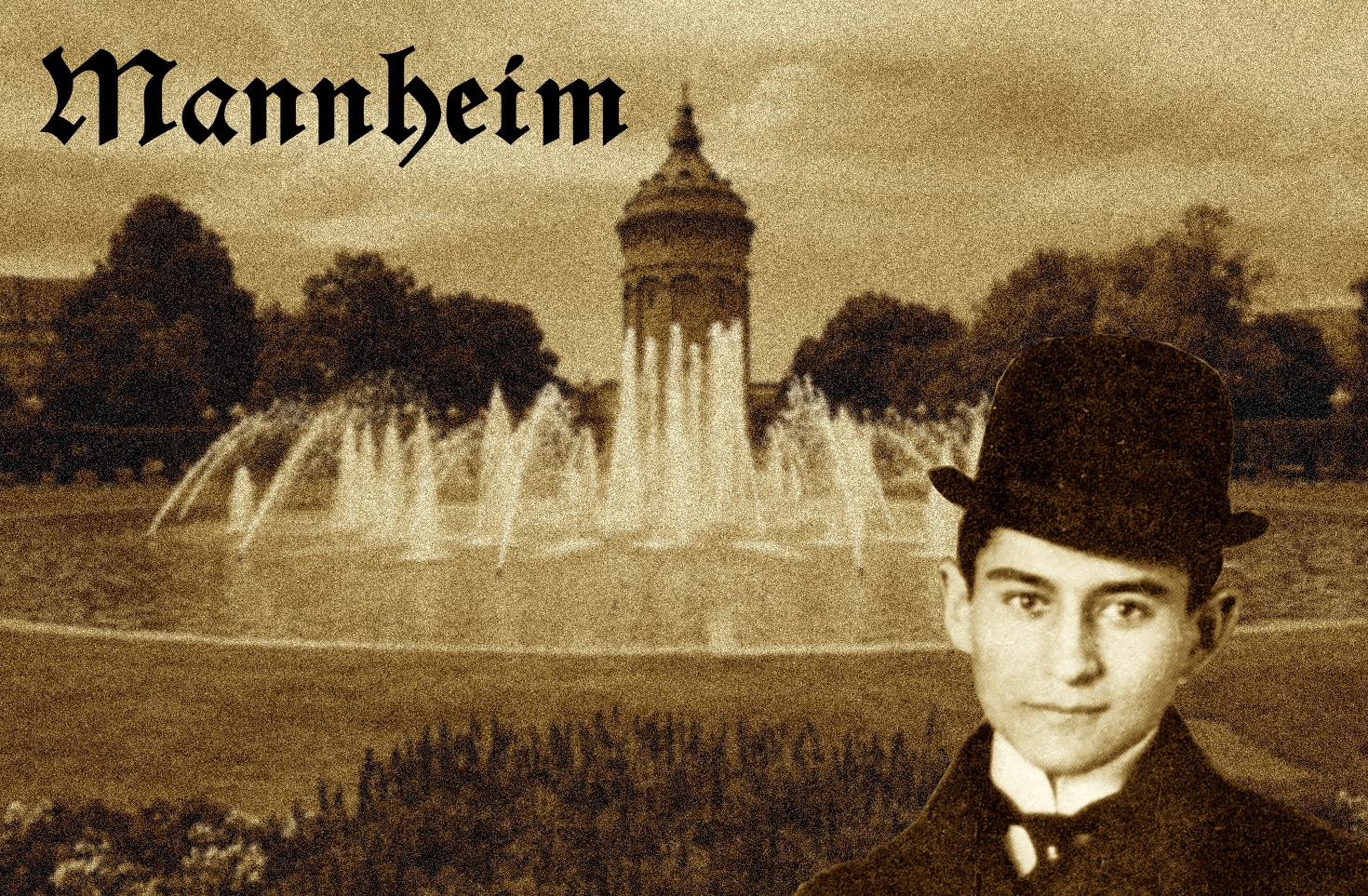 Dear Violeta,
Since my postcard from Forst (Lausitz) in December I've travelled the length and breadth of Germany by rail (even stopping off to hear you speak at the Schwarkopf Stiftung in Berlin), and today I am sending you a virtual postcard from Mannheim.
I have no idea whether Franz Kafka ever travelled to Mannheim, but the situation I faced there when on a trip from Paris to Berlin by rail was positively Kafkaesque.
I had a Deutsche Bahn ticket for the Deutsche Bahn train ICE 9551 (Paris Est – Frankfurt Hbf), changing at Mannheim onto a further DB train to Berlin. Yet for unsubstantiated reasons, ICE 9551 was delayed in France – they even parked us on a side track for a while to allow TGVs to overtake. Yet as passengers we had no idea what was going on. The train manager only made an announcement there was even a problem a full 20 minutes after the timetabled time to arrive in Forbach. As the delay rose so my fellow passengers and I worried about our connecting trains. No guard or train manager had been seen in the train since somewhere just outside Paris.
So, fearing the worst, I set out to find the train manager, who had stationed himself in the restaurant car. Why, I asked him, have you not come and explained to passengers what is happening? Why have you not helped passengers deal with missing connections? He shrugged his shoulders, and pointed to his colleague "That's his responsibility" he said.
The problem of course is that the employee who shrugged, and was the train manager, works for SNCF, and the junior colleague towards whom he pointed works for DB. This train is run by a DB-SNCF cooperation known as Alleo.
There's no competition here, Violeta. What do you think about that? The EU's biggest rail companies are supposed to be partners.
The problem is when it comes to making a complaint.
I was not going to let this issue lie. So at Mannheim (with the time to spare because I had missed my connection), I contacted Deutsche Bahn using this form. Their response, the following day by e-mail, was that there was nothing they could do because the employee in question works for SNCF. Complain to SNCF they said. So I try to complain to SNCF with this form, but because my ticket had a Deutsche Bahn ticket number, SNCF's form refused to accept the complaint.
So back to Deutsche Bahn I went, explaining the predicament, and a friendly employee called me. Have you looked at Alleo's website he ventured. Yes – it's under construction and unusable! (screenshot here, URL of the site) We'll forward the complaint for you was the further vague answer.
So how is this for rail collaboration between the EU's two central, founding Member States? It seems the collaboration is geared up in the interests of the companies, and not the passengers. Don't you think, Violeta, that if I pay good money to travel by train I could at least be entitled to some decent information, and a clear way to complain if something goes wrong?
Anyway, safe travels!