In the summer of 2021 I made a trip from Berlin to Beograd, Serbia (this blog post resulted from the trip) – with as much of it by train as possible. At that stage Budapest-Kelebia-Subotica, and Subotica-Novi Sad were both possible by train, but Novi Sad-Beograd had not been re-opened after rebuilding (I had to take a bus there).
Since then the situation has reversed. The new 200km/h Soko train runs between Novi Sad-Beograd, but Budapest-Kelebia-Subotica and Subotica-Novi Sad are closed for re-building. And that has hit all sorts of problems on the Hungarian side, with the Chinese contractors downing their tools in September. When taking a train on the most direct route between Budapest and Beograd will be possible again is currently unknown.
But starting 28 November 2023 there is a potential alternative rail route – via Szeged, Subotica, Sombor and Novi Sad. Telex covers the news here, and a well connected friend of mine in Hungary considers the news legitimate.
The Szeged-Röszke-Horgoš-Subotica cross border route was in a dilapidated state, and was closed in 2015 at the start of the refugee crisis. The cover picture above shows the state of the rebuilding in the summer of 2022 when I was in Szeged, and now it is due to re-open. There is a detailed report on Drehscheibe Online with photos from October 2023.
This means the route shown here in green should be possible, and the former route currently closed is the dotted red (my additions, underlying map is OpenRailwayMap):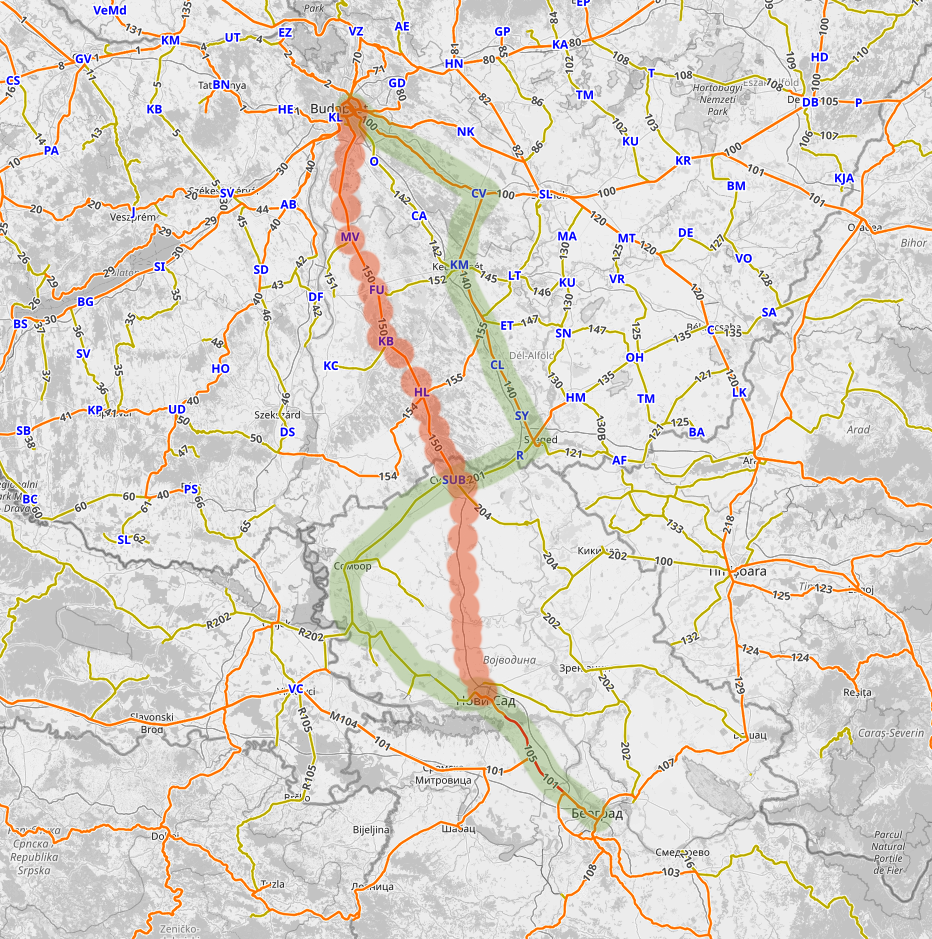 We now have the full schedules for the train service on the route. There will be 5 trains each way, each day, and the times are available in MÁV's timetable tool. For the moment Srbija Voz only lists the times from Subotica to the border station Röszke (Roeszke in their search), and international travel planners do not show the train at all at the time of writing – so you need to rely on MÁV's site for now. The full timetable as a PDF is here. There is also some more detail about the connection, machine translated from Hungarian here. There is only 30 minutes allocated for border controls in the timetable – and this will all be done jointly at Röszke. I hope this does work as planned, but I would not entirely count on it on a busy summer day with the train filled with Interrailers!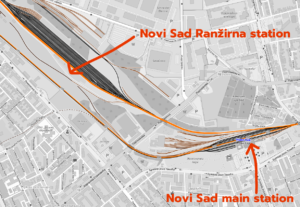 On the route to Belgrade there is also a temporary problem in Novi Sad where the trains from Subotica can only reach Novi Sad Ranžirna and not the main station. But as this map shows, these stations are very close to each other – and Srbija Voz promises a shuttle bus between them (click to enlarge map).
Timetables for all of the other components of the route are known – from Srbija Voz and MÁV Start. So this is how it might work if you absolutely want to attempt this route in late 2023 or in 2024. Also Interrail ought to be valid on all of it as well – although with reservations needed for MÁV ICs Budapest-Szeged in Hungary, and Soko Novi Sad-Beograd in Serbia.
So this is – roughly – how it all could look! Handle with care, and check before you travel!
Budapest-Beograd
D. 05:53 Budapest-Nyugati
IC/Gy 700 – MÁV – Compulsory Reservation and supplement for Interrail only in the air conditioned IC part of the train, rest can be used without restriction
A. 08:15 Szeged
D. 08.58 Szeged
Re 7303 – MÁV and Srbija Voz
A. 10:24 Subotica

D. 14:56 Subotica
Re 25413 – Srbija Voz – Included in Interrail, no reservation needed
A. 18:56 Novi Sad Ranžirna
(Shuttle bus D. 19.05 to Novi Sad main station, takes 5 minutes)
D. 19:30 Novi Sad
Re 2423 – Srbija Voz – Included in Interrail, no reservation needed
A. 20:27 Beograd Centar
Beograd-Budapest
D. 08:09 Beograd Centar
Soko 540 – Srbija Voz – Compulsory Reservation, Interrail supplement needed – buy at ticket desk
A. 08:45 Novi Sad
(Shuttle bus D. Novi Sad main station 09:20, takes 5 minutes)
D. 09.39 Novi Sad Ranžirna
Re 25410
A: 13:32 Subotica
D. 13:37 Subotica *
Re 7302 – MÁV and Srbija Voz
A. 15:02 Szeged

D. 15:45 Szeged
IC/Gy 713 – MÁV – Compulsory Reservation and supplement for Interrail only in the air conditioned IC part of the train, rest can be used without restriction
A. 18:07 Budapest-Nyugati
* – this is a really tight connection. Departing Subotica at 16:37 also works – arrival Szeged 18:02 and Budapest 21:07
[UPDATES]
14.11.2023, 12:11 – Added link to the Drehscheibe Online report, and that linked to Röszke trains from Srbija Voz, so the possible timetable has been updated partially.
14.11.2023, 12:50 – If you take a non-air conditioned carriage on the Budapest-Szeged train, you do not need a supplement. Thanks Wrzlbrnft. Blog post now amended.
27.11.2023, 21:00 – timetables now published, so blog post updated accordingly