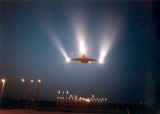 I'm sat writing this at Stockholm Arlanda airport; I'm stranded here all day today as my flight to London was cancelled due to a technical fault with the aircraft. It's my last visit to Stockholm for some time, and I will not be flying anywhere for the next 10 weeks – quite a relief. Yet as the autumn fog swirls across the airport outside, so a kind of foggy confusion reigns in my own mind.
I still have the same job and live in the same city, but other than that the next few weeks are quite a blur. Helena will move from Stockholm to London on Thursday, I'm out of my flatshare and into a new flat in Walworth and have already had problems of a water leak in the first week there. Politically I am leaving Vauxhall and Kate Hoey's mad brand of politics behind me, but will Harriet Harman and Camberwell & Peckham Constituency give any more joy? Might I manage to finally make a breakthrough and so some decent website or communications work for the Labour Party? Or am I just going to be resigned to fixing servers for obscure NGOs based in Berlin?
Who knows how all of the next few months will go. Being used to a full diary, and a full travel schedule, it's bizarre to face the next few weeks without any plan more advanced than spending each day in the office.