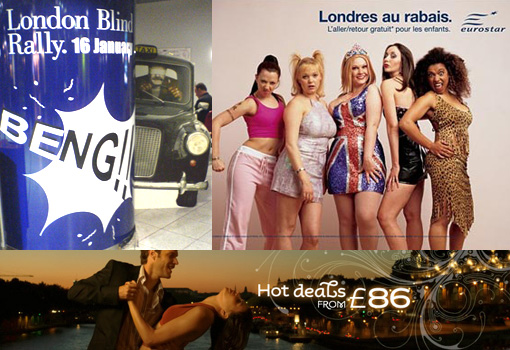 I'm a big fan of Eurostar, the highspeed rail service between London and Paris / Brussels. It's efficient, reliable, and so much better than flying. Further, thanks to the recent security problems at UK airports, the company is doing excellent business. But what about their advertising?
However my journey to Brussels this weekend as led me to wonder what Eurostar is trying to do with its advertising campaigns. Across Belgium there are a series of very strange advertising campaigns similar to the top-left image here – entitled "London Blind Rally – 16 January" encouraging people to go to London before it happens. Is this supposed to be funny? Are they having a joke at blind people's expense? Or are they (in Belgium!) saying that London taxi drivers drive badly? I'm confused and quite possibly offended.
This approach in Belgium is very much against the line taken in the UK where Eurostar's advertising is smart and smooth – like the lower image here – with the slogan "You carry your journey with you". Are they just trying to appeal to a different type of traveler departing from the UK?
I've also included the most famous ad made by Eurostar (top-right image) – from 2005 in France, making fun of the Spice Girls. No comment!
[UPDATE 11.12.07]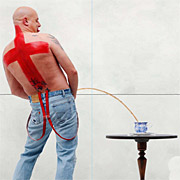 Eurostar have surpassed all of that in Belgium now with an advert that shows a skinhead urinating in a glass. Now that might be the sort of thing some British people tend to do, but is it the way an up-market rail service should do its marketing? Anyway, as a rail service Eurostar is fab in my opinion and a dodgy advert like this is not going to change that for me.