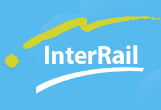 Knowing how much I travel by train some friends have rather flippantly said I would be better booking Interrail tickets for my trips than the individual tickets separately. So with a trip København – St Malo, and then Par – Trieste – Brussels – København, and a week later København – Paris – Brussels – København to plan, I thought I would have a look. I was quite stunned by what I encountered, conscious that I have three times in the distant past – in 1999, 2000 and 2004 – travelled Europe on Interrail.
The prices of the passes seem reasonable enough – starting from €181 for an all-zones pass for under-26, and €276 for over-26. My only slight quibble is that passes for a few countries (I seem to recall that Morocco, Portugal and Spain used to be in a zone, and all of the Balkans in another zone for example) now are not available – you book either a global pass, or a 1-country pass, with nothing in between.
The real shock however is the cost of reservations, particularly on international services. The full list is here for national services, here for international, and here for night trains. A reservation on Thalys, for example, for Paris-Brussels is €30. A cheap off-peak single regular ticket is cheaper than that! Eurostar is similar – €43 for a youth reservation, €89 for over-26. I am used to paying around £40 per single journey for a regular ticket! Yes, for some routes there are alternatives – taking a TGV via Lille instead of Thalys for example – but with much of France now served only by high speed trains, and the importance of high speed in Italy too, taking Interrail in these countries looks like a very expensive proposition, let alone routes between these countries.
Also for my trip I investigated taking the Thello night train from Venice to Paris, and it seems Interrail is not valid at all on this service, nor is it possible to use Westbahn in Austria or HKX in Germany. OK, these services compete with other operators (although Thello has a monopoly on France-Italy night trains, and an Interrail reservation on the TGV Paris-Milan is €55!) but could acceptable of Interrail not be made a condition of any operating license granted?
Yes, I understand that railways need to be profitable, and yes – within reason – I am fine with competition in rail as well, and some diversions onto slow trains might be OK too. But thousands of young Europeans have been introduced to more unusual parts of the continent, and the joys of travel by rail, thanks to the Interrail pass. It's surely high time to make sure some of these exorbitant fees are reduced, because otherwise the joy of turn up and go Interrail is gone.