This blog entry was published on 2nd November, and remains intact below. However, two things have happened since then. First, the Eckwersheim Derailment has led to the suspension of all TGV tests, and will mean the part of the LGV Est that the Brussels-Strasbourg service will use will not open on time – hence all plans for after April are now to be called into question. Second – and after the derailment – DB has added Brussels-Strasbourg TGVs to its timetable, even though those will not run – or at least not run according to the timetable – see screenshot: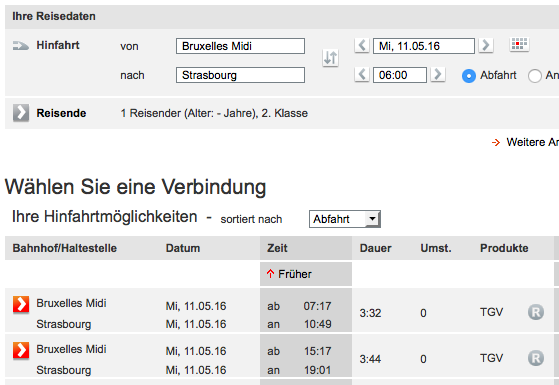 So – in short – we currently have no idea what's happening. I'll update this post further as and when more information emerges.
Another blow for Strasbourg: no more direct Brussels-Strasbourg trains from 3rd April 2016 (and no TGVs either!)
In recent years it may not have been the most glamourous service, but 2 direct trains a day connected the three capitals of the EU – Brussels to Strasbourg, via Luxembourg. This is the DB Reiseauskunft search for 2nd April 2016 (note 0 changes – just the classification of the train changes at the border):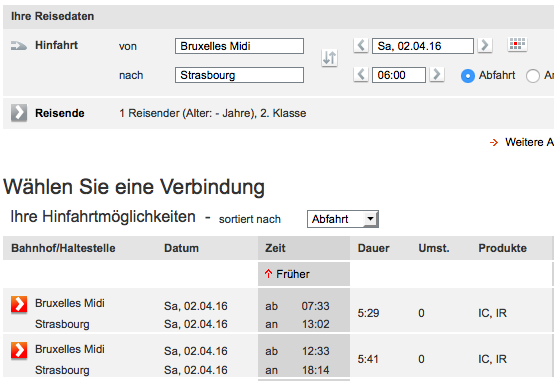 Yet from 3rd April 2016 (also as reported by World Carfree Network) these services will cease – the same search on 3rd April gives an error:

The idea was that the direct, but slow, service via Luxembourg would be replaced by a faster TGV, routed via Charles de Gaulle Airport on the edge of Paris instead. 3rd April is the day this changeover should happen as it is the day the 2nd part of the new Paris-Strasbourg LGV Est line opens. The promised 2 direct TGVs Brussels-Strasbourg are indeed still promised on SNCF's page about the LGV Est (just above the network plan here), and a PDF of a supposed timetable has been sent to me via Twitter.
However these TGVs do not show in timetable searches.
Could this be, people wondered on Twitter, simply that data is not available for the period after the timetable change?
The problem for people arguing that is that other new or amended services, using the new LGV Est line, do already show for the weeks after 3rd April. I took two example routes – one national (Paris Est – Strasbourg) and one international (Paris Est – Stuttgart) that both use this line, and also ran a full search for Brussels – Strasbourg as well, and include all screenshots of these searches below. Each search was run with DB Reiseauskunft for Wednesday 20th January, and Wednesday 11th May, and all searches were conducted on Monday 2nd November 2015. All trains are shown for Paris-Stuttgart and Brussels-Strasbourg, but only early morning services for Paris-Strasbourg (there are too many services to show them all on one screen). You can see in case the time reductions due to LGV Est being put into service, but the absence of the promised Brussels – Strasbourg direct services. Just to make sure this was not a DB-SNCF issue, the a search was run with Voyages SNCF as well, and the direct services do not appear there.
Simon Field also confirms (see here, here) that in Today's Railways Europe, Issue 239 (November 2015):
However, plans for a new through service met with disagreements. So from 3 April 2016 passengers from Brussels to Strasbourg will need to change from an SNCB IC to a TGV in Luxembourg
Now, with 6 months before these services are due to run, things could yet be sorted out. But as it stands it looks like there are not going to be direct Brussels – Strasbourg TGVs as promised.
(please note: this blog concerns regular TGV or Thalys services – the special Thalys laid on for MEPs will still run during Strasbourg EP weeks as far as I know)
Timetable search screeshots
Brussels – Strasbourg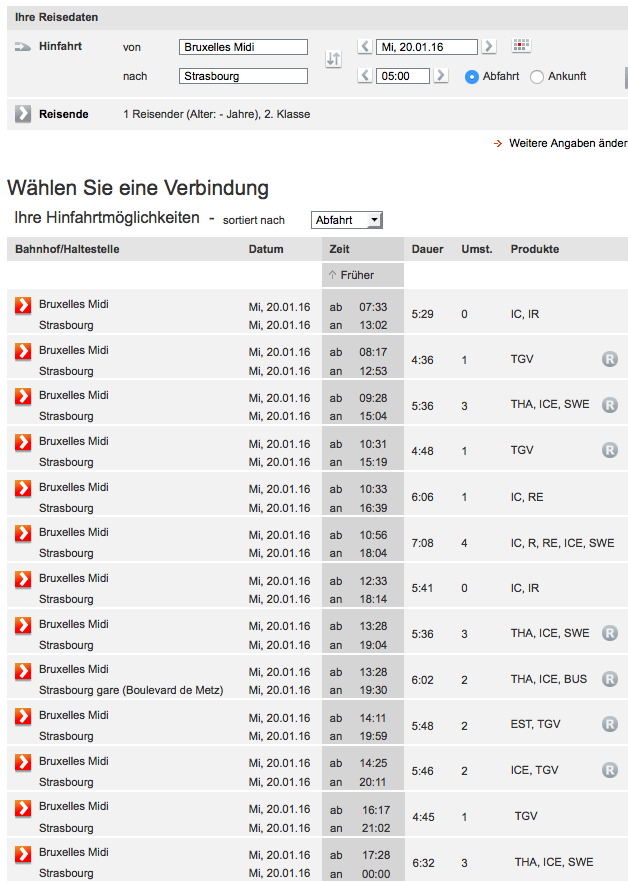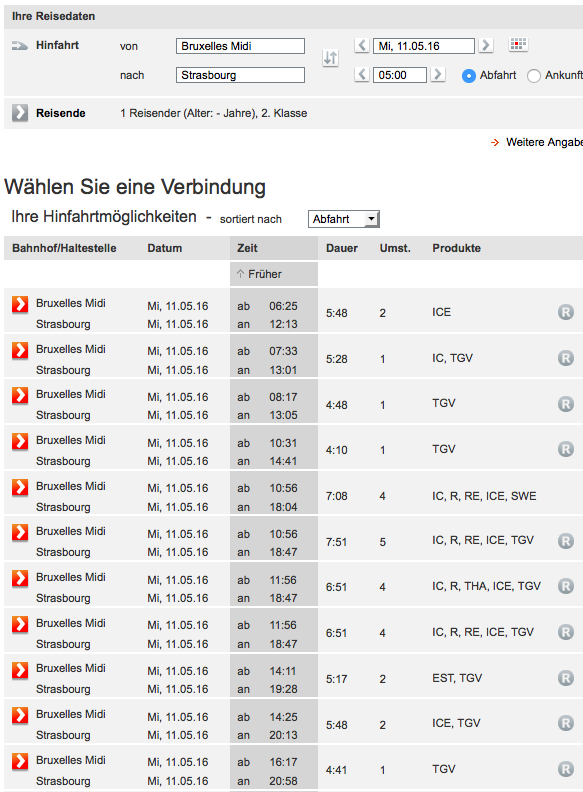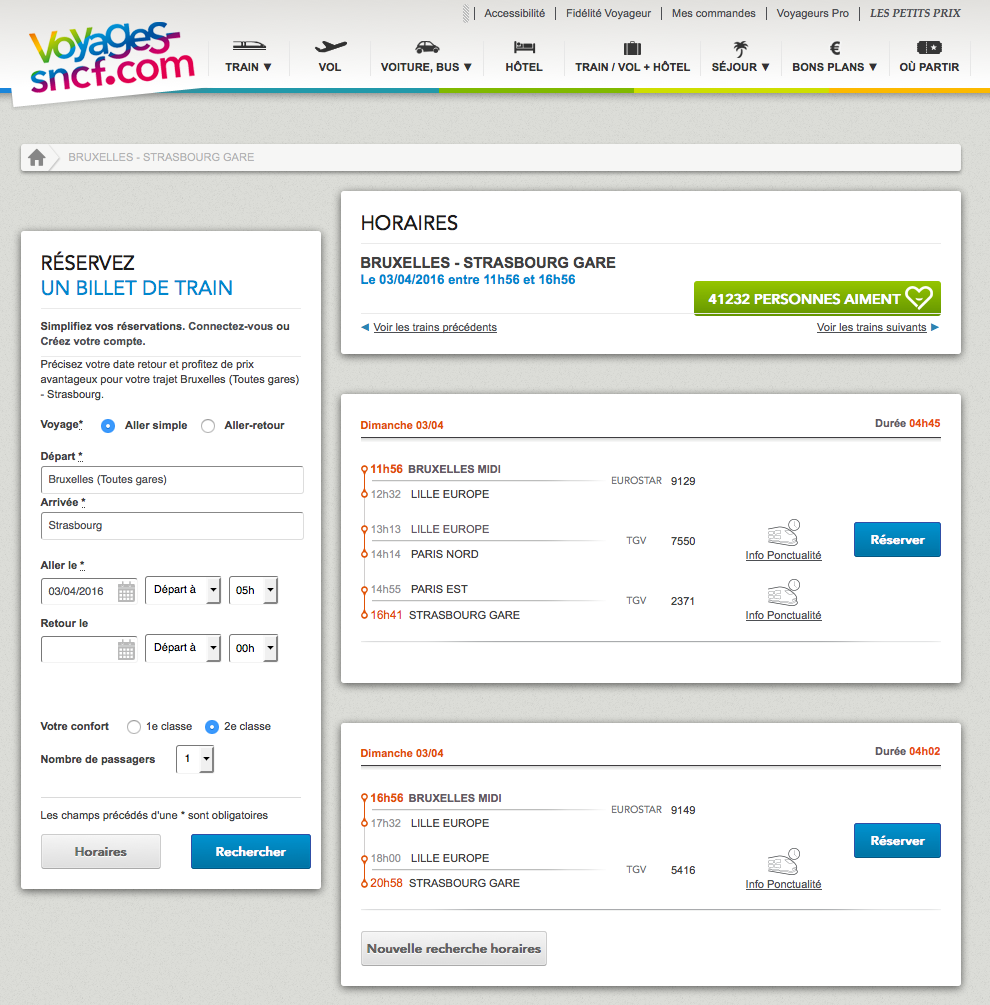 Paris – Strasbourg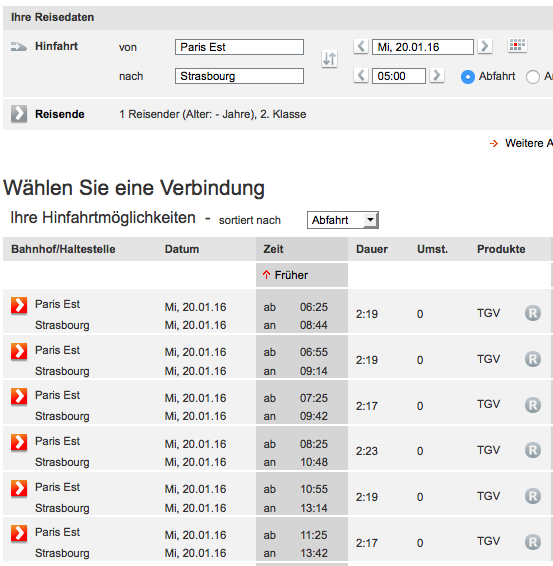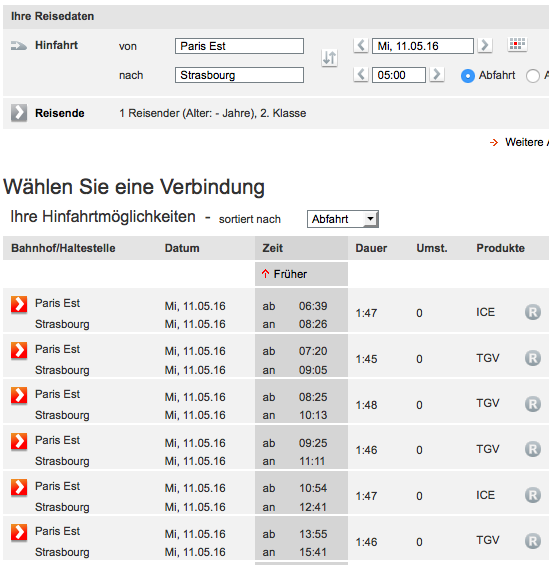 Paris – Stuttgart