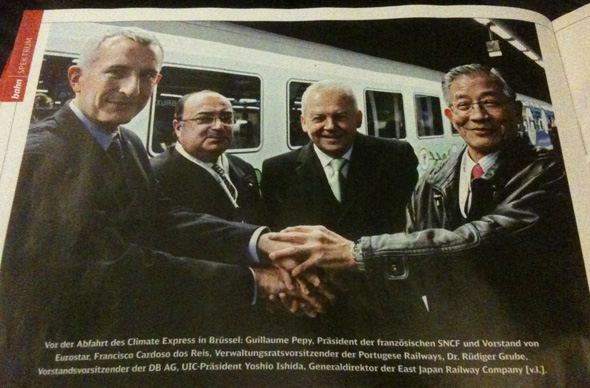 In the January edition of 'Mobil', the magazine of Deutsche Bahn there's a picture of Guillaume Pépy (head of SNCF), Rüdiger Grübe (chair of the board of Deutsche Bahn) and Yoshio Ishida (president of UIC) beaming at Gare du Midi, Bruxelles, in front of the Climate Express, a special day long train organised in December to transport climate conscious politicians to the UN climate summit in Copenhagen.
The train was even organised by Deutsche Bahn Charter and wow, what a wonderful bit of publicity for the railways! Look at how green everyone can be by taking the train!
Stop. Just stop. The shameful double standards here are laughable, and not least because Ishida works for East Japan Railway Company and probably flew to Brussels to be in the picture…
No, the real shame is that this special is about the only genuinely long distance service to leave from Brussels. Try getting to Copenhagen on a regular service and it needs a change in Köln and in Hamburg, and a boat from Puttgarden to Rødby.
Longer journeys are better overnight, but apart from an irregular ski train for a few months a year there are no night trains from Belgium at all – nothing since the very same Deutsche Bahn stopped running the Paris – Berlin / Hamburg train through Belgium in December 2008. The reason then was a dispute between DB and the Belgian SNCB about rates for access to the Belgian network, a dispute that does not look like it has been resolved.
Try the daytime trains and it's a little better, at least just into Germany. Here there are at least some services – 8 Thalys services a day from Paris Nord to Köln via Bruxelles Midi, and 3 ICE services from Bruxelles Midi to Frankfurt/Main Hbf via Köln. Apart from 30km or so between Aachen and Düren the high speed line between Bruxelles and Köln is now more or less complete.
So it's all fine? Of course not.
The Thalys PBKA railsets, essentially TGVs designed by Alstom, are allowed to operate at 300km/h in Belgium, but only 200km/h in Germany, and have no clearance at all for the Köln-Frankfurt HSL. For the Siemens made ICE3s it's the inverse – max 250km/h in Belgium (SNCB cites the danger of flying ballast and downforce), 250km/h on Köln-Aachen and 300km/h on Köln-Frankfurt. Seriously, what the hell is all of that about?
OK, when things work the service is reasonable, but how much government money has been invested in those lines which no train can used to maximum speed along its whole length?
Then try it when things go wrong – as they have quite a lot recently – and things get even more laughable. I turned up at Gare du Midi to take the 0725 ICE to Köln on Saturday 16th January. I get to the station and I'm told the train is cancelled. No ICEs to Belgium at all for the first two weeks of January due to bad weather the guy informs me at the ticket office, although by 16th January most snow had gone in Belgium. "Deutsche Bahn doesn't have enough trainsets at the moment, so they are keeping the ICEs in Germany" he told me – not sure if this is the true reason but it's illustrative that a SNCB employee even says it. If this is true, is it profit driven – DB makes more cash from domestic services – or it's that they are more fearful of reputation damage of FAZ or Süddeutsche has a go at them than if Le Soir does? Interesting and annoying in any case.
Anyway, what else can I do I ask the guy? "Well you should have checked your train was running before you left home" he says, typical Belgian approach to customer service. Hold on, I booked via the net, DB has my e-mail address, has known for 10 days my train will not run… yet no communication. Eurostar revisited.
So then what? You're lucky the guy tells me, there's a Thalys in half an hour, and this time you will be allowed to board it. This time I'll be allowed to board it? Yes, there are some free seats he tells me, normally you would have to take an IC to Liège, a regional train to Aachen, and then a regional train to Köln. What a prospect!
Yet Thalys and DB are both members of Railteam, a get-together of 6 high speed rail companies that are supposed to together promote high speed rail. DB cannot get its act together to organise a replacement train, even from Aachen (powered at 3kv DC, so open to Belgian locomotives – why not redirect a 200km/h Eupen bound IC train with Class 13 locomotive to Aachen..?), and Thalys is refusing to take DB passengers as a matter of course. Seriously, what is the point of Railteam then? Strikes me it's more like Railmutiny. Compare that with DB's approach to replacement trains in Germany – 200km/h ICs replace ICEs – and it all looks highly negligent.
To cap it all there was a major signalling problem at Aachen on the day I travelled, so the Thalys only managed to get to Welkenraedt and from there someone (DB? SNCB? Thalys?) managed to hire a couple of city buses to take us on towards Köln. Of course it took 30 minutes before the buses left, we were all on foot for 80km or so in a city bus on the German autobahn, and the promised destination – Köln – was not Köln, but Horrem, a suburb with a S-Bahn station.
Rather unsurprisingly the Thalys employees had scarpered off the buses faster than their trains can run, so I actually was the one who directed passengers to the trains – as a responsible trilingual rail nerd I worked out fastest which RegionalExpress would get us swiftly to Köln…
Yet again this is Eurostar revisited – if there is a problem, what are the procedures? No-one seemed to know, and for sure no-one wanted to inform the passengers what was going on or take responsibility for anything. They had even told us to get off the Thalys at Liège, only to then tell us to get back on again and go as far as Welkenraedt.
I suspect there's even more to this whole saga than the rudimentary stuff I can determine here through persistence and logical thinking, and somehow it strikes me that the whole liberalisation of European railways into the next decade is going to inevitably just lead to a big scrap between SNCF and DB, just as airline liberalisation has forced consolidation of the airlines. Is not as if passengers were served especially well by the old monopolies when it came to international travel but we have some way to go until a new, and hopefully better, equilibrium is established.
Last but not least, the Community of European Railways (CER) is looking for a communications officer for its Brussels Office. Shall I make an application? 😉