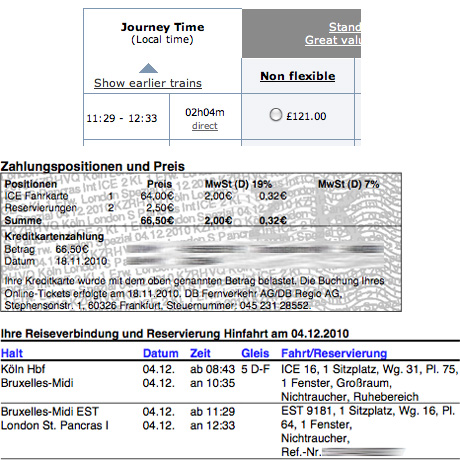 Above are screenshots taken within the last twenty minutes (i.e. between 0900 and 1000 on 18th November). The first is for prices for a ticket between Bruxelles Midi and London St Pancras, second class, non-flexible, for the morning of Saturday 4th December. The second is from the ticket I booked – Köln Hbf through to London, changing in Bruxelles Midi onto the very same Eurostar on the same day. DB prices are from their website, and Eurostar prices are from Eurostar.com. All this follows the complications of the outward journey that I've blogged about here.
The shocking thing is the price.
Köln-London is €66.50* and Bruxelles-London is £121 (€142.38). Even if the Eurostar ticket were part of a return journey it would still be £86.50 (€101.79). The inflexible through ticket from Köln is less than half the price, AND includes the extra journey from Köln to Bruxelles!
So if I want to book cheap single tickets from Bruxelles to London, should I at the same time consult DB to see if their options are cheaper, and simply disgard the Bruxelles-Köln part? Will that even work, as the barcode on the DB ticket is different to a regular Eurostar barcode? Whichever way something is very odd here, and I'll report further once I've taken this trip in December.
* This price contains a BahnCard 25 reduction. Without BahnCard the price is €69.00 – i.e. BahnCard reduction seems to not apply to Eurostar.