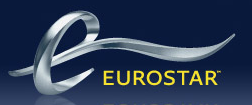 I'm a regular traveller on Eurostar, and I often travel onwards from Brussels to Germany by train, so much in fact that I am used to booking tickets of DB's website. In the past I happened to discover that through tickets from Germany to London were cheaper than tickets booked from Belgium to London. It seems DB is muscling in on the Eurostar business before liberalisation of the channel tunnel is due in 2013.
Here then is a guide to how to get the cheapest Eurostar tickets on the London-Brussels route, using DB's website rather than Eurostar.com. The standard price is €49.00 single, sometimes a saving of 50%.
NOTE: there's a worked example at the end of the post.
You need to book tickets from London to Germany, or Germany to London, on trains via Brussels. Your best bet is to look for connections to or from Aachen Hbf, the first main station after the border with Belgium.
Start first by working out what Eurostar trains you want to take, at which times and on which dates. You can do this using Eurostar.com or DB Reiseauskunft (also available in English). Don't worry about the prices of these tickets, just concern yourself with the times and dates. Keep these window(s) with the train times open. Note that the price of the Eurostar leg does not determine the price of the total ticket.
Next work out the train connections between Bruxelles Midi (the Eurostar terminus) and Aachen Hbf, using DB Reiseauskunft. You need to look for ICE trains only (not Thalys), and you can break your journey for up to 48 hours in Brussels. In other words find an ICE that leaves from Brussels to Aachen less than 48 hours after your Eurostar will arrive, or an ICE that arrives in Brussels from Aachen less than 48 hours before your Eurostar leaves. You need to find ICE trains that offer you a price of €19.00 for this connection. If you're offered higher prices your total price to/from London will also be higher. The price of the whole ticket is determined by the price of the Brussels-Aachen part, so seek out that €19.00 ticket! Keep these windows open as well.
Then put the two parts together, booking using DB Reiseauskunft. Make your starting station London St Pancras International and your end station Aachen Hbf (or vice versa) and – the important part – click 'enter stopovers' (Zwischenhalte angeben) and enter Bruxelles Midi. Enter the total amount of hours and minutes needed between the two legs of the journey, making sure that your Eurostar will connect with an ICE and not with a Thalys (or ICE connect to a Eurostar).
This should give you €49.00 as the price for a single ticket, plus a €2.50 charge. This can then be booked off the DB website with a credit card, with a PDF file produced that you can print at home. These tickets do not work in the automatic ticket gates for Eurostar – you have to go to the desk beside the gates to get a boarding ticket.
Of course there is no need to actually take the Brussels-Aachen leg of the journey.
If you have a BahnCard25 you can save an additional €5, making the ticket €44.00, plus a €2.50 charge.
What are the downsides? First, if you're booking really long in advance, Eurostar.com might be a fraction cheaper. This trick works best for trains booked a month or so in advance. Second, it works only for tickets that cannot be exchanged. Third, you don't earn any Carte Blanche points. Fourth, you do not get to choose your seat in Eurostar (although you can probably ask the people nicely at the terminal!)
Anyway, as the explanation above is not too simple to follow, here is a worked example. Click each screenshot to view it at full size.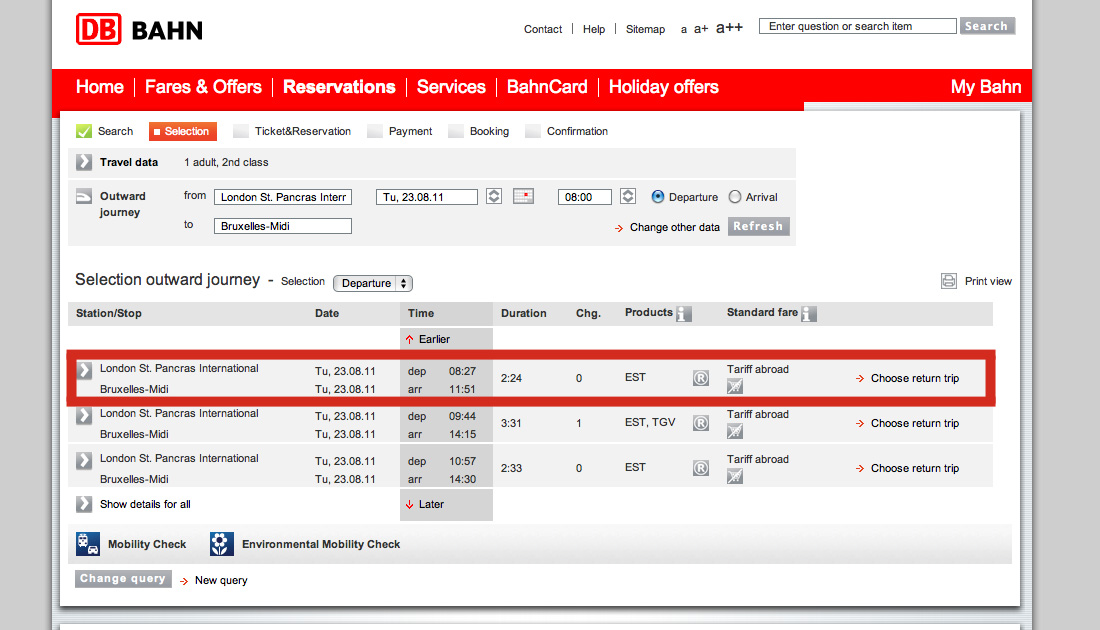 The train I want to take – the 0827 from London – is highlighted.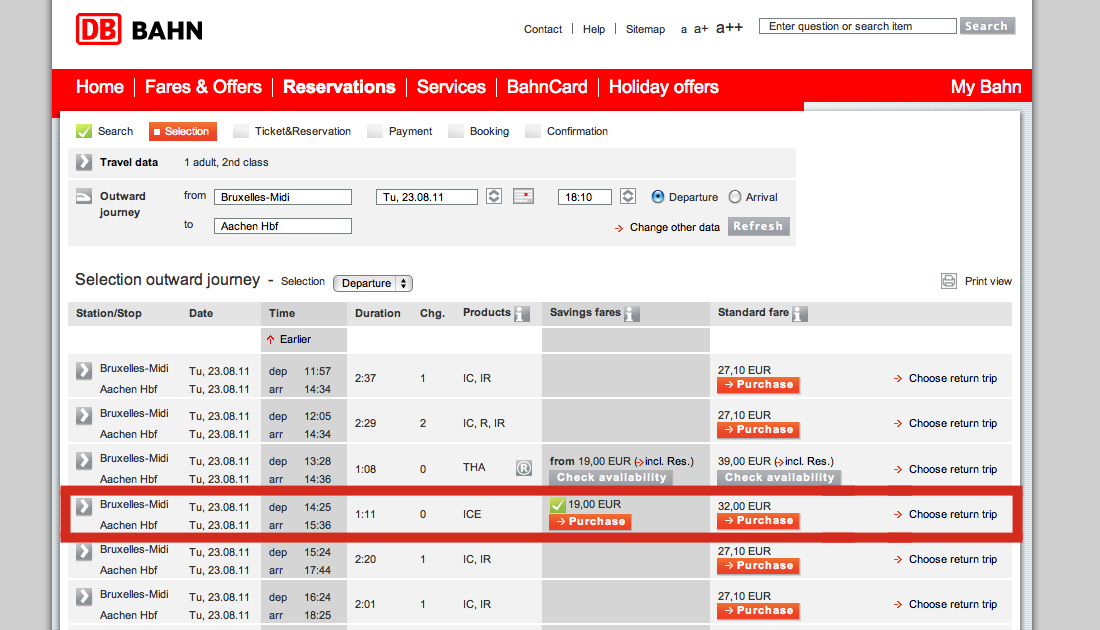 The next available ICE at €19.00 to Aachen leaves at 1425, a little over 2 hours after the Eurostar arrives.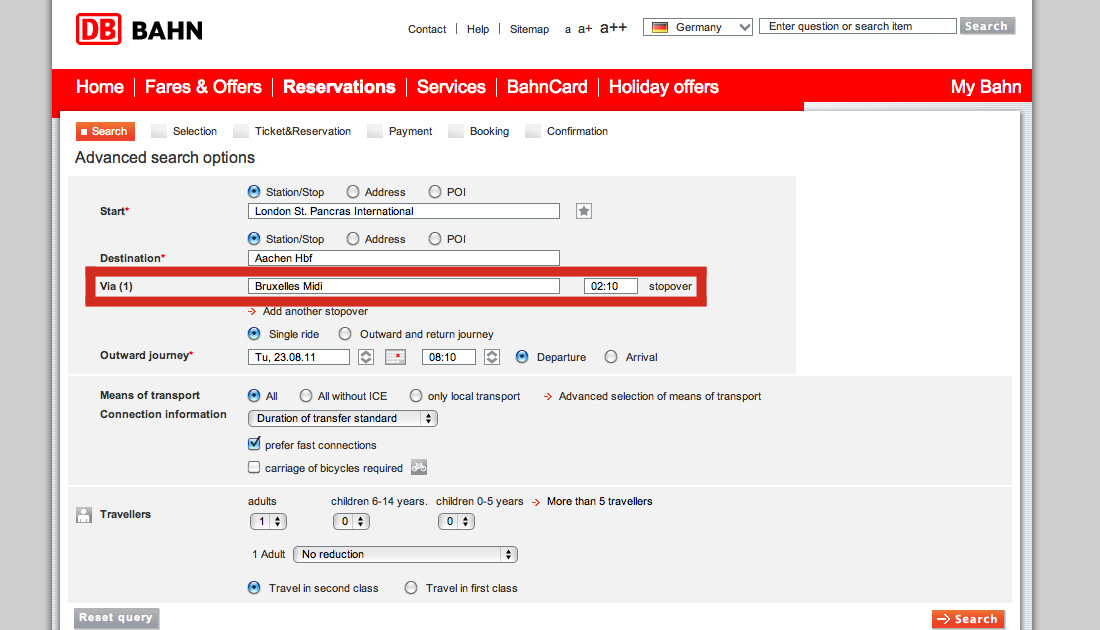 When I click 'Enter stopovers' I then enter Bruxelles Midi and 02:10 in the stopover time, and hit search.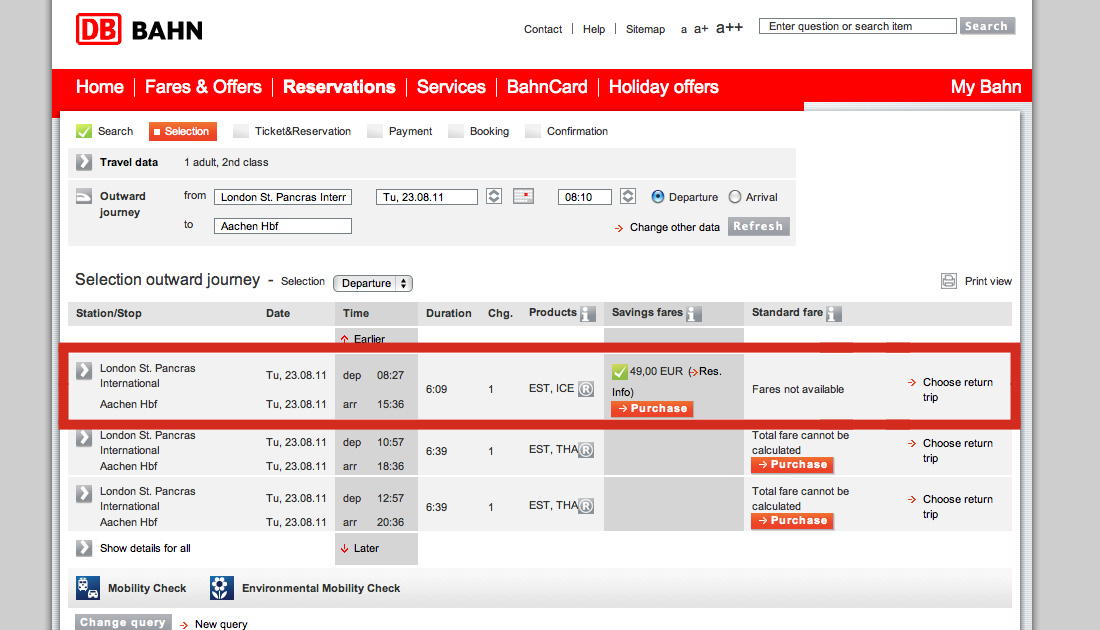 Bingo – a €49 single ticket on Eurostar.
These trains are more than a month away at the time of writing, but a single for the 0827 departure on Eurostar.com is already £56. I have managed to book €49.00 DB tickets when the price of a single on Eurostar.com was more than £100, hence saving more than 50%.