Background
Deutsche Bahn used to sell tickets called London Spezial that offered incredible value train tickets from Germany to London, changing onto the Eurostar in Brussels. These tickets were discontinued in March 2020, officially due to a change of Eurostar's IT systems, but more likely because they were sometimes so incredibly cheap it made no business sense to continue them! This tweet by @stejormur on 21 March 2022 informed me that a sort of replacement system has now been established by Deutsche Bahn. These tickets show in Deutsche Bahn's system as "De Connect", hence the title of this blog post.
How do you find these tickets?
Put a German station and London St Pancras into Deutsche Bahn's International Bahn search. Note the worked example shows a single ticket.
This is the search: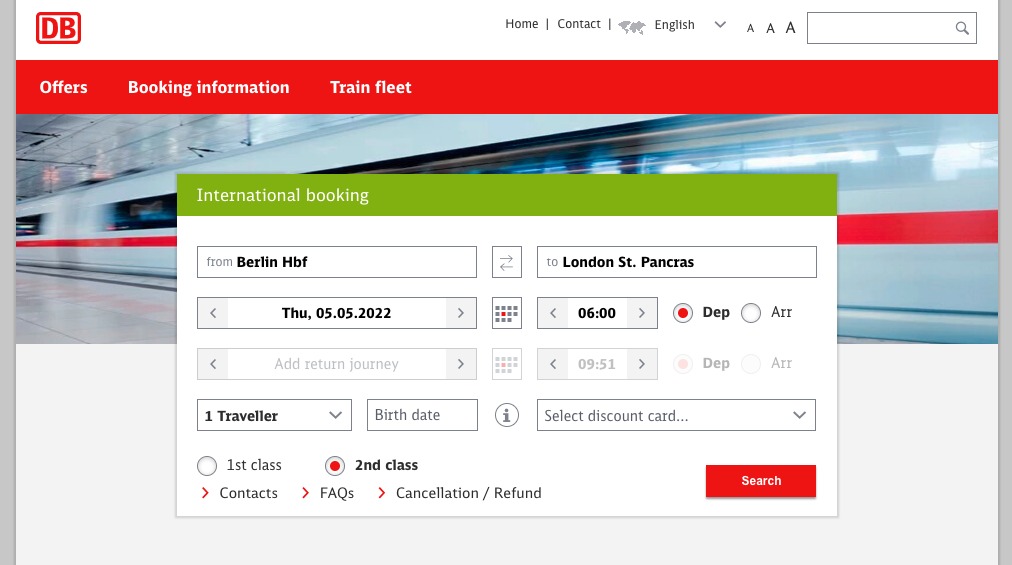 It works only with ICE + Eurostar connections, like the first one shown here – and this saves you money compared to purchasing each leg separately. International Bahn shows a price for ICE + Thalys + Eurostar connections as well (2nd connection shown here), but these save you no money in comparison to booking each part separately:

The following screen shows how the fare is composed – note De Connect for the Eurostar leg: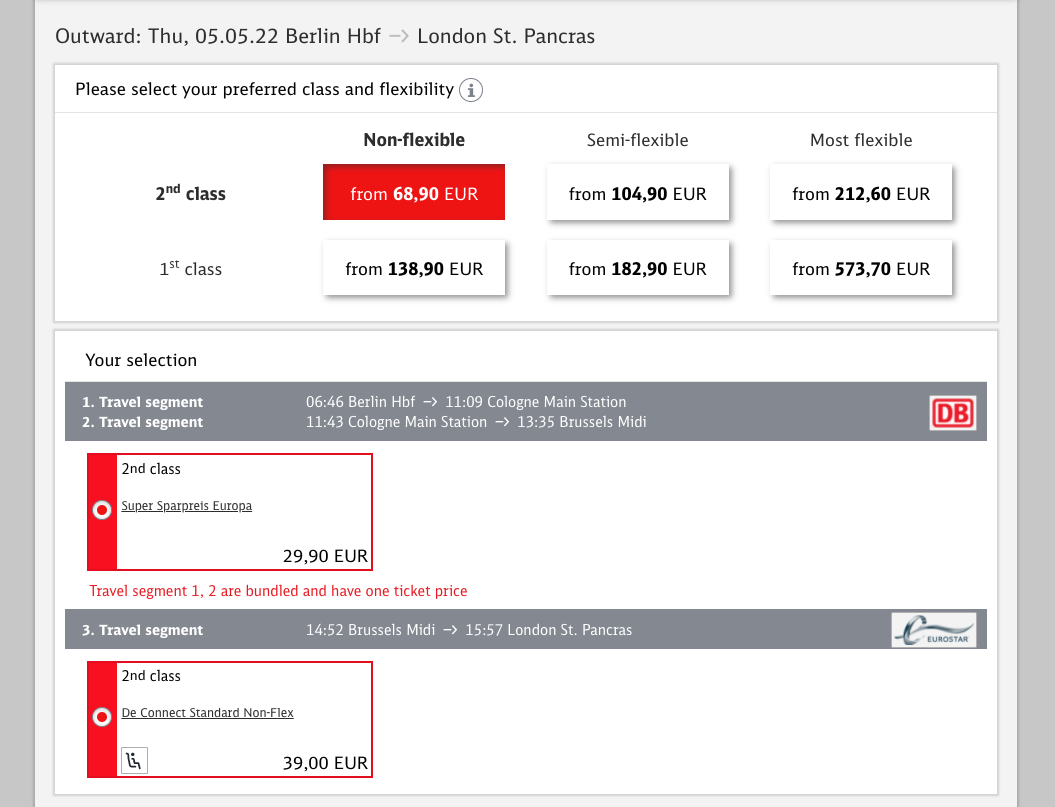 Head over to the Eurostar website and you see a cheapest price for the 14:52 departure Brussels Midi to London is alone €69: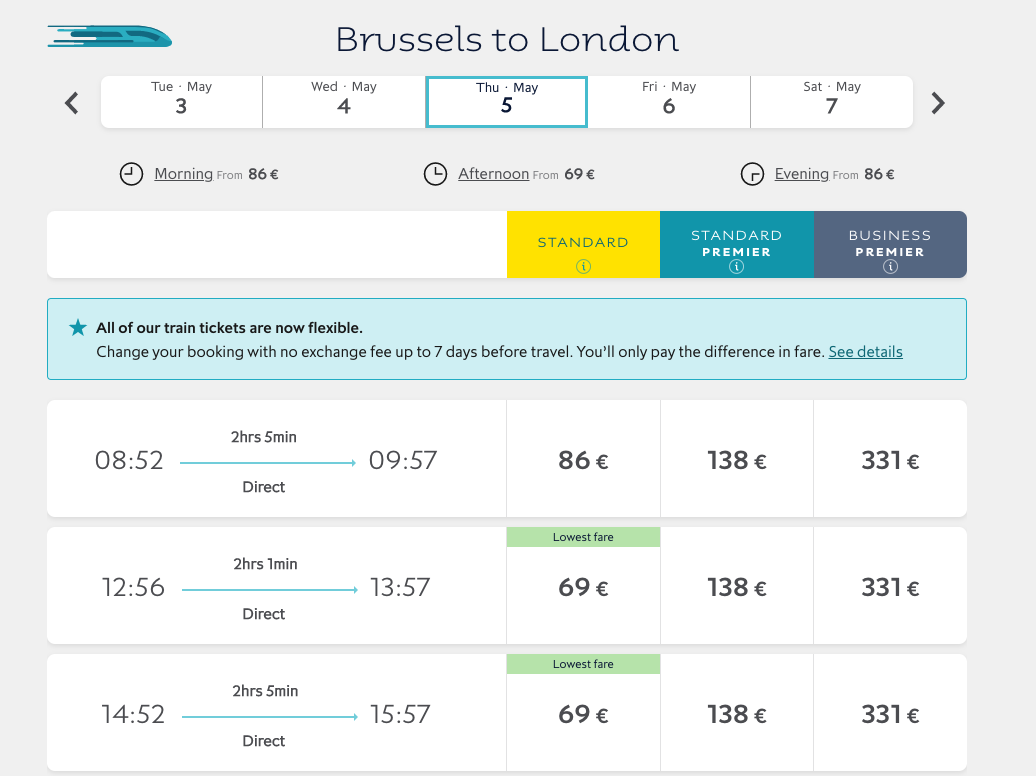 In this example, the whole Berlin-Brussels-London trip booked with DB is cheaper than Brussels-London booked with Eurostar.
Can you book return tickets using DB's system?
Yes you can – DB allows this. But the money saved if you book a return looks to be less significant – because prices for return tickets on DB's website are simply the addition of the cost of two singles, while Eurostar gives you cheaper prices if you book a return.
Here is a worked example, using the same outbound trains as the example above, and returning to Berlin a week later – 12 May – we'll use these trains that are a bit more expensive than the outbound: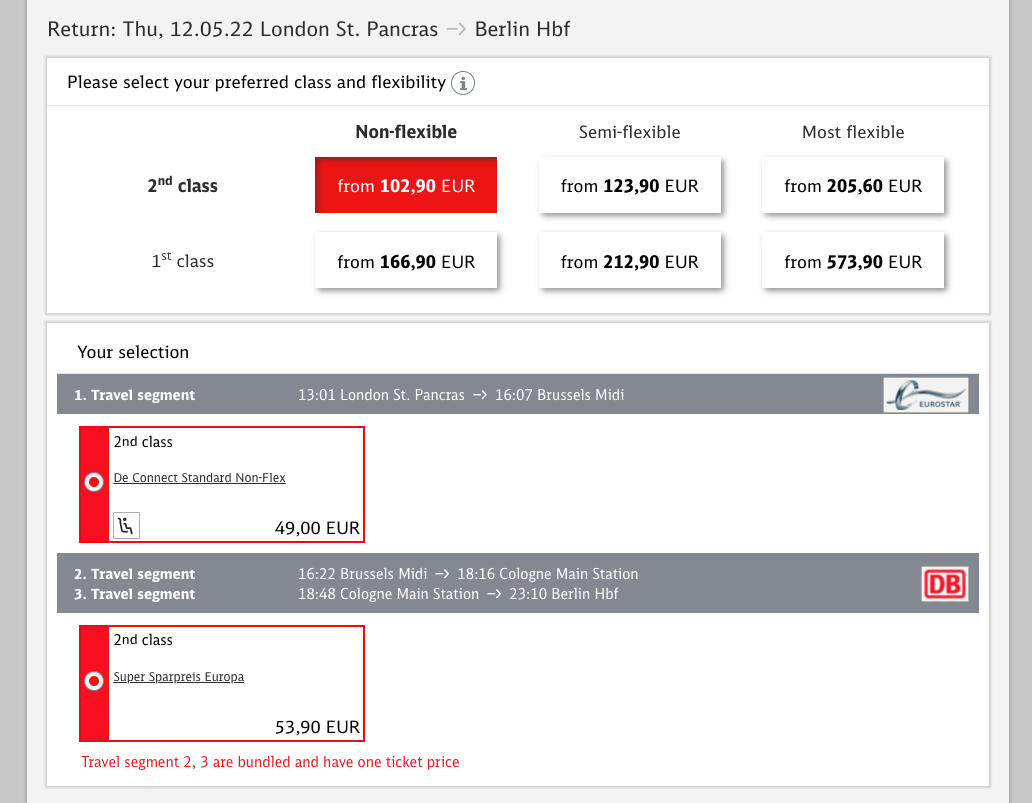 The combined price for the Eurostar legs only is hence €88 (€39 outbound, above, and €49 return).
If we book a return trip on Eurostar's website… it suddenly offers us cheaper tickets even for the outbound leg! Just 44 Euro versus 69 Euro if we book a single, and the return is €49,50 – total €93,50: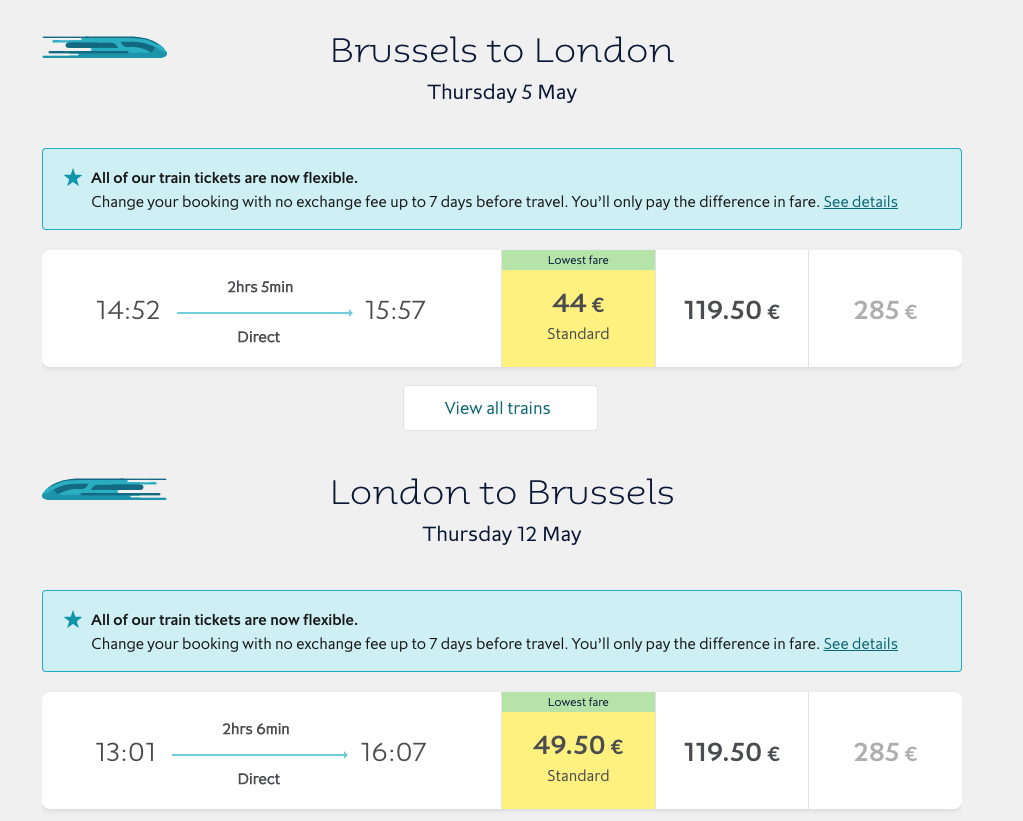 So if you're planning a return from London to Germany it might be worth looking at the prices on Eurostar's site as well – it's possible that the old system of making separate bookings could be cheaper for that still.
Help! Why am I getting an error that a ticket cannot be booked?
Error handling on Deutsche Bahn's International Bahn site is horrible – an error page like this crops up quite regularly: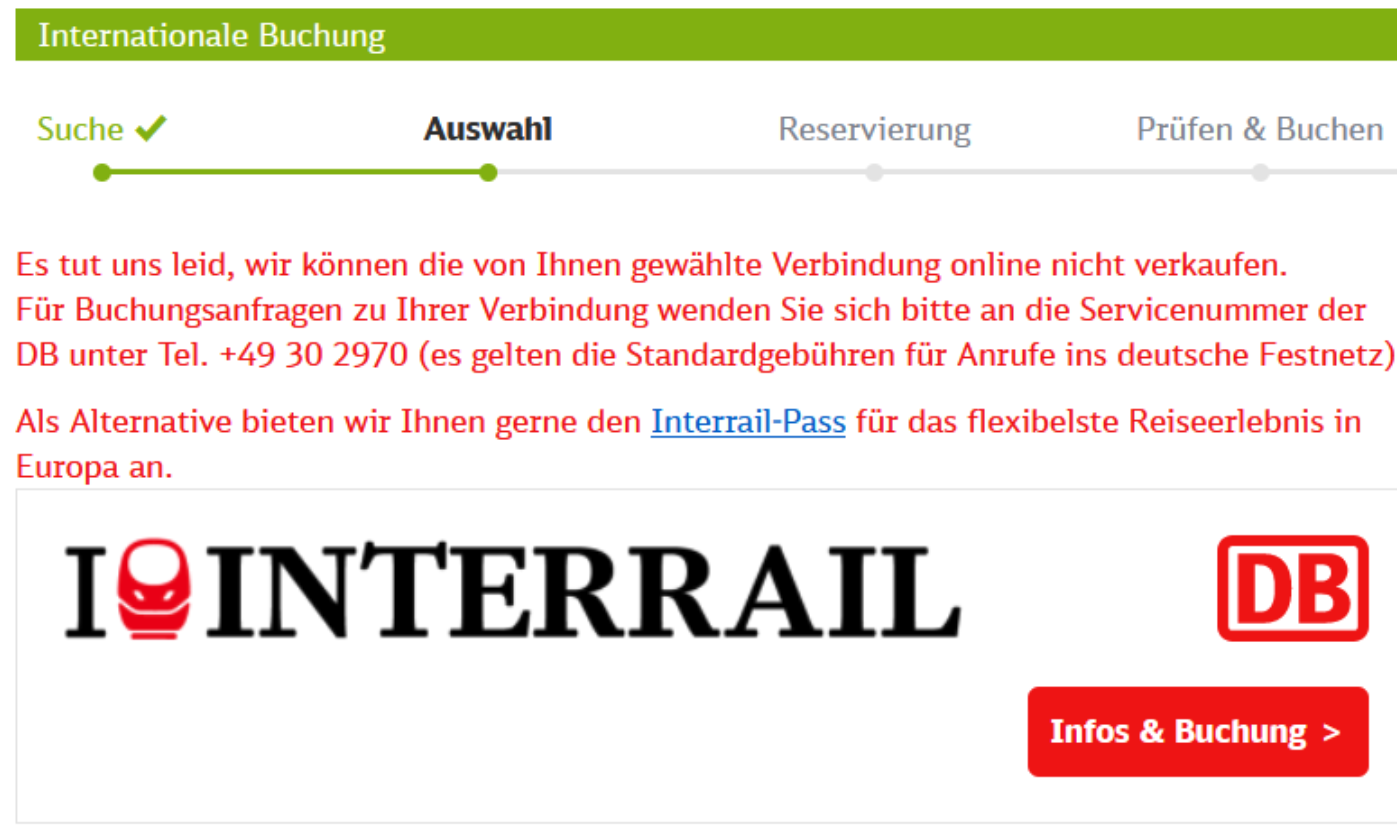 In the case of tickets to London there are 2 main causes.
First, you need to check you have only Deutsche Bahn trains in your trip between Brussels and Germany – you need to avoid Thalys (THA) and Flixtrain (FLX) – thanks @lenny_du_nord for the tip. This connection from Bremen will throw an error for example for that reason: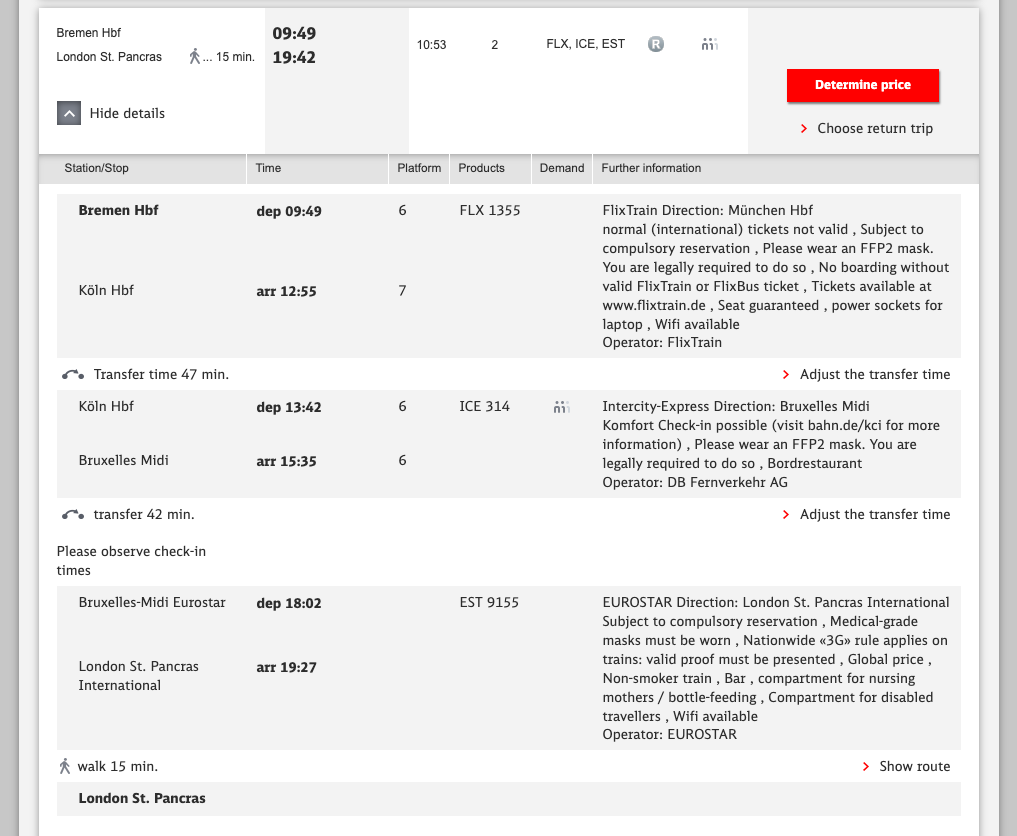 You can remove Flixtrain from the search by removing "D" trains in DB's search – the third box here:

Another way to achieve the same result is to put in via stations (see Stopovers below) to get your routing right.
The other common reason for the error message is that there are no tickets left for one of the trains you're trying to book, normally the Eurostar. Given a one way trip involves at least 2 trains, and a return trip at least 4, it might require a bit of digging to work out which train it is that is the one causing the error!
What if I need to change my plans and alter my booking?
There is a difference when it comes to the exchangeability of the ticket. Even the cheapest tickets on Eurostar's site can be changed up until 7 days before travel for no fee:

However the cheapest tickets on DB's site are non exchangeable, non-refundable:

Flexible tickets are available, but cost more.
Can I use just one portion of my ticket?
At the time of writing no one has tried this yet, but @stejormur was kind enough to tweet a screenshot of his ticket to me – separate PDFs are issued for the DB and Eurostar portions of the journey. That means were you to use the London-Brussels ticket and not the Brussels-Aachen portion (or vice versa), I can see no way anyone would be able to know.
If something goes wrong – will I get to my destination?
It could well be the case that the first train you take gets delayed, meaning you miss the connection onto your second train in Brussels. How this will be handled depends on the direction of travel.
For trips from Germany to London, and if your ICE to Brussels is delayed, meaning you miss your Eurostar, go immediately to the Eurostar desk inside the Eurostar terminal at Gare du Midi and ask to be re-booked onto the next available Eurostar. Explain the situation to the staff. In my experience Eurostar staff have all too much experience coping with passengers delayed on ICEs from Germany and – if there is capacity – will re-book you. You must under no circumstances book a new ticket – both DB and Eurostar are members of Railteam, and the Hop On Next Available Train rule applies. It is of course possible that the next train has no capacity, so you might have to wait for the one after that, but the chances you get stranded in Brussels are very, very low.
For trips from London to Germany it is a bit more complex. If your Eurostar is delayed, and you miss your connecting ICE to Germany, it is possible that the next train to Germany is a Thalys, not a ICE. Thalys is also a member of Railteam, but in my experience trying to get Thalys to simply let you hop on the next train is nowhere near as easy as with any other Railteam alliance companies. In this case go to the international ticket office at Bruxelles Midi and ask for the Railteam stamp on your ticket to allow you to take an onward Thalys to Germany. You might need to be a bit pushy to get it.
I would not advise it, but you could – if you are in a rush – simply try jumping on the Thalys and explaining to the train manager what happened, but without a Railteam stamp this can lead to arguments. The seats in the small vestibule directly above the wheels in the highest number carriage there is on the Thalys service (either carriage 8 or 18) are the seats most likely to not be reserved if you need to risk this.
If instead the next train departing for Germany is a later ICE, just get on, and go and find the train manager and explain what happened. The worst that can happen is that the train is full, and you do not get a seat and have to stand – something that is generally not allowed on Thalys or Eurostar. But you will get to your destination.
If you have missed the last train of the day from Brussels to your destination it might get complicated – see the next section on financial compensation.
If something goes wrong – will I be financially compensated?
In short: at the moment we do not know, but probably not.
Normally if a passenger had 1 ticket they would be entitled to 25% compensation in the case of a delay of over 60 minutes, and 50% if over 120 minutes, and up to 80 Euro to cover the cost of a hotel – if the last connecting train of the day had departed.
The heart of the matter is that DB is selling you two tickets in one transaction – one ticket from Germany to Brussels, and one ticket from Brussels to London, just that the De Connect portion can only be purchased together with another ticket, as @Lenny_du_Nord points out here.
However page 116 of this PDF (thanks Lenny again!) states:

Basically: each ticket corresponds with one set of rights.
However the screenshot @stejormur sent me shows CIV 1080 on the corner of the Eurostar ticket – CIV 1080 is the DB CIV number. So in any case any request for compensation would need to be directed to Deutsche Bahn, and not to Eurostar. Once someone has tested this I will update the blog post accordingly, but for the moment you need to assume you do not have rights to compensation for your whole trip, only for each leg separately.
This blog post keeps mentioning the Eurostar from Brussels. Can I route onto a Eurostar in Amsterdam or Paris instead?
No.
Routes like Osnabrück – Amsterdam – London, or Saarbrücken – Paris – London do not work. You have to get on the Eurostar in Brussels to make this work.
Is this offer available on any website other than DB's International Bahn?
No.
Or at least at the time of writing is not. If you find these tickets elsewhere please let me know!
Can you make stopovers en route on these tickets? [UPDATED 11.4.2022]
When I first wrote this blog post in March 2022, adding stopovers en route worked in the same way as on any other Deutsche Bahn booking. However by 11th April 2022 this had changed – now only stopovers in Brussels work. I do not know if this is a temporary glitch or a permanent change – thanks Joseph McLoughlin @JosephUibh on Twitter for making me aware of the issue.
You cannot plan routes with stopovers directly on the International Bahn site, but you can do that on the regular Deutsche Bahn Reiseauskunft (in German it's the Zwischenhalte function). So plan your route there – including your stopover of up to 48 hours in Bruxelles Midi, check you have only ICE and Eurostar trains in your connection, and then click the red button to get the ticket prices. Reiseauskunft will then send the timetable request to the International Bahn site, and so you will then be able to book.
If you try to add a Zwischenhalt in any station other than Bruxelles Midi the booking fails (correct as of 11th April 2022) with the generic error message shown above.
Do you get BahnCard discounts on these tickets?
Yes, but only for the portion of the trip from Germany to Brussels. For example adding a BahnCard 25 to the €68,90 Berlin-London on 5th May above reduced the total cost to €62,85 – a saving of €6,05. You cannot use BahnBonus Points to book these tickets.
Can you select the exact seats you want on board when booking this way?
No. You can only indicate the class of ticket, and whether you want an aisle or window seat. This is noticeably worse than when making a booking on board a ICE train using the regular DB site where you can choose the exact seat you want. If you're really determined to solve this for the Brussels-Germany leg of the trip, you could book the whole London-Germany trip on International Bahn, and not buy a seat reservation for the Brussels-Germany leg there, and instead make a separate seat reservation only purchase on DB Reiseauskunft for that leg – costing 4 Euro. Thanks @Hampo on Twitter for the suggestion, showing Seat 61 style levels of obsessiveness there!
Does this work if you trip starts somewhere beyond Germany?
Yes it does, if Deutsche Bahn can book from that place to Brussels, using a Deutsche Bahn Europa Sparpreis ticket. I was able to make it work from Cheb (CZ) and Zürich (CH) to London for example. But this does not work on all routes. Zürich to London via Paris gave me regular SNCF fares – I needed the 4 hours longer trip via Brussels to get the cheaper DB fares. From cities in the Netherlands it would work if you route into Germany first, then Belgium. But not if you route directly from Netherlands into Belgium. Thanks @ChrisB_go for alerting me to this. However so far we have not been able to get it to work from Copenhagen or Malmö – thanks @Popeter_ for the info on this. We do not know why this is. You also cannot use this to connect with a ÖBB NightJet night train.
Is there any way to combine this with Interrail or other rail passes?
Not as far as I can tell currently.
So that's the best I can do for now! Do tell me how this worked out for you if you tried it, and I will update the blog post accordingly! And of course I take no legal responsibility here – if you follow this blog post and get stuck somewhere, do not blame me. You follow this at your own risk!