My parents live in Newport in South Wales. I live in Berlin. I am going home for Christmas, and so – on 27th December – I want to return to Berlin. All in one day. By train.
If I wanted to do this in a few weeks' time, it would look like this: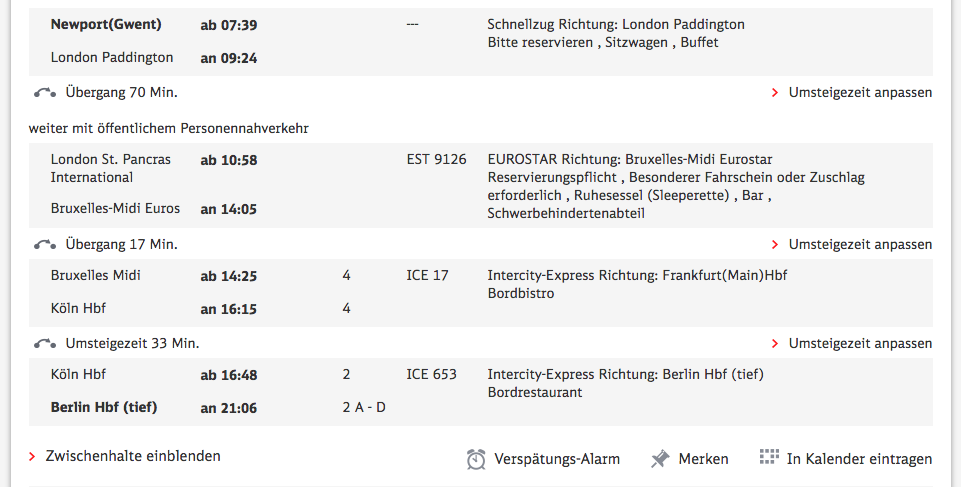 But for 27th December, basically forget it.
Let's look at it leg by leg.
Trainline.com's e-mail notification told me that tickets for the Newport – London leg are now available for 27th December. The earliest train is 0709, but – due to engineering works – it only runs as far as Ealing Broadway. So I'd have to change onto the tube there and go on to St Pancras. The cheapest ticket is £39.70 – presumably because everyone else is trying to flee their parents' places in South Wales on that day.
The Eurostar London-Brussels I can book on its own – timetables are available for that, and the 1104 departure gets me to Brussels at 1405. Cost is £56.00. The problem is that I cannot book a Newport – Brussels through ticket as the engineering works mentioned above mean Eurostar's website can't find me a connection the whole way. Splitting these tickets (booking with Trainline and Eurostar separately) means that if something goes wrong between Newport and London I might not have the rights to get on the next train if I miss my Eurostar.
Then if and when I actually get to Brussels I have a further problem. Timetables for the ICE trains onwards to Germany for dates after 11.12.2016 are not even available in public yet – those will only be known on 18th October. And, as World Carfree Network points out, it is rumoured that there will be 6 rather than 4 ICEs a day on the Brussels-Frankfurt route from December. So I do not know when in the day these will run. So if I book today as far as Brussels I could then find myself without a suitable connection on to Germany, because the timetables for that section are not known. Out of experience, and booking with a BahnCard 25 as far ahead of time as possible, a London – Berlin ticket from DB is never less than €54.00, or only for Brussels – Berlin €29.00 is sometimes possible.
Putting all that together is going to give me a ticket price of €43.71 + €54 = €97.71 at the very minimum, and contingent on the right trains running on 27th December from Brussels to Köln and onwards to Berlin, and that I can book so quickly I can get myself a London Spezial ticket on one. If London Spezial is not available from DB I am looking at costs above €150, possibly closer to €200.
I could of course just go to Easyjet and book myself a flight Bristol to Berlin Schönefeld (currently £58, and about £68 including luggage), and pay £9 to get myself to the airport by coach from Newport. I'd save myself hours of time, and a whole load of insecurity not knowing whether the right trains would run, and I would also avoid having to book three separate tickets for each part of the trip.
Remarkable that people fly, rather than taking trains, eh?