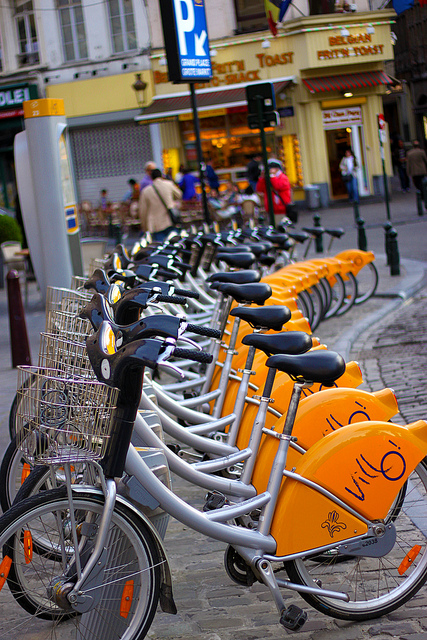 I recently saw an advert in the Brussels Metro offering 6 months of free membership of the Villo! cycle share scheme. At the time of writing this offer is valid for the next 3 weeks (until the end of September 2014), but may be repeated.
Villo! is the communal hire bike scheme in Brussels with the bikes with the yellow mud guards (same idea as Velib in Paris or the Barclays Bikes in London).
There are two components to the Villo! system – a subscription (lasting a day, a month, or a year), and the cost of each bicycle hire – first 30 mins free, then 50 cents per 30 minutes thereafter. The current offer gives you a free subscription for 6 months, but the charges for each individual hire period remain unchanged.
The small catch is that you need a STIB MOBIB card in order to qualify for the free 6 months subscription. MOBIB is the smart ticketing system for the Brussels public transport – same as Oyster in London or Navigo in Paris. Even if you are an occasional visitor to Brussels it is worth getting a MOBIB card (basic version) as it saves you 50 cents when you buy a single Metro, Bus or Tram ticket, or €1.50 when you buy a 10 journey ticket. You also get through the barriers at Metro stations more quickly than with a paper ticket. You can get this card from any STIB Bootik or Kiosk – you find these in the major Metro stations.
The final step is to associate your MOBIB card with your Villo subscription. You need to sign up for Villo! online here, choosing the 6 month subscription offer and adding this to a MOBIB card. The sign up form allows you to say that you live in Belgium, Luxembourg, France, UK, Germany, Spain or Netherlands (not sure why only those, and this seems like discrimination under EU Law), and you will receive all the confirmation information by e-mail. Note that you do not have to enter your MOBIB card number in this process – the final step of the connection between MOBIB and Villo! is done at a Villo! station, using a code that you receive by e-mail (this is the only part of the process that is not obvious).
As a final step, get the AllBikesNow app on your smart phone so you can see where there are bikes, and where there are spaces, and off you go!