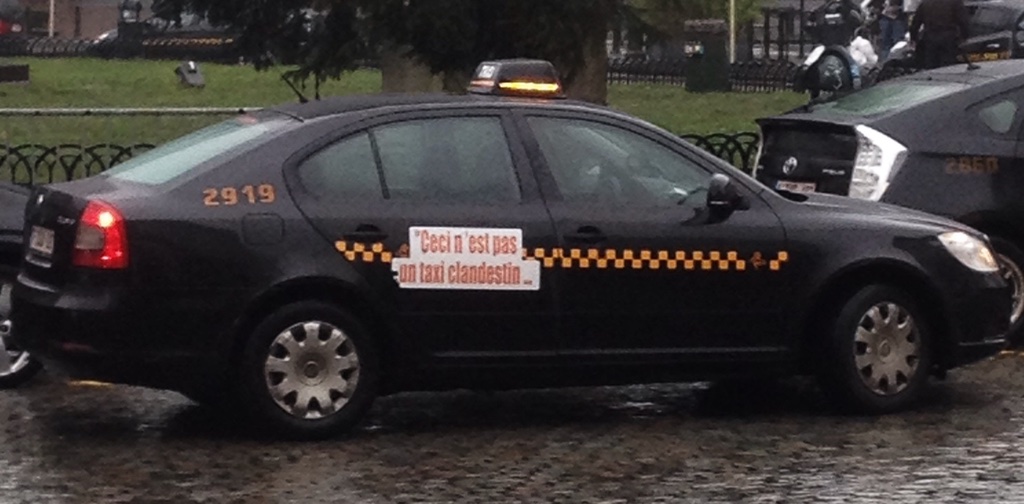 Taxis in Brussels have been been plastered with the slogan "Ceci n'est pas un taxi clandestin" for some months now, in protest at Uber that was allowed in Belgium, then banned, and now – according to this story from Politico – has a reprieve and its legal status will be sorted out.
The argument was that the regular taxis were somehow honest and regulated, and Uber was not, and hence the slogans on the official taxis. Yet the Politico piece quotes Belgian deputy PM Alexander De Croo who says that Brussels taxis actually only declare an average of €25 each a day in income. Clearly a lot of the money the taxis are making is going undeclared. Who is actually clandestin then?
The solution Brussels proposes for Uber therefore strikes me as inherently sensible. The official taxis will be to a certain extent sorted out (they will have to accept credit cards for example), and they will be the only ones allowed to use taxi ranks, taxi lanes, and to be flagged down on the street. They will be the kind of public service orientated taxi service – with higher privileges and higher obligations. Think of them of the black cabs of London.
Uber drivers will be the ones providing the lower level of service – they have to be pre-ordered, and may still be cheaper, and you may as a customer not know what you will get, but the drivers will have to be established as independents, pay taxes, and have Uber as only a secondary source of income – good. Think of Uber as like minicabs in London.
The compromise here strikes me as inherently sensible. Whether you like or loathe Uber as a firm is not the right way to look at this – mobile internet, and different ways to establish trust and social norms, can change the way business is conducted. Law to protect the old business model of taxi firms is not the solution here; regulation of companies like Uber, and some organisation of the market is. Brussels has got the balance right here I think.
(Please note: I have never used Uber, and do not intend to do so. I use taxis on average about twice a year, when there is simply no other way to get to my destination. So I am not writing this from the point of view of someone trying to defend something that matters to me personally. It doesn't.)
[UPDATE 22.4.2015, 1600] More details of the practical aspects of the new taxi regulation from Pascal de Smet here (thanks @BrusselsGeek for the tip)