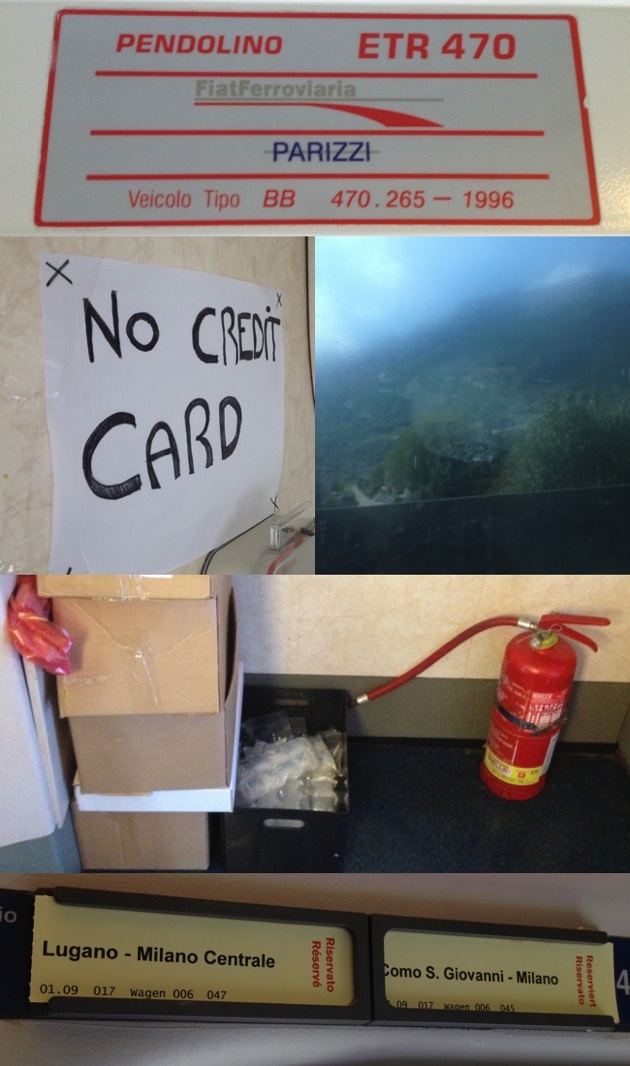 The Cisalpino joint venture between the Swiss SBB and Trenitalia no longer exists, wound up in 2009 due to failing service quality and problems with an order of new trains. The sad news is that now, with the EuroCity trains between Switzerland and Italy using some of the same railsets Cisalpino used, the situation seems to have worsened further.
Zürich HB – Milano Centrale via the Gotthard pass should be one of Europe's great rail journeys, and judging by the numbers of passengers in my 9 car Trenitalia-operated ETR470 set that formed EC19, the 1109 departure from Zürich scheduled to arrive Milano at 1450, it remains popular – every seat was taken as far as Arth-Goldau, and close to every seat after that.
However there was very little with the service that was done right. Firstly seat reservations are a mess. It was impossible to reserve seats on the train when booking a through ticket from Germany, but upon boarding it was immediately clear that every seat was reserved. I asked the guard, a monosyllabic Swiss (and not befitting of the normally superb SBB – SBB guards are the only Swiss staff on this service), how to actually reserve seats on the service. "In stations" was his answer. "What about online?" He shrugged and moved on.
The ETR470 set itself is an awfully built and dreadfully maintained train. The double glazing in many of the windows has popped, giving heavy condensation between the panes. Not especially pleasant when you want to admire the Alpine scenery. Information provided to passengers is only via crackly, incomprehensible announcements, and many lights and seats are broken or not working. And all this for a train built in 1996 – not even 20 years old.
Not being able to see out of the window at my seat due to the condensation, I sought refuge in the restaurant where two tables were unavailable as the staff were using those to sit and gossip, often leaving the bistro bar unattended, and that area had boxes hanging around, and a disconnected fire extinguisher. The food was overpriced, and the service slow and surly, and half the items on the menu were unavailable. A crude, hand-drawn sign warned passengers to not try to pay by credit card. To cap it all, the espresso was made of some sort of Nescafé. If nothing else the coffee should be OK in a Trenitalia service!
The lesson from this trip is to try to take one of the SBB owned trains on this route (either a loco-hauled one, or a SBB-owned ETR470), because this Trenitalia run service is one of the worst long distance trains I have been on for a long time (and that includes a recent trip in Romania!) The problem is it seems impossible to know which services on this route are run by SBB and which by Trenitalia. Apparently only the loco-hauled trains convey bicycles, so that's perhaps something to look out for.
Of course a further and wider question is how these services will look in the future, not least from 2016 onwards when the Gotthard base tunnel opens.