During my #CrossBorderRail project in the summer of 2022 I needed to take regional trains Badajoz-Merida and Merida-Madrid in Spain, and these trains require compulsory seat reservations. Buying a combined ticket and reservation online for these trains is no problem, but Interrail pass holders need just a seat reservation. At the time of writing these reservations cannot be bought online for Spanish trains.
So what is the solution?
Sadly there are no good ones.
Some specialist travel agencies have ways around this – for a fee, and if you order long enough in advance – but that wasn't an option for me here as timetables for these trains were not known even a month ahead.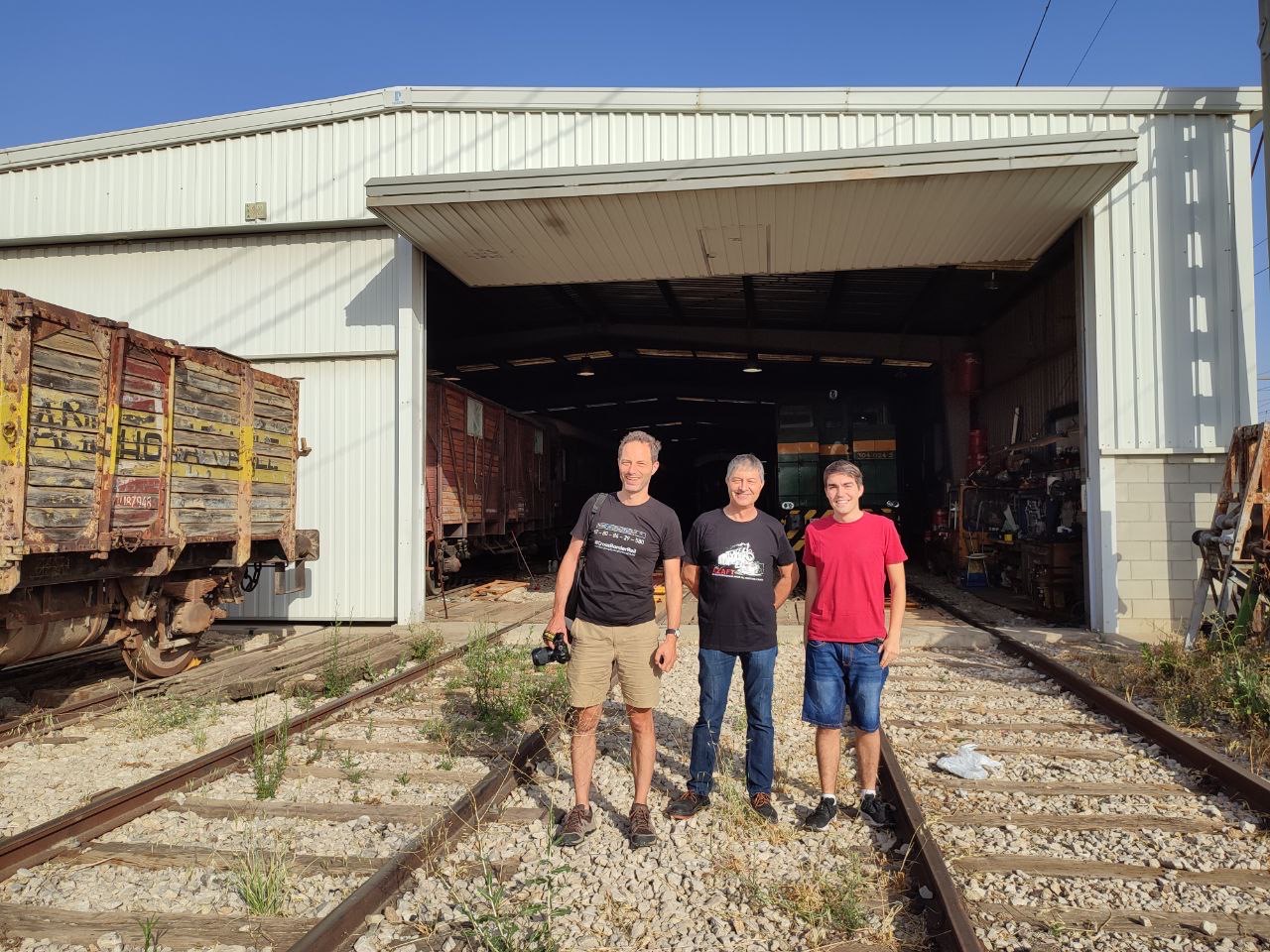 I could have risked it and gone to a ticket office in Spain – but as I was only arriving in the country 48 hours ahead of needing these services there was the danger that the trains would be full, and I would be left stranded – because from that part of Extremadura there are comparatively few trains to anywhere on any given day, and all of them are compulsory reservation.
I could, I suppose, have simply jumped on the train in Badajoz (there is a tight connection from Entroncamento in Portugal there – that was my way into Spain) and tried my luck with the train manager, and feigned ignorance – but that is strictly against the rules, and I would never advocate trying that unless you absolutely must.
In the end my solution was to ask a friendly volunteer at the historical railway collection in Zaragoza (who I was anyway to going to meet before going to Badajoz) if he could go to the ticket office for me, pay the 4 Euro for the reservation for me, and I could then collect it from him and pay. It worked, but it is hardly optimal!
The crux here is that an absence of solid digital reservation systems and the prevalence of compulsory reservation trains in Spain make journeys like this on Interrail much more complicated than they ought to be. But then, you might logically ask, why can Interrail not put problems like this right?
Because Eurail B.V. – the company that operates Interrail – is owned by 33 national railway companies in Europe, and one of those is Renfe who are the ones causing the headaches I outline here. In other words there is no way that the administrators of the pass can (publicly at least) be critical of the barriers to the use of the pass on one of its member country's trains.
When it comes to the absence of digital systems for Interrail reservations, Spain is not alone in its dysfunction – there are compulsory reservation trains in Portugal, Romania and Greece that likewise require you to go to a ticket office and reserve a place, but in those cases at least trains are more numerous and have more free places so as to mean trying it at the last minute is not such a risk. And online seat reservation systems have generally improved little by little over the years, so there is hope that some of these countries might eventually digitise fully.
Regarding compulsory reservation trains, this poses at least as fundamental a problem to Interrail pass holders in France than it does in Spain. While reservations for TGVs can be made digitally (although more easily via the Belgian railways site than from SNCF), there are only a limited number of Interrail seats per train at the lower €10 price point for online reservations, although more reservations are available at ticket machines for 20 Euro a seat*. But in France (or Spain) – in contrast to say Sweden or Italy where high speed trains are also compulsory reservation – there is often no other viable way to get to your destination other than on a compulsory reservation train, and if that train is full you're stuck. There is often no Intercity or Regional train you can take instead.
So even if Spain were to solve the absence of digitisation problem, it is not going to solve the compulsory reservation (and lack of alternatives) problem. And if Eurail B.V. cannot manage to persuade its member railways to sell Interrail seat reservations online, is it going to be able to change railways' policies on compulsory reservation? No way.
So ultimately these issues are of a scale and complexity that is well beyond something that is simply a headache for Interrailers. The issues of compulsory reservation or not, and whether there are alternatives to compulsory reservation trains, impact all rail users, not just pass holders. And while Eurail B.V. might be able to do a little regarding digital reservations, it cannot begin to change railways' policy decisions on how it allocates seats.
This means that if you're going to make an Interrail trip, plan ahead – especially if you are going to France and Spain. Or skip those countries altogether, and go Interailing somewhere like Germany or Austria where you can simply hop on the next train without restriction.
* – there is some confusion as to what can and cannot be bought where, and for what price – see this discussion on Mastodon. The text above has been changed accordingly.