I'm lucky enough to have received an invite to The Apeldoorn Conference on UK-Netherlands dialogue, taking place 6-8 March in Rotterdam. An easy and high speed train journey – perfect!
The route is Eurostar to Bruxelles Midi, then Thalys on the new HSL-Zuid to Rotterdam Centraal. Total journey time is just over 4 hours, making it comparable to the plane from London to Schipol and then the train to Rotterdam. It's a journey that anyone should be willing to contemplate.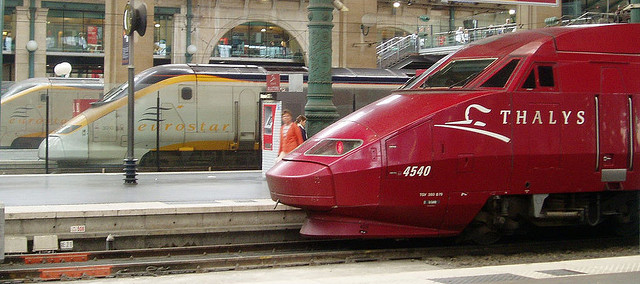 So how do you book?
I started at Eurostar.com, just to see what it would give me. £168 to get to Rotterdam on 6th March, and £155 to get back, £323 total, and this in standard class. For reasons I don't understand it would only give me semi-flexible tickets.
So I returned to my standard 3-step process for booking European rail tickets:
FIRST, get all the timetable information from German railways – reiseauskunft.bahn.de. Screenshots: London-Rotterdam, Rotterdam-London
SECOND, work out where to split the journey for booking purposes. For London-Rotterdam it's rather simple – split at Bruxelles Midi where you change trains (for more on complicated splits see this blog entry)
THIRD, book the tickets direct with the train companies involved, in this case Eurostar and Thalys
The result? £79 return for London-Bruxelles Midi, and €75 (£63.89) return for Bruxelles Midi-Rotterdam Centraal, total £142.89 return. Less than half the price quoted by Eurostar.com for the complete journey. OK, these tickets are non-exchangeable, non-refundable, but why are those not actually offered by Eurostar.com in the first place? Also considering this journey is 5 weeks away from now, it still strikes me as rather costly…
Once more the case for proper Europe-wide train booking systems is very clear – something for the workshop on transport and mobility at the conference?