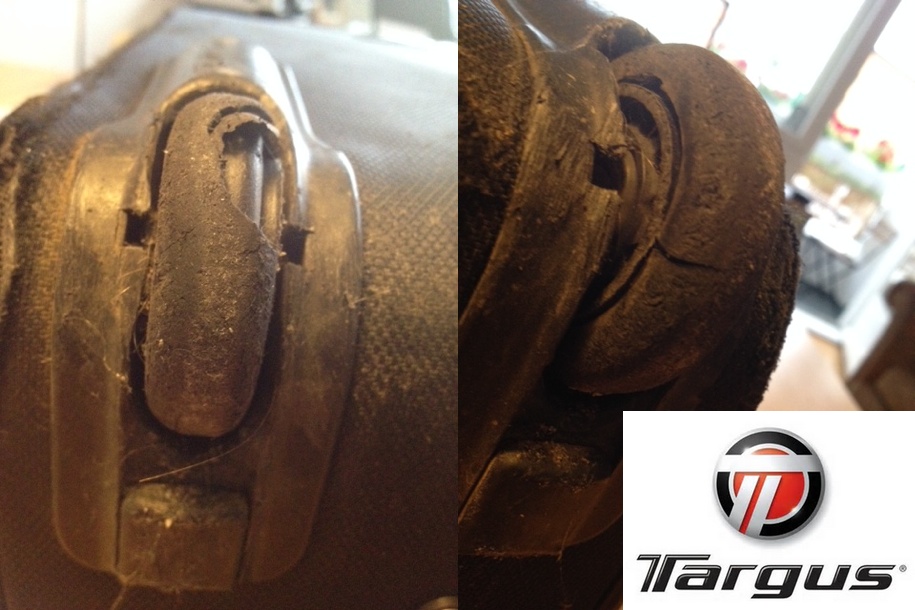 Just over three years ago I purchased a Targus TEV001EU Business Roller Notebook Case. The case had good reviews on Amazon and the price was good as well. After two years of frequent use, one wheel on the case broke and the other has worn down to the extent it is unusable (see pictures).
So, having Googled to find out if replacement wheels can be purchased (and concluding this was not possible), I contacted Targus customer service and provided the details of the purchase they requested. This is the response:
Dear Mr. Worth,

Case ID: XXXXXX

Thank you for contacting Targus providing the requested information.

We would like to advise you that the warranty offered with your case has expired, as the wheels are only covered for two years.

In regards of your query about the procedure for you to buy the replacement wheels, we do regret to advise that we do not sell spare parts as wheels. We do apologise for the inconveniences caused.

Should you have any further questions or comments, please do not hesitate to contact us.

Yours sincerely,

XXXXXXXX

Targus Customer Support
I contacted them again, expressing my discontent at this, and that I have a perfectly good suitcase and that all it needs is replacement wheels, and got this response:
Dear Mr Worth,

Case ID: XXXXXX

Thank you for your email.

We do understand your disappointment, and apologise for any inconvenience.

There is no supplier of wheels we could name. We would recommend to contact a shoe repair service for the repair.

In case of any further questions, please do not hesitate to contact us again.

Regards,

XXXXXXXXX

Targus Customer Support
So basically Targus does have replacement parts if your case is less than 2 years old, but if it is more than 2 years old they will not sell you replacement wheels. This strikes me as absurd, and should be a warning to anyone buying such a case – if it's over 2 years old and the wheels break you're basically stuck.
The aim of this blog entry is to inform possible purchasers of Targus cases of the danger, and I have also left a review of my purchase at Amazon UK explaining the situation.
The problem is also one of design – there is no way to remove the axel from its plastic housing. You have to replace the whole lot. I'll keep searching to see if some generic wheel design can be found that will fit, and will post my responses here if I find one.