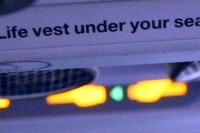 Each time you fly the cabin staff encourages you to listen carefully to the safety demonstration on board aircraft type XYZ. I seem to fly so often with Ryanair Boeing 737-800 series planes that I could probably do the safety briefing myself. But ask yourself this. Have you ever really listened to the brief that is being given to you? I don't mean understanding what you as an individual should do, but what the words actually imply when taken literally.
Take Ryanair's announcements first of all:
You can find the life vest under your seat. In the unlikely event of landing in water, take the life vest out of its packet and place it over your head […] Your life vest is equipped with a light to attract attention and a mouthpiece for further inflation or deflation.
Now, ask yourself this: quite why would you want to suck air out of your lifejacket? Maybe you inflated the life vest by mistake while in the cabin and have time to get air out of it before your plane is sinking in the North Sea, so pained you are that you might impede your exit? Not that you would be in a state of panic or anything.
Announcements on the small LCD screens on board BA Airbus 319 and 320 aircraft are just as bizarre. As opposed to Boeing's lifevests that have a clip to secure them, the BA film asks you to:
pass the black straps around your back, and tie them with a double bow to the side
Again, please get real! Our plane has a crisis, we need the life vest to save ourselves, and yet we are told that the double bow is important.
Add to that the fact that the brace position is so rarely explained in aircraft security demonstrations and you have to say that the whole thing is, well, odd. Surely the chances of an emergency landing (where you need the brace position) are enormously higher than the chances of your plane landing in water?