€529 for a suitcase? A suitcase? Yes. I paid that, back in June 2013, for a Rimowa Topas Cabin Trolley IATA 55cm (model details here). It is one of the very best purchases I have ever made, and now, with hindsight, I do not regret it for a moment.
First, my motivation. I travel a lot. Most of the time by train, but sometimes by plane, and the majority of my trips are 2-4 days in length, within Europe. All the carry-on size suitcases I had owned in the past (made by Antler, Delsey, Samsonite and Targus) had fallen apart or let me down for one reason or another – broken or easily worn out wheels and broken zips being the major faults. So I needed something that would work and be reliable every time, without fail.
That led me to Rimowa, and its close to indescructible aluminum cases (more about Rimowa's history in German here). Rimowa makes polycarbonate cases too – lighter, but less strong. Rimowa is also a classic sort of German Mittelstandsunternehmen – making suitcases in Köln since 1898 (although they now also manufacture in Czech Republic, Canada and Brazil). My case was made in Germany.
So those were the criteria: strength, and a carry-on size. I am also not a fan of four-wheeled suitcases – they work fine on super-smooth airport floors, but I am dragging my suitcase along the cobbled streets of Brussels, and pavements of Berlin covered in grit. So a two wheel case was the best bet, and hence the Topas Cabin Trolley IATA 55cm my choice. Here I am a little confused though – while online stores like Koffer Direct still seem to sell this case, it is no longer listed on Rimowa's site. Note that the suitcase is heavy – 4.1kg is a lot for a carry on case. It opens in a kind of 2/3 – 1/3 manner as shown in the pictures below, with each portion having a netted frame, secured with velcro, to hold things in.
So how has it been to use? Now with two and a half years of experience with it, I am very satisfied. The suitcase wheels are hard (making them roll a bit noisily on some surfaces) but they have shown almost no wear despite almost weekly use of the case, and some pretty long treks across bumpy surfaces. The corner of the case has suffered one major dent (thanks to Easyjet when I had to check the case in) – I dread to think how far it was dropped. The handle for use when rolling it is rock solid, is long enough for a tall-ish person (I am 1m83 / 6 foot tall), and works well, and the carry handles sping back into place with a resounding thud. There have been no faults whatsoever with any part of the case. Everything has a five year warranty, but I do not envisage having to use it.
In short: it has done precisely what I needed it to do – to be a completely reliable case, always ready when I need it.
If you travel more rarely than I do, or if weight of your case matters more than it does in my case, perhaps the Rimowa Cabin Trolley IATA 55cm is not for you. But if you are a regular business traveller, I cannot think of anything better.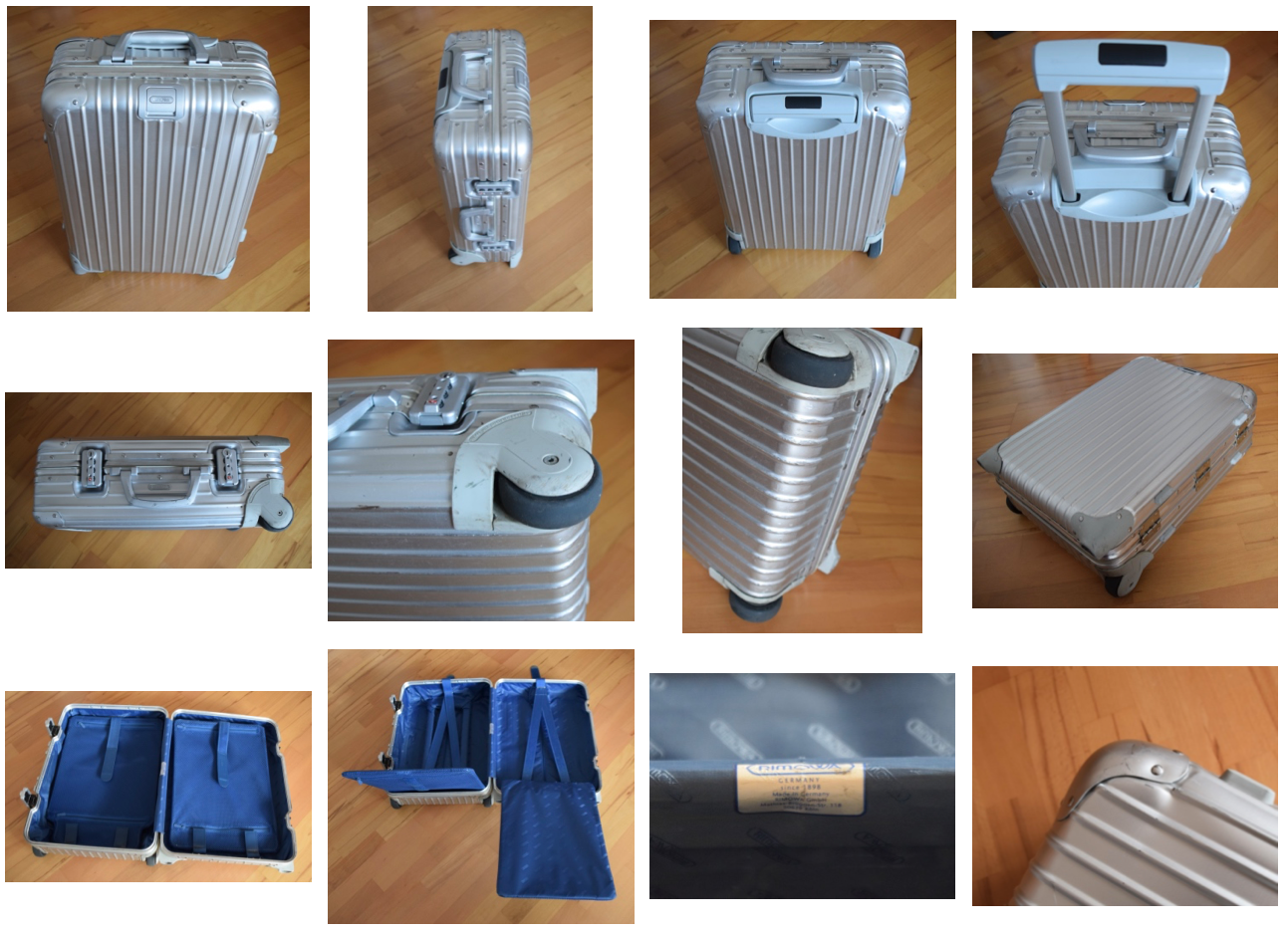 For higher resolution images, please see this Flickr Album.