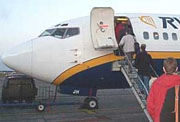 OK, travelling with budget airlines is never pleasant. But yesterday on the way to Stockholm it made me really angry.
First of all the bus – the Green Line 757 service from London Victoria to Luton Airport. I get on the bus and ask for a return to Luton, and am asked which airline I am flying with. My response: Ryanair. Ticket price: £14.00. The next passenger gets on and asks for a return, says they are flying with Easyjet. Price: £10.50! So effectively price discrimination for the same bus service. I wonder whether Ryanair is taking a cut of the profits? Anyway, the driver does not check, so I just suggest always answering 'Easyjet' if you ever take that bus!

Luton Airport has improved a bit – they have a new terminal. But once more my flight was delayed. I am getting quite sick of this with Ryanair this autumn! The flight was due to leave at 18:40 and they only announced at 18:15 that there was to be a delay – of 40 minutes. Now, fearing the worst, I worked out using the wireless internet access at the airport, that the plane was an incoming aircraft from Shannon, and it had only taken off at 18:11! So basically the airport had known all along that the plane was going to be delayed and had declined to tell the passengers.
Further, 40 minutes delay was highly improbable, given a flight time of an hour from Shannon. This reflects the experience of trying to get to Altenburg a few weeks ago. It seems that whatever the delay is going to be, Ryanair start by announcing a 40 minute delay, even if they know for sure that the delay is going to be longer. Add to this the fact that there is not even an information point where you can find out the facts at Luton Airport and the passengers start to get very annoyed.
So the message is this: even if we are to travel for cheap, and as a result accept that things might go wrong, that is no excuse for giving false or misleading information to passengers. Thank goodness my next flight to Sweden is with SAS!