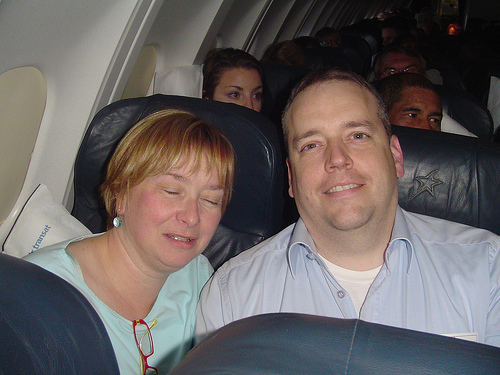 An article at Boing Boing caught my eye today – that United Airlines wants to charge obese passengers for two seats. The argument is a simple one: if you're too large to fit into a seat you have to pay for a second one as you are inconveniencing the person sat beside you. I always seem to be sat beside fat people or men with bad limb geometry and this gets very frustrating.
But what could be done?
Ryanair and other cheap airlines are doing their best to find ways to most efficiently price their tickets – you have to pay extra to check in luggage, and Ryanair is even considering charging for the toilets. So why not go one step further and charge for extra weight around the waist?
This idea has a whole bunch of complications: what do you do about people who are obese due to a medical condition? The presentation of a medical certificate would solve that one. But what about tall people? They cannot help being tall but many overweight people can help being fat. The solution is not to charge by weight as such, but factoring in Body Mass Index instead. A normal ticket would be issued to those people that had a BMI of up to 25 (slightly above 'Normal'). Thereafter each extra 1kg of person would result in 1kg of baggage allocation reduction. So an individual 15kg heavier than average BMI for their height would have to pay extra to bring luggage into the plane. A person 5kg above normal would get 10kg of baggage included etc.
It makes good sense – if we pay for excess baggage, we need a fair way to calculate for excess fat. After all that weighs down our planes too!
[UPDATE – 17.04.09] Seems someone beat me to it – the BMI pricing suggestion is on Ryanair's website!