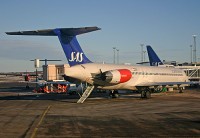 On the face of it, overbooking aircraft seems to make perfect sense. Not every person is going to turn up for a flight, so why worry? Well, more often that not, more than the required number of people does turn up. For the 2005 departure this evening from Stockholm Arlanda to London Heathrow there were at least 10 too many people. So first of all the plane is slow to board as all the SAS staff are too busy booking hotels for people, as opposed to checking people in. Then the impatient ground staff have already put bags in the plane that have to be pulled out again. And by then the plane has missed its landing slot at Heathrow and we need to wait even more.
In short, all of this demonstrated a real incompetence of SAS, and it's not the first time I've seen this happen with them, although this was the worse instance to date. Further, I'm sure the extra staff time, all the delays etc. will have cost them a lot more than the benefit they gained by selling a few too many tickets!
On the positive side: this will be my last Sweden-Heathrow site for some time, and the flight itself was actually OK – SAS MD-80 planes are always pleasant to fly in. Plus for the first time ever in all the times I have flown the pilot was a woman.