This week's schedule:
Tuesday – train Berlin-Bruxelles
Wednesday – train Bruxelles-Maastricht-Bruxelles
Friday – train Bruxelles-Berlin
Three countries. Borders I have crossed dozens of times before. But not altogether simple when it comes to the railway connections. At least I know that for all of these countries all trains will reliably be shown in a Deutsche Bahn timetable search – something that is not the case all over Europe (explanation here, proposed solution here).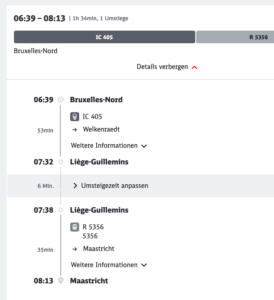 Engineering works around Köln, and the ongoing chronic unreliability of the Frankfurt-Köln-Bruxelles ICEs make Berlin-Bruxelles a bit of a headache. And Bruxelles-Liège-Maastricht – by default – offers me just a 6 minute change in Liège on the way to Netherlands. Perhaps too tight.
I need more granular control of my routes. To set via stations. To set a higher minimum change time. And – for other trips in the future – choose trains that convey bikes, or choose to avoid particular types of trains like TGVs or ICEs.
All of those options used to be easy to find in Deutsche Bahn's web search, and in their app DB Navigator (iOS, Android). But now – with the aim to streamline and simplify the default search options, that is no longer the case. You're left searching for options to tweak your search after you have made the initial search.
The solution: to use the DB Reiseauskunft search on the web, rather than the default search on the DB homepage. This is like an advanced search interface, and there are versions in German and in English. It gives you all the granular control you need and – once you have booked – your tickets are still saved to your DB profile as normal.
[UPDATE 6.11.2023, 11:30]
If you want it with even more options, but with an even simpler interface, Edmund Lauterbach has made his own forms – in German and in English. These then send your query to the DB system.