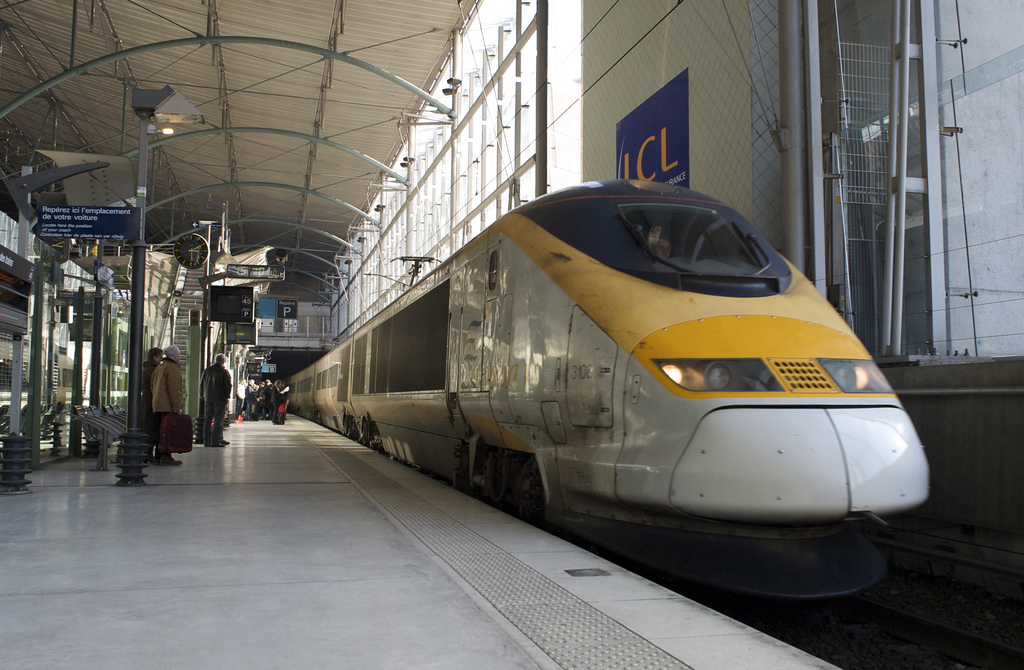 What is the Lille Loophole?
It is a means by which people without the correct identification papers necessary to enter the UK can do so thanks to a loophole in the Schengen rules, as applied at Gare du Midi in Brussels, and to the Eurostar rail service. News about the loophole here.
How does it work?
A passenger buys a ticket for the train between Bruxelles Midi and Lille Europe* (which is allowed) but instead of getting off in Lille, the passenger stays on the train and continues all the way to London St Pancras (not allowed). This is possible because both Belgium (Brussels) and France (Lille) are in Schengen, and hence passengers travelling between these two cities cannot be obliged to show a passport when boarding at Gare du Midi, Brussels, as the Schengen agreement has abolished border controls between the signatory countries. These Brussels-Lille passengers are allowed through a corridor that bypasses the UK Border Authority's desks at Gare du Midi. Identification and visas allowing someone to be present in a Schengen zone country, and those to enter the UK, are different. Someone may be in Belgium legally, but this might not mean they could legally enter the UK.
What happened?
Previously when travelling from Brussels to London, or Lille to London, a passport check took place only in Brussels or Lille. As a result of travellers exploiting the loophole, UKBA has introduced extra passport checks upon arrival at St Pancras, and UKBA also stamps passengers' tickets before boarding in Brussels. Sometimes there are also additional passport checks on board the train between Lille and Calais, performed by French railway police. The problem is the 300+ passengers disembarking a Eurostar at the same time at St Pancras can mean queues of up to 20 minutes to leave the terminal, and this can be worse still if two trains arrive at the same time. This means people in danger of not getting onward connections, and this makes Eurostar feel more like an airline with its queues than a rail service.
So what's the solution?
The little known fact in all of this is that the Lille Loophole only actually applies to three trains each day on the Brussels – London route. These are trains 9133 (1256 departure), 9149 (1656 departure) and 9161 (1952 departure). All other Brussels – London trains, even if they stop at Lille, cannot be booked for Brussels – Lille. In other words, the 7 other Brussels – London trains** only pick up passengers in Lille, and hence no passenger on these trains can bypass the UKBA checks in Brussels.
I was a passenger on train 9157 (1856 departure) on Friday from Brussels to London, but was still subjected to passport checks in London (see my blog post prior to the journey here). Why, I asked the surly UKBA official at St Pancras are you even checking this train because it is not a Lille Loophole train? "It is!" she snarled back at me. "No, you cannot book Brussels – Lille tickets on this train" I pushed. "Do you think I do this job for fun?" was her retort.
Seriously though, is all of this not getting a bit absurd? It is only possible to check in for Eurostar at Gare du Midi once the previous train has departed, so there is not the danger someone accidentally can hang around and get on the wrong train. And that could anyway be solved with a ticket check on the train from a member of Eurostar staff, ensuring everyone was on the right train. A UKBA official I asked in Brussels implied that passengers could hide so as to exploit the loophole, by waiting around for later trains. Where could that possibly happen I wonder? In the loos in the Brussels terminal or something?
All of this then leads us back to a comparison of the Eurostar border with other borders. When you cross to the UK in a car on a ferry or in Eurotunnel not even your luggage is systematically checked. How hard would it be, I wonder, to stow yourself away in the boot of a car? Or on board a yacht sailing across to the UK from France?
As for Eurostar, from the situation where there was an obvious loophole, we now have completely the opposite situation – where even trains to which the loophole would not apply are subject to extra checks. While this is infuriating now, it might even kill the prospect of through Eurostar or DB services from other European cities in future, and damaging rail's position vis à vis air is a highly undesirable outcome.
* – theoretically the same could be done at Calais Fréthun, but for the sake of simplicity I only refer to Lille in this blog entry.
** – Monday-Friday services. Full timetable here.