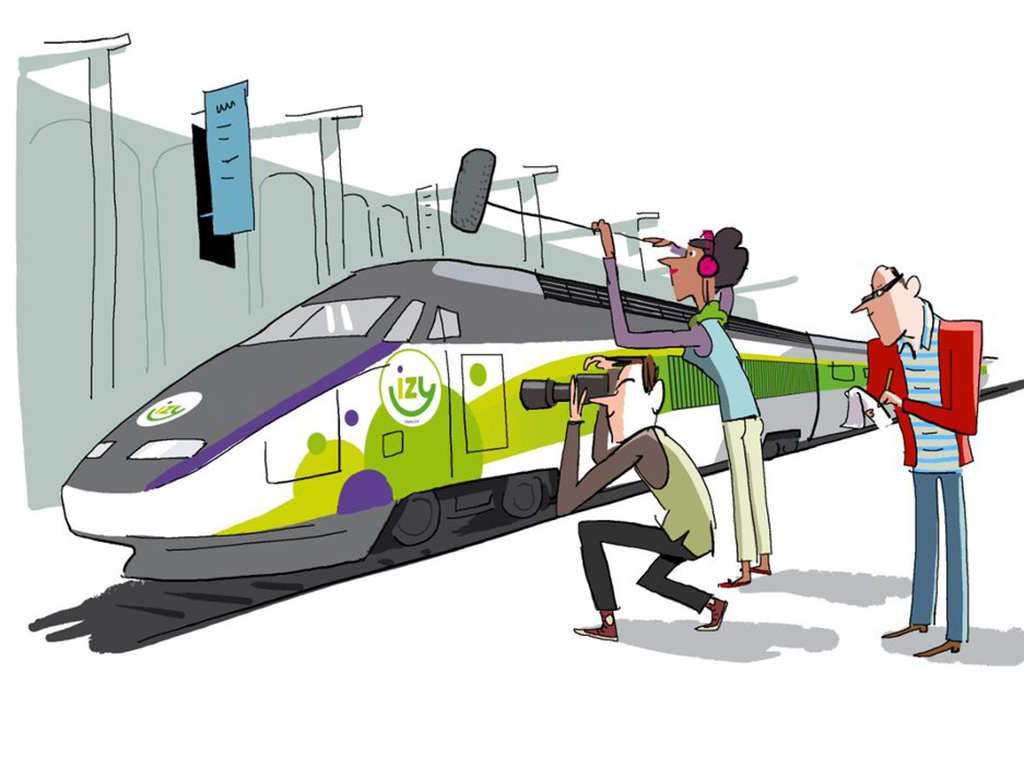 So Thalys – whose rail service always strikes me as the worst combination of anglo-saxon economics and Belgian service – has a new wheeze. A new, lower cost, but slower train between Paris and Brussels, branded IZY (Easy – geddit?) It's like Thalys's version of OUIGO, the low cost TGV that is owned by SNCF and has been running since 2013 from Marne-la-Vallée near Paris.
Thalys has hired two additional tri-voltage TGV railsets from SNCF, stuck a bit of a new green and purple livery on them, and put the bar carriage out of service, and opened its new low-cost brand. It will only run Brussels-Paris-Brussels, and tickets will only be sold online. Standard tickets should normally be €19 single, and what IZY calls "XL" (i.e. what was first class) will be €29. You will also be able to book tickets without a guaranteed seat (€10) and for the pull down seats in the vestibules (€15). How much luggage you can bring is also limited.
It's also worth noting that while normal Thalys does have onboard wifi, these TGV sets they have hired for IZY do not, and none of their publicity material for IZY mentions this – so count on no wifi on IZY for now.
There will be 2 departures each way each day weekdays, and 3 each way each day weekends. The journey time will be between 2 hours 8 minutes and 2 hours 30 minutes, in comparison to just 1 hour 22 minutes in the regular Thalys – this is because IZY will use old lines rather than the high speed line north of Paris to reduce costs.
Basically IZY, like OUIGO, is a segmentation exercise. Thalys is aimed at business customers (it's a cash cow as it transports all of the tax exiles from Brussels to Paris for work), while tourists find it horribly expensive – and increasingly prefer the cheaper but considerably slower coaches between Brussels and Paris instead, not least because the coaches also have on board wifi. IZY is Thalys's effort to do something about that, and entice some people back onto the train. However Interrail tickets will not be valid on it.
Notably neither OUIGO nor IZY are actually competition on the rails – they are low cost offerings from the same firms that are already the monopoly providers. Even though IZY will pass towns like Arras on the old line it will use, it will not stop there… because if it did it would compete with SNCF's TGVs. So Thalys has its low cost brand, IZY, to help protect its own market, and SNCF has the same with OUIGO. SNCF is happy to lease 2 TGV sets to IZY… because SNCF has a 60% stake in Thalys. You get my drift. Each protects its own monopoly.
Now there would of course be two radically different ways to achieve the same end – to get more people onto the rails, and off the roads.
One would be for the state owned Thalys (it's 60% SNCF, 40% SNCB owned) to actually increase capacity on its regular trains, rather than increasing prices at peak times as it does now. At peak hours Thalys is already jammed, and has eye wateringly high prices – some double deck trains might help there. The odd thing about SNCF, and hence Thalys by extension, is that for supposedly public service companies, they behave like anglo saxon capitalists in their pricing structure.
An alternative would be for a company other than one owned by SNCF to actually run its own trains on Brussels-Paris. But DB's Velaro ICEs are not cleared for 300km/h in Belgium, and DB has ducked ever competing with SNCF, and Trenitalia's plans are pie in the sky for the moment. Look at Milano – Roma, where Italo competing with Trenitalia has increased capacity, improved service, and driven down prices – that would be very welcome on Brussels-Paris.
Don't hold your breath that either of those options are going to happen any time soon though!
More reading about IZY: Izy budget Paris – Brussels train service to offer €10 standing tickets (Railway Gazette), Izy, le premier train à très bas prix de Thalys (7sur7), Thalys lance Izy, des trains à «bas coût» entre Paris et Bruxelles (Le Parisien).