Following my presentation yesterday at a European Commission event about services in the EU Single Market (blog entry here, slides here), I was told by a representative of Leaseurope that Hertz charging someone using hertz.be €20.06 more for 4 days of precisely the same car hire in Brussels than someone booking from hertz.de was perfectly permissible, and that this is simply "source market pricing".So what is "source market pricing"? Googling for this term digs up rather few results, although, page 62 of this Commission PDF from 2009 gives as good an account as any. An older piece about it is here.
The argument goes like this. Despite the fact that the car, and the service, provided by Hertz is precisely the same, the market conditions in the 'source' market – i.e. where the customer is booking rather than where s/he is picking up the car – are different. So if it is a bank holiday weekend in Belgium, more Belgians are going to be booking that weekend, and Hertz will be spending more on advertising in Belgium during that period, and hence the price to book at hertz.be would be higher than at hertz.de or hertz.co.uk
This goes to the heart of the action the European Commission took in the summer of 2014 against car hire companies – then it was the case that if you booked from Hertz, Avis or Europcar, your country of residence had to match the country of the website you were using (i.e. live in Belgium, only book with hertz.be). Following the European Commission's investigation, these two aspects have been decoupled (as explained here). So now a Belgian consumer can book from a German car hire site, and vice-versa. But the European Commission has expressly not ruled out source market pricing, although reasons for this practice being used need to be 'objective' – I would like to see how the customer could possibly work that one out!
So how does this work in practice across the EU?
In Hertz's case, not very well I think (and note I am only using Hertz here as they were the worst offenders in my previous investigation – others may be equally bad). This is the table of prices for renting a Class B car for 4 days at Brussels Airport, no extras, for the period 13 March 0800 – 16 March at 1800, prices checked at 1800 on 10.2.2015. The "Hertz County" is the domain name – BE = hertz.be etc.: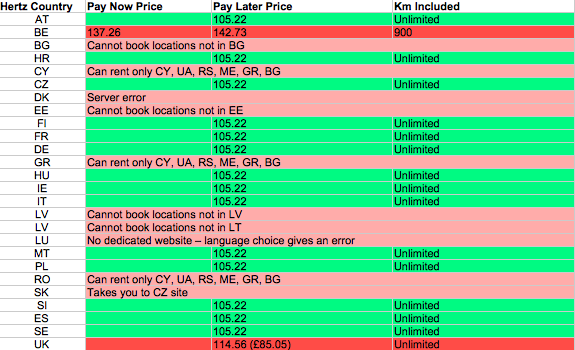 In 14 countries things work. However in the country where the car is to be collected – Belgium – the price is the highest, and this is the only place where kilometres are restricted. But – interestingly – in 7 markets (BG, CY, EE, GR, LV, LT, RO) it is impossible to book a Hertz car in Belgium off the local Hertz website. The normal consumer reaction in such a circumstance would be to book on the website of the country where the rental will happen – Belgium – and, in this case, get screwed with the worst price and terms. So if you were from one of those countries, you would not get the best price from either your 'home' website, nor from your 'destination' website, but would have to book using a completely different country. Is this realistically viable for a consumer?
Source market pricing is hence just a trick in my view. It assumes that a customer is not savvy enough to shop around, and clear and objective reasons why one market should be priced more highly than another cannot be determined by the consumer. The cynic in me would think that source market pricing is just a nasty ploy by car hire companies to screw whatever money they can from customers, to maximise profits when they can, with no objective reason other than that they can do it, so they do.