I want to rent a car in Brussels for 4 days at the end of August, for a trip to Germany for Rhein on Skates. The round trip will be about 900km, with 2 drivers. We need a small car – Polo or Clio or something like that. I have a German address, and the other driver has a Belgian address.
So first question: book using the Belgian or the German versions of the main car hire websites? Avis BE or DE, Hertz BE or DE, and Europcar BE and DE? Each site deals with residence differently – Europcar allows residence to be set regardless of the landing page you use, while Avis and Hertz default to residence in the country of the domain name of the site.
Having worked that out, what are the prices for 4 days of hire, with 2 drivers?
With Avis, booking in Belgium is €1.00 cheaper than booking in Germany. The German price stipulates unlimited mileage, and while the Belgian site does not list this I assume it is included.
.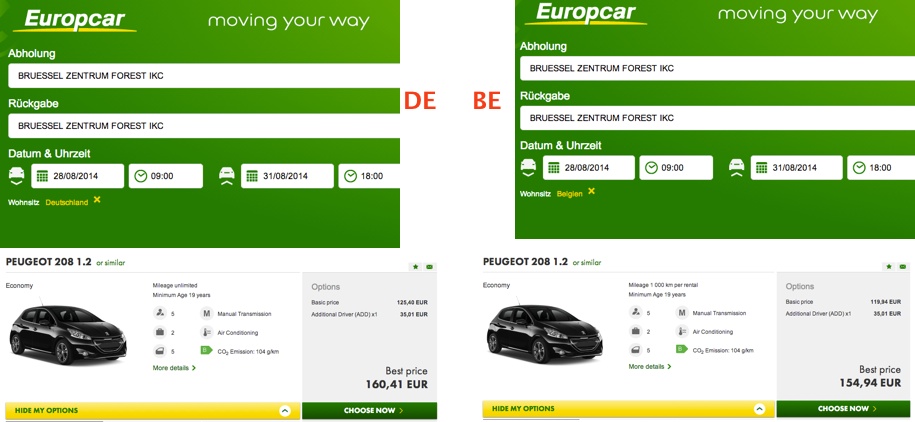 With Europcar, stating your residence is Germany makes the price €5.47 more expensive than putting Belgium as your residence. Here prices contain 1000km as standard.
Oddly, listing Belgium as place of residence gives you a larger range of hire locations, including "Brussels Center Crown" that is conveniently located close to central Brussels, but isn't available if you live in Germany.
.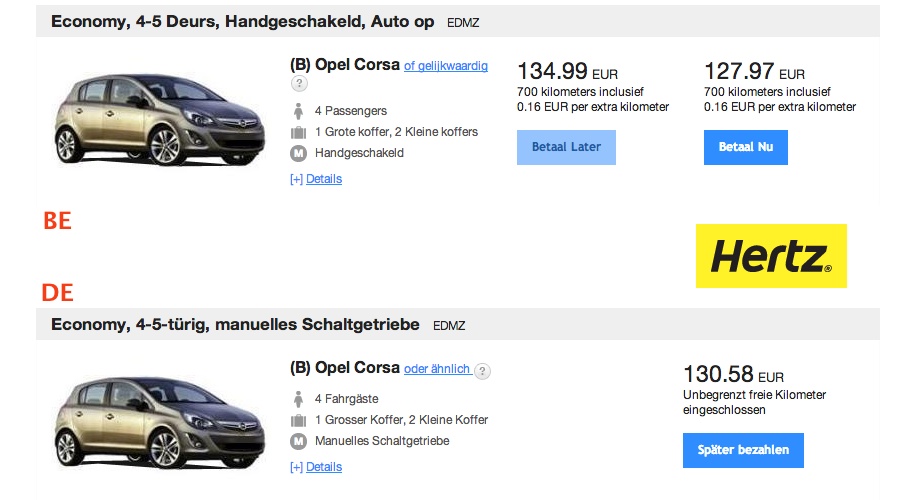 With Hertz, the price differential is the opposite – the German price is €4.41 cheaper than the Belgian price, if you pay when you collect the car. If you are in Belgium you can pay immediately, and save some money. But here if you book in Belgium you get only 700km included by default, while if you book in Germany the distance is unlimited. Plus trying to work out how much an additional driver costs eluded me altogether on Hertz's website – hence the lower prices listed here than for Europcar and Avis.
This whole thing leaves me bewildered and annoyed. There can be no tax-based reason for these differentials, as Hertz's pricing is opposite to that of Avis and Hertz. This strikes me as price discrimination by nationality, pure and simple. Then the companies do not allow you to compare like with like, even within the same company. I wonder what can be done to solve this?