My trip today, 10 April 2018: Toulouse (population: 467000, 1.3 million in the urban area) to Béziers (population: 75000). Distance 176km by train, 180km by road. Departure time: sometime around 1500. Towns along the route: Castelnaudary (population: 11000), Carcassonne (48000), Narbonne (53000). Beyond Béziers are Montpellier, Nîmes and Marseille.
Here are today's trains for the route for the period I need: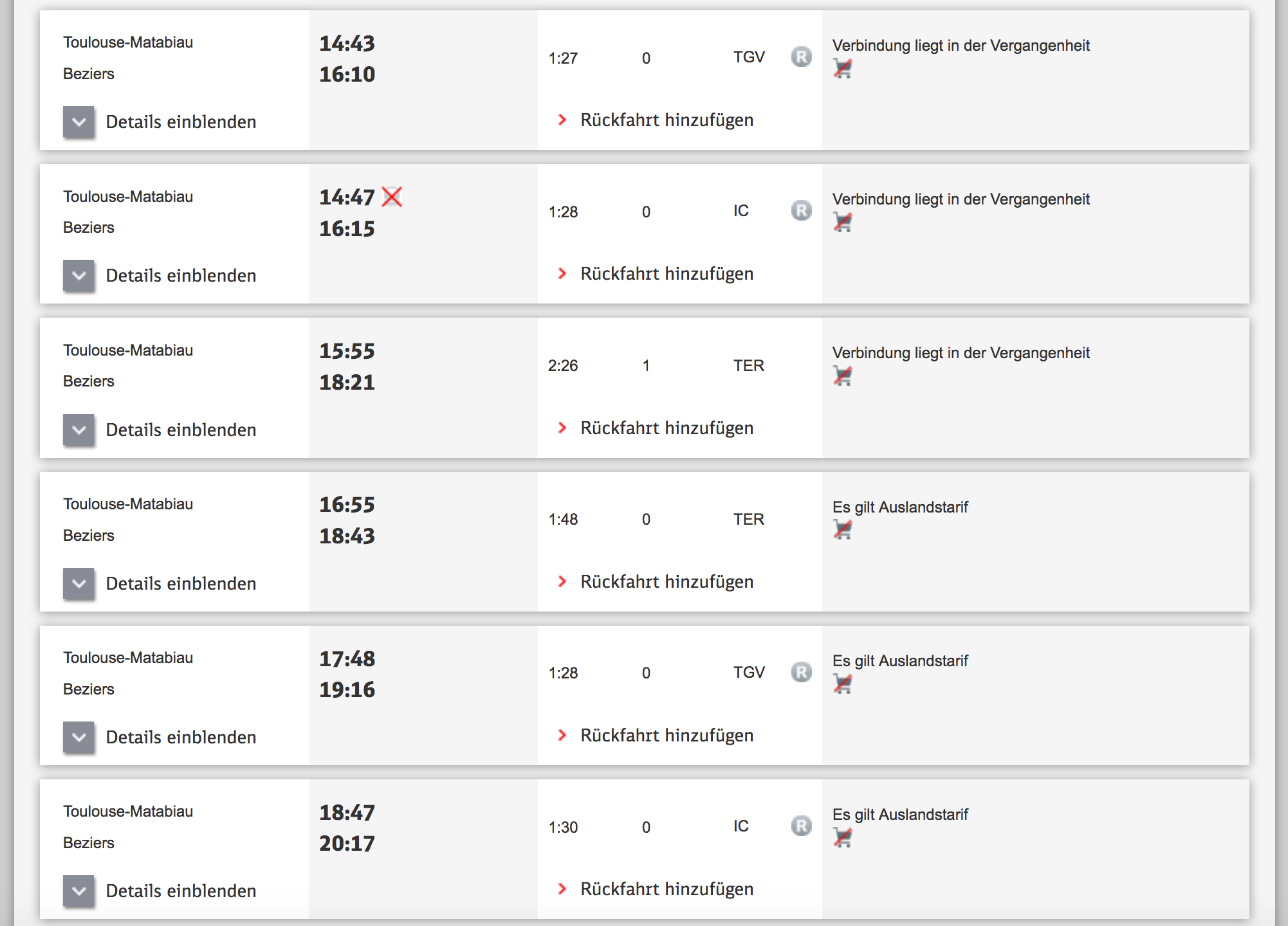 The previous TER (regional train) connection leaves at 1010 and arrives at 1222. Then you have a TGV and an InterCités leaving 4 minutes apart (InterCités cancelled today due to the SNCF strike yesterday), then a smattering of TERs, TGVs and InterCités later in the day. Remember too that all TGV (anywhere) and InterCités (on this route) are compulsory reservation – if it is full you cannot get on.
Essentially you have no flexible connection on this route for close to a four hour period in the middle of the day – the only connection in the middle of the day involves a bus and doubling the journey time: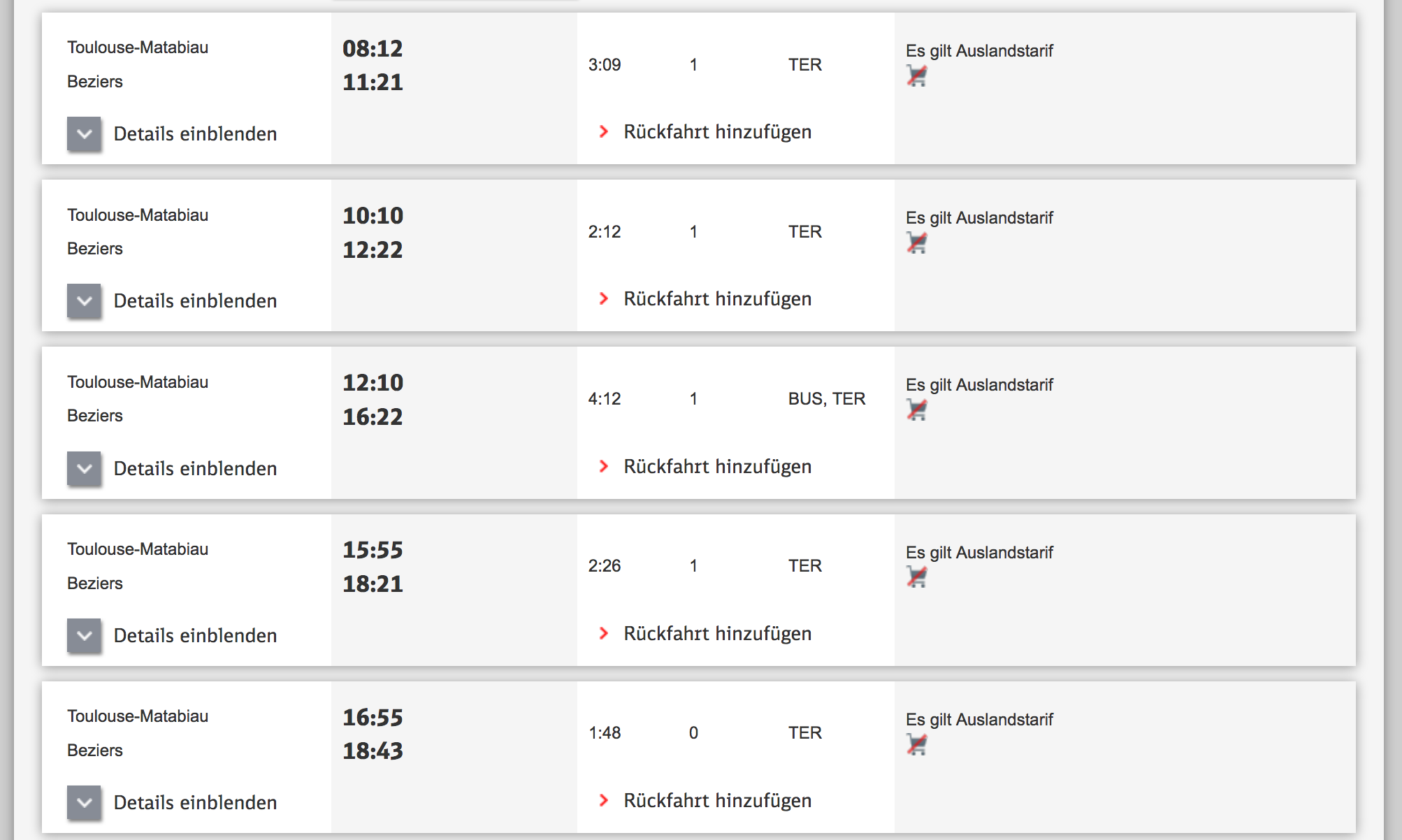 Note that this is not some route in the middle of nowhere. It is a mainline, electrified, non-high-speed line connecting important regional centres. And there are so very few trains, and even fewer that you can just walk up to the station and get on.
So when the justification is made that SNCF needs to be reformed because 10000km of lines transport just 2% of the passengers, is it because no-one wants to travel there? Or because the lines exist, but there are actually no trains at convenient times running on them? Imagine you need to change your plans last minute… and that is the middle of the day. Tough, you're stuck. So you buy a car instead.
It's hard to find an exactly comparable route in Germany, but I think München (population: 1.4 million) to Heidenheim an der Brenz (48000), passing Augsburg (289000) and Ulm (122000) ought to be similar – distance is 170 kilometres, and even though the trip takes longer than Toulouse-Béziers, look at the density of connections! You could rely on this – and this is public service! Admittedly a standard ticket is more than in France though.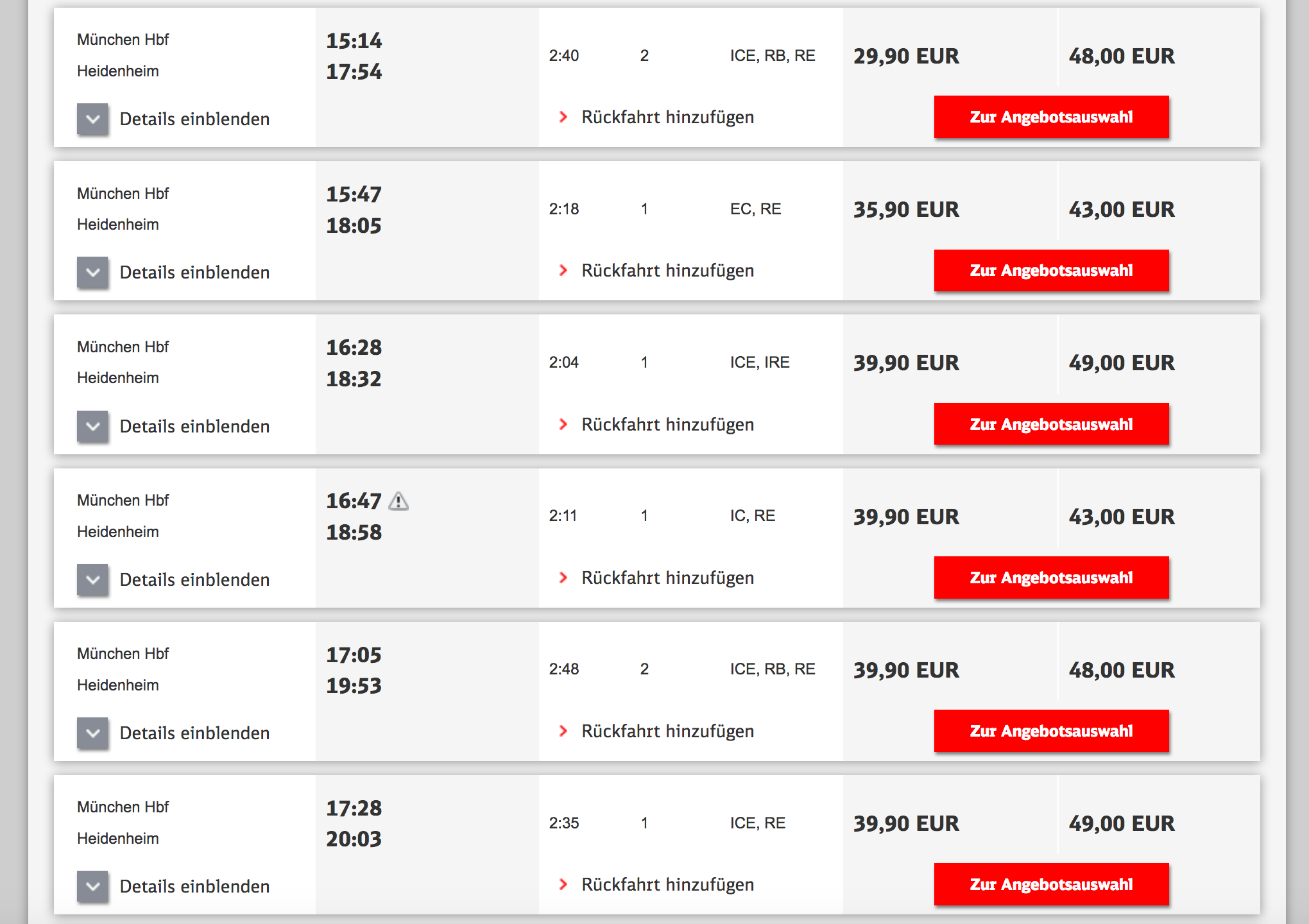 What then does a public service railway actually look like?
That it gets you where you want to go, regularly, and at whatever time of the day? That you can rely on it? Because by that measure SNCF is a major failure in terms of public service. Even on a route like Paris – Lyon on a TGV does not fulfill that – try doing that last minute at a peak hour and you will not be let on the train as it is compulsory reservation.
Productivity of SNCF workers is low, and is getting worse (see the latter part of this), SNCF has a chronic debt burden, 5500km of line is subject to speed restrictions due to the poor quality of the infrastructure, freight volumes are down (end of this), and the heavy investment made in high speed lines will not make a return on the investment. But SNCF – seemingly without a competitive tender – wants to award the construction of 100 new high speed trains to Alstom. Surprise, that.
Drawing all of the strands of this together, it looks to me that SNCF has been run for the past few decades in the interests of the people who build high speed lines and the people who build its high speed trains (Alstom), and not in the interests of the people that actually use it – the passengers and the freight shippers. Meanwhile its workers have sought to defend their rights and have become less productive compared to their counterparts in other European railways. If that little combination is not reason for some major reform, then what is?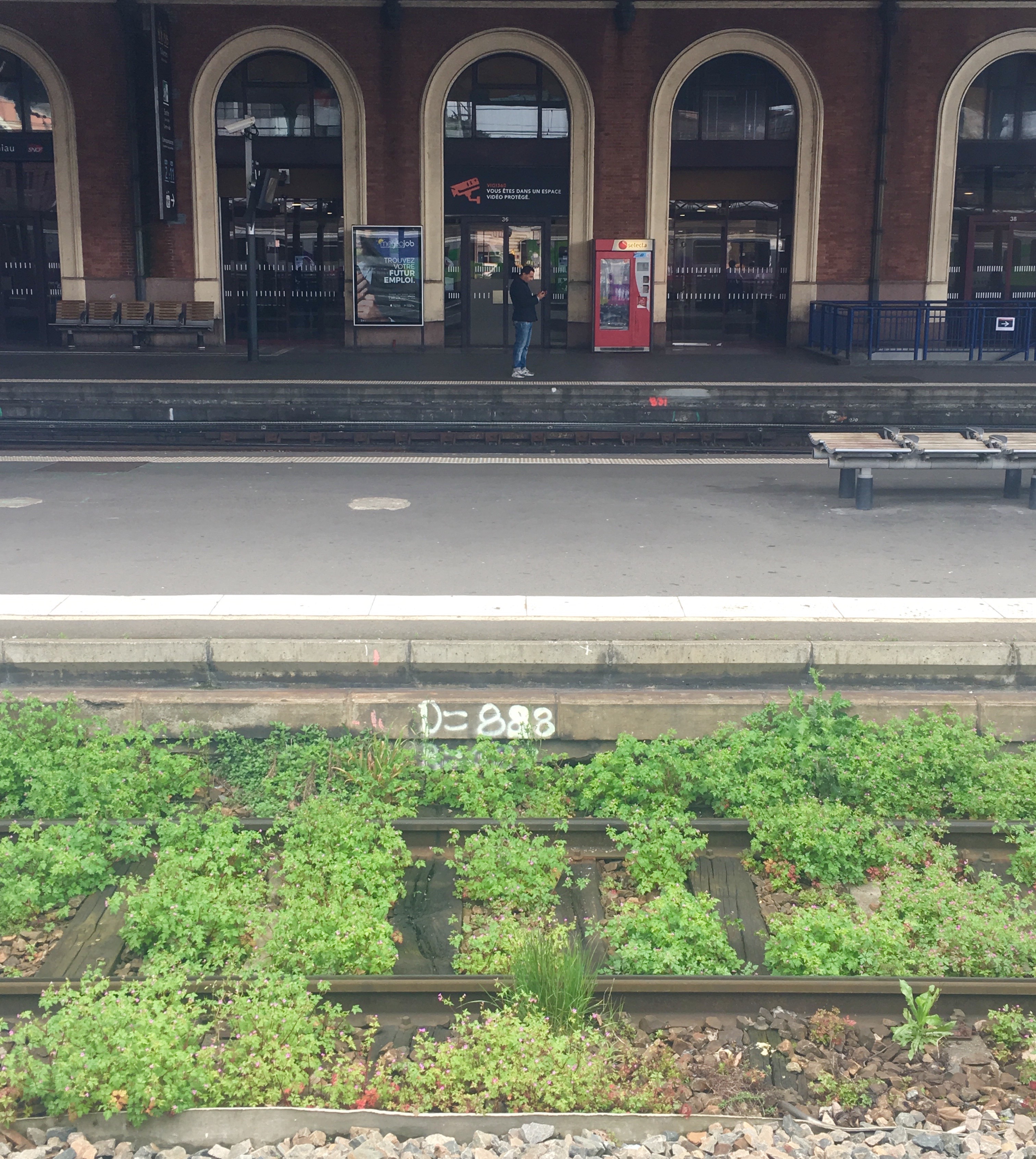 So then, how was my trip? The tracks at Toulouse Matabiau looked like they needed some attention for a start! I then took the 1555 TER train, changing in Narbonne. A single ticket cost me €29.10. The trains were bumpy Bombardier units that had seen better days and could do with a good clean. No wifi, but at least a power plug. The staff checking tickets (why three of them in a 3-car TER? – that productivity again) were friendly. And it got me there. The InterCités behind me meanwhile has a delay of 120 minutes…