Back in 2015, Michael Cramer MEP published his list of missing links in the European railway network. Cramer – a politician from the Greens-EFA group and chair of the TRAN Committee of the European Parliament at the time – had the idea that smaller, cheaper, lower scale cross border railway projects might be better value than the EU's more prestigious, expensive and potentially environmentally damaging Trans-European Transport Network (TEN-T) projects.
When discussing transport policy in the context of my Trains for Europe project I often hear people mention Cramer's work on missing links, so I thought it was high time to revisit his work 6 years on. Cramer himself retired from the EP in 2019.
This blog post will examine each of the 15 mentioned in Cramer's 2015 research (PDF here). He produced an update on the work in 2018 as well (PDF here). I have also written a Twitter thread about these links here. Many of the maps I use are from the wonderful Open Railway Map, with some amendments as necessary. If something is incorrect or missing do let me know in the comments – I will happily update the blog post as necessary!
Contents
1 – Mõisakü ?? – Ipiki ??
Cramer's document speaks of 10 kilometres of track missing here, but a glance at Open Railway Map shows it is much worse than that!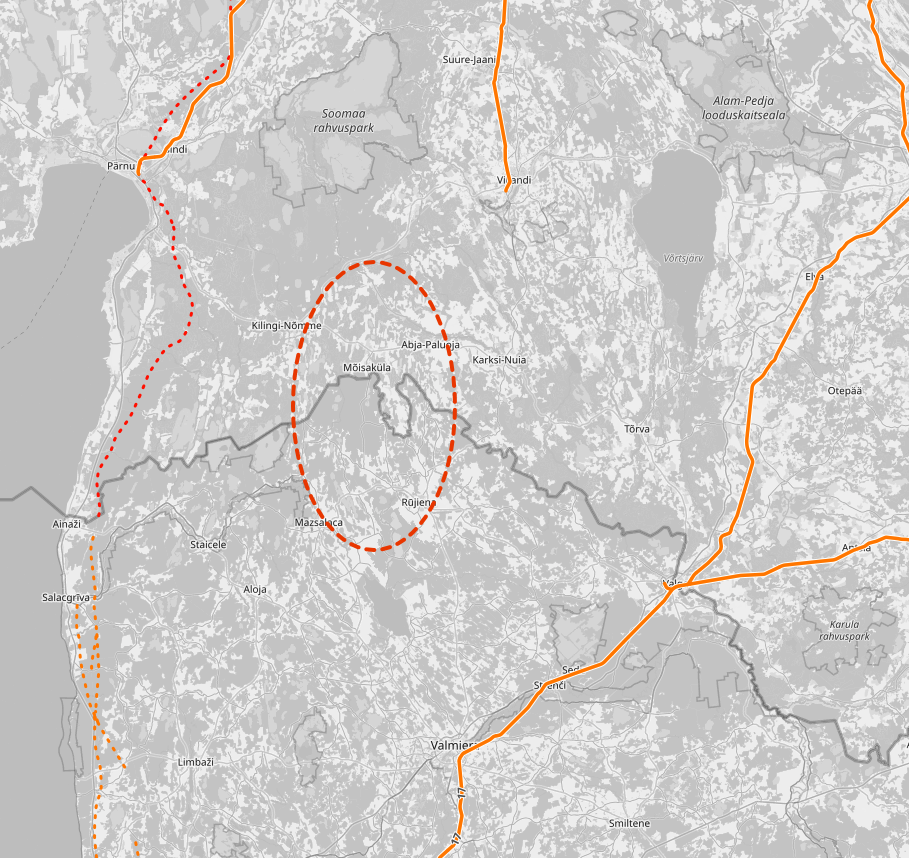 This is confirmed by the railway map by the passenger rail operator in Latvia, AS Pasažieru vilciens: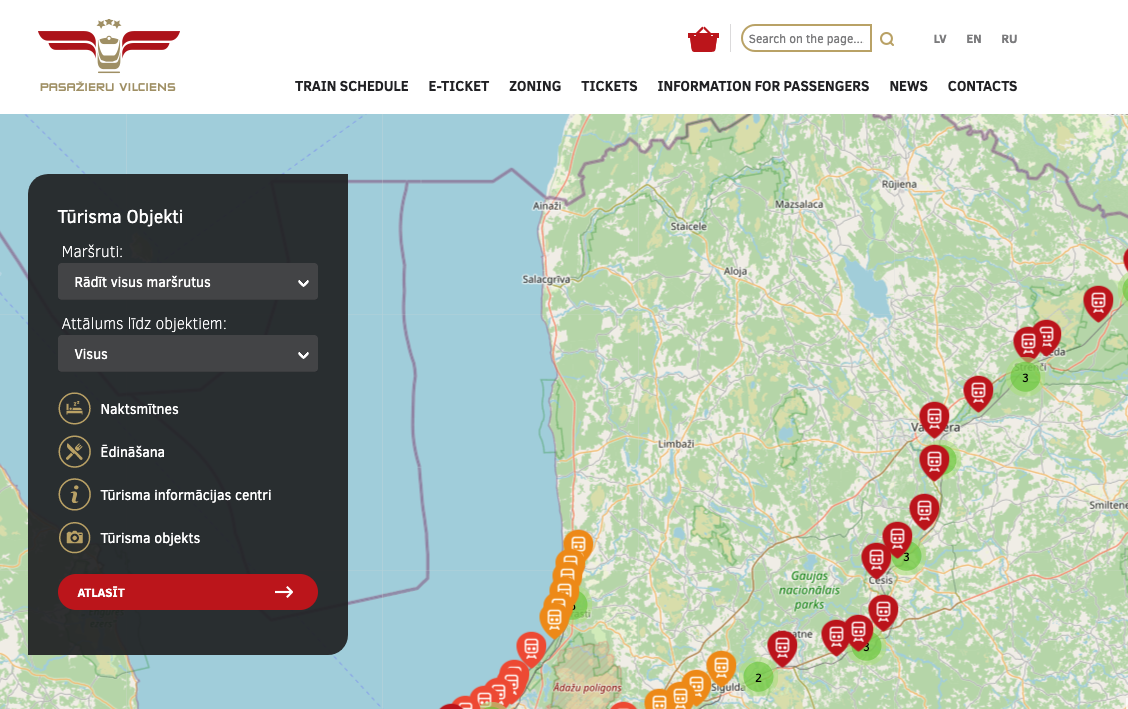 As the crow flies it's more than 120km from the final point on the Riga suburban network at Skulte, and the southernmost point on the Estonian network that could be served by passenger trains – Viljandi. RAL 7040 (@briedisunrepshe) did some excellent work helping me get to the bottom of this on Twitter – see this and this. Moritz Krähe
(@moritzkraehe) also pointed out that this is the area where Rail Baltica will eventually run, so the prospects to re-open the old line are non-existent.

Conclusion: nothing is happening here. This one is hopeless.
2 – Givet ?? – Dinant ??
Cramer talks of 20km of track missing here, and filling this gap would allow the completion of a 200km long route between Belgium and France. His 2018 update underlines that there is a cross-border bus route operating here, and that the Ardennes cycle route now uses part of the alignment. This is what it looks like on Open Railway Map: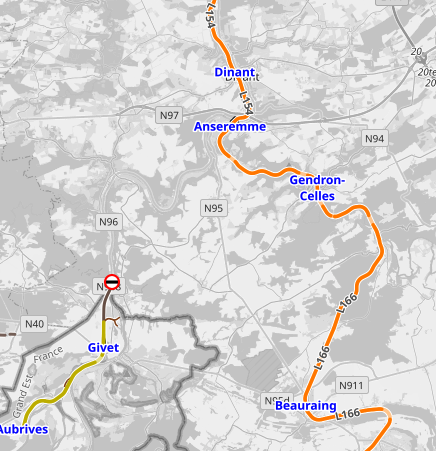 A few things are starting to stir here – to re-open a route that last ran regularly in 1990. In 10 December 2021 Transport Ministers of France Jean-Baptiste Djebbari and Belgium Georges Gilkinet agreed to look at re-opening the line, although no date was set. There was a similar declaration 3 years earlier between Nathalie Loiseau (French side) and Willy Borsus (Belgian side). The line on the French side has also recently been partially modernised.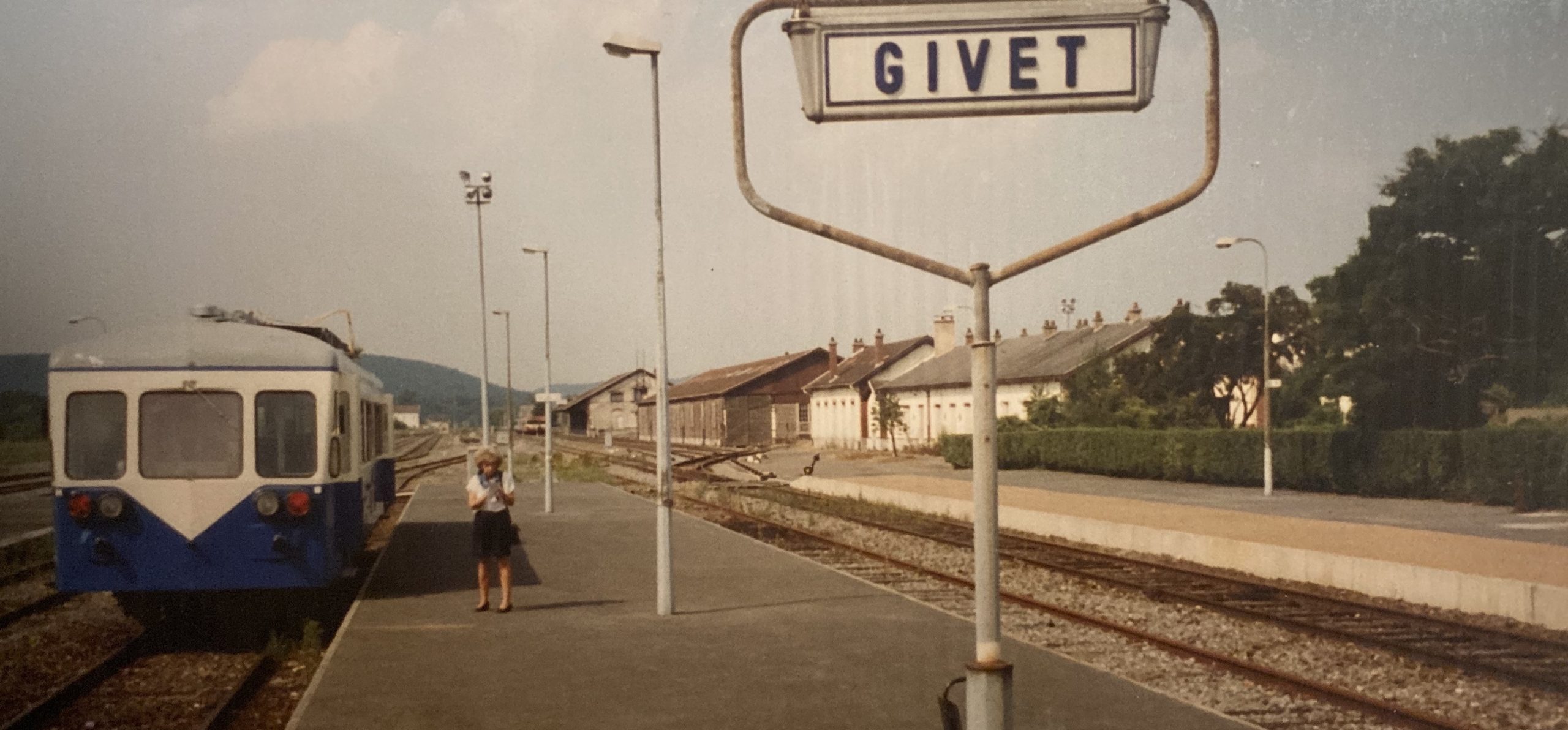 Conclusion: eventually something might happen here, and there is the consensus a rail connection makes sense.
3 – Dunkerque ?? – De Panne ??
While Djebbari and Gilkinet cited Givet – Dinant in their recent declaration (see above), it was another missing connection – Mons – Valenciennes – that they cited as a second route to re-open. Dunkerque – De Panne did not get a mention. Cramer states that 18km of track are missing, and this is the area on Open Railway Map: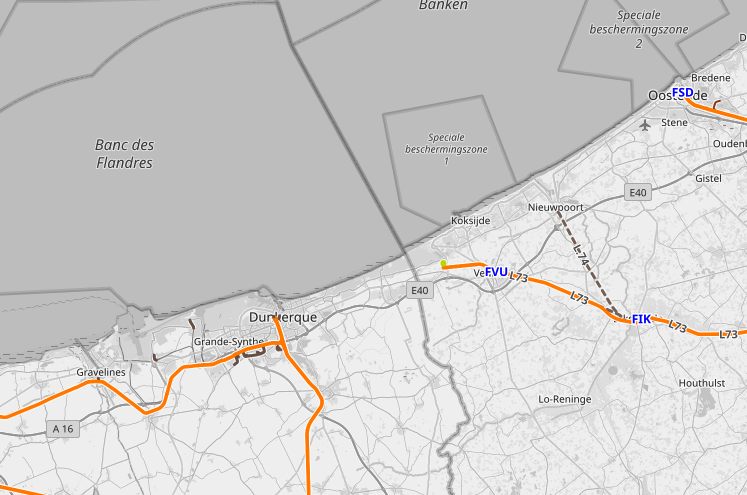 This looks to be an obvious candidate for re-opening – the Belgian coast is well connected – both inland with numerous rail connections, and also along the coast with the Kusttram. And a connection here would also open up routes from Gent and Brugge to Dunkerque and Calais, and the Channel Tunnel. Even rolling stock should not be too much of a headache here – SNCB owns EMUs that can operate under the 3kV dc system in use in Belgium and the 25kV ac system in use in northern France. At the moment a bus connects De Panne and Dunkerque – and it is free to use. But I can find no recent news about this connection – there is at least a semi-active Facebook Group.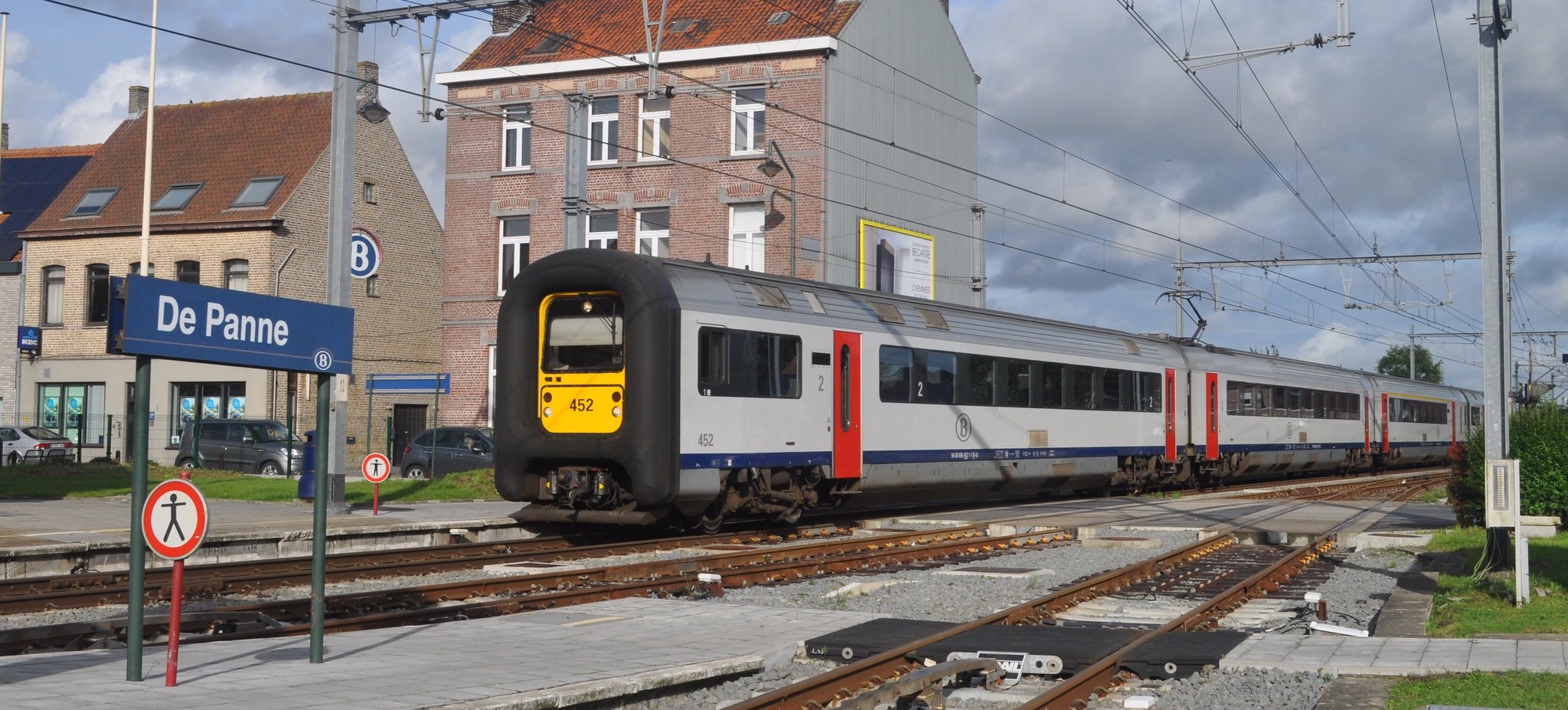 Conclusion: I am not holding my breath that anything will happen here any time soon, but re-opening this line looks to be a really good idea!
4 – Kleve ?? – Nijmegen ??
Cramer's document states that 23km of track are missing, but parts of the lines to the west of Kleve exist still – they are used by draisines. This is how this looks on Open Railway Map: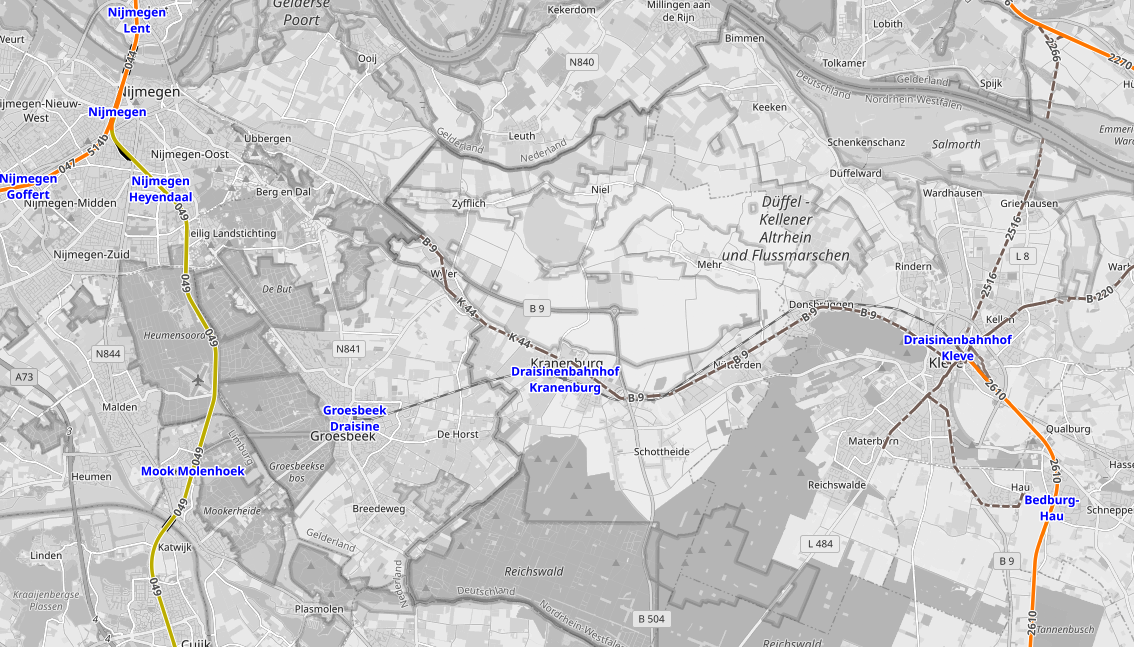 Perhaps more significantly there are actually 3 sections of track missing here – from Kleve to Nijmegen, and from Kleve north across the Rhein to Etten, and east towards Xanten – all shown in purple here: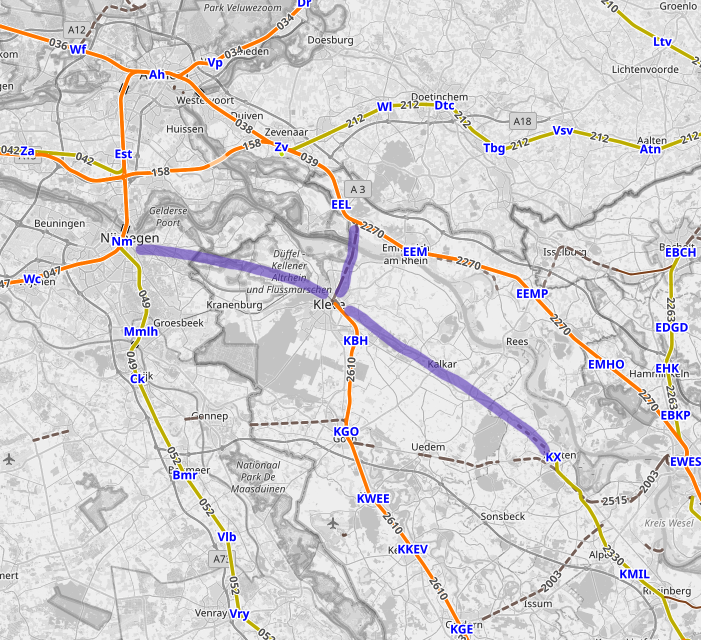 But rail in this area gets very complicated when differences of view on both sides of the border are taken into account. Generally speaking Germany would be fine to re-open at least Kleve – Nijmegen (Dutch news is even reporting as much), but there is little will to do this on the Dutch side, especially in the town of Groesbeek… because the inhabitants there fear they would not just get a cross border passenger service, but freight trains trundling through their town as well – as the line Düsseldorf – Kleve – Nijmegen could become a backup route for freight to relieve the over-loaded Duisburg – Emmerich – Arnhem line that runs parallel to it. I think those fears are somewhat overblown though, as the line from Düsseldorf to Kleve is just single track and not electrified, meaning any service that might eventually run here would not be likely to be especially intense. Also there is possibly the headache that on the Dutch side any new line generally needs to avoid using level crossings – so that could render a re-activation rather costly.
Researching this one was a lot of fun – I was sent two lots of old photos – of the final train before the line closed, and a 1980s EuroCity routing via Kleve.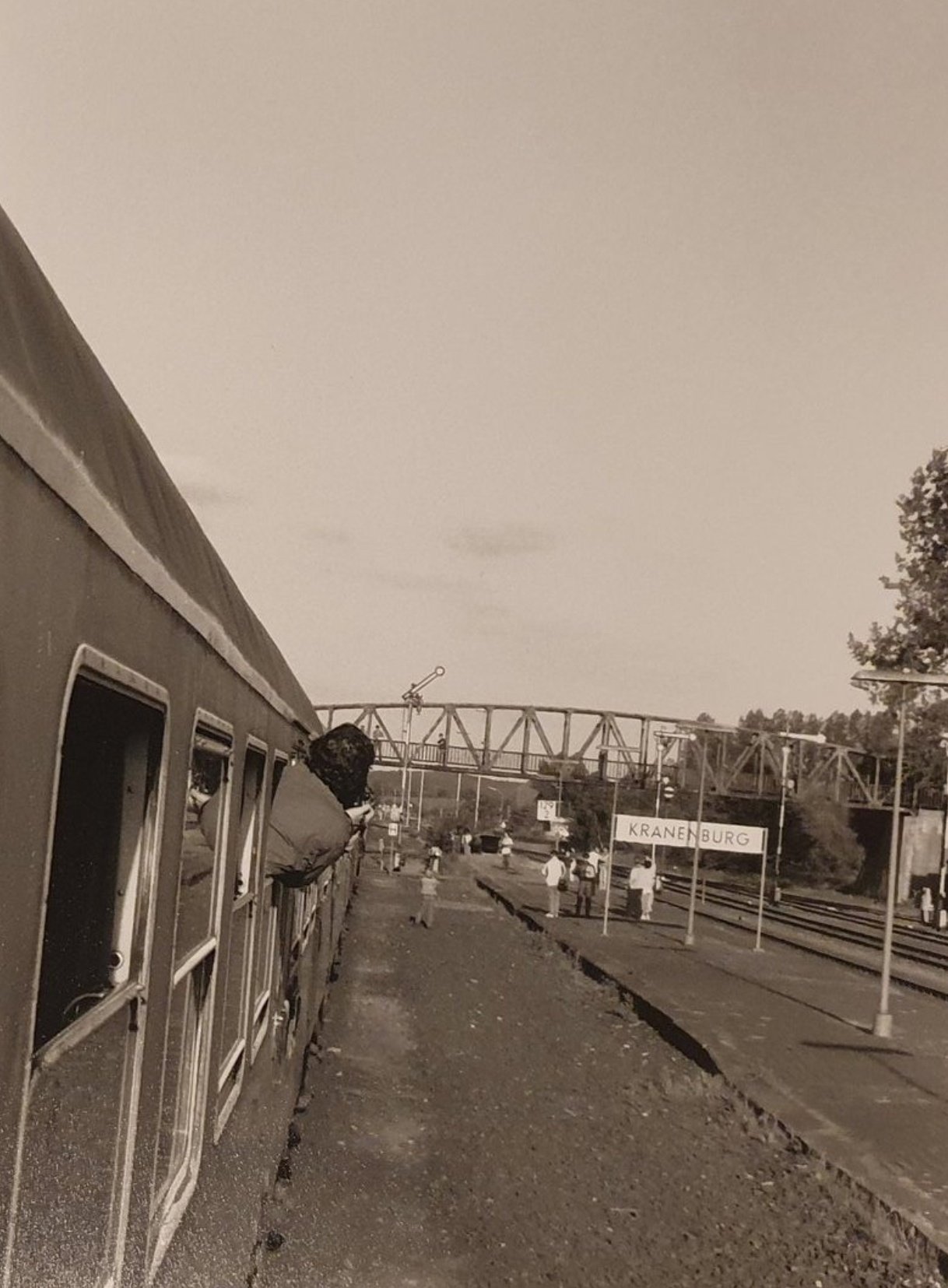 Conclusion: reactivation of this line makes a lot of sense for passenger trains, and the wider context that DE-NL rail needs to be improved could help in that regard. Nothing has happened yet, but if any of these routes might improve in the near-ish future, this is one of the more likely ones.
5 – Rechnitz ?? – Szombathely ??
6km of track is missing here according to Cramer's report, but that does not tell the whole story. A look at Open Railway Map – with the focus on the border crossing: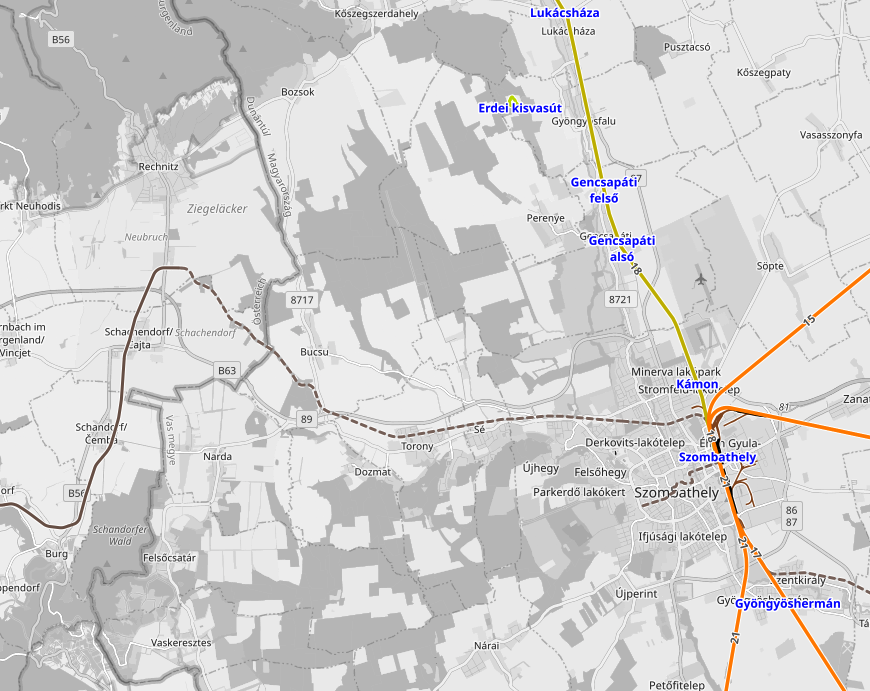 And more zoomed out: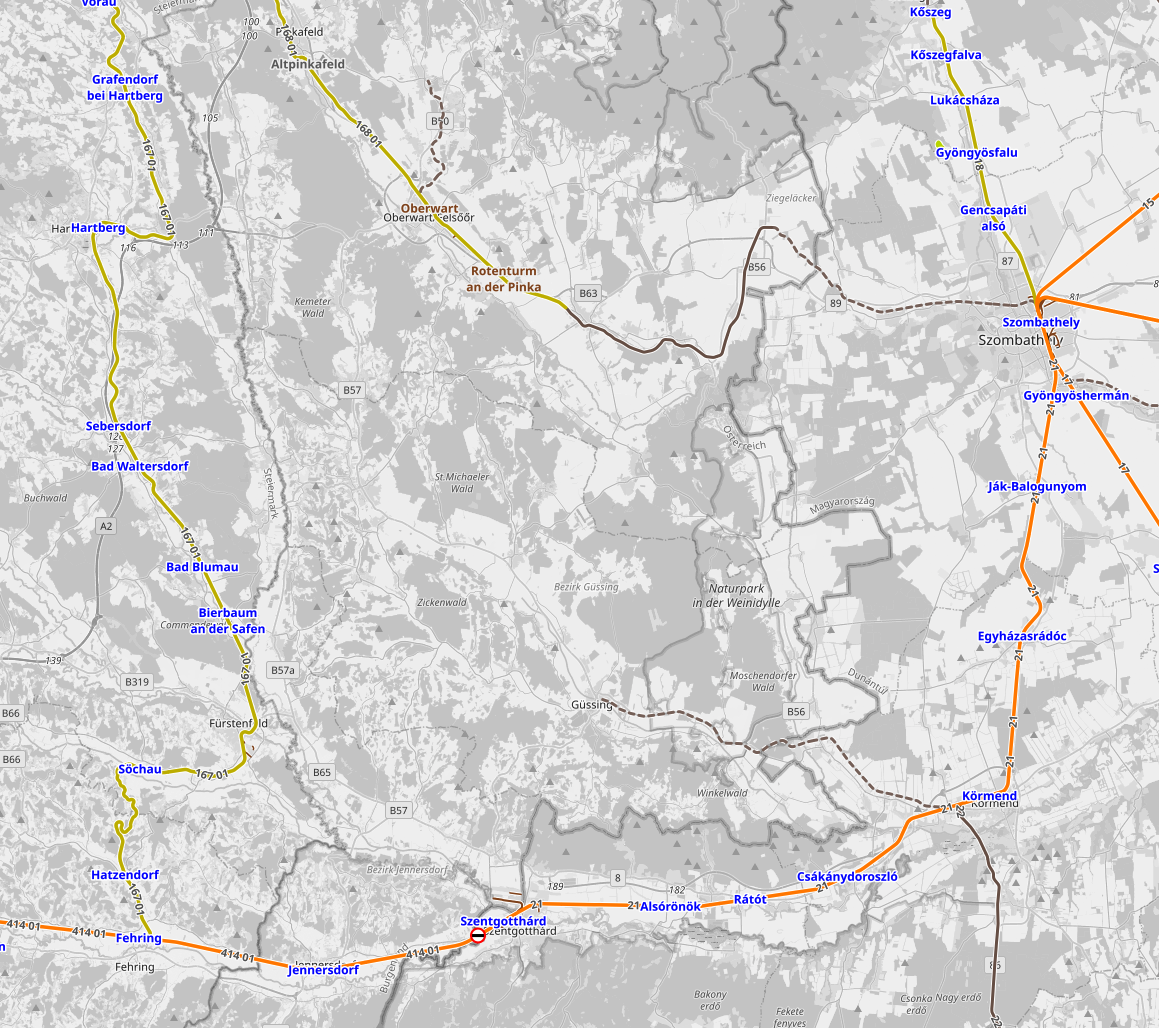 The line to Rotenturm an der Pinka is active, but is only used for freight. Meanwhile the line further south – through Szentgotthárd – has been steadily improved and electrified, and is now even used by a new international passenger connection between Budapest and Ljubljana via Graz. Also the area on the Austrian side of the border here is hilly and not densely populated.
The line north of Fehring, and the line to Rotenturm are also not electrified – green is 15kV electrification, red is 25kV, and black is not electrified: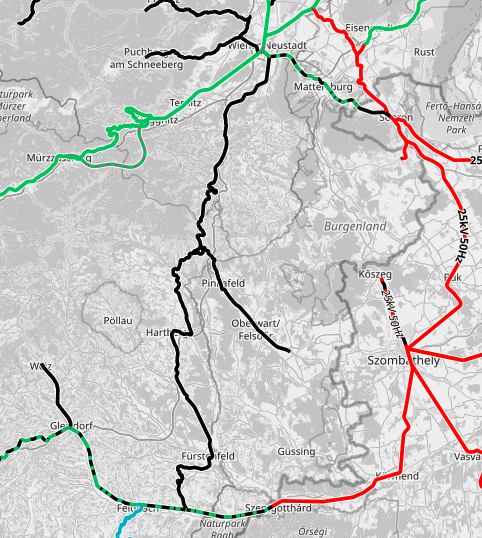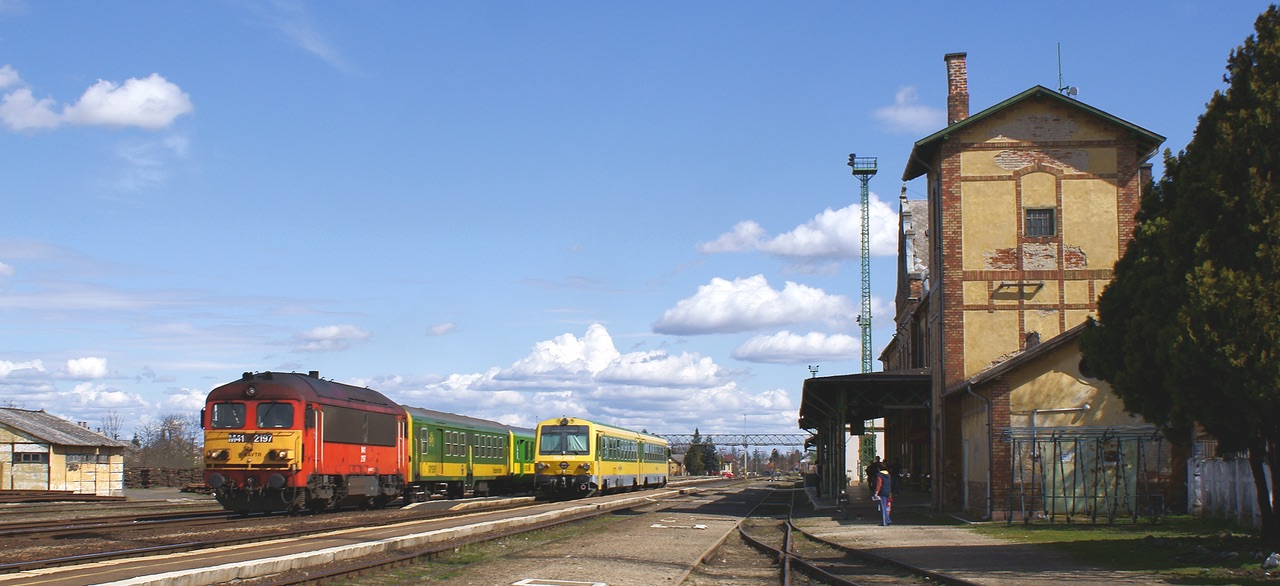 Conclusion: this one looks to be a really long shot. Were other infrastructure improvements to happen on the Austrian side it might just about all make sense, but simply re-activating the few km of missing track seems to not be a good call. I expect no progress here any time soon.
6 – Selb-Plößberg ?? – Aš ??
There were only 4km of track missing here and – good news! – the line has re-opened. Now every 2 hours there is a train from Marktredwitz in Germany, via Aš and Cheb on the Czech side, to Hof on the German side – trains like this.
Here is the map: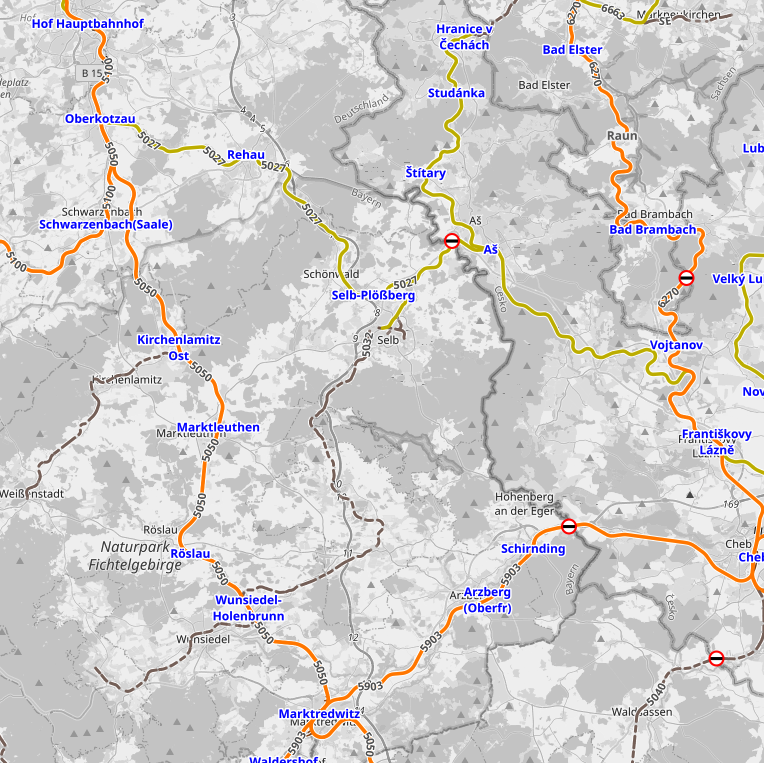 Lines are mostly single track and all diesel, and Alstom LINT DMUs from the Oberpfalzbahn like this are used on the route: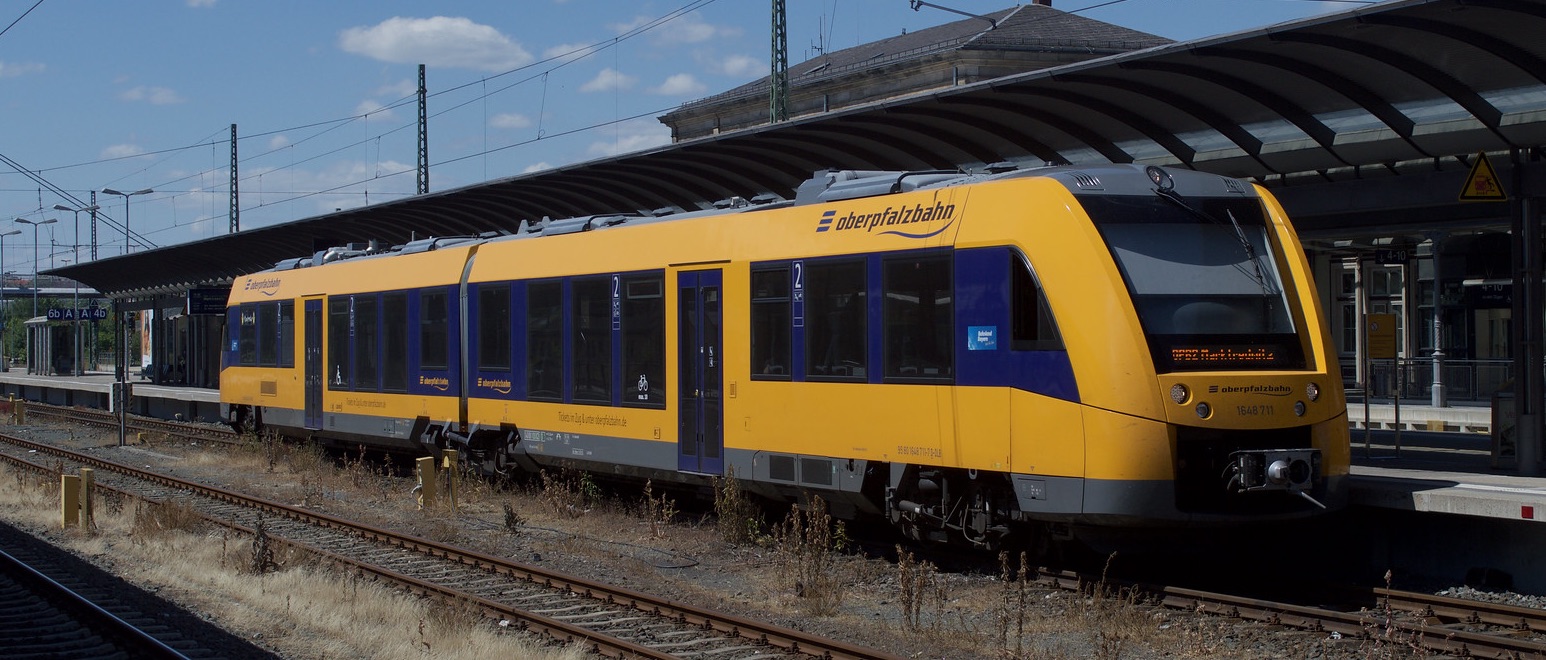 Conclusion: this one has re-opened
7 – Waldkirchen ?? – Nové Údolí ??
Another route between Germany and Czechia, but nothing like as optimistic as route 6. 20km of track are missing between Waldkirchen and Nové Údolí: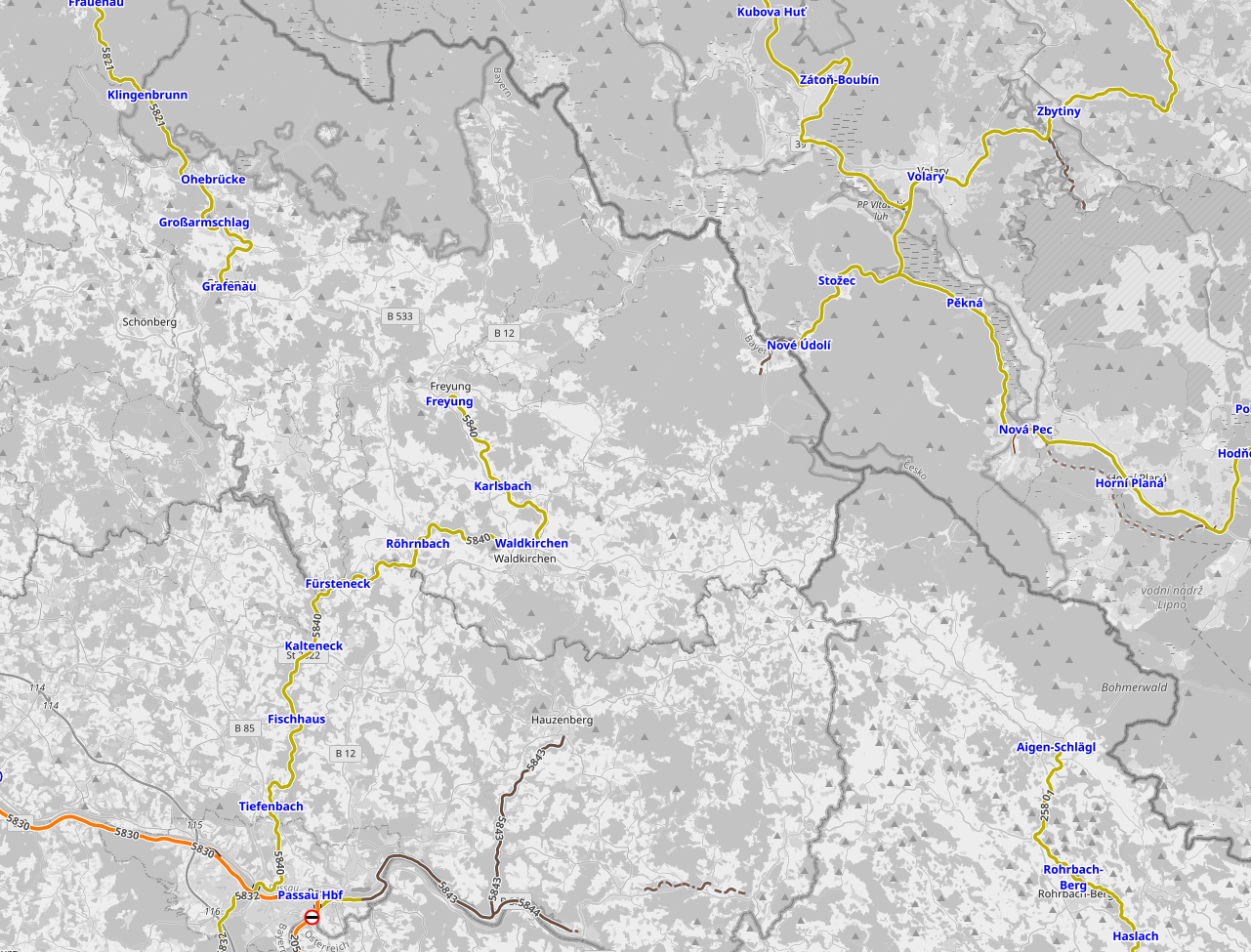 Even the Ilztalbahn Passau – Feyung struggles to survive, and is mostly manned by volunteers. They have an excellent website about their work to keep the line alive – it has been running summers only for the past 10 years.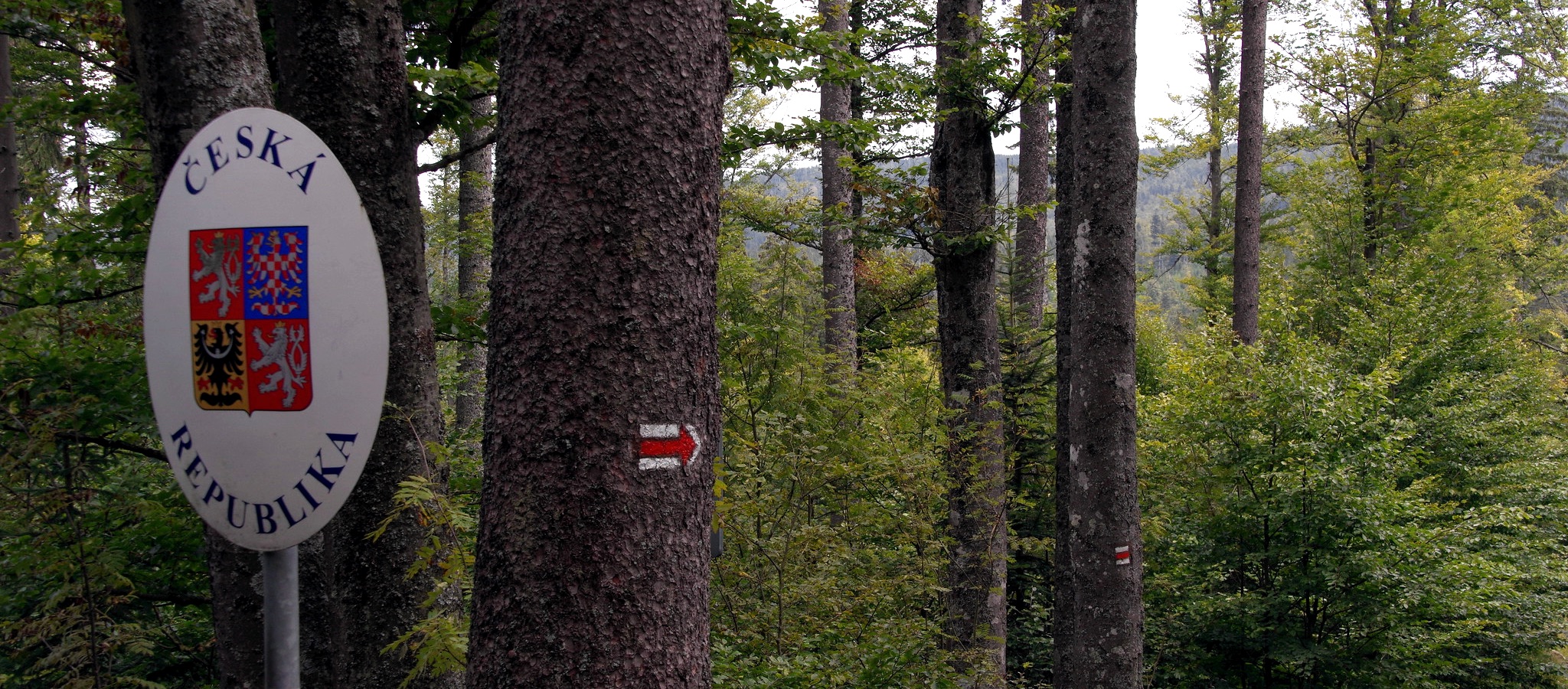 Conclusion: this one is not going to re-open any time soon.
8 – Volgelsheim ?? – Breisach ??
A cross border route between France and Germany in a densely populated cross border area, and one where the infrastructure either side of the Rhein largely exists. Passenger trains run from Freiburg to Breisach, and on the French side Colmar to Volgelsheim is a cargo only line, partially also used by a museum railway.
Here's the map: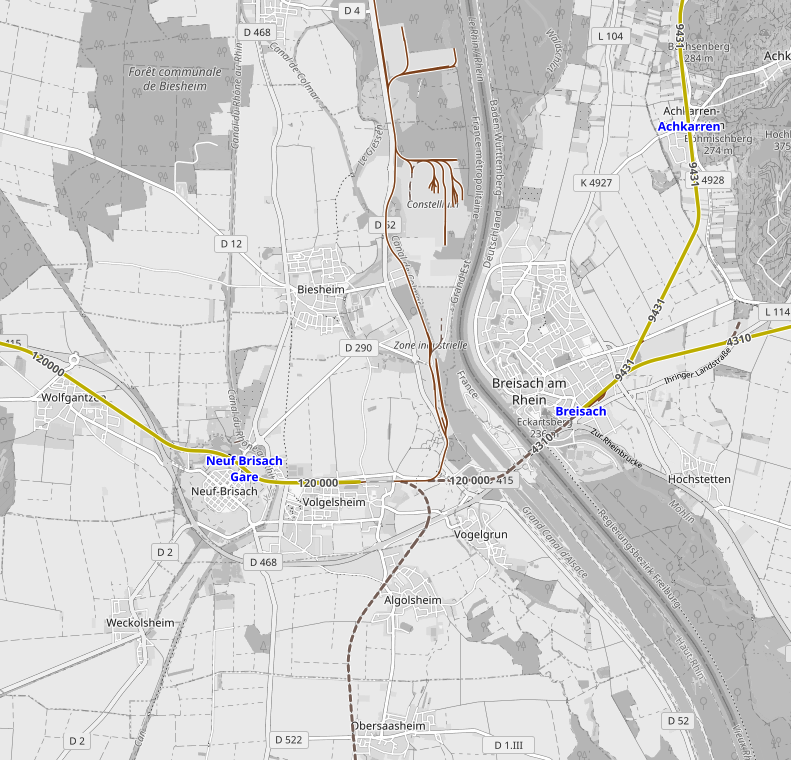 The problem of course is that the missing part is a bridge over the Rhein, and that is going to be costly to construct. The Wikipedia page about the line has a long list of the political declarations made to re-open it, and with politicians on both sides now committed to the cause progress is possible. The French Grand Est region has also ordered 30 Alstom Coradia trains it could use on routes like this.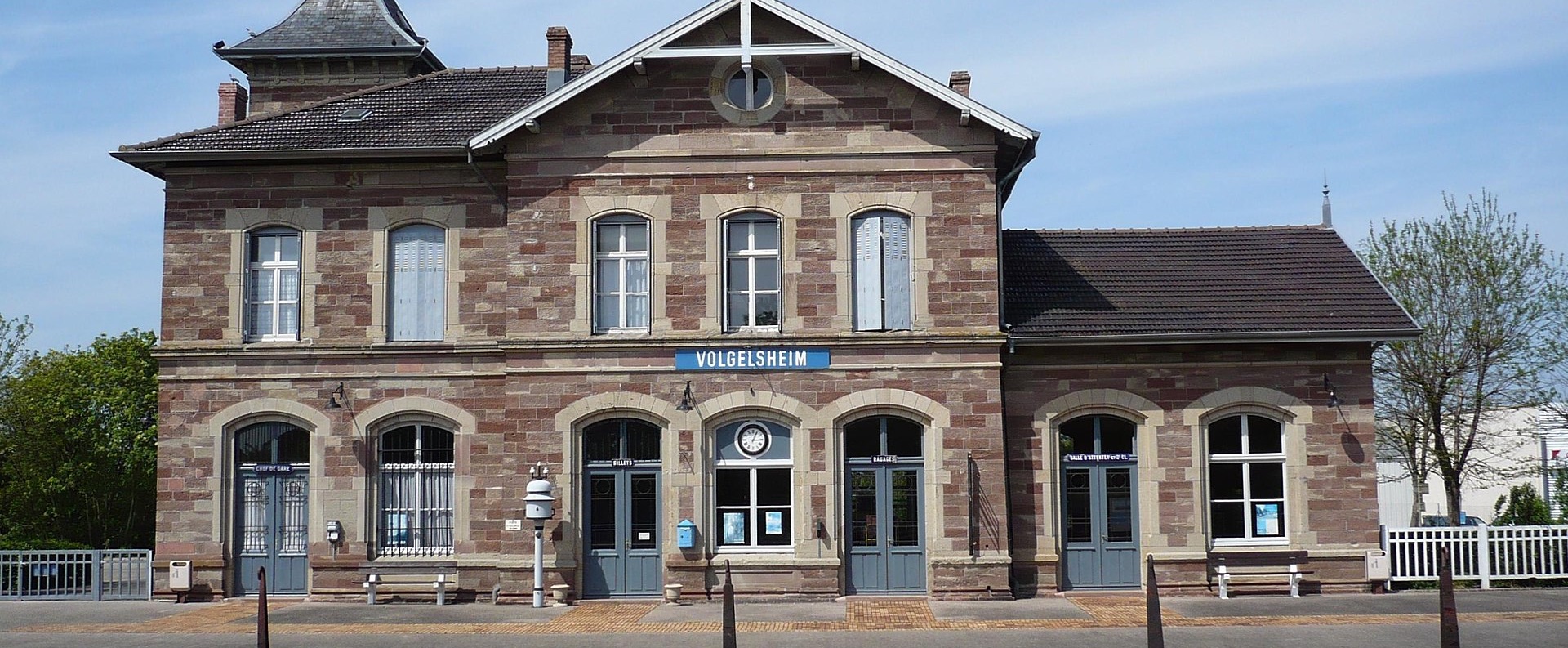 Conclusion: while the infrastructure to complete this one is costly, there is the political will to do so. Perhaps in a few years there will be progress.
9 – Oloron Ste Marie ?? – Canfranc ??
Without doubt the most evocative route here, but one that poses a series of problems. Canfranc is known for its enormous railway station in the valley – that has now been renovated and turned into a hotel. Spanish rail network operator Renfe has also opened a new station halt for passengers arriving at Canfranc. The Guardian has a report about the route from July 2021.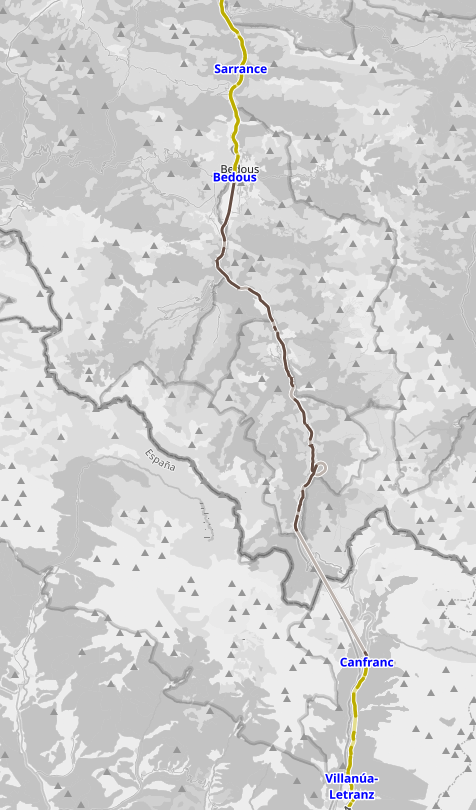 The challenges to overcome here are considerable. The 7km long Somport tunnel north of Canfranc needs to be upgraded to modern standards, and the bridge that was damaged in 1970 rendering the line inoperable has to also be repaired. Plus as the line Spanish side is broad gauge and French side standard gauge, through running is going to be unlikely here.
However given there are only 4 cross border lines between Spain and France, filling this gap would be very welcome.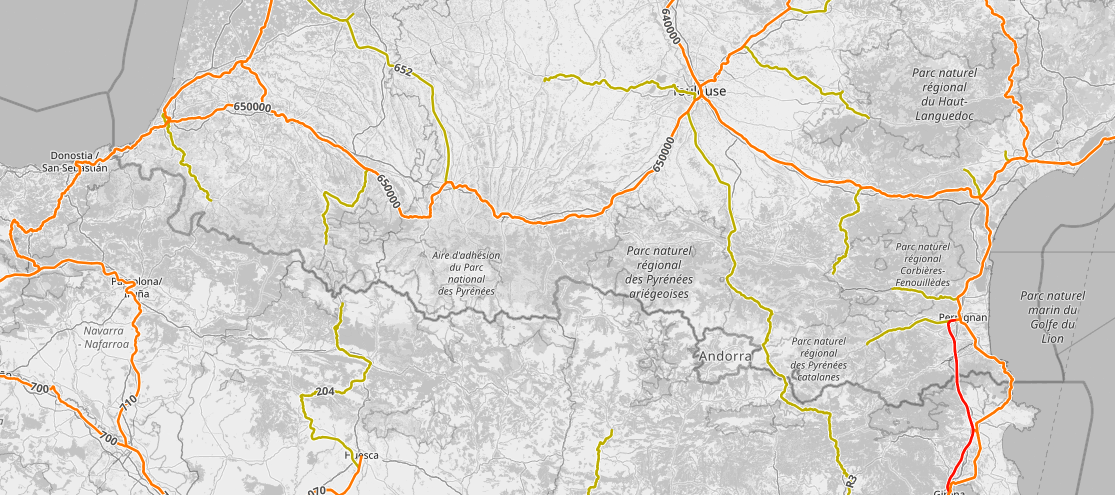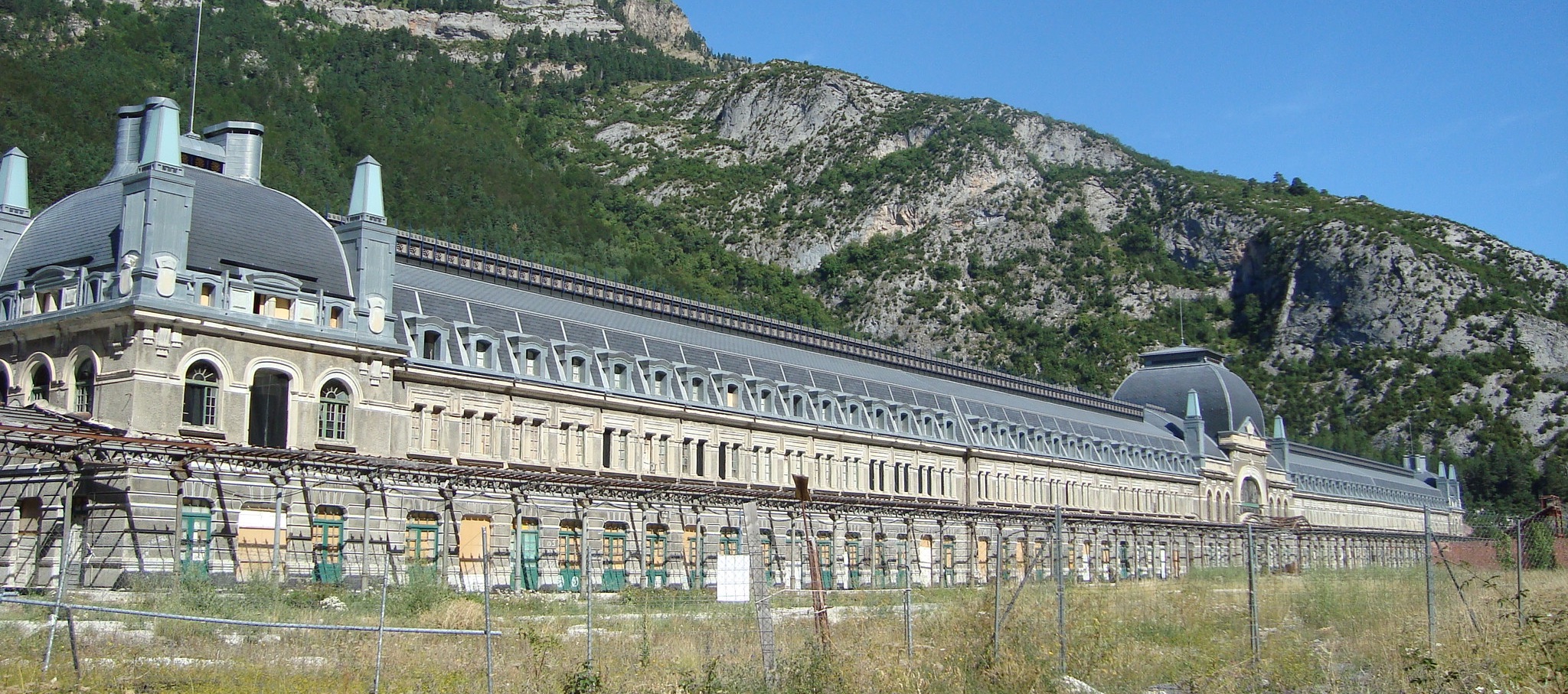 Conclusion: The Guardian speaks of the line re-opening in 2026. That looks a stretch to me, but it might eventually re-open – for the prestige and tourist traffic if nothing else!
10 – Wolfsthal ?? – Petržalka ??
A vibrant cross border region between the capitals of Austria and Slovakia, but this railway line is the forgotten connection. You can see the line here – in yellow: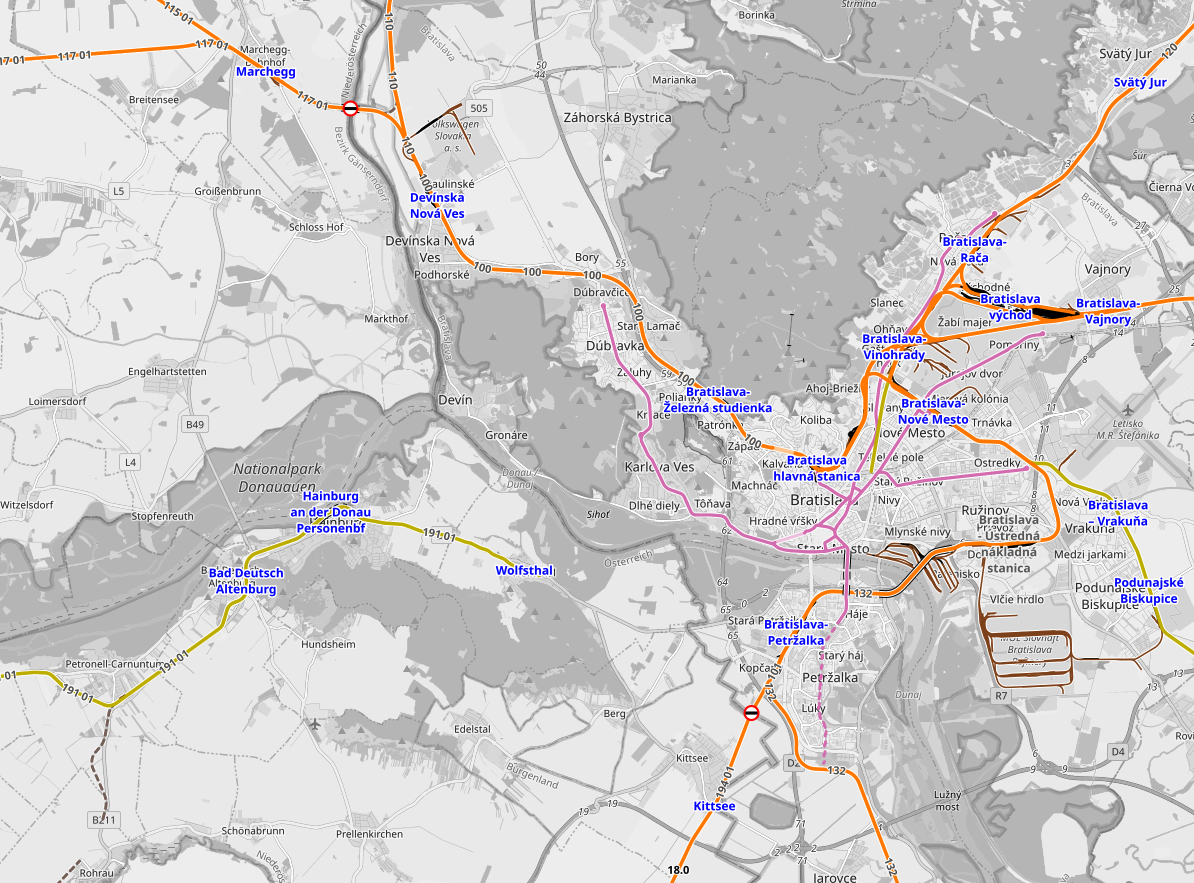 The two other lines from Wien to Bratislava are however already in a much better state than the line via Wolfsthal. The Ostbahn via Kittsee is already electrified, and is the fastest route to Petržalka. The Marchegger Ostbahn is currently being upgraded – double tracked, electrified, and line speed increased to 200km/h – and is the best route to Bratislava hl.st. By comparison the line to Wolfsthal feels rather forgotten – S-Bahn trains on the S7 line run there from Wien, and that line also serves Wien Airport – a possible useful connection for Bratislava as well. The line is single track on the Austrian side, and electrified. Slovak Railways also confirms there are no plans to re-open the line.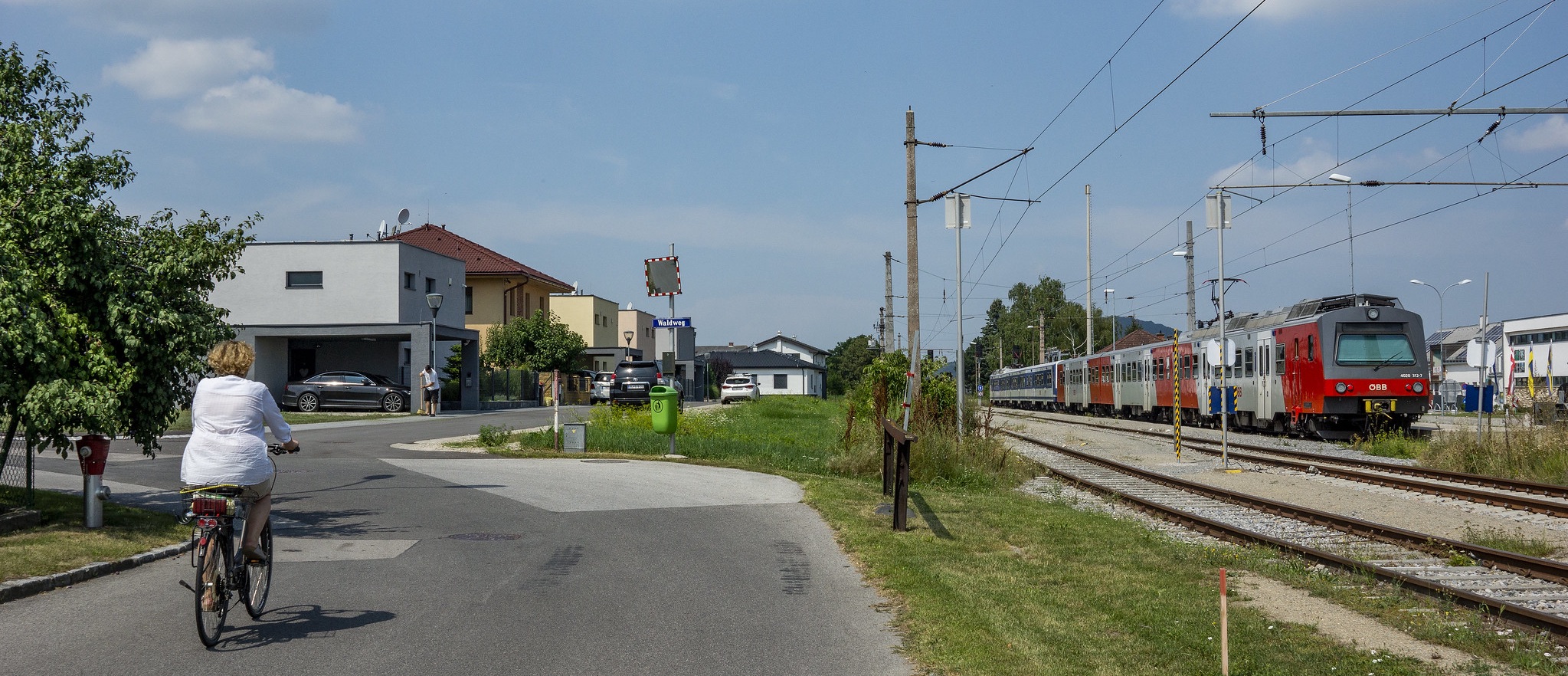 Conclusion: nothing is happening here at the moment, as the cross-border investment is pouring into other routes. Medium term this one would make sense to re-open though.
11 – Slavonice ?? – Waldkirchen a. d. Thaya ??
This is a sparsely populated region of northern Austria, and while Cramer's document talks of 9km of track missing, it looks to be a lot more than that on Open Railway Map!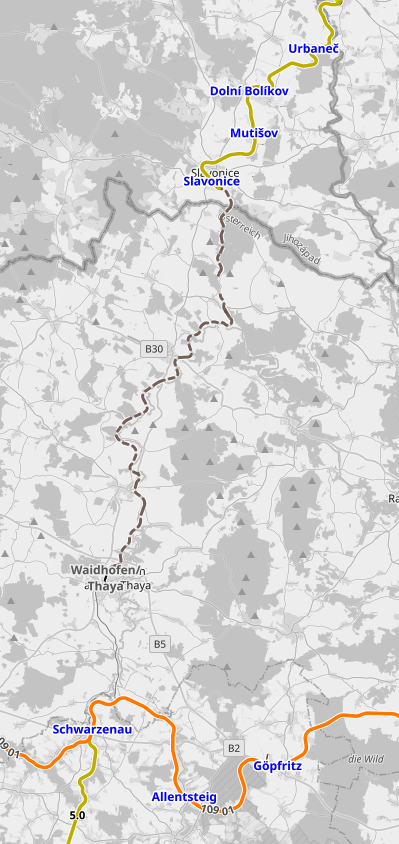 When researching this one Martin Blum sent me some photos of this route in 2019 – that it has been turned into a cycle path. To be honest given the low population density here that's probably the best outcome!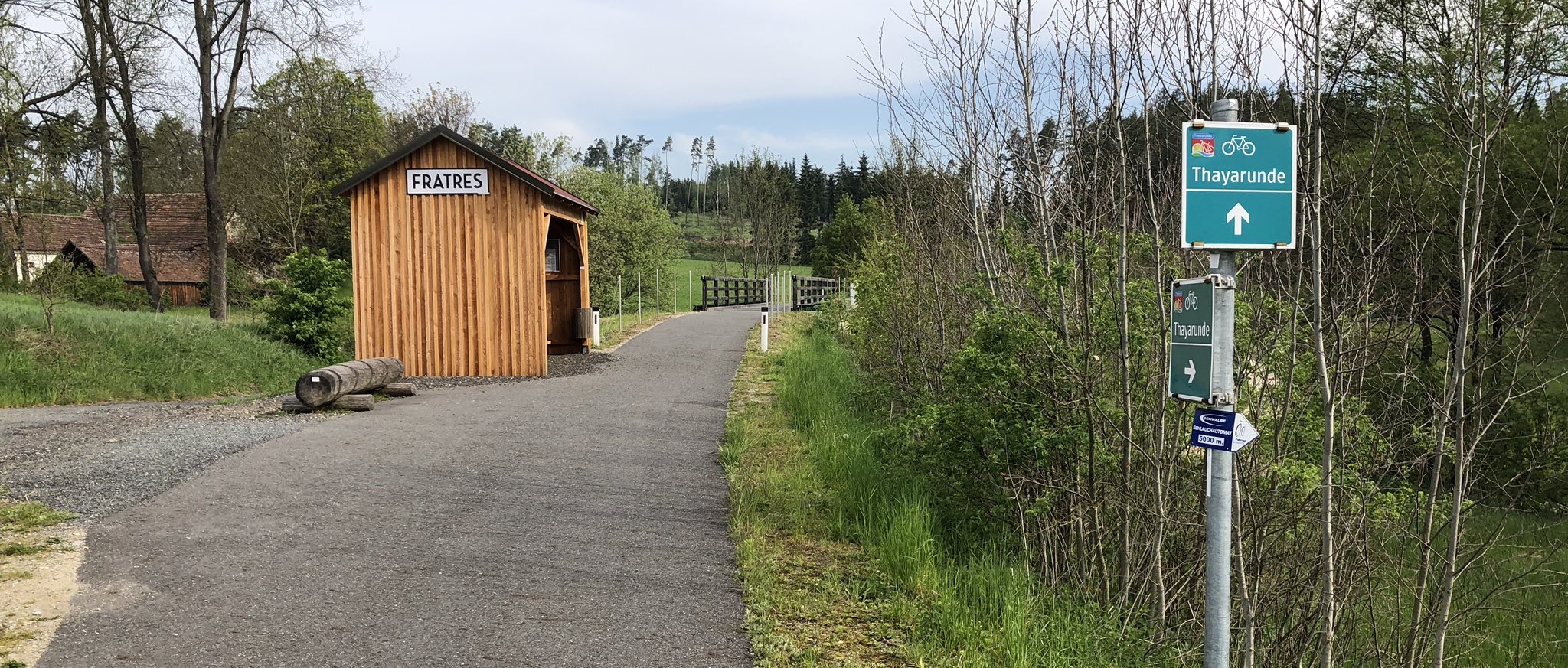 Conclusion: now a cycle path. Trains will not restart.
12 – Körösnagyharsány ?? – Oradea ??
This is the map of this one, with the missing line across the centre of the map – Cramer states that 60km of track are missing, and that the route has not run since 1918: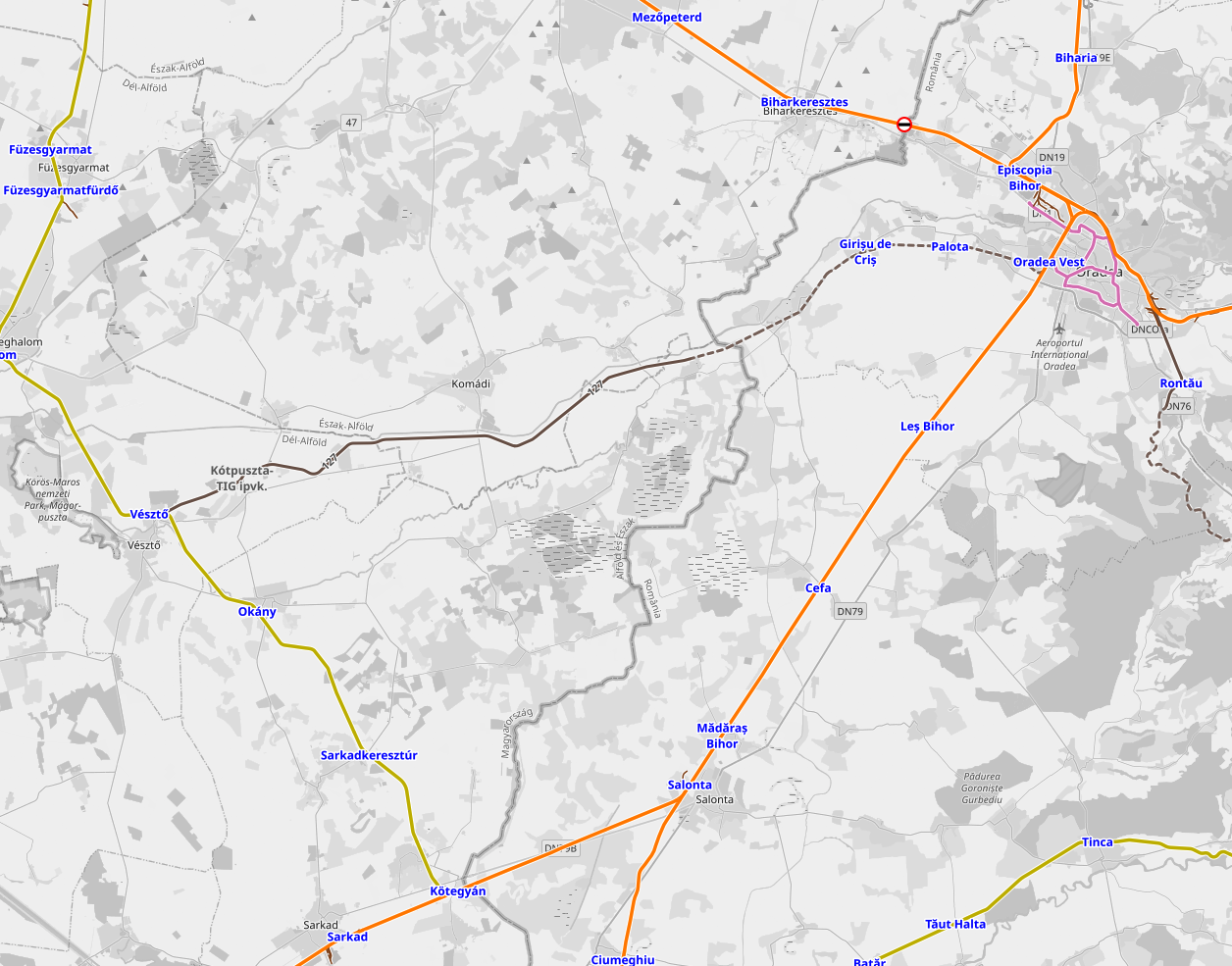 There are however two comparatively good alternative routes – via Salonta to the south, and via Biharkeresztes to the north – and it is that connection that the Wien – Cluj trains take. The problem is that pretty much all the infrastructure here is in a pretty sorry condition – officially speeds on these lines are 100km/h, but having taken these lines in 2019 I can confirm the train does not reach anything like that! So I think the priority here ought to be the improvement of existing lines, not the re-opening of one that has questionable added value.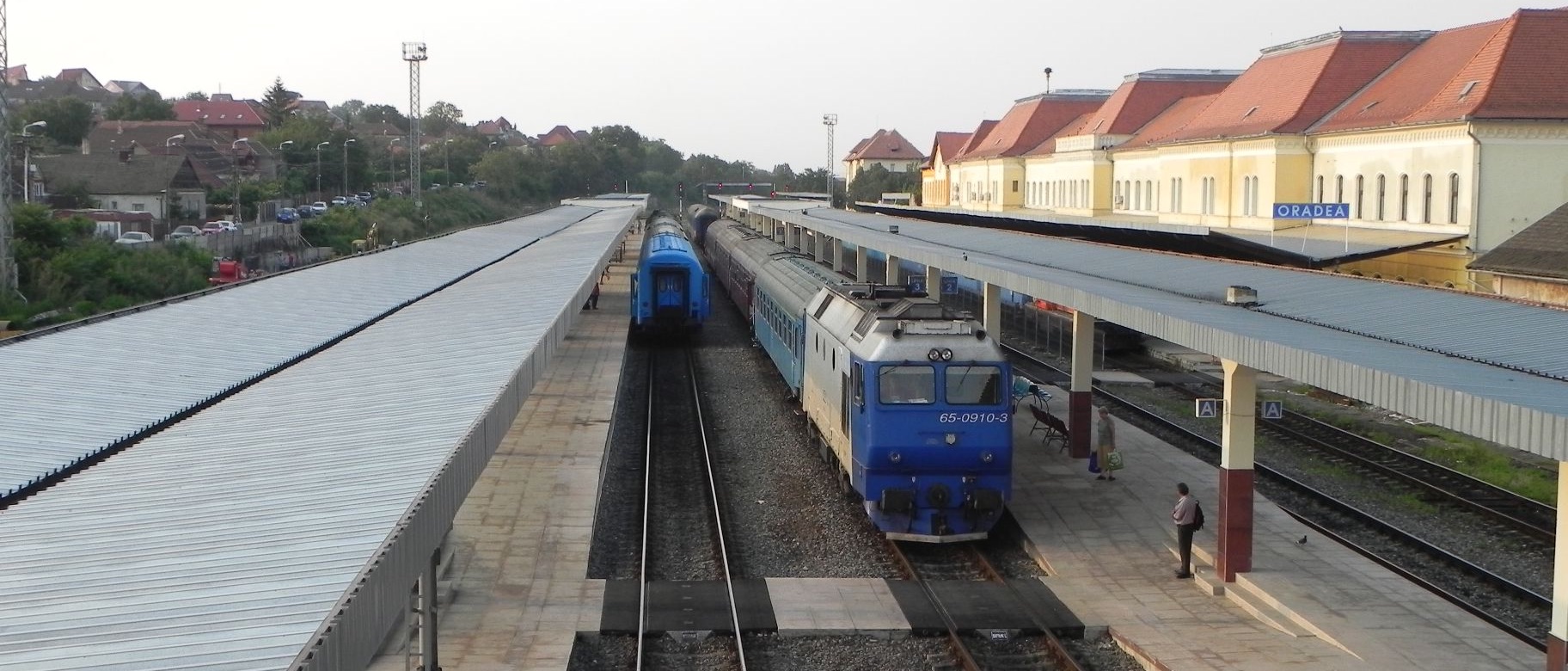 Conclusion: there is no prospect of re-opening this one. Focus needs to be improving already open lines instead.
13 – (Čakovec ?? -) Lendava ?? – Rédics ??
This one is a fascinating political case. The short spur of track to Lendava is not connected to the rest of the Slovenian rail network, and is only reachable via Čakovec in Croatia. Cramer states that 7km of track to Rédics is missing. Here is the map: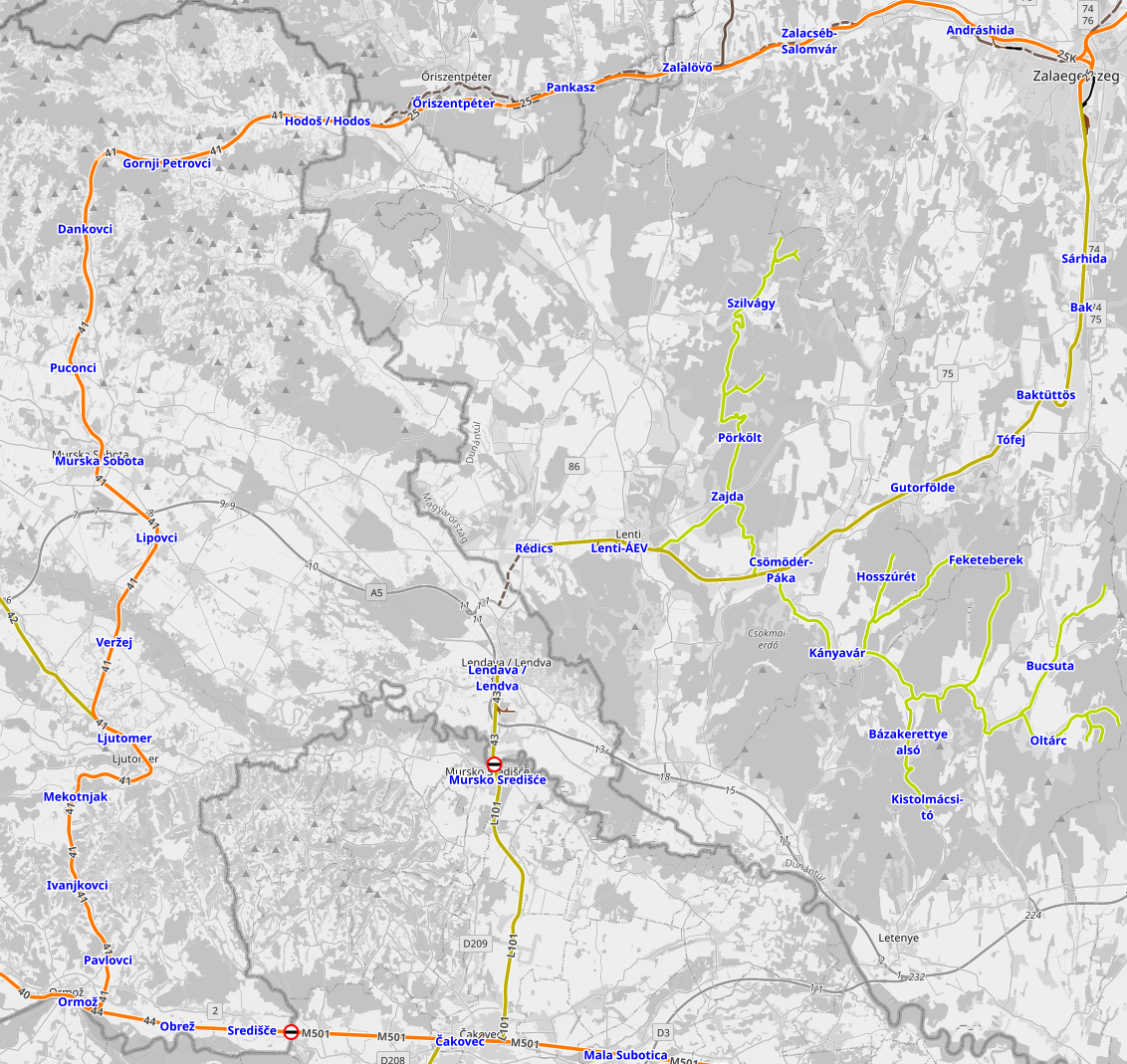 The lime coloured lines to the right of the map are the 760mm narrow gauge Csömödéri Állami Erdei Vasút network.
The network here is mostly single track non-electrified branch lines, and I am not sure about the actual passenger potential here. But the politics of re-opening a line from Croatia to Hungary through a small sliver of Slovenia are interesting!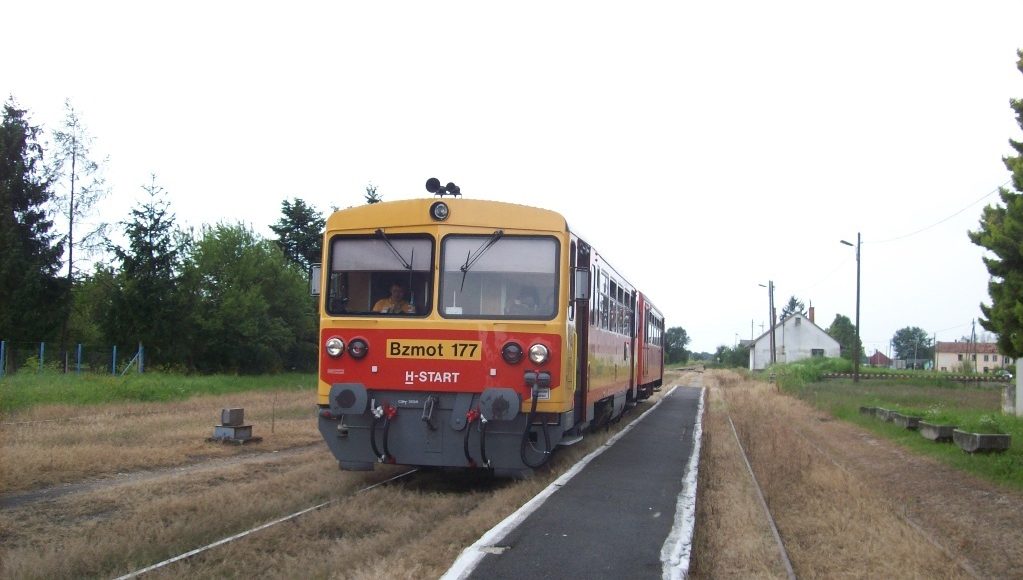 Conclusion: it's about the politics here. Given the nature of the borders this is a unique missing link!
14 – Gorizia ?? – Nova Gorica ??
Cramer correctly states that there is no break of infrastructure here – tracks exist as is shown by Open Railway Map: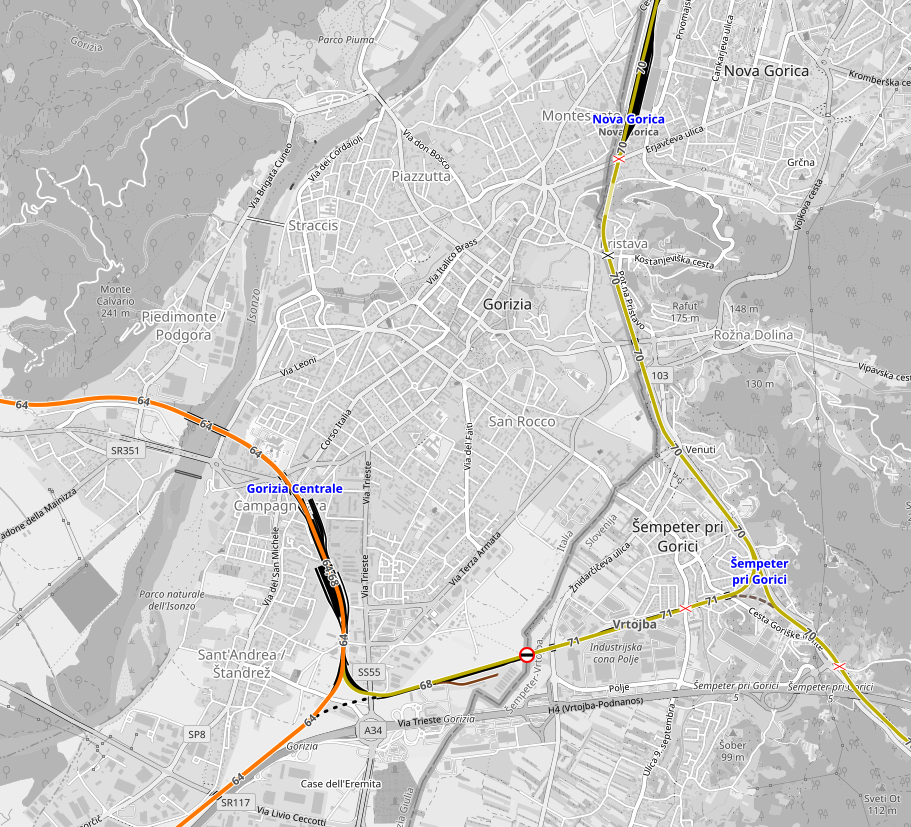 Lines on the Slovenian side are not electrified, while Gorizia and the Italian side are electrified at 3kV: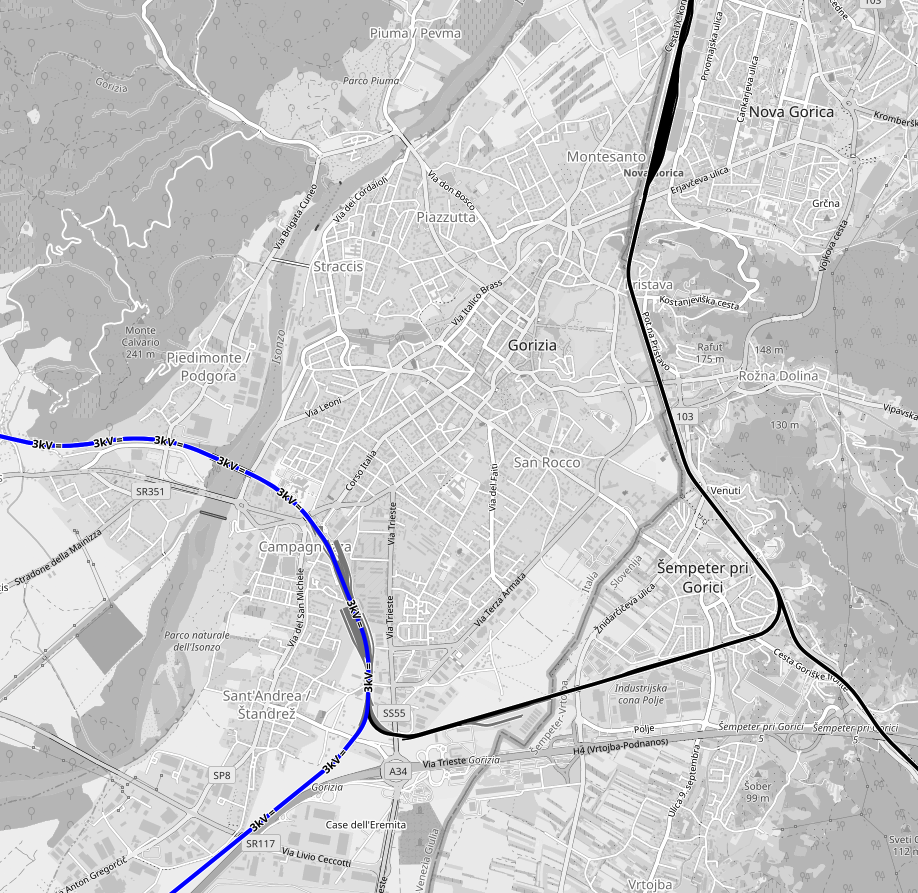 There would nevertheless be a simple solution for operations here – services from Jesenice to Nova Gorica terminate at Nova Gorica, and do not carry on further south to Sezana. These services could simply be extended to Gorizia Centrale on the Italian side.
The importance of this connection is also underlined when you zoom out a little – the network around Villa Opicina is very complex and slow: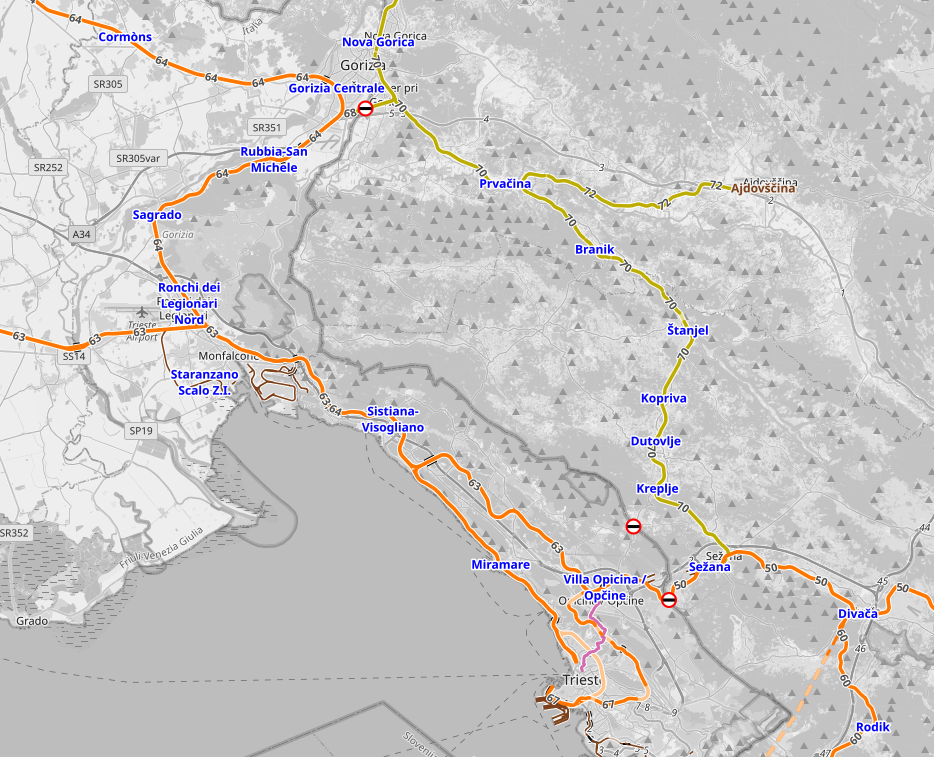 And as if that were not enough, the iron curtain divided Slovenia and Italy right across the square in front of Nova Gorica's railway station. Connecting the two would also make political sense!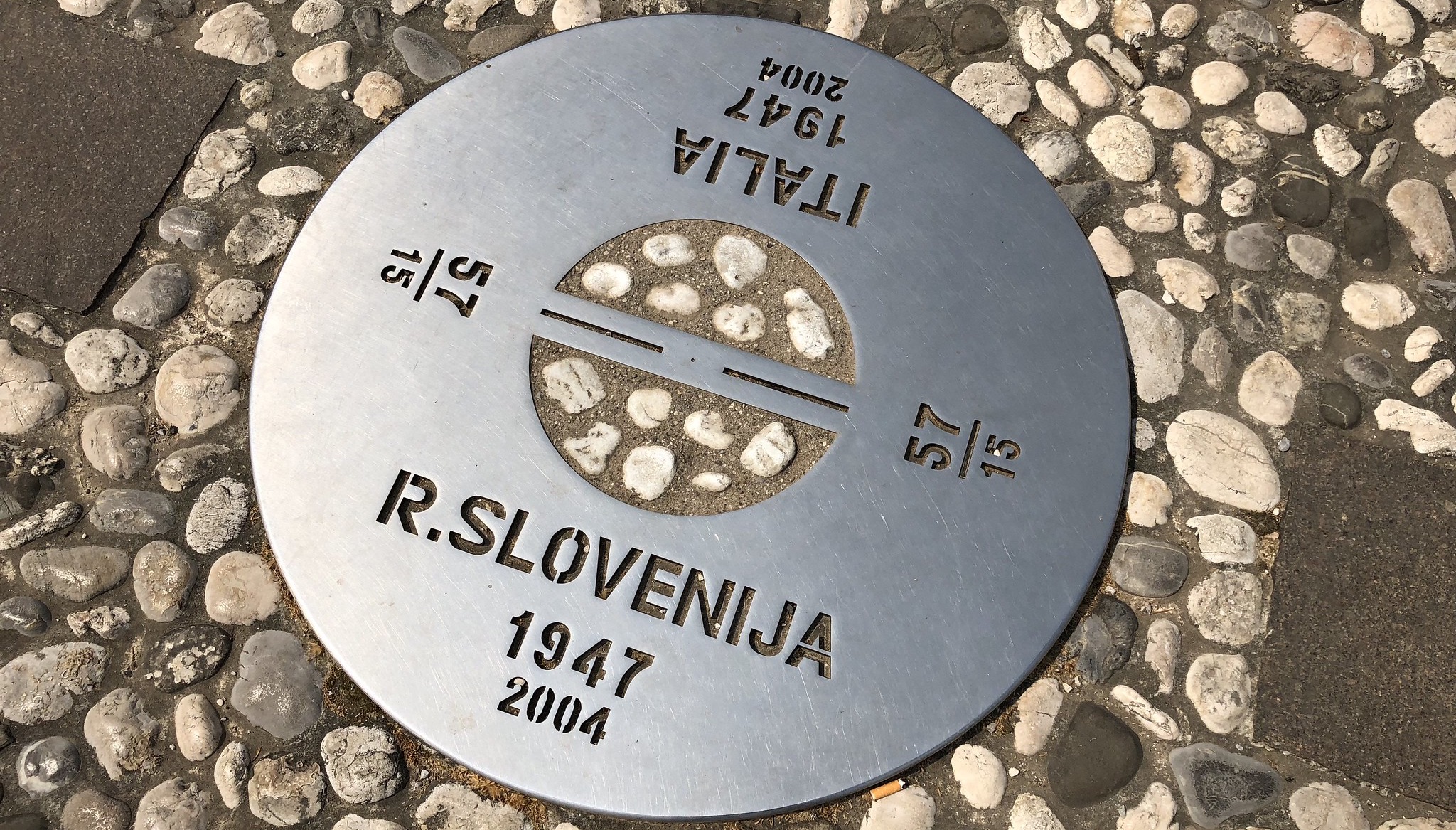 Conclusion: re-establishing this connection ought to be a no brainer. The distance is short, tracks exist, and it is not operationally complicated!
15 – Ducherow ?? – Świnoujście ??
This one feels a little like an odd one out in Cramer's list. This is – just about – a cross border line, in that the rail line that crosses Usedom does just cross into Poland at Świnoujście Centrum – right side of the map: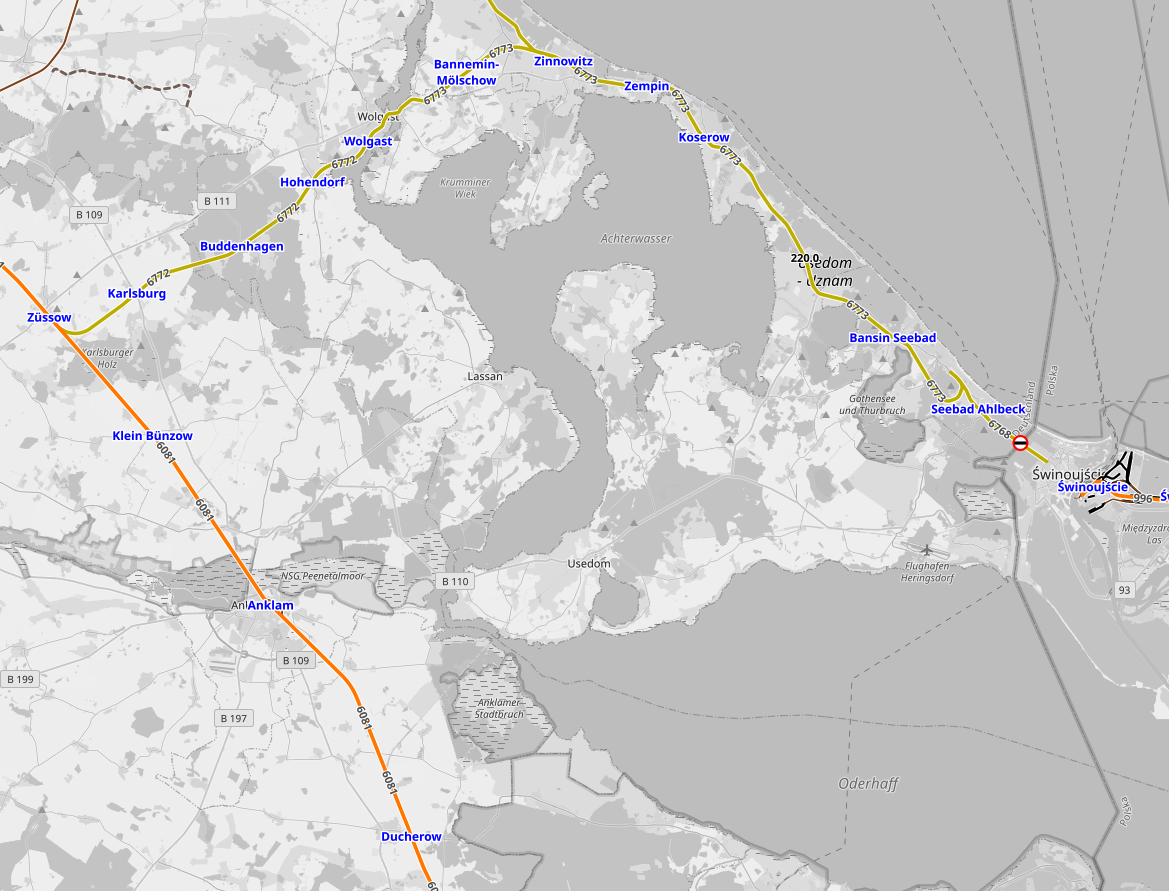 But the real issue here is connecting Berlin with the island of Usedom, and especially finding a replacement for the Hubbrücke Karnim that would connect the dotted lines here: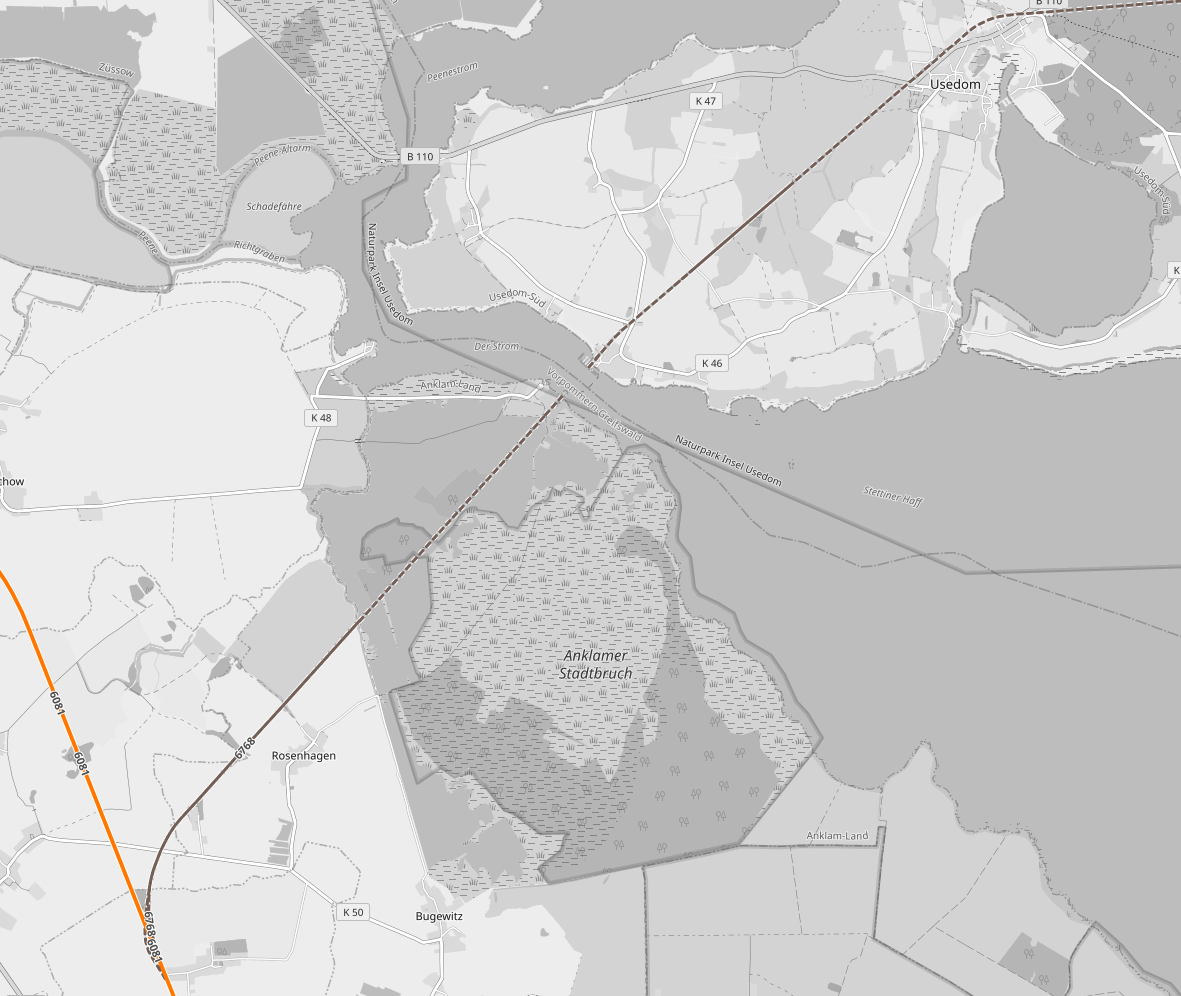 Discussion about how or if the line should re-open persists, but there has been no solid steps forward since 2017. The Hubbrücke was part destroyed at the end of World War II and has looked like this ever since: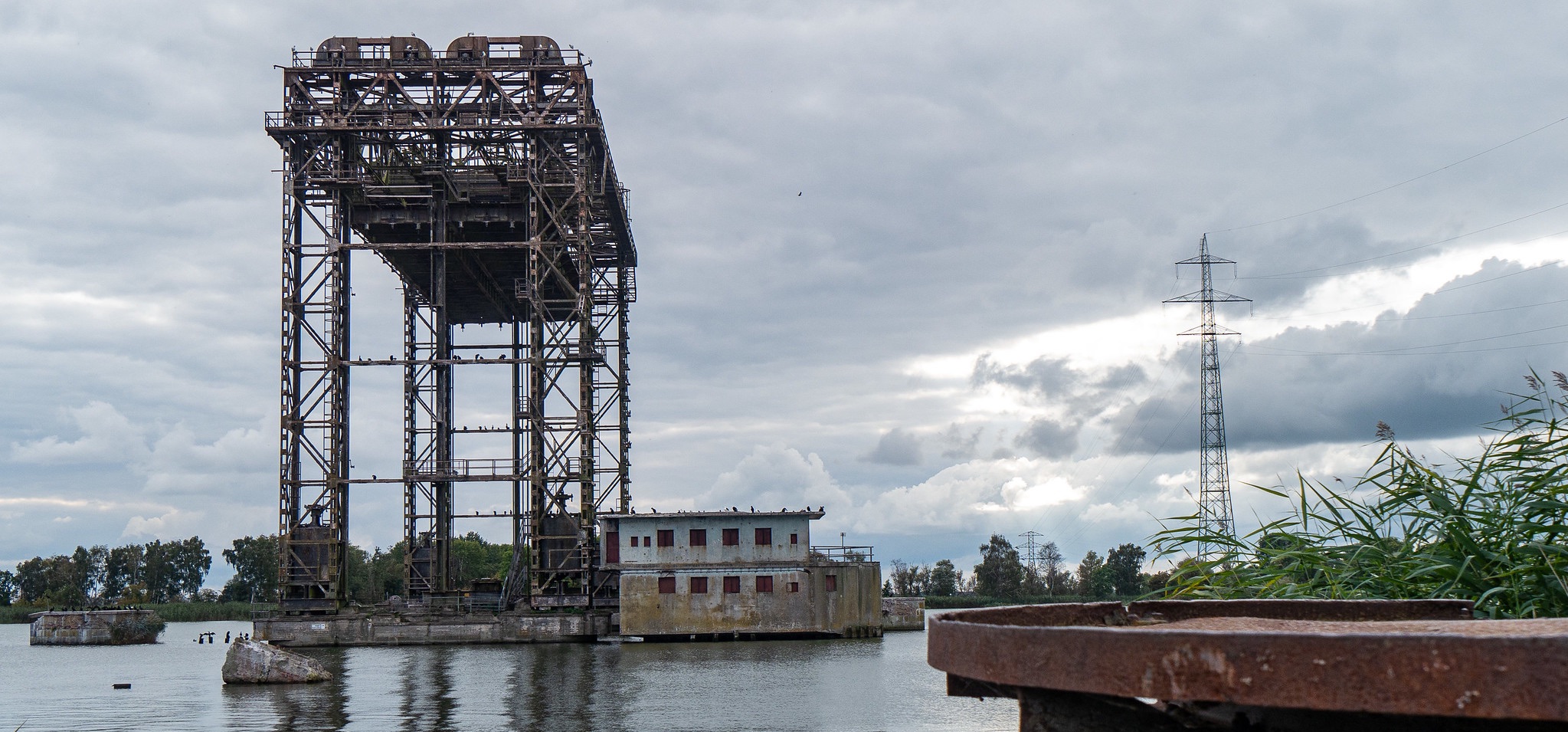 Conclusion: this is not really a cross border connection, as Świnoujście Centrum is already connected to the railway that crosses Usedom. This is more about connecting Berlin to Usedom.
Summary and conclusions
Now, 6 years on from Cramer's publication, the summary of what has happened is as follows:
Just 1 route has re-opened
Selb-Plößberg ?? – Aš ??
1 route would be very simple to solve
Gorizia ?? – Nova Gorica ??
1 route is politically fascinating, but there is no progress currently
(Čakovec ?? -) Lendava ?? – Rédics ??
3 routes have lively debates about re-opening, and progress in each case is possible in the coming years
Givet ?? – Dinant ??
Kleve ?? – Nijmegen ??
Volgelsheim ?? – Breisach ??
4 further routes have a solid rationale to be looked at further, but a lack of political will or other things happening nearby mean progress short term is unlikely in each of these cases
Oloron Ste Marie ?? – Canfranc ??
Ducherow ?? – Świnoujście ??
Dunkerque ?? – De Panne ??
Wolfsthal ?? – Petržalka ??
5 routes look to be completely hopeless – there is neither prospect nor even probably the need for reactivation in each of these cases
Mõisakü ?? – Ipiki ??
Rechnitz ?? – Szombathely ??
Slavonice ?? – Waldkirchen a. d. Thaya ??
Waldkirchen ?? – Nové Údolí ??
Körösnagyharsány ?? – Oradea ??
While it has been an interesting task to analyse all of these connections, it nevertheless leaves me feeling rather unfulfilled – the progress here is meagre, but also the choice of border crossings to include here strikes me as somewhat arbitrary. With more than 350 current and former cross border rail lines in the EU documented by the European Commission in 2018, I think it's high time for a new "Missing Links" analysis! I'll see if I can have a go at that in 2022!
Photos used in this post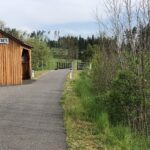 Radweg along the Thayabahn
Photo from Twitter from Martin Blum
Used with permission
.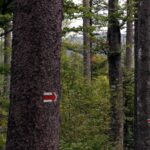 Donald Judge
25.8.14 Nove Udoli to Nova Pec via Dreisessel Trojmezi and Plechy 23
August 25, 2014
CC BY 2.0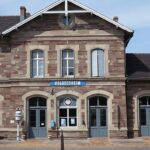 Bahnhof Volgelsheim
Patrick Kerber
4th May 2008
CC BY-SA 3.0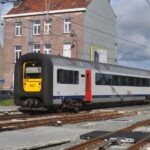 Phil Beard
Adinkerke De Panne
September 24, 2015
CC BY-NC-ND 2.0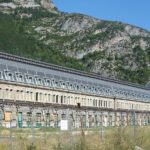 masia vilalta
L'estació de Canfranc
August 13, 2009
CC BY-NC 2.0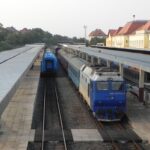 Carstic Productions
Oradea Train Station
July 22, 2010
CC BY-NC 2.0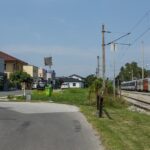 Albert Koch
S-Bahn to Vienna waiting for departure
July 28, 2018
CC BY-ND 2.0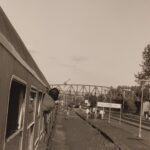 Final train from Nijmegen
Photo from Twitter from David Eerdmans
Used with permission
.
.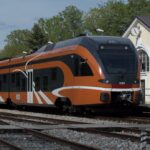 Phil Richards
20.05.19 Viljandi 2320
May 20, 2019
CC BY-SA 2.0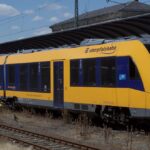 Phil Richards
03.07.19 Hof Hbf 648211
July 3, 2019
CC BY-SA 2.0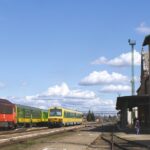 Istvan David
Körmend, 2010.03.27.
March 27, 2010
CC BY-NC-ND 2.0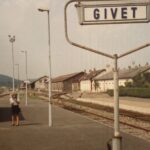 Givet Station
Photo from Twitter from Matt Perret
Used with permission
.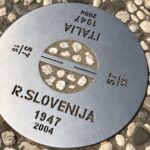 Patrick Müller
Nova Gorica
April 24, 2018
CC BY-NC-ND 2.0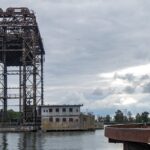 fotogake
Karnin Lift Bridge – Hubbrücke
September 20, 2021
CC BY-NC 2.0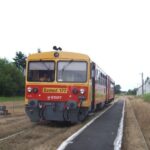 Bence Petrás
Bzmot 177 Rédics, 2012. 08. 03.
August 3, 2012
CC BY-SA 2.0