I am at World Passengers' Festival in Vienna today, and four ticket vendors are here: Trip.com, Trainline, Rail Europe and All Aboard.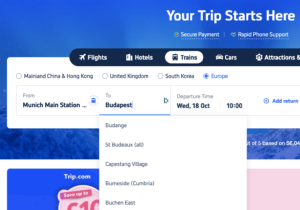 So, I wondered, how do these platforms do with some pretty simple international journeys? And based on this research I am going to go to their stands here and ask them about the cases I document below, and update the blog post accordingly.
First of all, forget Trip.com – it doesn't even have Budapest or Warsaw in its search. Don't even bother.
So that leaves us with three.
How do they fare for Budapest – München trips, on 22nd November? Click to enlarge
Rail Europe and Trainline offer a price of €55,70 and All Aboard €71.17
But the cheapest fare is from none of these… but from Hungarian operator MÁV. They sell a ticket for €36

What's happening here? My suspicion is MÁV has no ticketing API, but DB and ÖBB do, and Rail Europe and Trainline are serving up DB prices for the connection. But the platforms cannot offer a best price for this connection.
What about our second case, Ostrava in Czechia to Katowice in Poland?
Plenty of direct trains on this route, and two operators – EuroCity trains offered by a cooperation between Česky Drahy and PKP IC, and the private operator LeoExpress.
Trainline shows times for all trains, but can sell only LeoExpress. Rail Europe shows times for all trains except LeoExpress, and no prices. And All Aboard does not even find Katowice.
To book one of the ČD/PKP IC direct trains you need to go to the website of either operator directly, where you find prices that differ just a few Euro between the two operators.
What's happening here? Either PKP IC or Česky Drahy are not making data available to third parties here – whether that is a technical problem, or a business decision, I do not know. The platforms perform badly for this connection.
And then to the third case… Bordeaux to San Sebastián / Donostia.
All of them perform hilariously badly.
Just a quick reminder… this is where Bordeaux and San Sebastián are: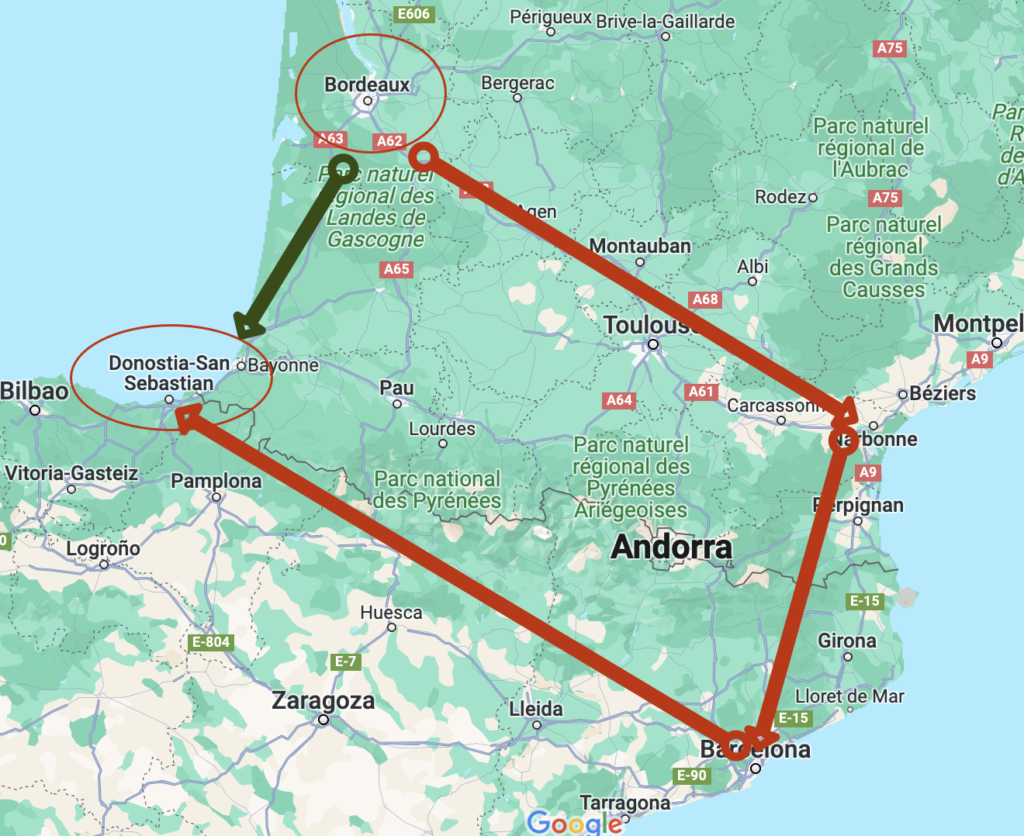 All three portals send you round via Narbonne and Barcelona.
The way to do it is take a TGV to Hendaye, and then the Euskotren from Hendaye to San Sebastián. But no platform can even show me that route, let alone book it for me.
What's happening here? Timetables for Euskotren are not loaded into UIC Merits, the main timetable database system for rail. Platforms could correct this in their own searches, but do not. The platforms perform very badly for this connection.
So – in short – this sums up why I don't really trust these large platforms. Even for some quite simple routes they do not offer a complete and honest picture. The reasons for this are partially with them, and partially with the poor data they can access.
But we have a very long way to go before we have a genuine "Skyscanner for rail"