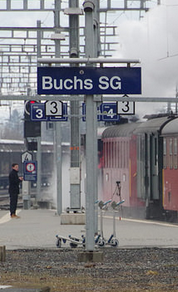 I was a passenger on the EuroNight 60466 D. Budapest-Keleti at 2100 on 30 June 2015, scheduled arrival Zürich HB at 0820 on 1st July 2015. I was a passenger in the Sleeping Car on this service (there are three carriages from Budapest – a carriage with seats, a couchette car, and the sleeping car), and these are coupled with EN 466 from Wien Hbf west of Salzburg. No carriages on the service start outside the Schengen zone.
At 0700, 4 minutes after the arrival of the service at Buchs SG, the first station stop in Switzerland, and while the train was still stationary, Swiss police came through the train and demanded passports from all passengers in the carriage in which I was travelling. It's not the first time I have been controlled here. The Policeman had already asked for passports from the two other passengers in the compartment, and then reached up towards me.
My conversation with the police officer went as follows (translated from German):
Jon to Policeman: Is this a customs control, or a border control?
Policeman: Huh?
J: Is this a customs or a border control?
P: Customs controlJ: Why then have you asked nothing about the luggage I have with me, and are just asking for passports?
P: Because I am from the Police
J: So it looks like a Border Control then?
(Policeman points to the logo on his blue shirt)
P: We are the Police here. It's not the same.
And then I showed my passport, and the Policeman left. He did not even look at my bag, let alone examine anything in it.
The logo on the Policeman's shirt was too small to read, but I assume he was from the Cantonal Police of the St Gallen Canton (in which Buchs is located).
So once more we are back with Article 21 of the Schengen Borders Code, and the four criteria:
(i) do not have border control as an objective,
(ii) are based on general police information and experience regarding possible threats to public security and aim, in particular, to combat cross-border crime,
(iii) are devised and executed in a manner clearly distinct from systematic checks on persons at the external borders,
(iv) are carried out on the basis of spot-checks;
So, despite this being described as a customs check (Zollkontrolle), it was not that as it concerned only my documents and not what I was carrying. That it was carried out by Police, and not by the Swiss border force, does not clearly distinguish it from a border control. No justification for the check was given. Plus, in conversation with regular travellers in the same carriage, they confirmed to me that these checks take place every time they cross this border on a night train.
This looks to me – yet again – like a pretty blatant breach of Schengen. I will, as with all previous cases, submit a complaint to the Commission, and will post the response here when I receive it.