Back in May I was subjected to the most extraordinary border control identity check at Perpignan station. I have blogged the transcript of the encounter here, and sent this to the European Commission, hoping they see this as non-Schengen compliant. The redacted letter of response from the Commission is here: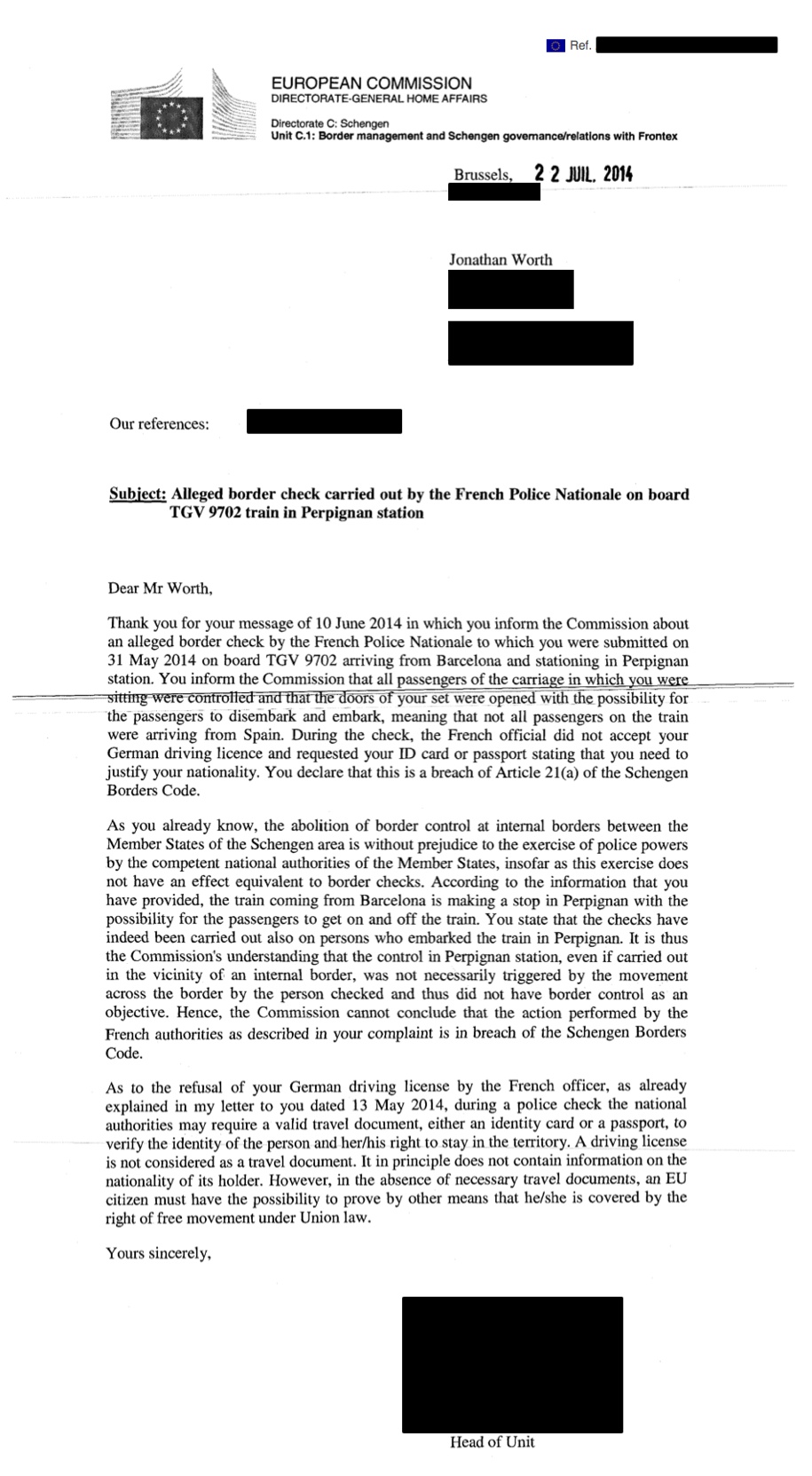 Reading this I now come to the conclusion that I do not know what I have to do to make the European Commission take any such complaint seriously.
Taking apart each aspect of the Perpignan complaint…
I can be certain only one carriage of the TGV was controlled, but due to the time the police boarded and left I think it was the whole train. How, other than to follow the police officers, can I control this?
The Commission reply makes a lot of the fact that the doors of the carriage were already open, and that this was hence not a border control. Why then is the Commission so insistent that Member States are allowed to add their own ID requirements when the French rules are here, and were exceeded. Is the Commission just not going anywhere near national ID rules?
The Police Officer clearly said to me that he is allowed to control who he wants, whenever he wants. This, at a border station, is a clear breach of the Schengen Borders Code. Why did the Commission response not even mention this?
I was sworn at by the police officer, and again there is no mention of this. I suppose I ought to complain in France about that?
All of this does make me wonder: what do I actually have to do to get the Commission to take these issues seriously? Their previous response, to my Rzepin complaint, is here. I have personally been subjected to questionable checks in Perpignan, Rzepin, Padborg, Puttgarden, Buchs and Modane, and have documented a legally correct check at Puttgarden, and longer in the past faced checks at Paris Bercy and Brenner. I have never, ever, been subjected to an ID check in a train that was anywhere other than near a border (with the exception of Paris Bercy, but that was a non-stop service to Spain from Paris).
I am aware that the plural of anecdote is not data (and that's the reason I built FreeMovement.net) but the pattern of these checks is very clear – in mentality at least when it comes to EU cross border rail, it's as if the borders within Schengen never went away. How can I get the Commission to take this seriously?