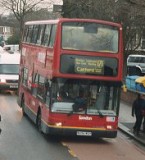 I've spent far too long this weekend on London buses, first of all on the torturously slow 341 bus route on the way back from Ikea in Edmonton, and then today on a variety of different routes, including route 171 of London General (pictured).
The driver of the somewhat cranky 171 double decker braked so suddenly at Aldwych that Helena was thrown off her feet and injured her foot. This is not really an isolated incident – London bus drivers do not seem to make driving smoothly or safely any sort of a priority.
Yet ask yourself this: what is the motivation of a London bus driver to drive smoothly or safely? It must be quite dull to drive a bus all day, and shut off from the world behind a piece of perspex means no-one is ever going to thank you for doing a decent job. Further, it's almost impossible to report bad driving – the once I did report a bus driver for dangerous driving I received no reply from TfL.
Further, I've overhead a number of conversations between bus drivers and passengers this weekend, and none have been at all sensible. Indeed in Tottenham one passenger was advised that the bus would pass Tottenham Hale tube station when in fact it did not. Giving anything approaching customer service to passengers seems impossible for London bus drivers.
So what needs to be done? Compulsuory customer service training for drivers for a start. Free-phone hotline numbers that can be called from your mobile when you're on a bus to report bad driving. Plus the introduction of a bus information system that tells you what stops are next on the route so you don't have to ask the driver.