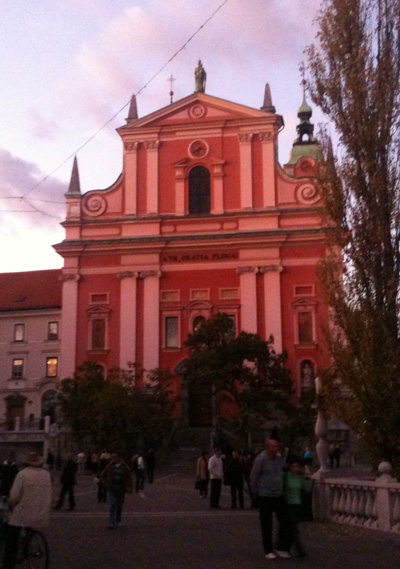 A dusting of snow covered the peaks at Jesenice after crossing the border from Austria into Slovenia yesterday lunchtime. A 1970s Yugoslav coach on the Eurocity from München, replete with pee-onto-the-tracks toilets, creaked and groaned over the old lines through Lesce Bled and Kranj and a warm afternoon sun softened the cool autumn air at Ljubljana.
On an evening jog through the city autumn leaves crunched underfoot along the riverside, with the smell of roasting chestnuts drifting from the small wooden huts selling them to passers-by.
Dressed warm against the chill, dozens of people enjoyed the orange setting sun in Maček and the other cafés beside the water, while joggers preparing for next week's marathon here passed. The evening was spent drinking local white wine and catching up with friends here I haven't seen for a few years.
My hotel, just towards the station from Tromostovje, is calm and a little old fashioned, the staff slightly distanced and retro. Elderly couples sip local wines as cyclists pedal serenely along the street outside.
In short it's hard to surpass Ljubljana in the early autumn. The calm, the serenity, the cafés, the small and manageable nature of the place. It couldn't be more different from the gauche of Dubai from last week. It's not hard to work out which one I prefer.