The bad news from the timetable change in December was that Deutsche Bahn stopped all its night trains. The good news was that Austrian Railways (ÖBB) has taken over some of the routes under the new brand name NightJet. If you want some background on this change I was quoted in the FT talking about it. ÖBB's NightJet page is here.
I haven't actually taken a NightJet yet, but today I have tried to book one. And it was not a pleasant experience, hence this blog entry.
My trip will be on board NightJet 471, the new Hamburg – Berlin – Basel SBB – Zürich service (timetable here). I will travel on it from Berlin Hbf as far as Basel SBB on Monday 13th March, arriving in Basel in the morning of Tuesday 14th March. There I will connect onto a SBB IC via Biel/Bienne to Genève.
Doing this trip – Berlin to Genève via Basel SBB – is very simple to book if you're on daytime train – you book it all with Deutsche Bahn, you get a Sparpreis Europa Schweiz ticket, and it can cost you as little as €39 single, and even less if you have a BahnCard. Likewise when the night train was run by DB, booking was simple – it just cost a bit more for a Liegewagen or Schlafwagen reservation.
But what about the situation now? I need to travel from Germany to Switzerland, but part of it on an Austrian train!
Before we start, a recap about tickets. German and Austrian railways essentially have two sorts of tickets – Normalpreis or Flexpreis are tickets that can be used on any train and are expensive. Sparpreis can be used on just the train you are booked on, and are much cheaper. These tickets can be booked into the neighbouring countries. Note however that Swiss railways, when on Swiss territory alone, essentially only has Normalpreis tickets.
All clear? So let's start.
Enter Berlin Hbf and Genève in DB's Reiseauskunft, and this is what I get: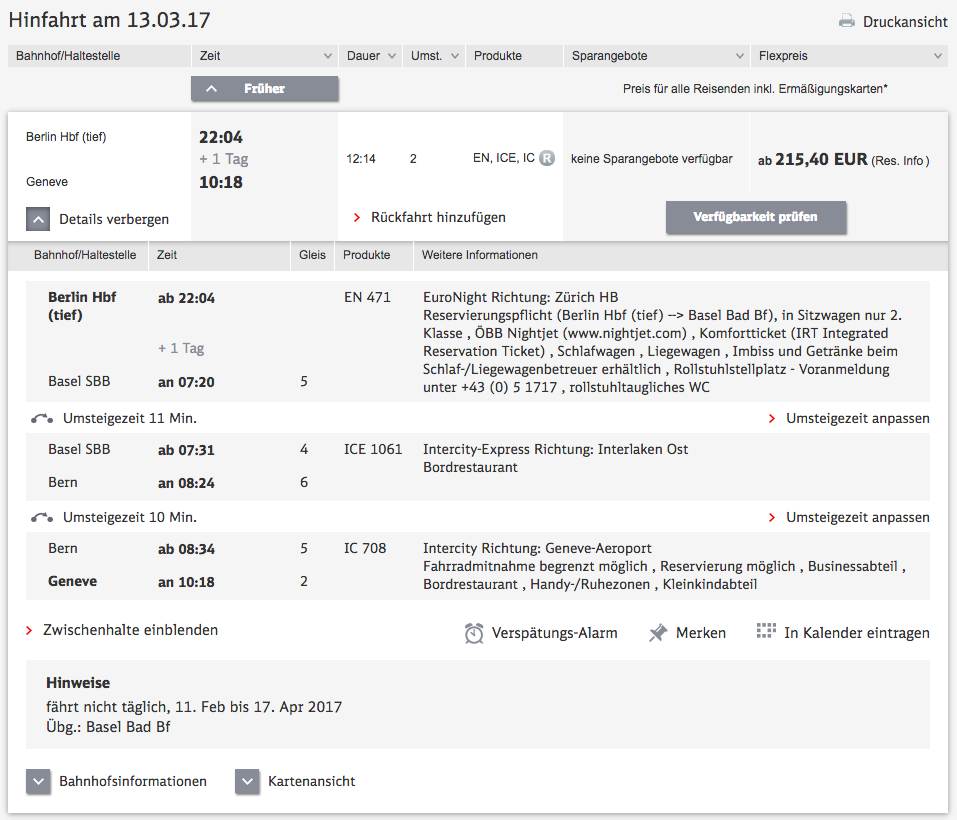 €215.40, before I have even added on the cost of a Liegewagen (€20) or Schlafwagen (€40), and no Sparpreis available (and note: routing it via Biel/Bienne rather than Bern, with a later arrival, makes no difference to the price). The ticket price reduces as it should if you have a DB BahnCard – ticket is €162.55 with a BahnCard 25.
So how about ÖBB's own site?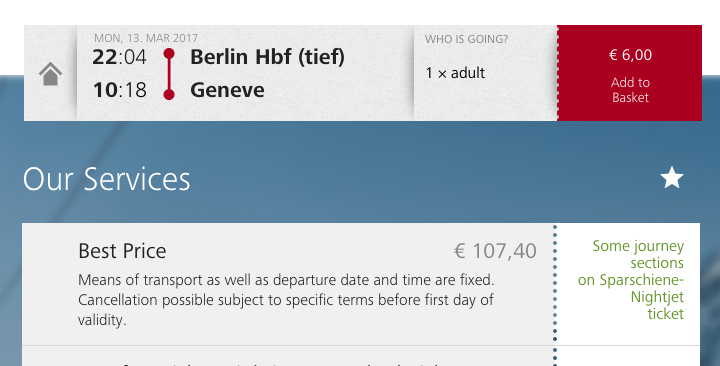 Once you've mastered the horrid interface it gives a much better price – €107.40, and it's €20 to add a Liegewagen reservation and for some reason €60 to add a Schlafwagen reservation, while that's €40 with DB above. There is a small BahnCard reduction if you add that in ÖBB's search – ticket is €90.30 with a BahnCard 25.
But this all still feels rather costly for a trip booked this far in advance. Something is not right…
Instead put Berlin to Basel SBB in DB's Reiseauskunft and you get a whole lot of better prices, although oddly not for Schlafwagen for some reason: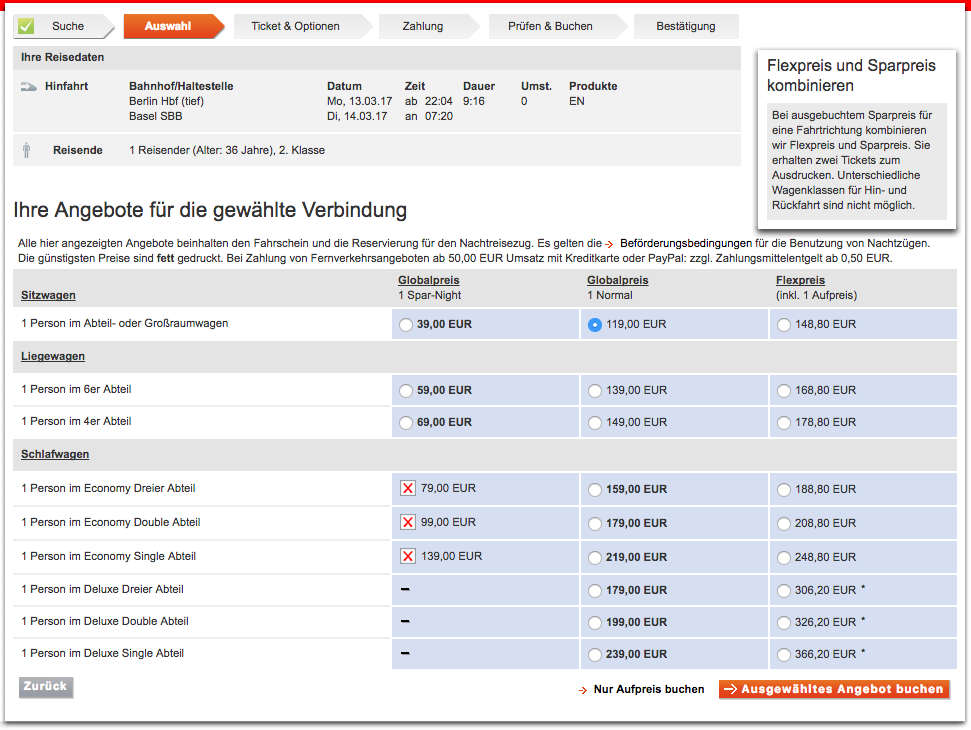 This time though you cannot save anything with a BahnCard on the Spar-Night tickets.
And the same search with ÖBB gives the same prices, but here with a Schlafwagen as well if I want it, again with no saving if using a BahnCard: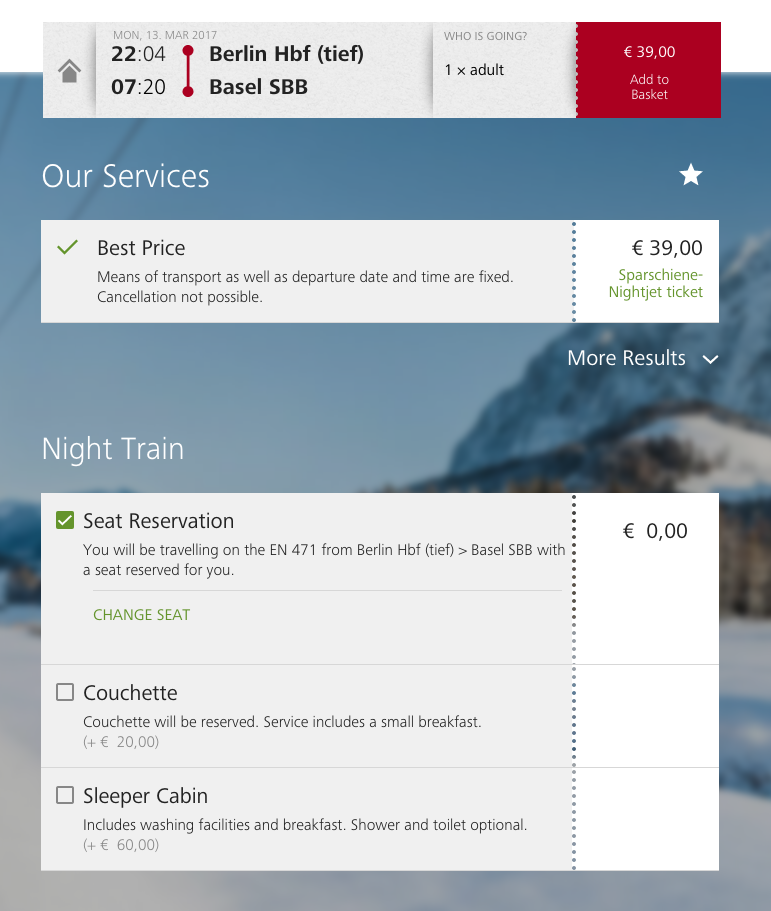 But that then leaves me confused. How can it be €39 to go all the way from Berlin to Basel SBB, but if I put in Berlin to Genève it is €107.40? (see first ÖBB search above)
The answer is the Normalpreis for Basel SBB to Genève, booked with ÖBB, is €68.40 – and ÖBB adds that onto its cheap Spar-Night.
This is similar to what you get if you search SBB's website (CHF prices):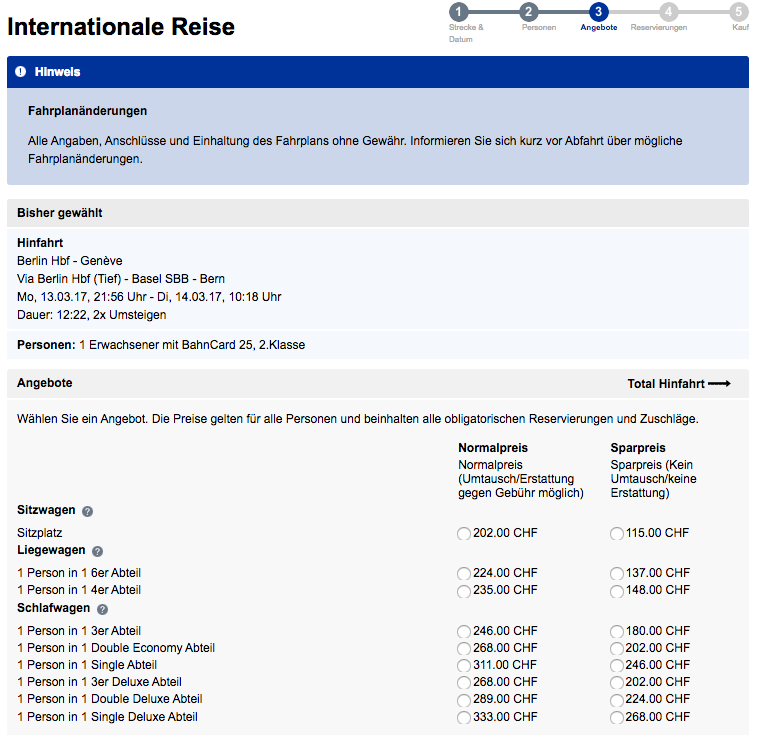 Also note here that the usually excellent third party rail booking websites Trainline.eu (screenshot) and Loco2 (screenshot) are even worse at this than DB and ÖBB are, as neither of those even have the NightJet train I need in their search.
To cut a long story short: I essentially cannot get a Sparpreis all the way from Berlin to Genève. This strikes me as a pretty major shortcoming of this whole NightJet business!
So then, what is actually the solution here?
It's time to revisit the joys of ticket splitting, based on this old blog entry about rail through Germany. I know Berlin – Basel SBB is €39. But how cheap can I get a Basel SBB to Genève ticket? If I book Freiburg (Breisgau) to Genève I can get a Sparpreis for that as my blog entry explains – although sometimes it needs some messing around with interim stops. But I can here it is – €29 (or €23.90 with a BahnCard 25)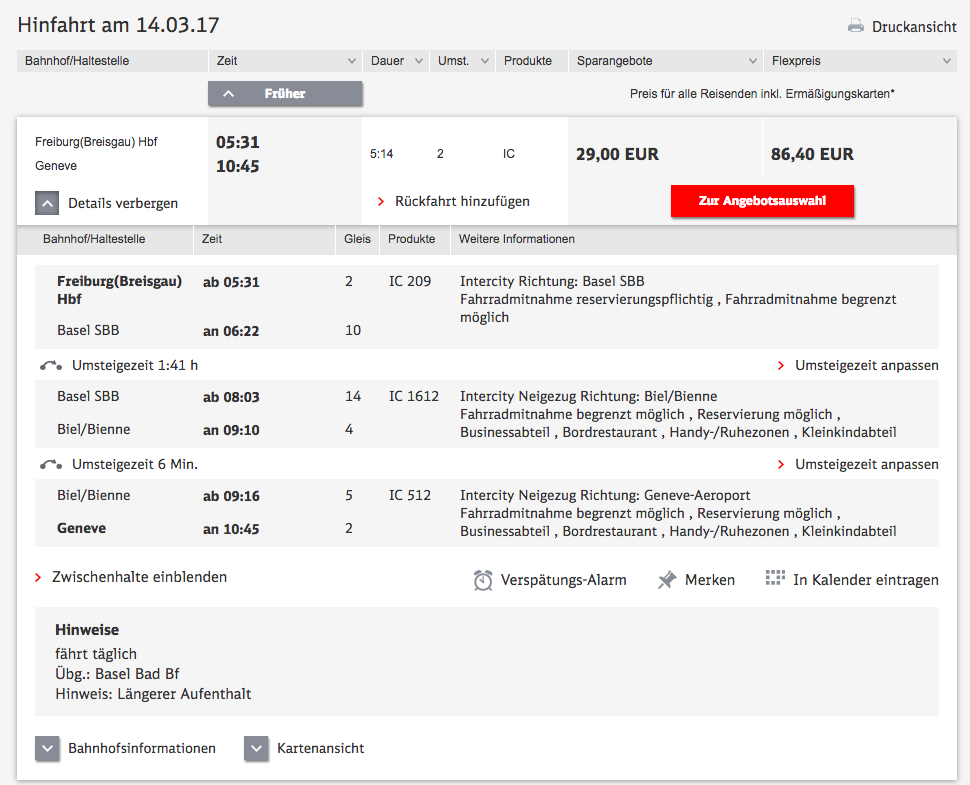 So I can do the trip for €39 Berlin – Basel SBB, and €29 Basel SBB – Genève. €68 total, or a saving of €39.40 in comparison to ÖBB's best offer, or a saving of €176.40 in comparison to DB.
Railways in Europe, eh?
But anyway, if you do want the cheapest NightJet from Germany to Switzerland, plus an onward connection, now you know how to do it!
[UPDATE 17.12.16, 0930]
So as if all this was not complicated enough, @Zugreiseblog on Twitter pointed out a further trick – to try booking to Basel Bad Bf (the DB station in Basel), and not Basel SBB. And hey presto, a bunch of better deals for a Schlafwagen than I can get off ÖBB's site.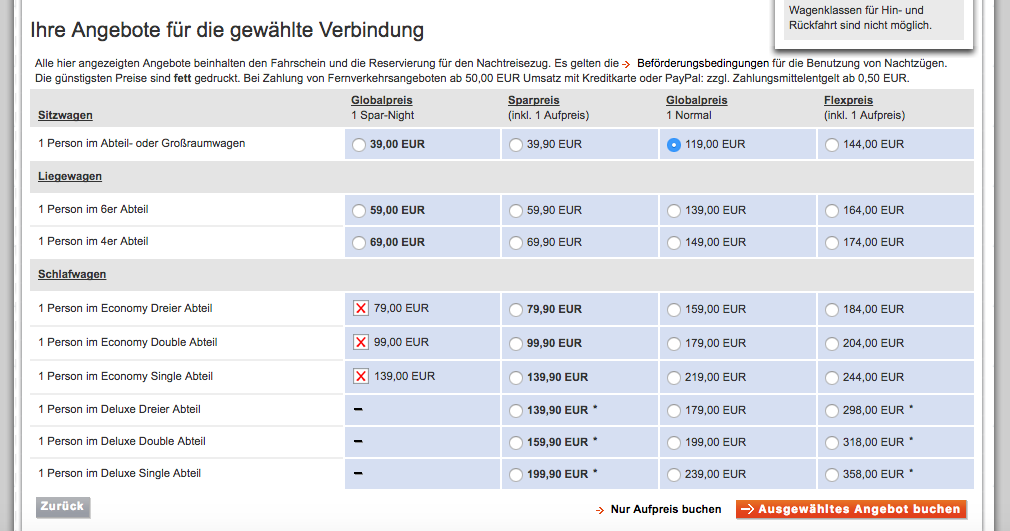 [UPDATE 20.12.2016, 1115]
So what happened when I actually tried to book this? I used the Basel Bad trick explained above and then, for reasons unknown, it reduced the cost by a further €4.00 on the final booking screen. So Berlin – Basel Bad in a Schlafwagen 3er with a BahnCard 25 for just €66.90. Quite good!