It was one of the most unusual work assignments I've ever been given: 3 days working in Lilongwe, Malawi. But it would be mad to fly to sub-Saharan Africa without enjoying a few days off too. Lake Malawi is supposed to be one of the best freshwater dive spots in the world, so why not give it a go?
Getting There
There are a number of diving spots on the Malawian coast of the lake: Nkhata Bay to the north, Cape McClear to the south and Senga Bay due east from Lilongwe. It was the latter where I dived. Senga Bay is 2 hours by bus from Lilongwe, normally with the last few km on an open backed jeep betwen Salima and Senga Bay. AXA coaches runs a direct service to Senga Bay and smaller charter buses are available direct at the airport for those lacking the guts for the public transport.
Accommodation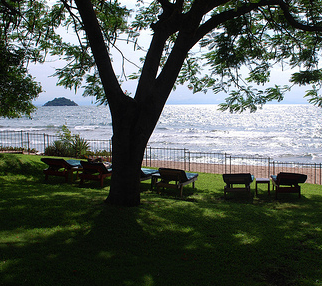 I stayed at the rather bizarrely named 'Cool Runnings', a charming and eccentric backpackers' place that offers basic dorm rooms for about $12 night and simple ensuite rooms for about double the cost of a dorm. The owner, Sam Ludwick, is a Zimbabwe-born lady who is involved in all kinds of local projects. She's a great source of stories about the local area. Cool Runnings also has good home made evening meals, lush green gardens, and a bar with a view of the lake. It's highly recommended!
Diving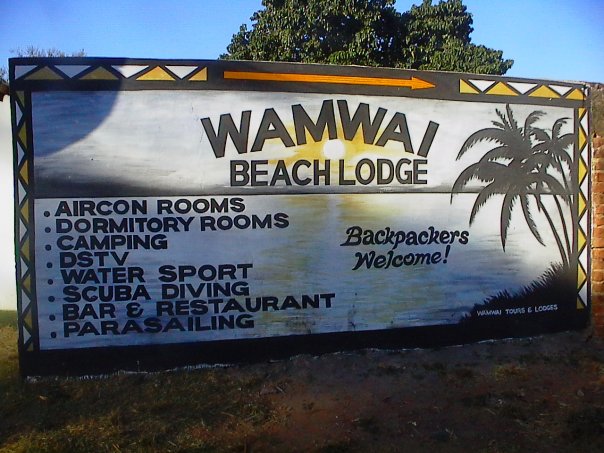 So what's the diving actually like? The only diving centre at Senga Bay is Wamwai. There's also a restaurant and rooms there. Wamwai, and it's jovial and kind South African owners, have enough dive kit to take out groups of about 10 people, and from March they will be able to offer PADI open water courses there. The BCDs and regulators were decent Mares and ScubaPro but the masks and fins were showing their age. There's no dive shop anywhere in Malawi, and import taxes are prohibitive. So if you're heading to Lake Malawi take along your own basics.
There are dive sites around Lizard Island, about 1km off the coast of Senga Bay, and a further dive is possible around another rocky outcrop beside the island. Dives to 8m depth are possible here. Deeper dives are possible at the Mumbo and Domwe Islands, 2 hours south with Wamwai's small wooden boat.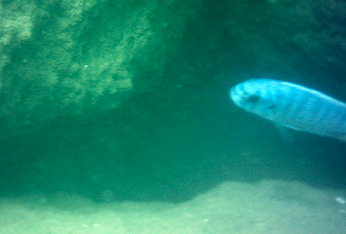 Frankly the diving at Lizard Island was not as good as I had been expecting. Guide books state that Lake Malawi diving is like swimming through shoals of silver fish. Yes, there are many varieties of fish (Cichlids) but there are not so many of them. Diving here needs patience and an attention to details.
The surface of Lake Malawi is at 472m above sea level, making this an altitude dive. However far from the cold waters mentioned by the PADI guide to altitude diving, Lake Malawi is very warm! Temperatures at the surface were over 30 degrees and not much cooler at 8m depth. Even in the cool season temperatures should not drop below 22 degrees.
Which leads to perhaps the most complicated matter of all: when is the right time to dive in Lake Malawi? 13th December, the day of my dive, is a week of so into the rainy season. Not only does this mean that the 12 main rivers feeding the lake bring plenty of silt into the lake, but the winds that blow in from the east also cause sediment to be stirred up. This meant that the visibility was between 3 and 5 metres on the day I dived, far from ideal.
So for me the jury's out about Lake Malawi as a dive site. Perhaps I was just there at the wrong time, perhaps other spots are better, or maybe I was just spoiled by Dahab on the Red Sea where I learned to dive.