In 2009 I asked my parents to buy me a bicycle trailer as a birthday present. It was a Croozer Cargo, original 2003-2013 model (no longer manufactured, but you can find the manual for it as a PDF here), and cost £160 back then (about €200). Looking back little could I have known at the time what a transformative purchase it was. And back then such trailers were rare – today they are far more common.
So if you've seen people with cargo trailers and have been wondering about buying one, this blog post is for you. I've had the trailer with me while living in London, Brussels, Copenhagen and Berlin, and the polyester panels on it were getting worn due to heavy use, so I have just repaired it:
Here are some pictures of what it's been used for over the years…
Barbecue at Tempelhofer Feld (bungee cords are handy too!)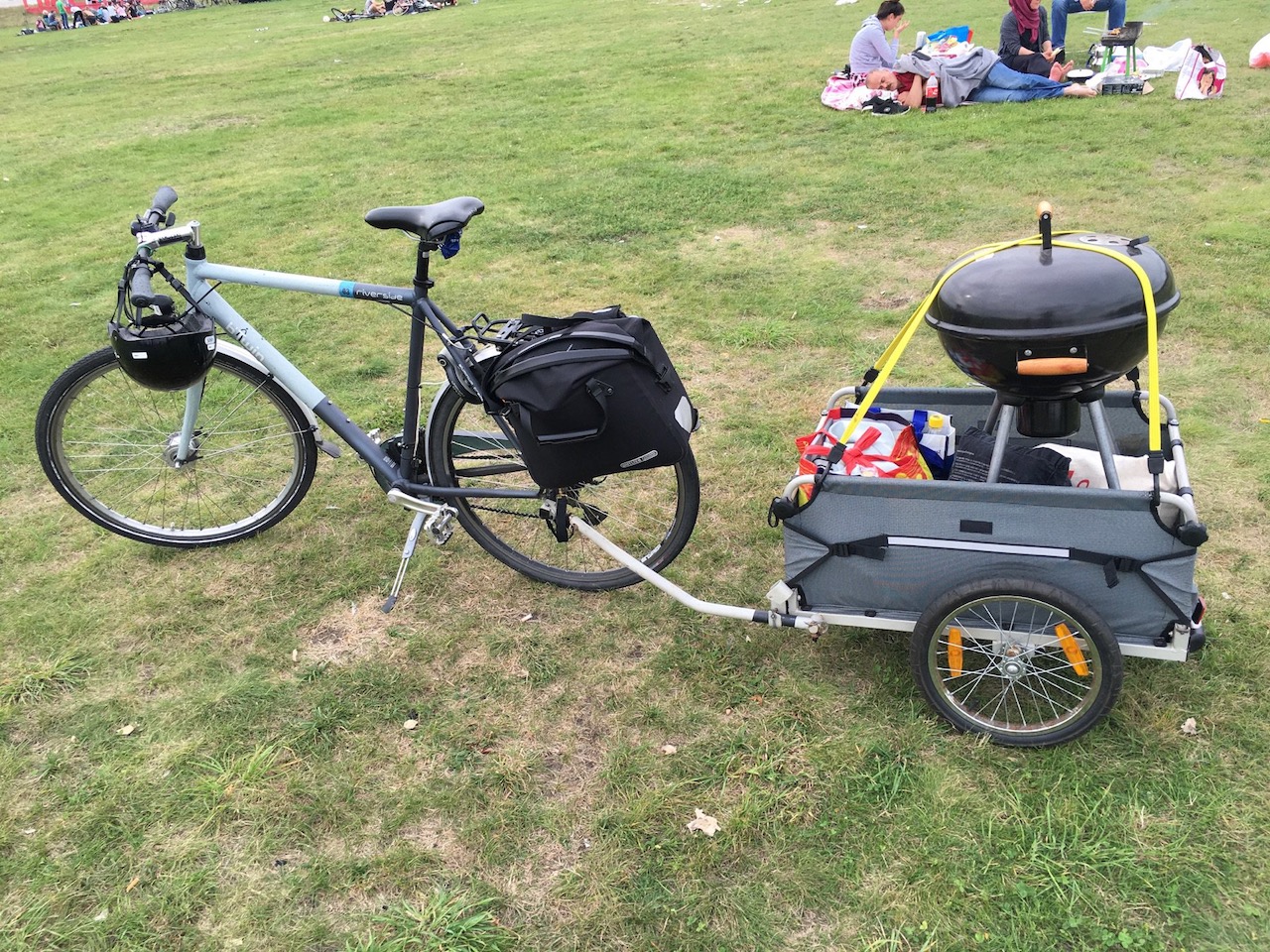 Shopping in the snow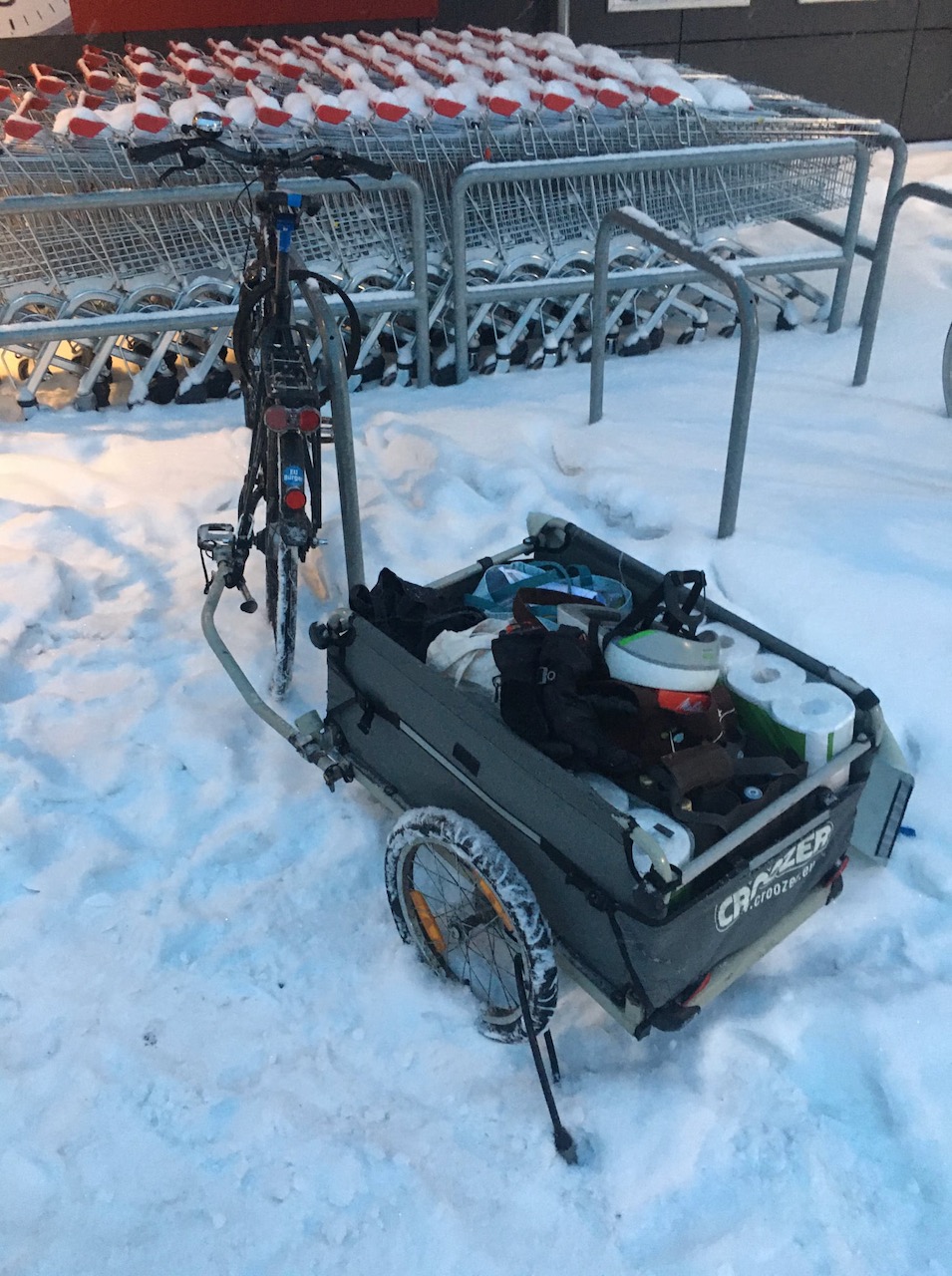 Shopping for neighbours during COVID lockdown (shop4me project) – the Croozer Cargo has a handle you can lift to make it into a kind of hand trolley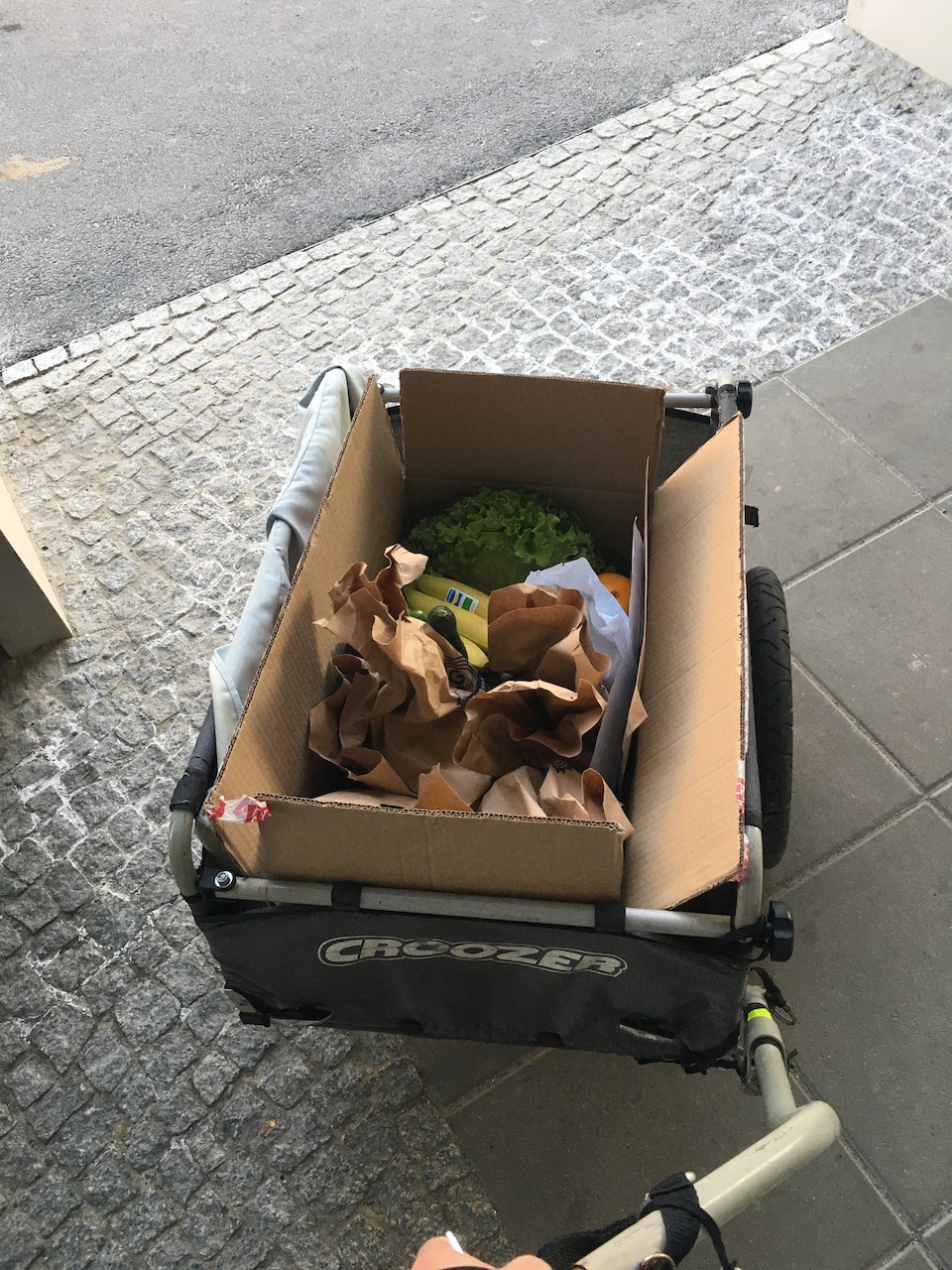 Waste wood from a garden to waste tip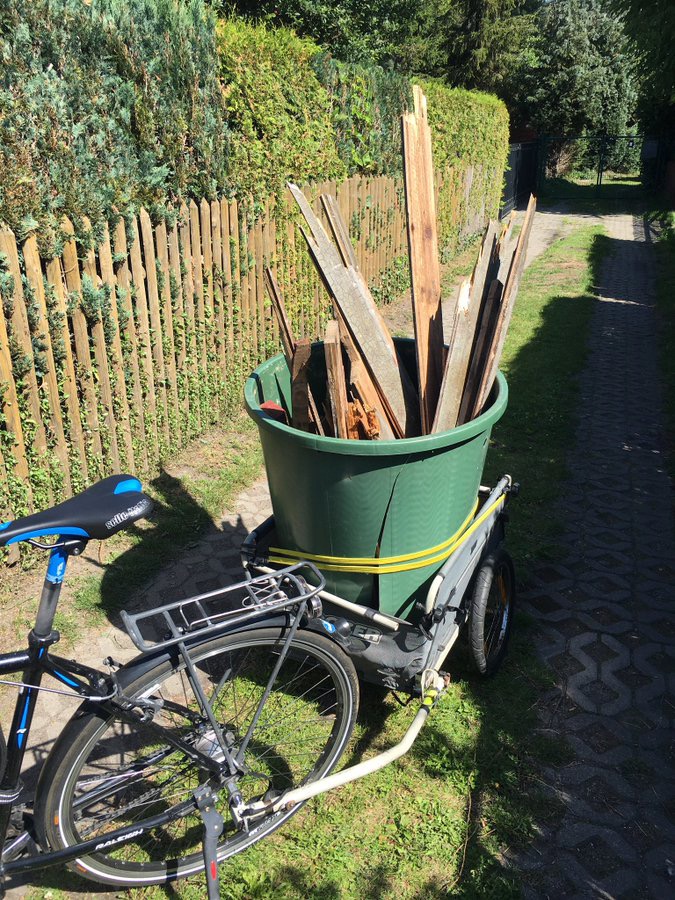 An iMac and Dell Monitor: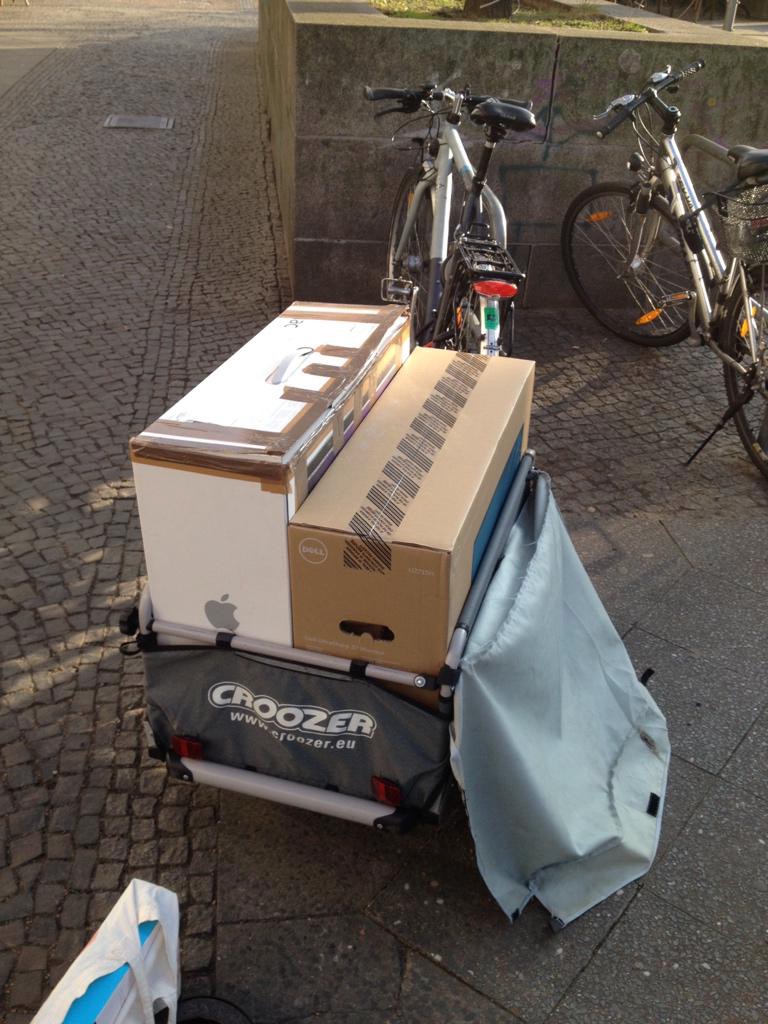 A clothes rack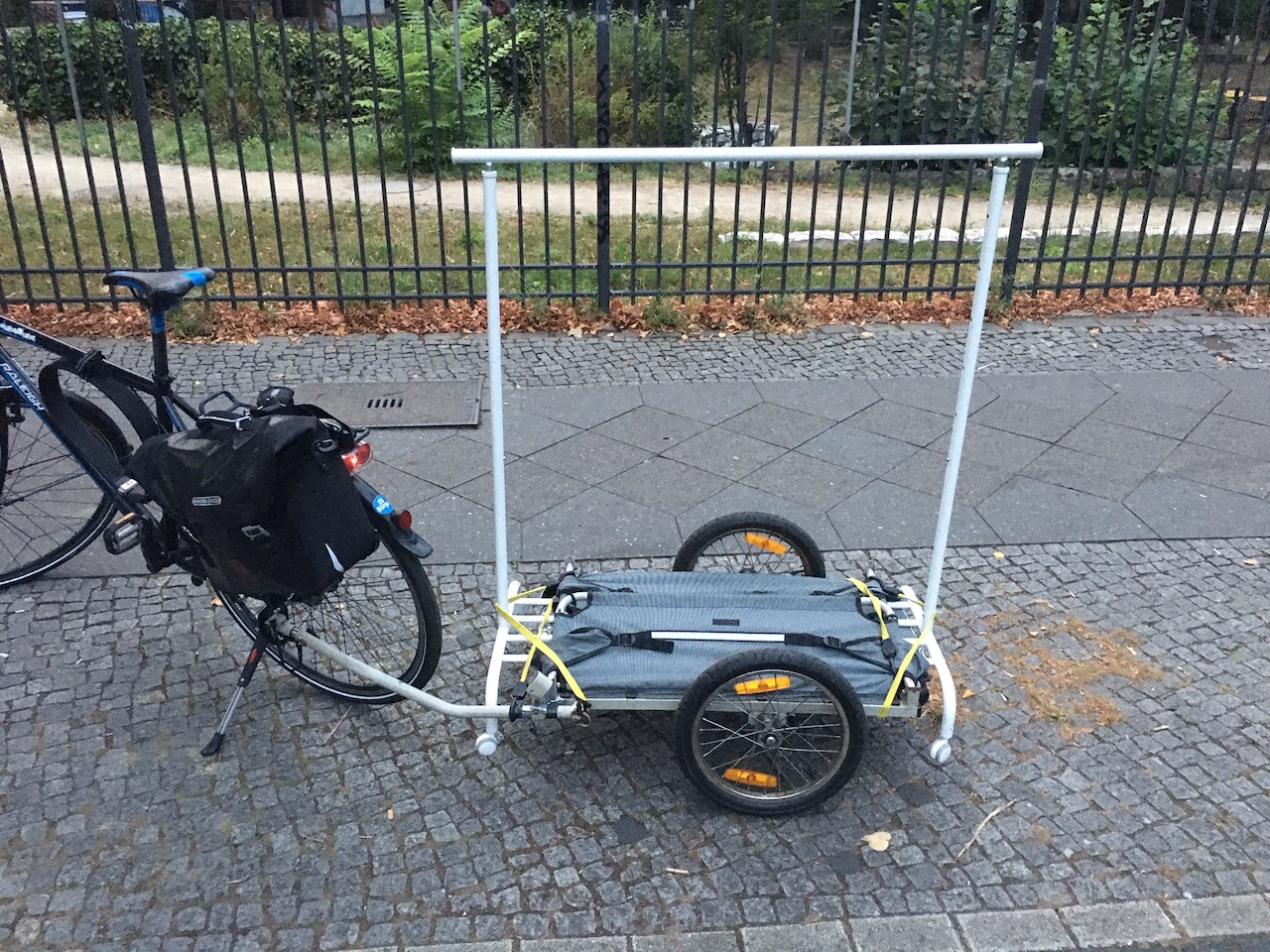 Pampas grasses to a friend's garden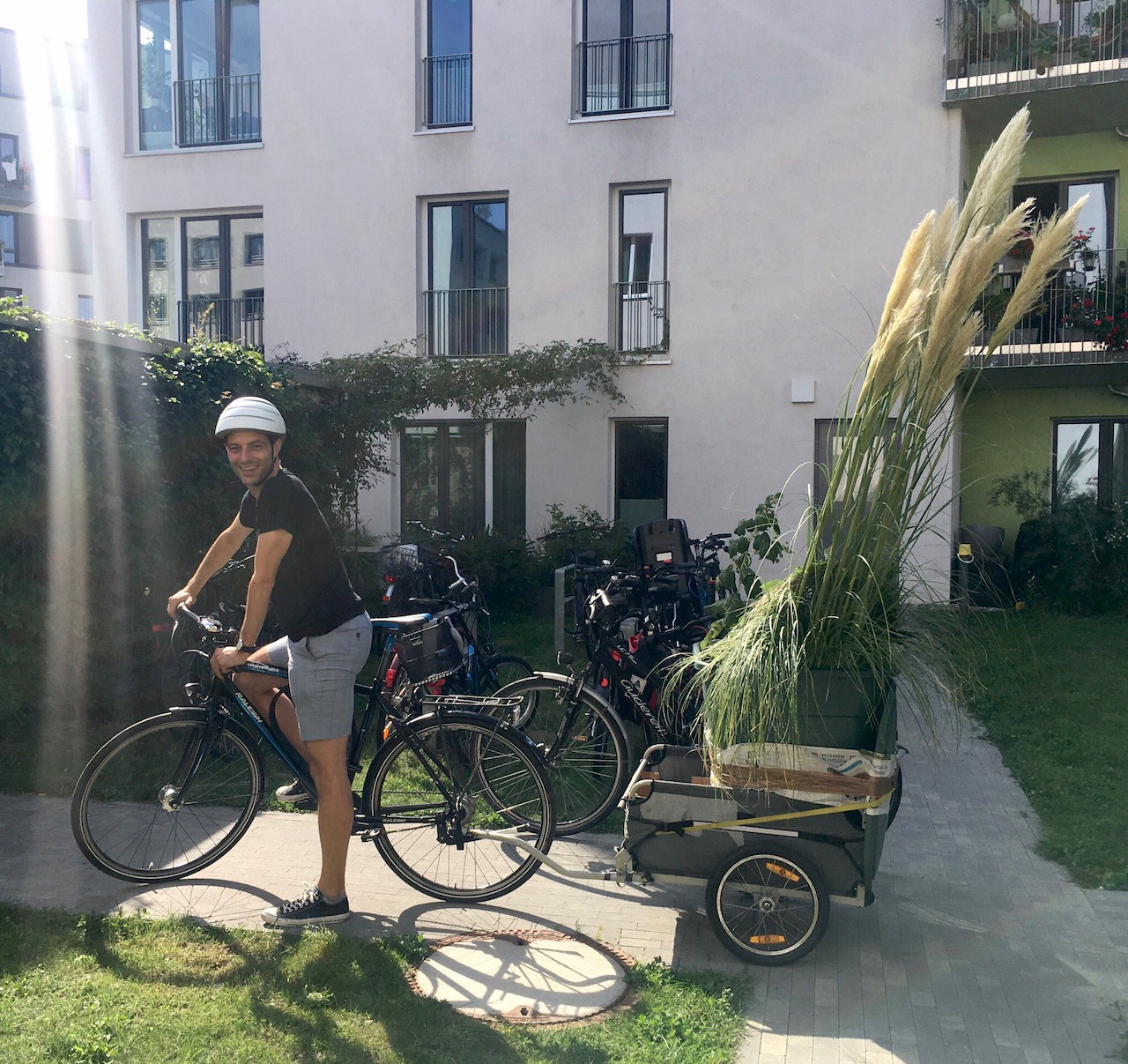 Transporting two hifi speakers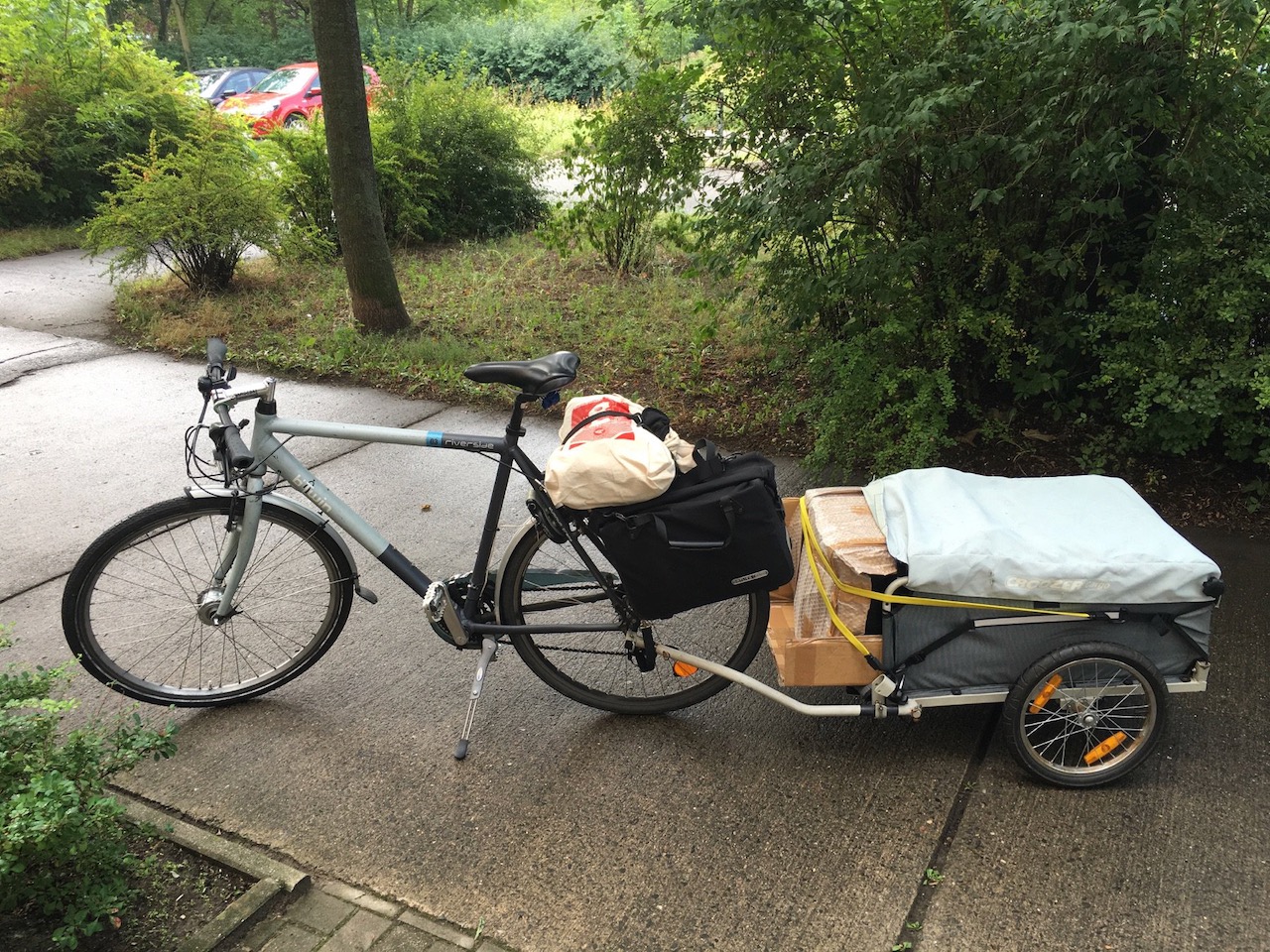 Buying a water butt at a DIY store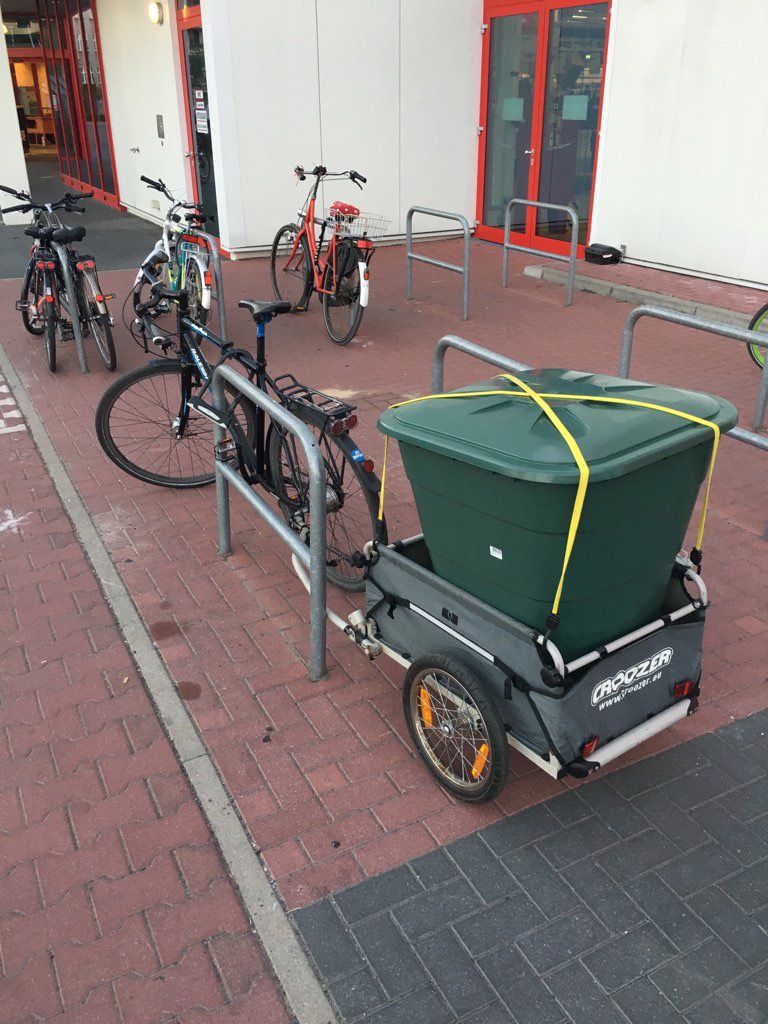 Oversize package collected from a shop when GLS couldn't find my flat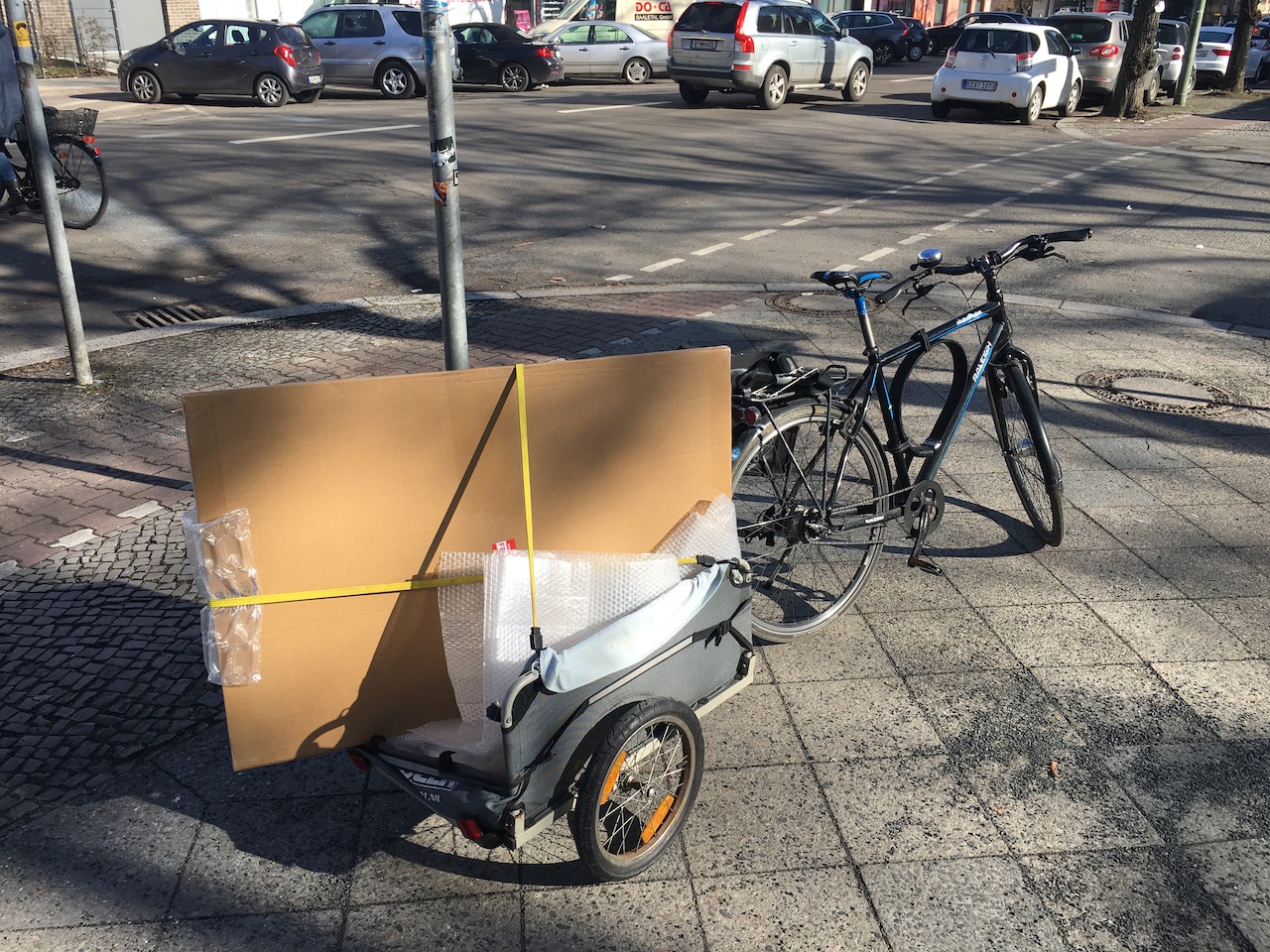 More speakers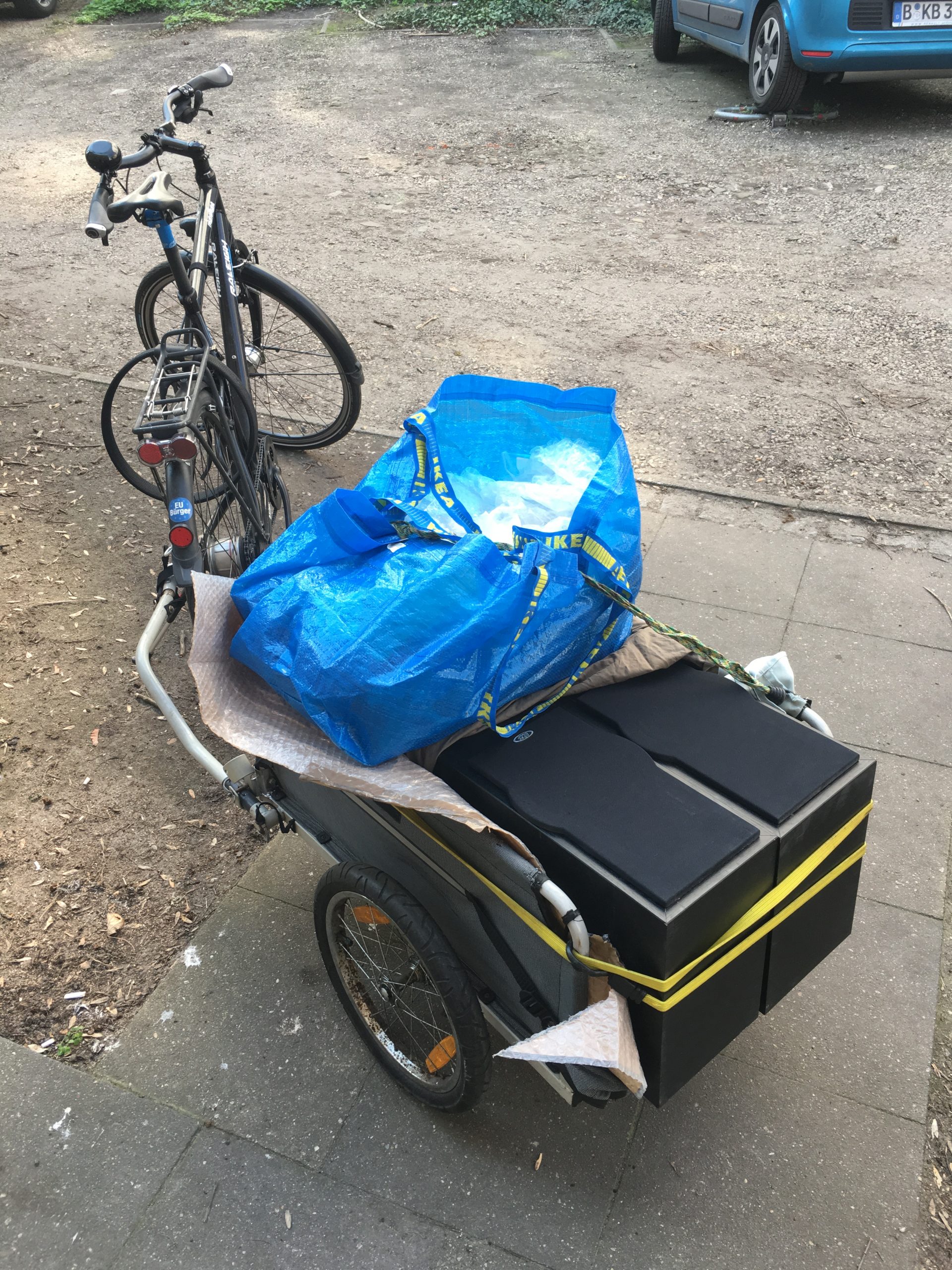 Empty bottles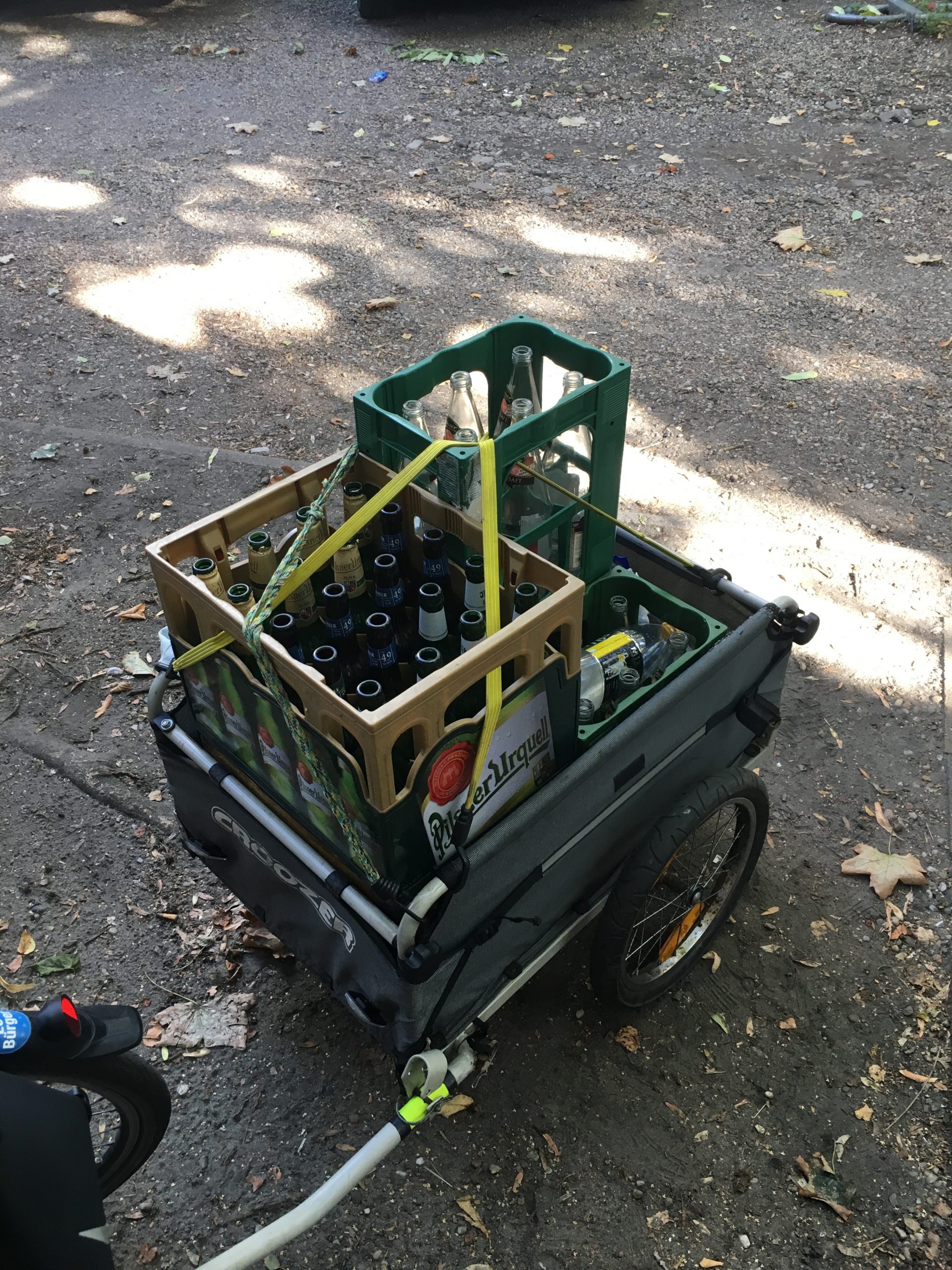 Removal boxes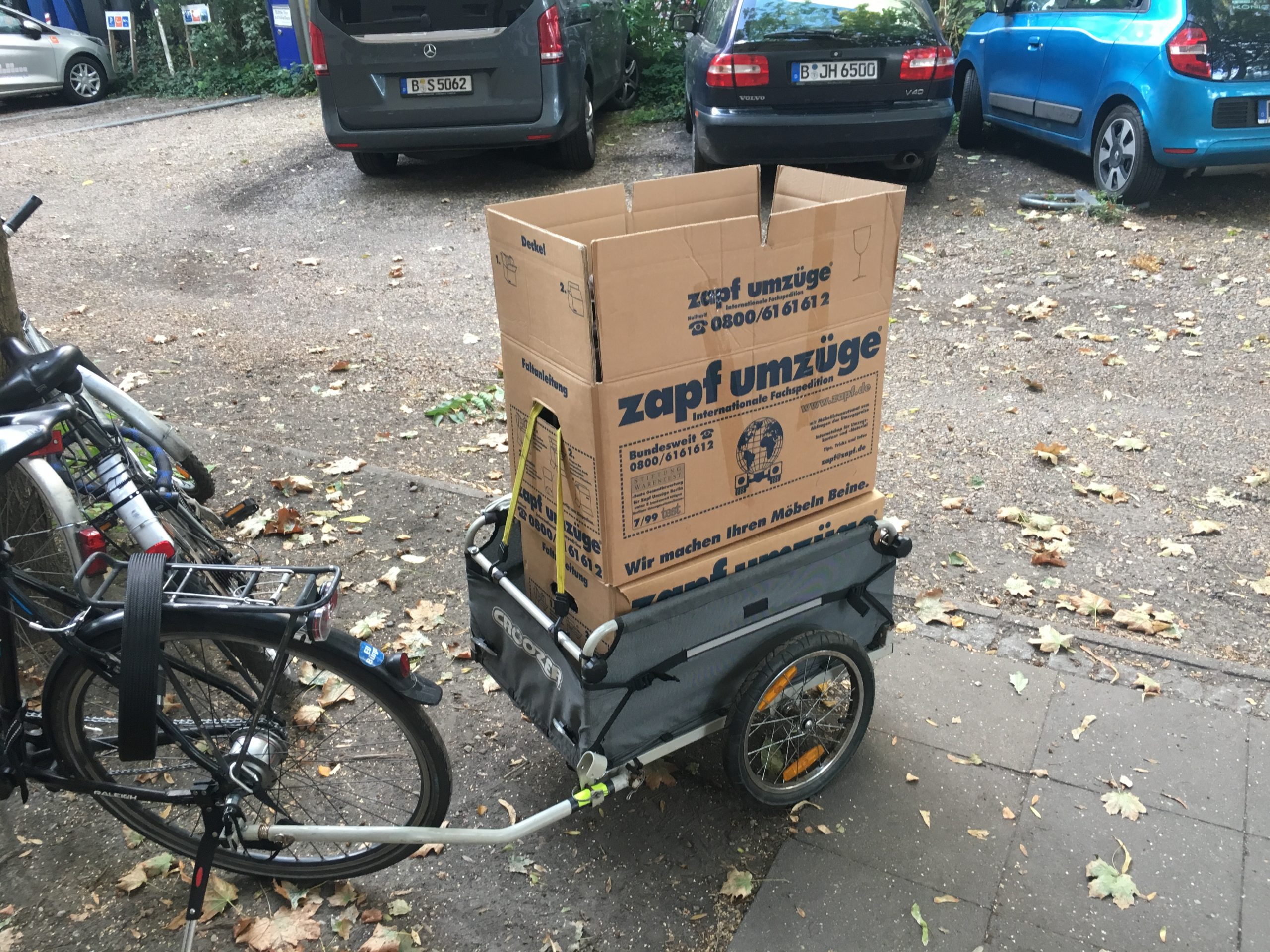 And some furniture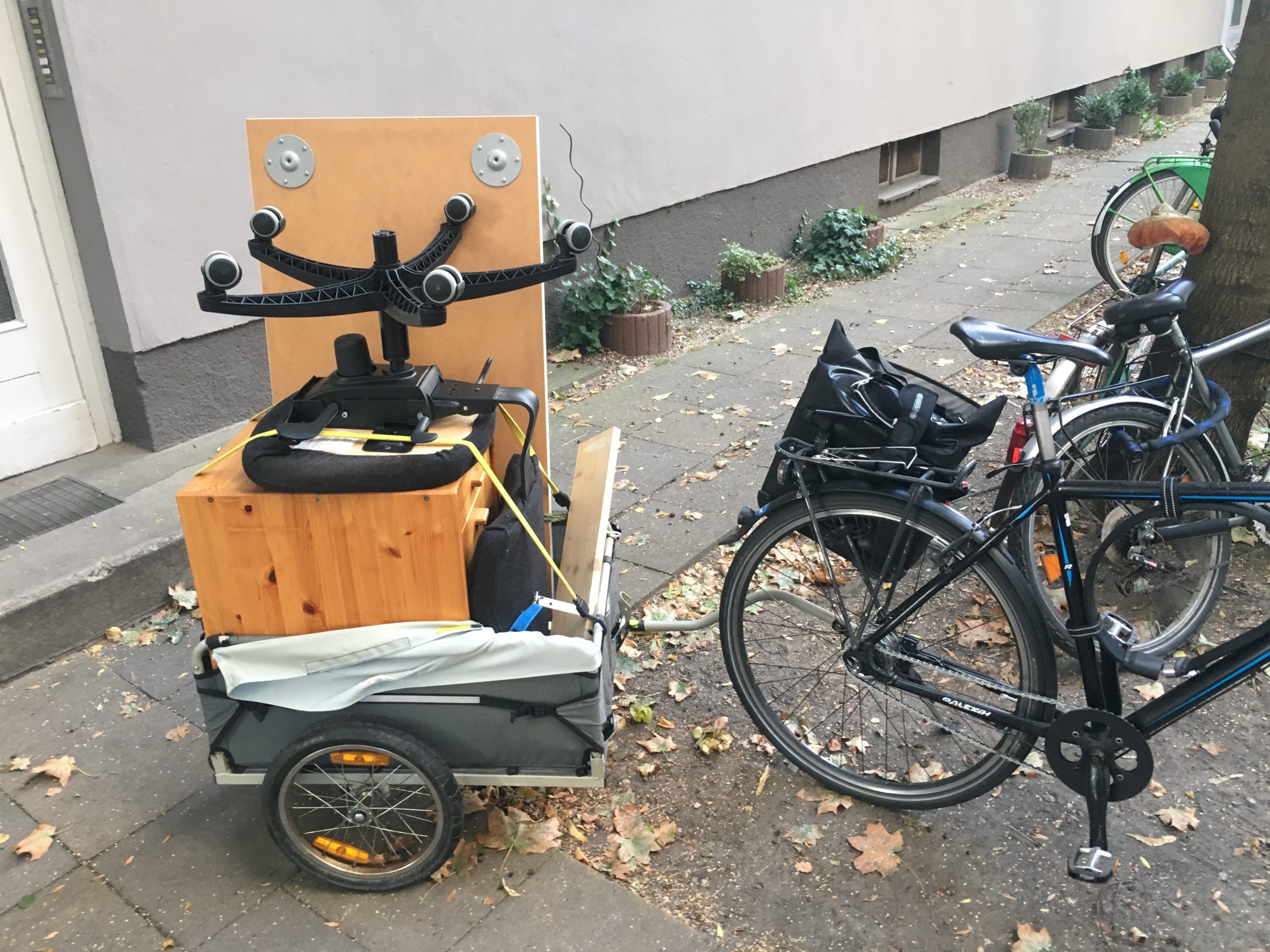 240 litres of compost and wood from the Baumarkt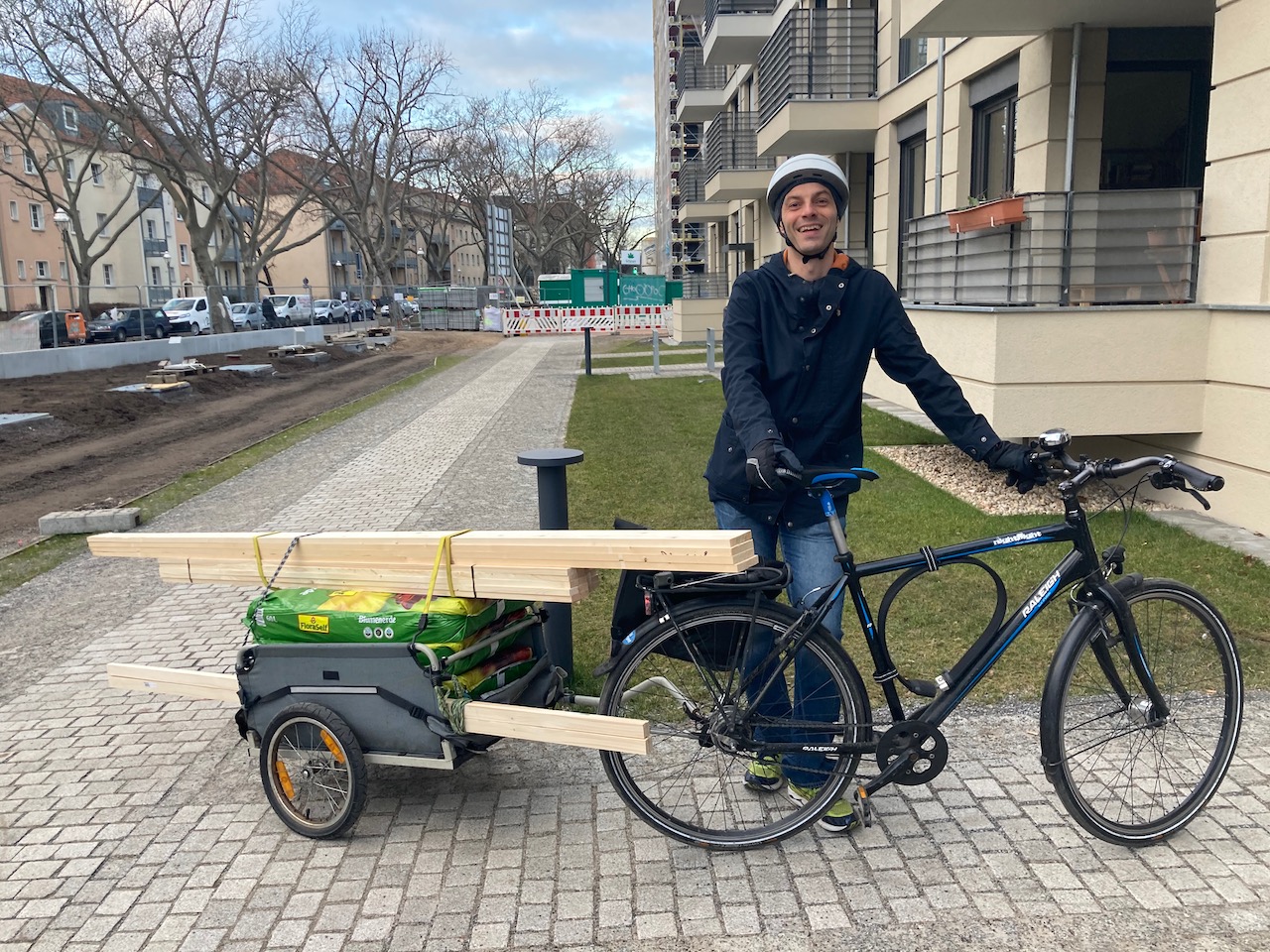 An IKEA Malm bed frame, and a vacuum cleaner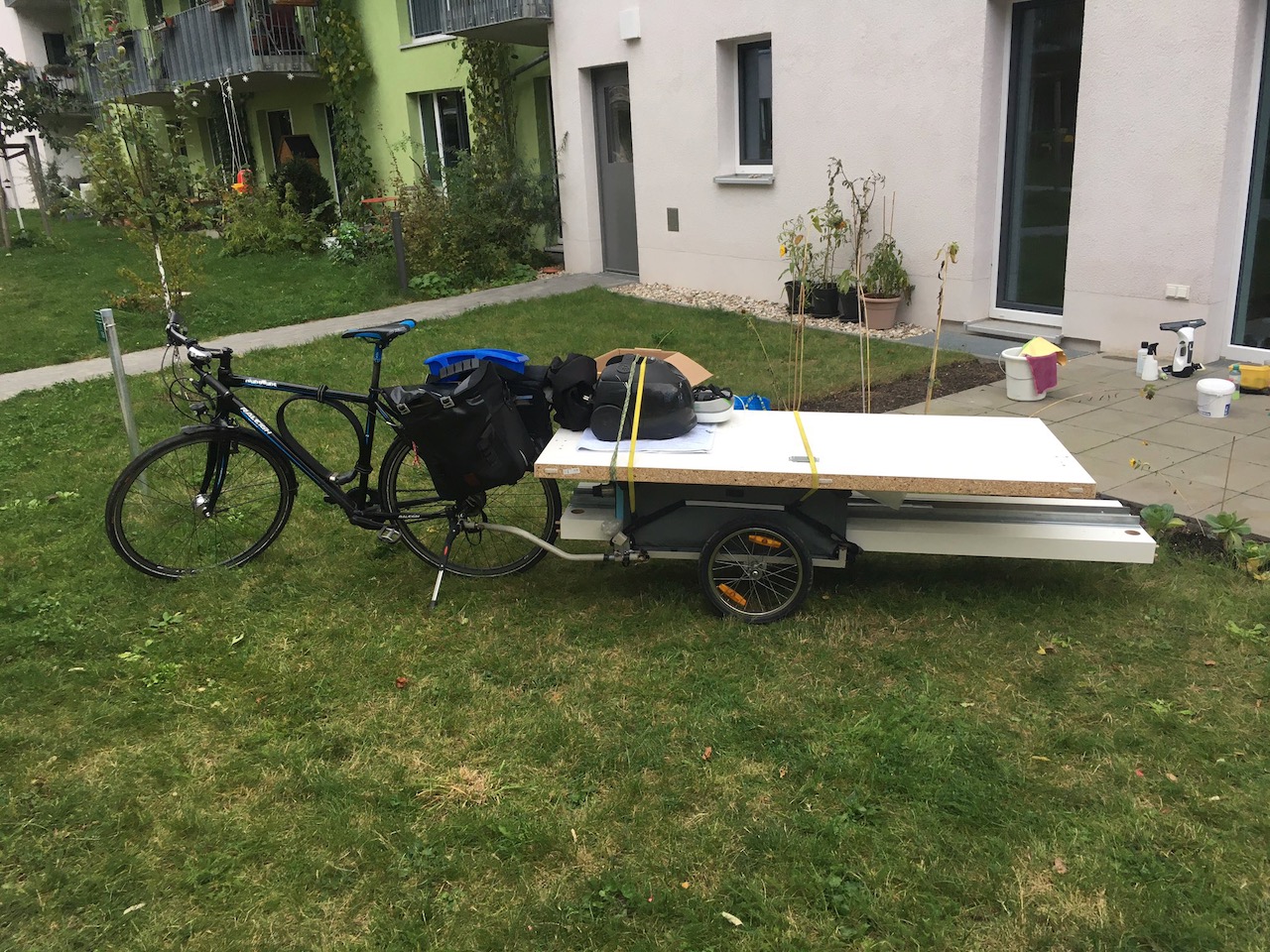 OK, the last two are rather extreme. I don't suggest those.
But more generally you get the idea. With the bike trailer I can do the sorts of things… you would only normally be able to do with a car. Over the past year during COVID lockdown I have been using it at least once a week, while before that I imagine it was more like every other week. For intermittent use like that I think it makes more sense than a cargo bicycle (and definitely cheaper).
The important point however is that as I do own the trailer, I think of all sorts of things I could then use it for. Without it the whole shop4me project would not have worked for example. Or now living a fair distance from the nearest supermarket in my new flat in Berlin is no problem – I can shop more, but less often, because of the bike trailer.
So that's the case for a bike trailer. But what trailer should you buy?
The first choice is how to connect your trailer – most higher end trailers (inc. Croozer) have an asymmetrical connection, with an arm to one side connecting to the back axel bolt of your bike. This has two advantages – it means you can still use the luggage rack on the back of your bike, and any rear mounted bike light is not obscured by the the trailer. The alternative is central mountings – either on the luggage rack or the seat post – that are generally favoured by cheaper models, although this makes it easier for the handle to be doubled as a hand trolley handle.
Trailers with just 1 wheel are also available – those are preferred for bike tours but are harder to mount and unmount than 2 wheel trailers, so are not considered here.
The second consideration is whether to buy a trailer that is a flat panel only, or one with sides. Here my Croozer model scores well – the flexibility to have the sides fully up (for shopping), ends removed (for longer loads) or all flattened (as with the clothes rail) has been a real advantage. Alternatives are trailers with a kind of fixed plastic box (study, but not so flexible) or a flat panel onto which things can be attached with cords or ties.
So what is there on the market? I have not tried any of these, but examining the market at the moment this is my view…
The Croozer Cargo I own is no longer manufactured, but Croozer still makes cargo trailers, priced at €370 to €520. The deluxe model even has air suspension, and an additional arm is available to turn these models into hand trolleys. The design looks excellent, but these trailers are on the pricey side! Croozer is a small firm based in Hürth, Germany.
Burley, based in Eugene, Oregon, USA makes a really interesting range of different trailers – its Flatbed looks to be a really solid option (€249 in Europe), although it does not have a hand trolley function.
There are two cheaper models from Klarfit – a flat panel trailer with a wooden carry area for £160, and one with a small cover but differently constructed area for the cargo for £130. I have never seen anyone using one of these, but the design looks interesting, and the prices reasonable.
XLC has a trailer called "Carry Van" that in its original version was identical to the Croozer Cargo I own, except in blue. However since 2018 they have been selling a newer version that seems to have a similar design, although slightly more sleek – but without the hand trolley function. It costs €250.
There are a whole range of cheaper options – from Uniprodo (€105), Homcom (€99 for the sleeker version, €95 for the larger version), an unbranded one that can take 65kg load (€88) and Qeedo (€189).
Any questions? Do comment below!
[UPDATES]
I have been asked about extra wear to my bike of using the bike trailer. The main one is that the chain stretches more quickly (the Raleigh Nightflight that's my main bike has a Shimano Nexus 8 speed hub, no derailleur), so I replace the chain every 12 to 18 months. Brake pad wear is a bit higher too, and then over time rim wear too. But neither of these are marked for me.