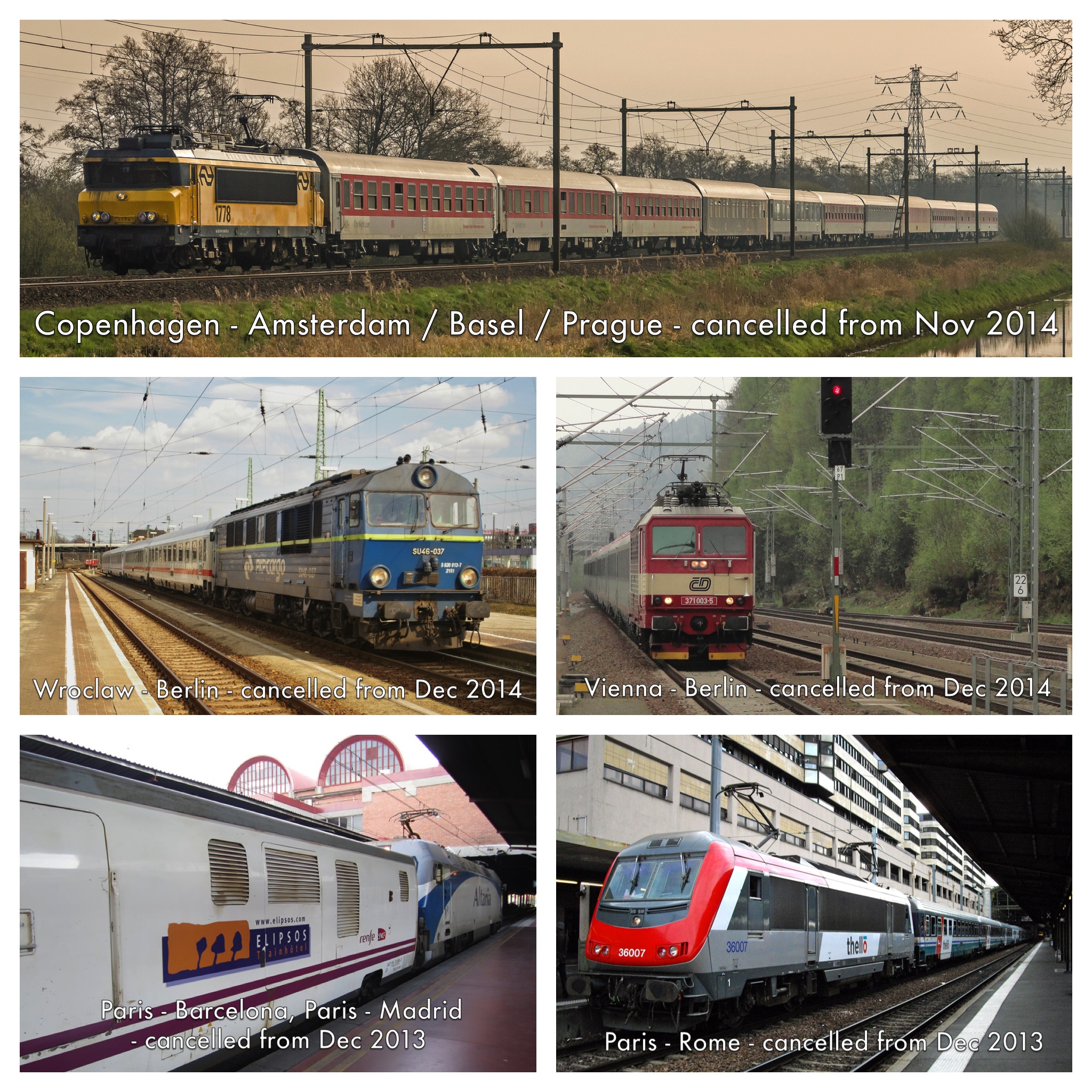 The Vindobona EuroCity train has been connecting Berlin with Vienna daily since 1957. But from mid-December this year the route will cease to exist. This service that operated across the Iron Curtain is being seen off by liberalisation and the profit drive of EU railways. The Paris – Berlin night train, the only direct train between the EU's two founding powers, will be axed at the same time. The Copenhagen Night Train runs for the last time this month. Philip Oltermann tells the story of the decline in The Guardian here.
The story about why this is happening is a complicated one, but at its core is the change in the nature of Europe's railways – from being public services with a public ethos, to competitive, profit making businesses. The EU itself is behind this change, forcing railways to separate their networks from their operations to try to promote competition. This change has worked to a certain extent for rail freight, but when it comes to passengers it means long distance services that run only a couple of times a day, and are borderline profitable, become too complicated and cumbersome to operate and are cut from the timetables. Track access charges – i.e. the cost to a rail company to run a service on a neighbouring country's tracks – are often cited as the reason.
Why then is no-one acting to save these services, and to offer passengers an alternative to flying?
My conversations with policy makers in Brussels tend to come up with the rather bland "There's no political will to fix this" as an answer. I take this as shorthand for "No-one has lobbied me about this issue." Rail companies and manufacturers do lobby a lot, but passengers do not.
The organisation that should work on this issue is the European Passengers' Federation. The problem is that they have a single member of staff, based in Gent, and they do not seem to actually campaign. Other organisations I have contacted or investigated have no transport policy person (Friends of the Earth EU, Greenpeace EU), do not deal with modal shift to rail (Transport & Environment), do not deal with rail consumer rights (BEUC), or care about EU wide issues but not about rail (European Movement FR and DE).
The challenge then is to actually build an organisation, or build a position within an organisation, to be able to work on this issue. I can do what I can as an individual rail traveller using my blog and Twitter to inform people about what is happening, and to pester them about it, but I cannot myself be an organisation that lobbies and campaigns.
The very minimum that has to be sorted out in EU-wide rail for the next five years is:
Beyond that there are more complicated issues that will actually require some money to fix, or deal with competition between rail and other transport means. These are:
Introduce cross border services where tracks exist but services do not. At borders like Ventimiglia, Port Bou, Hendaye and Villa Opicina no through services run, and even changing at the border is complicated due to timetables that are not aligned, or regional services that stop a few kilometres from the border. The EU needs to make a systematic analysis of every cross border line, ranking each, and moving towards the idea of a European core network of passenger services, with stipulations of how often regional and long distance services should run.
Rebuild 15 cross border lines. Michael Cramer, the German Green MEP, has listed 15 cross border lines that once existed [PDF here], but no longer do, and require only minimal investments to re-open. EU Regional Funds could be used for this purpose, but only of course if services will run! (see point 1)
Examine competition between transport modes. Rail operators – not least in Germany – have long complained that VAT on rail tickets (and not on airfares), coupled with high track access charges, are killing services, especially after the deregulation of the long distance bus market in Germany (see more on InterConnex axing services here). Fair competition when it comes to taxation rates, and access to infrastructure, would be a good start.
This is how a sort of manifesto for EU rail passengers could look for the next 5 years, with pressure applied systematically to new Transport Commissioner Violeta Bulc, and MEPs in the Transport Committee.
Now I just need to find the right person or organisation to make all of this happen…
Graphic by Jon Worth. Copenhagen, Barcelona, Madrid, Rome refers to night trains. Wroclaw and Vienna refers to day trains. Made with Creative Commons images – DSC01196 by taschenschieber, TrenHotel Chamartín by VivirElTren.es, Maarsbergen 1778 CNL 404473 uit Kopenhagen by Rob Dammers, PKP Cargo SU46-037 / 5 630 013 in Cottbus by Tegeler and BB 36007 Fr B It & Rame Thello entière by 8Uhr.