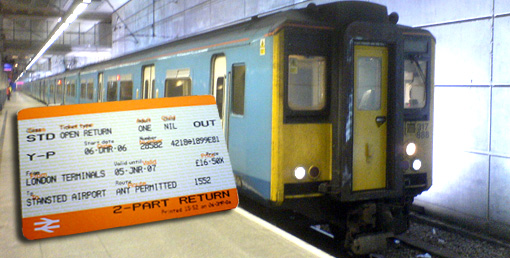 There's no other sensible way to get from London to Porto than to fly; I'm afraid I don't have the time or the money to take the train via Paris and Madrid. But the economics of my trip to Porto are both interesting and quite scary.
First of all, the return train ticket from central London to Stansted Airport with the Stansted Express costs £16.50 (26 Euro), and that's even with a Young Person's reduction; the standard return is £25 (40 Euro). It's not even as if the airport train is a premium service.
Then the plane ticket from London to Porto with Ryanair cost the sum total of £1.39 (2 Euro) for a single ticket, and £18.92 (30 Euro) including taxes and charges, only a fraction more than the return rail ticket. Even with Gordon Brown's announcement today that the airline passenger levy in the UK will double, it's ludicrous that a 1300km flight in an aircraft pumping out carbon dioxide can cost so little. I wonder what the PES might do to offset the environmental cost of their Congress?
On the other hand, liberalisation of airfares and the opportunities for free movement that has offered to Europeans must count as one of the main achievements of European integration.
Further, for the ethical among you, there's the additional question: should I even be flying with a company like Ryanair in the first place? They have caused consternation among Swedish Social Democrats due to disputes with trade unions, and have been criticised for denying disabled passengers access to a free wheelchair service. Yet on the other hand, I'm meeting the complete cost of my trip to Porto from my own pocket and hence it's in my interests to economise as much as possible; one might argue that even the cost of a Ryanair flight may have denied attendance for some potential activists.