This cropped up in my LinkedIn feed earlier today. At the time I commented on it, simply saying it was bullshit. Now I am going to take it apart, and break down why it is bullshit.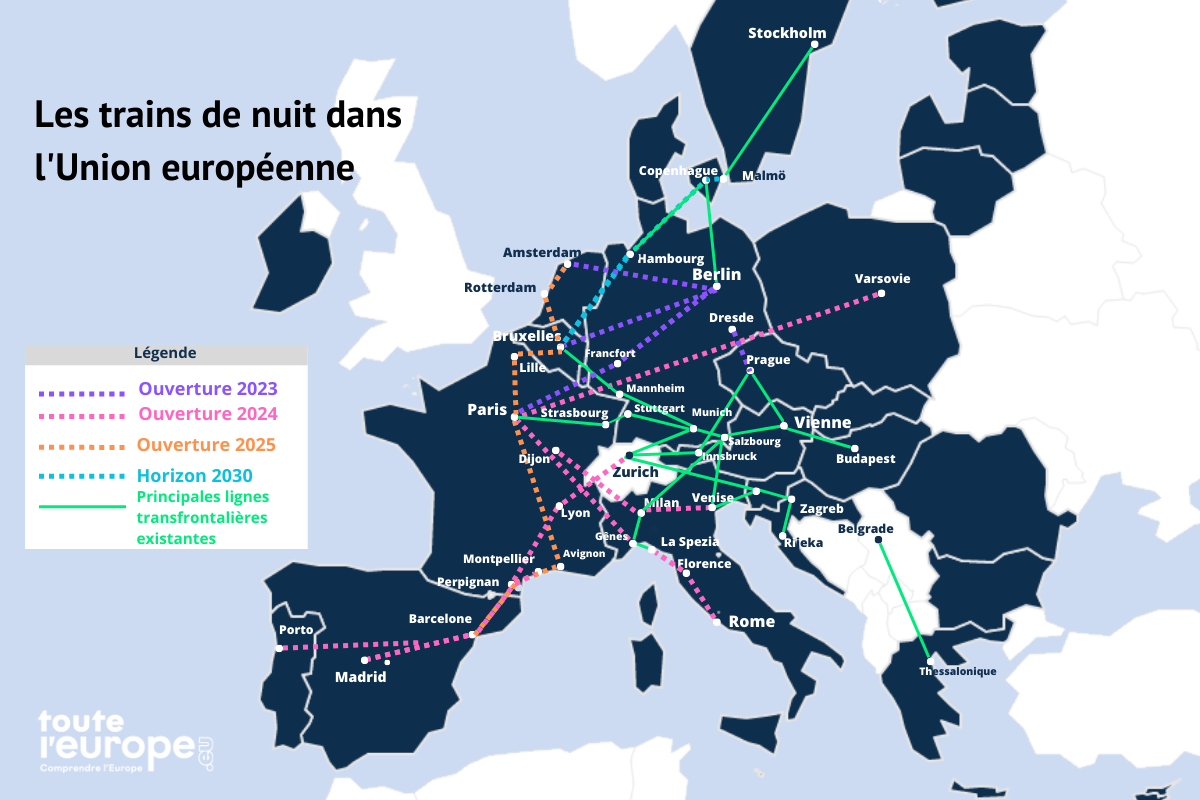 The map comes from this article from Toute l'Europe.
We've been here before. Someone scrawls some lines on a map, proclaims a bright future for night trains, and social media goes wild.
So let's dive in.
Even the existing lines shown on this map are off. They've put Hamburg where Bremen is, and Snälltåget's Berlin-Stockholm also goes through Hamburg. Some important routes – like Amsterdam-Vienna are missing entirely. Oh and Belgrade-Thessaloniki has not run for years, and I don't know when it might ever re-start.
Then to the new lines. Purple is 2023. I am not sure which line depicts European Sleeper that will run Bruxelles-Amsterdam-Berlin in May 2023, and extend the route to Prague in early 2024. ÖBB is scheduled to run a two-part night train from Berlin with one half going to Bruxelles and the other half to Paris – but we still have no final confirmation this will happen this year.
2024 is even more absurd. PKP is not going to be running a Paris-Warszawa next year – this is nothing more than an idea. Midnight Trains might manage Paris-Venezia in 2024, but most definitely will not run any more than that – and definitely not a Paris-Madrid, Paris-Porto or Paris-Roma. ÖBB likewise is going to struggle to run a Zürich-Barcelona in 2024, as motive power to run that is not currently easily available.
And 2025 European Sleeper hopes to start Amsterdam-Barcelona – but they do not have any stock to run that one.
And mentioned in the article but not shown on the map are Paris-Aurillac for December 2023 and Paris-Bordeaux-Pau for 2024, although these plans are from the Castex / Djebbari government era, so I am not sure those are going to happen for sure.
So overall all of this is a few things that are correct, but poorly mapped. A few things that are speculative and might happen or might not. And a bunch of others that – were they to ever happen – are definitely not going to happen to the stated timeframes.