I've just returned from a three week trip to Central Asia. This blog entry is part review of what I saw and did, and hence partly a suggestion about what to do, and how to do it. Hence the blog entry is rather long. My rationale for going to Central Asia was that a friend of mine is currently posted to work for the European Commission in Astana and, having gone that far to see her, it seemed like a good idea to make a trip out of it.
Contents
1 – Introduction
2 – Books, websites and apps
3 – To/from Central Asia
4 – Visas
5 – Astana
6 – Astana to Almaty
7 – Almaty
8 – Charyn Canyon
9 – Almaty to Karakol
10 – Karakol
11 – Tosor
12 – Karakol to Tosor to Balykchy to Bishkek
13 – Bishkek
14 – Bishkek to Turkestan
15 – Turkestan
16 – Turkestan to Tashkent
17 – Money in Uzbekistan
18 – Tashkent
19 – Tashkent to Bukhara, Bukhara to Samarkand, Samarkand to Urgench (for Khiva)
20 – Bukhara
21 – Samarkand
22 – Khiva
1 – Introduction
This trip was independently organised, and the information is correct as of late July / early August 2016. How each part was booked or purchased is listed in each section below. Two people were travelling together for the whole trip. Prices quoted are at the exchange rates 1€ = 372 T (Tenge) KAZ and 1€ = 74som (Som) KRY. Money in Uzbekistan has its own section below. The two of us are not mountain climbers, and hence did not go to Tajikistan. Getting into Turkmenistan is too complicated so was not attempted. All my TripAdvisor reviews of hotels, B&Bs and restaurants can be found here, and my Flickr photo set from the trip is here. Clicking on some pics below will take you to the full resolution version. This blog entry, like the rest of my blog, is Creative Commons Licensed, and hence the text can be re-used for non-profit purposes if appropriately attributed.
2 – Books, websites and apps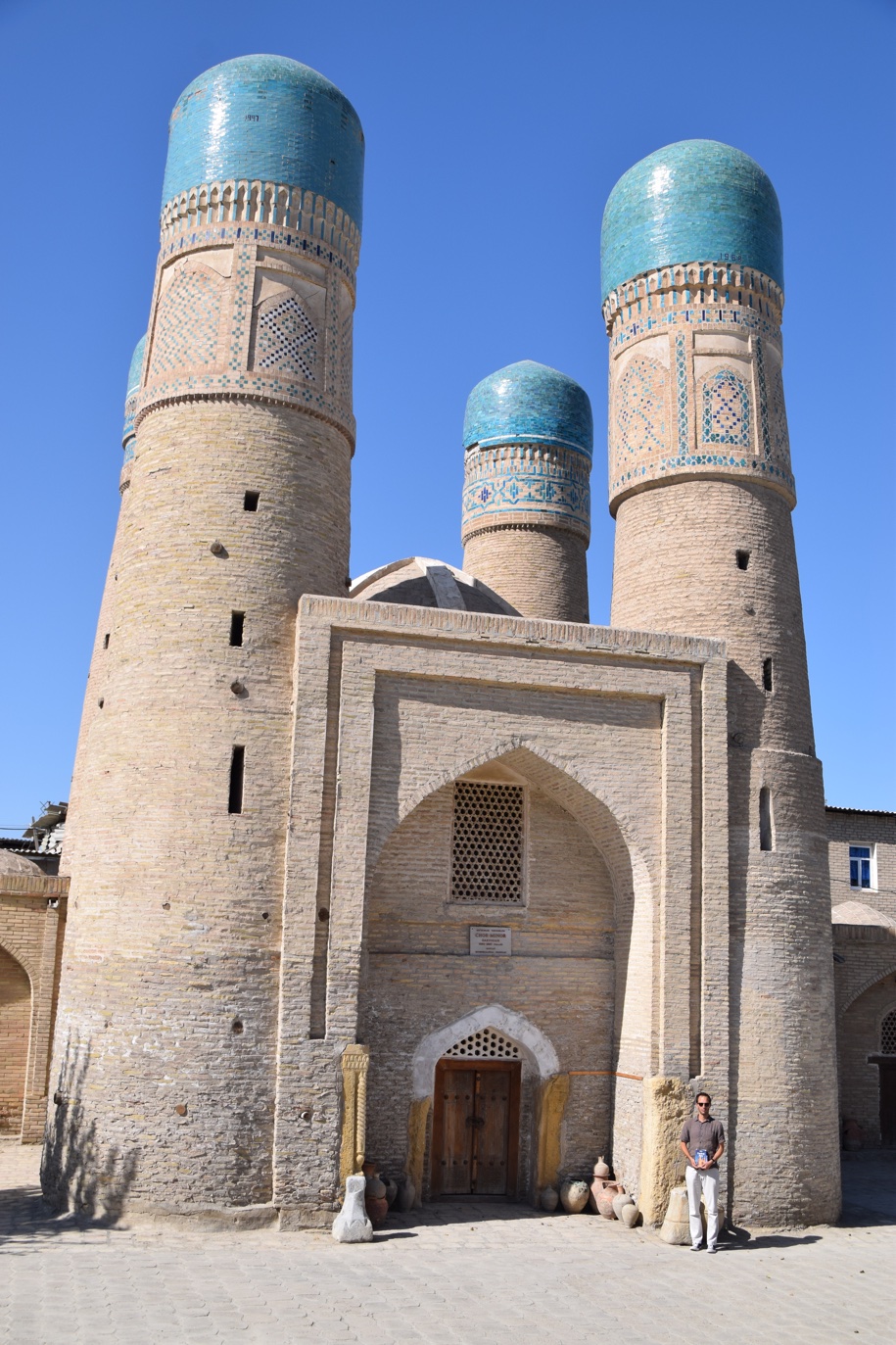 We relied very heavily on the Lonely Planet Central Asia guide, available here. Researched in 2013 and printed in 2014, it is now out of date in a couple of places, but it gives priceless advice. Overall we found it to be a little more precise about Kazakhstan and Kyrgyzstan than it was about Uzbekistan. When – as happens quite often in Central Asia – you are confronted with something that looks complex and insurmountable, Lonely Planet gives you the guidance about what to do. Also if multiple types of tickets are available somewhere, Lonely Planet will tell you – sometimes museums tried to sell us the most expensive ticket by default, but the guidebook helped us make sure we did not fall for that. Buy the Lonely Planet – you will not regret it.
Prior to the trip, we made heavy use of the Caravanistan website, and booked our trip to Charyn Canyon (see below) through them. It gives more detailed advice about some things than Lonely Planet.
While on the trip we used two apps all the time – maps.me (iOS, Android) and Yandex Translate (iOS, Android). Maps.me allows you to store OpenStreetMap based maps on your mobile and use these even without an internet connection – handy when data roaming is so expensive. It also allows search and bookmarks based on geo-coordinates – coordinates are hence given in the blog entry below. Yandex Translate is an offline English – Russian dictionary, that also speaks out the words. We held whole conversations using the app, and used it – for example – to help us buy the right train tickets in railway stations. Both of these apps are free but the maps and dictionaries are large – download on wifi before you go. Neither of us spoke Russian – use of Yandex however made communication manageable.
3 – To/from Central Asia
We flew Berlin – Kyiv – Astana with Ukraine International Airlines (UIA), and Urgench – Moscow – Berlin with S7 Airlines. UIA was basic but passable, but had a long flight time to Astana to avoid Russian air space. S7 was very good, and connected in Moscow Domodedovo – so no transit visa required. Use Google Flights to find connections – not all Central Asian connections seem to be listed in other flight search databases.
4 – Visas
Kazakhstan is visa-free for 15 days for a bunch of countries (inc. UK and Germany – details here). Leaving the country for a day, and then returning, gives you another 15 days visa free. Kyrgyzstan is liberal – chances are you will not need a visa (details here). For Uzbekistan pretty much all Europeans will need visas – details here. My experience was that, after paying the €70 and leaving my passport for 10 days at the Uzbek Consulate in Berlin, it was not a complex process – there were no complicated questions to answer, and no letter of invitation is required.
5 – Astana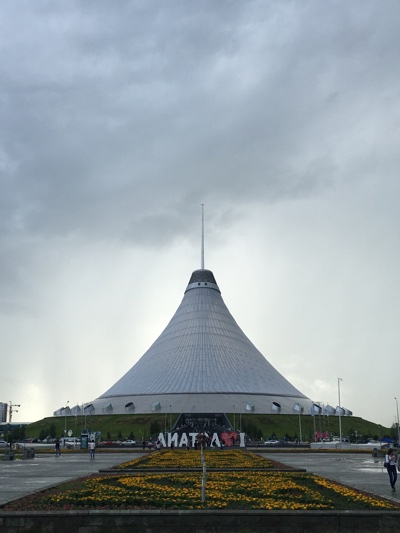 Time spent there – 3 days
Why go – it's the new capital of Kazakhstan, and it's fascinating to see a new city being built. It's like some kind of Dubai in the steppe – many new and interesting buildings, but done in a way that is not unpleasant. Khan Shatyr (the world's biggest tent), Bayterek, and Palace of Peace and Reconciliation are the main sights. The Palace of Independence was a particular favourite – inside is a model of how Astana will look in 2030, and an extraordinary painting of Nazarbayev.
Where to stay – no idea. We stayed with a friend.
Where to eat – RUMI (TripAdvisor | Google Maps | 51.1619444, 71.4208333) serves good plov – it's a decent mid-range Central Asian place.
Getting around – buses are good and reliable, and cost 70 Tenge per trip. Board and then pay the attendant. There are few official taxis, but just stand at the side of the road and flag down any car – and negotiate a price before you get in.
6 – Astana to Almaty (Station: Alma-Ata 2)

How – Night train, D. 2043 – A. 0933
What it's like – It's a modern, Spanish-made (Talgo), air conditioned night train with two-person or four-person compartments, and a good restaurant.
How to book it – Hard to book outside Kazakhstan. The easiest way is to go to Astana station and book it using one of the touch screen ticket machines at Astana station. Timetable and price information can be found on the Kazakh Railways website here – type station names in Cyrillic. Tickets can only be booked online if you have a Kazakh or Russian credit card. NOTE: in summertime the modern Talgo trains can be booked up days in advance.
Cost – about 15000 Tenge (€40) per person, single, in a two person compartment.
7 – Almaty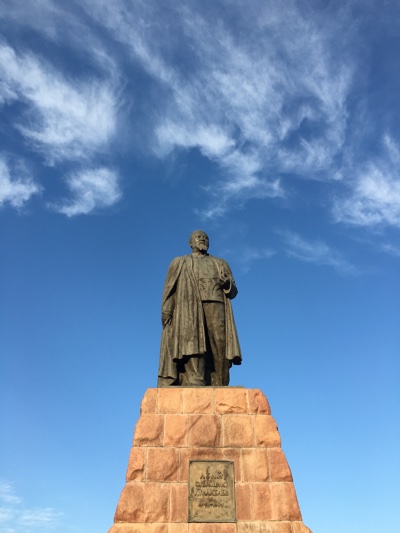 Time spent there – 2 days
Why go – it's the old capital of Kazakhstan, and the largest city. It's a city of tree lined boulevards, parks, and excellent cafés and restaurants, and feels more normal and coherent than Astana. It is surrounded by mountains. Go to the Central State Museum and up the cable car to Kok Tobe for the view and a strange Beatles statue.
Where to stay – We stayed at this AirBnB flat – 10 mins on foot from Alatau Metro station. It was a simple flat in a normal Almaty apartment block, and everything worked very well. Natalya, the host, was charming and very helpful.
Where to eat – Tyubeteika (TripAdvisor | Google Maps | 43.236476, 76.921088) is an excellent up-market but fairly priced Central Asian / Uzbek place that serves excellent plov and has a large terrace. Kiyevskiy (TripAdvisor | Google Maps | 43.231656, 76.899905) is a good option if you want a change from Central Asian cuisine – it is a mid-range place serving Ukrainian dishes that were well prepared and tasty, and there was Ukrainian beer on tap as well. Buckwheat served with mushrooms was an excellent and unusual side dish.
Getting around – There is one Metro line – modern and efficient, with trains every 10 minutes. Otherwise taxis can be ordered (as your host or hotel), or vehicles can be flagged down at the side of the road.
8 – Charyn Canyon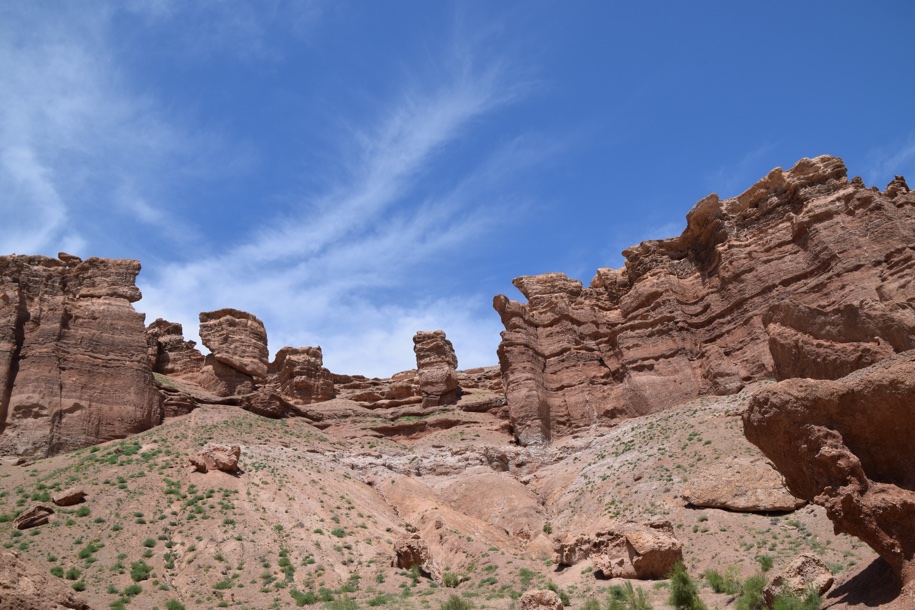 Time spent there – day trip from Almaty. Trip takes between three and four hours each way, the last 10km of which is on dirt roads – a 4×4 is recommended.
Why go – it's Kazakhstan's mini Grand Canyon, and exploring the main parts of it are possible in a few hours.
How to do it – We got in touch with track.kz through Caravanistan. Yulia communicates well in English, Kostya was our driver to/from and guide through Charyn Canyon. Kostya's English is a bit rough but the essentials can be communicated.
Costs – $150 return for the entire car (2 people), including driver, fuel, lunch pack, tour through the canyon.
9 – Almaty to Karakol (Karkara border crossing to Kyrgyzstan)
How – a combination of shared taxis and taxis. Lonely Planet suggests there is a Marshrutka line from Almaty's Sayakhat (East) bus station (Google Maps | 43.272650, 76.952639) to Kegen, the town nearest to the Karkara border crossing to Kyrgyzstan, but this was nowhere to be found when we arrived there. Instead when asking around we managed to find a shared taxi to Kegen – a turquoise green Toyota small bus that was parked at the far eastern end of the bus station yard. Seats in this were 2000 Tenge per person, versus the 10000 Tenge that regular taxi drivers were offering us for the trip. While this Toyota was meant to go only as far as Kegen, in the end we were taken to Karkara – the final village 10 kilometres from the border. Here we then took a taxi along the dirt road to the border – a further 10km for 1000 Tenge. Having completed the border formalities, we waited on the Kyrgyz side to see what came – and managed to negotiate a taxi all the way to Karakol (80km) for 6000 Som (81 Euro). This was probably over the odds, but the day we were there it was windswept and cold, and we were not in the mood to hang around! We heard that other travellers had organised a pick-up through CBT Karakol at $60 per minibus. We had changed some dollars for Kyrgyz Som in an exchange office in Almaty before heading towards the border. Be aware that the roads on the Kyrgyz side are dirt roads for a very long way – at least 30km! We arrived at Almaty bus station at 0700, and arrived in Karakol at 1645.
Cost – 2000 Tenge to Karkara, 1000 Tenge Karkara to the border, max. 6000 Som Karkara to Karakol.
10 – Karakol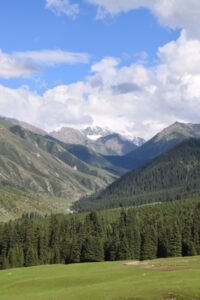 Time spent there – 2 days
Why go – A good base for the eastern end of the Issyk-Kül lake – for walking tours and excursions to the lake. There are a few small things in Karakol itself. Take a taxi to Jeti Öguz Kurort and see the Seven Bulls Rocks.
Where to stay – Bed & Breakfast Nice (Booking.com | TripAdvisor | Google Maps | 42.486499, 78.403458) – booked on Booking.com. The house looks new but non-descript on the outside, but inside it is excellent – a spotless room and a good en suite bathroom. The breakfast is good, and the service from the family running the place is friendly and welcoming. The host speaks excellent English and can give tips on hiking routes and taxi prices. This is an excellent and good value place to stay in Karakol.
Where to eat – Kench Café (TripAdvisor | Google Maps | 42.486610, 78.407782) was the best we found.
Getting around – Karakol is small, so most can be done on foot. Taxis and Marshrutkas are all you've got for longer distances. Taxis for shorter routes, Marshrutkas to be around the lake.
11 – Tosor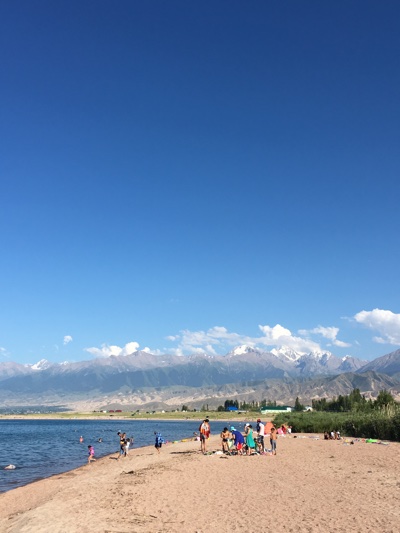 Time spent there – 1 day
Why go – It's the best beach on the southern side of the Issyk-Kül lake, and it's one of the few villages where the Marshrutkas stop right in the village (rather than you needing to walk a few kilometres from the road).
Where to stay – we had not booked anything ahead of arriving here, and just tried to see what there was. We found a Russian-run, tai-chi practising, yurt camp (Google Maps | 42.174559, 77.435033) at the western end of the village, right behind the beach. This offered full board, with vegetarian food, for €25 per person per night, with a small yurt for the two of us travelling. We ate at the camp. The camp website – in Russian – is www.jurta.info but this seems to lack contact information!
Getting around – on foot.
12 – Karakol to Tosor to Balykchy to Bishkek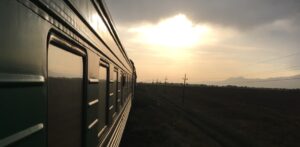 How – Marshrutkas run along the south coast of Issyk-Kül, departing every hour in the morning, and stopping off in the main villages and small towns along the main road along the south side of the lake. The road is rough, but is asphalt. We then picked up the same Marshrutka for the second part of the trip – to Balykchy on the western end of the lake – from Tosor. There is a kind of bus station in the western end of Balykchy – Marshrutkas on to Bishkek depart from here, but instead – having read the excellent Global Voices report about it – took the extremely slow train from Balykchy to Bishkek. The train station is a 10 minute walk from the bus 'station', and there's a supermarket along the way to buy yourself supplies for the train trip. You'll need them if you don't want to rely on the pastries and drinks people sell on the platform and in the train.
Cost – 150 Som Karakol – Tosor. 180 Som Tosor – Balykchy. 70 Som for the train ticket – purchased on board the train. All prices per person.
13 – Bishkek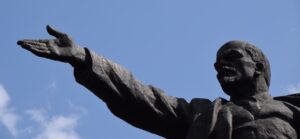 Time spent there – just over 1 day
Why go – it's the capital of Kyrgyzstan. There's not that much to see, but it's a green city with wide boulevards where you can wander and watch the day go by. There's a huge statue of Lenin. You feel you are in a real city after the more touristy environment around Issyk-Kül.
Where to stay – Home Hotel Bishkek (Booking.com | TripAdvisor | Google Maps | 42.864537, 74.608679) booked on Booking.com – while this is called a hotel, it is actually more like self catering flats and hence has no sign on the street. The flats are tidy and the staff very helpful. The location near the station is handy, and all the main things in the centre of Bishkek are within walking distance.
Where to eat – Arzu (TripAdvisor | Google Maps | 42.878297, 74.596373) has a huge outdoor seating area and offers good Central Asian cuisine, and also some European dishes, and even some options that do not contain meat. This is very welcome! Manty Bar (TripAdvisor (note: listed address is wrong!) | Google Maps | 42.877041, 74.615916), as the name suggests, specialises in dumplings – these are well prepared, even if you might have to pick meat out of ones that look like they ought to be veggie on the menu.
Getting around – mostly on foot, or flag down a taxi and agree the price before you get in.
14 – Bishkek to Turkestan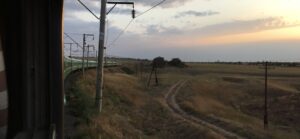 How – with the first part of the twice-weekly Bishkek-Moscow night train. This train departs Bishkek on Mondays and Wednesdays (correct at the time of writing). NOTE: this train has the weirdest timetable I have ever encountered. The timetable is on Moscow time for the stops in Kyrgyzstan and Russia, but on the local Kazakhstan time for the stops in Kazakhstan. So the timetabled 0939 departure in Bishkek is actually 1239, as Bishkek is 3 hours on from Moscow time. However the 0439 timetabled arrival time in Turkestan is indeed 0439 eastern Kazakhstan time (same time zone as Kyrgyzstan). The train is most easily booked from Kazakh railways or Kyrgyz railways by going to the relevant rail station, but – like other trains in this region – might also fill up completely in summer, so book ahead. You can see how many berths in each class are still available on the Kazakh railways website, but cannot book there unless you have a Kazakh or Russian credit card. There are two classes – a "kupé" with 4 bunks in a compartment, or a "platskartny"which is an open sleeping carriage. The carriages are old Kyrgyz ones, with no air conditioning and windows that can only be partially opened. It is hot in there. Also be aware that the restaurant on this train is very limited – bring your own supplies, although drinking beer anywhere other than the restaurant is strictly prohibited. Be aware that this service has to cross the Kyrgyz – Kazakh border – this takes a good hour standing stationary on each side.
Cost – 11495 Tenge (€31) per person single for platskartny, 14775 Tenge (€40) per person for Kupé
15 – Turkestan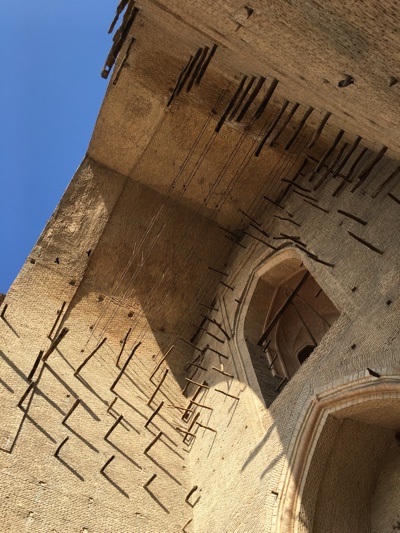 Time spent there – 1 day
Why go – the Mausoleum of Khoja Ahmed Yasawi is the only major Silk Road building in Kazakhstan. But it is about the only thing to see in Turkestan which, once you have left the one touristy street, feels like a quiet Kazakh small town.
Where to stay / where to eat – Hotel Edem (TripAdvisor | Google Maps | 43.301063, 68.276339) was booked by e-mail, and is a reasonable option among a very short list of adequate places to stay in Turkestan! Make sure you get a room at the back, not one alongside the outdoor dance and party area, as that can get loud. The breakfast for hotel guests is good, and the food in the evenings in the restaurant is reasonable. The plumbing in the bathrooms, and the service, are a little bit odd.
Getting around – mostly on foot – but you will need a taxi from the railway station to the part of the town near the mausoleum.
16 – Turkestan to Tashkent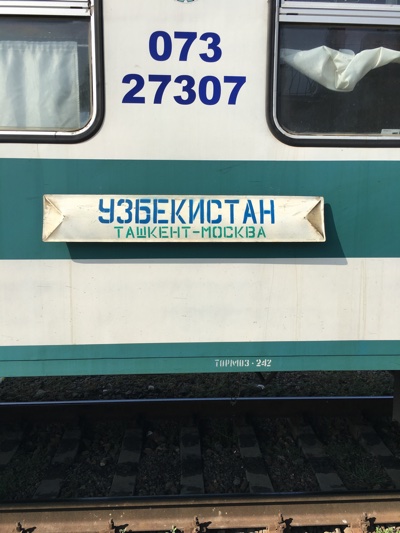 How – the last part of the Moscow – Tashkent night train. Departs Turkestan at 1007, arrives Tashkent theoretically at 1650 – local time in both cases (Uzbekistan is 1 hour behind Kazakhstan, so arrival is 1750 Kazakh time). This can be booked the same way as all other trains in Kazakhstan, and also offers kupé and platskartny (no air conditioning in either), although the part of the trip is conducted in the daytime. The border control is timetabled for 70 minutes on the Kazakh side, and an hour on the Uzbek side, but this was far too little – the Uzbeks required almost two and a half hours to check the train, giving us a delay of over an hour in Tashkent. We were also told the tickets for this trip into Uzbekistan are more expensive than the distance would normally cost – as the Uzbeks want to discourage their citizens from leaving.
Cost – 11126 Tenge (€30) per person single for platskartny.
17 – Money in Uzbekistan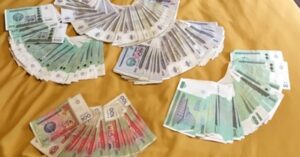 Money in Kazakhstan and Kyrgyzstan is pretty easy. Go to a cash machine. Put in a visa card. Withdraw cash. Not in Uzbekistan. There are few banks. There are almost no ATMs. The official exchange rate is $1 = 2965 Som, €1 = 3308 Som, but everyone exchanges on the black market – not legal, but tolerated (we saw people doing it under the eyes of the police!). You have to go to a bazaar somewhere – a good spot was behind the Tashkent bazaar near our hotel (Google Maps | 41.291781, 69.275824) – and men will approach you saying "Mister! Change! Dollar! Euro!" Ask your hotel for reliable moneychangers to avoid getting ripped off (a few 500 Som bills in the stack of 1000 Som bills are hard to spot when quickly counting piles of money in the middle of the street). Tell them how much you want to change, and negotiate the rate – 6100 to 6250 Som to the dollar was normal in Tashkent (i.e. more than twice as much as the official rate!), and I was also offered up to 7000 Som per dollar in Khiva. So set the rate, hand over your note, and get a huge pile of Som in return – the largest note being 5000 Som, and the most common one being 1000 Som means you end up with hundreds of notes – and these will not fit in your wallet. Make sure you take enough dollars (or, presumably, Euro – but exchanging Euro seemed less common) for your whole trip, exchange on the black market into Som, and then pay everything with it. It's weird. But it sort of works.
18 – Tashkent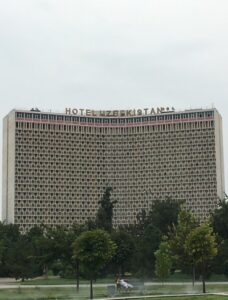 Time spent there – 3 days
Why go – It's the capital of Uzbekistan, and formerly the third largest city in the Soviet Union. It's part old central Asian city, part Soviet tower block city, and part petro-chemical funded modern metropolis. Mixed in with weird government buildings, wide boulevards, and police everywhere – because it's a police state. It is all the complexity and contradictions of Uzbekistan bundled up together. Go to Chorsu Bazaar, and the State Museum of History. If you want to escape the city to some greenery take a trip to Charvak or Chimgan.
Where to stay – Sunrise Caravan Stay (TripAdvisor | Google Maps | 41.291515, 69.267306) that was booked by e-mail is a modern but low rise building in an old quarter of Tashkent, 10 minutes on foot from Oybek Metro station. The rooms are spotless, the English speaking staff friendly, and the breakfast is okay.
Where to eat – Afsona (TripAdvisor | Google Maps | 41.299794, 69.277563) was probably the best restaurant of the whole trip. A modern take on traditional Central Asian cuisine, and excellent service in a calm environment – very highly recommended. Efendi (TripAdvisor | Google Maps | 41.302676, 69.287488) is a Turkish place with good soups and a shaded terrace. Caravan (TripAdvisor | Google Maps | 41.284220, 69.258585) felt like a bit too much of a touristy take on Central Asian cuisine but the pastries were good. Rayhon (Foursquare | Google Maps | 41.313819, 69.235922) was our most interesting cultural experience – a huge and busy lunchtime canteen, offering fresh salads and plov at very low prices.
Getting around – the three line Metro feels like stepping back in time into the Soviet era, but it works well and – at 1200 Som per trip – it's very cheap. Photos of the grand stations are not allowed. For any other trips use taxis.
19 – Tashkent to Bukhara, Bukhara to Samarkand, Samarkand to Urgench (for Khiva) – trains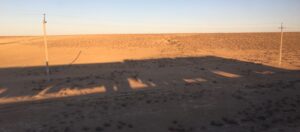 How – Uzbekistan has a good railway network, and is in the middle of a major project to improve things further. The high speed Afrosiyob train will reach Bukhara in 2017 (currently it serves the Tashkent – Samarkand route), and lines and stations are being rebuilt across the country. Booking train tickets is not possible online – so you need to go to a station to do this. Ticket booking is in a separate building, to the left of the main building, at Tashkent central station. There is a dedicated desk for Afrosiyob tickets and the other desks sell all other tickets. Go armed with a piece of paper where you've penned down the train connections with departure and arrival times you want to purchase – and Yandex Translate (see above) on your phone – strategically use your elbows and bags to prevent people jumping ahead of you in the queue, and buy your tickets in cash.
Note that there is no convenient Bukhara – Urgench (for Khiva) train connection. So we chose to go to Bukhara from Tashkent first, then Samarkand, and then to Urgench – this is not geographically the most logical way to do it, but the timetables for the connections are better that way.
Cost – Tashkent to Bukhara Sharq train – D. 0845, A. 1532, runs daily – booking at 48 hours notice there were only "VIP" tickets available on this one, costing a hefty 163000 Som (€27 – black market rate) single per person. For this you get a compartment for two people, with beds, even though the train runs in the daytime. The train also has first class (6 person sitting compartments) and 2nd class open carriages. The carriages are all ex-Soviet, but have been upgraded to add airconditioning of sorts. Bukhara to Samarkand Sharq D. 0805, A. 1050, runs daily, costs 48000 Som (€8) per person in the 2nd class open carriage or 52000 Som (€8) per person in the 1st class compartments. Samarkand to Urgench was on the Tashkent to Shavat night train. This runs every other day, D. Samarkand 0028, A. Urgench 1255, and has kupé and platskartny available, in former Soviet carriages. Kupé (4 beds to a compartment) was 94000 Som (€15) per person, but there is no air conditioning and as the train passes non-stop through the desert for three hours, it gets horribly hot. Beware.
20 – Bukhara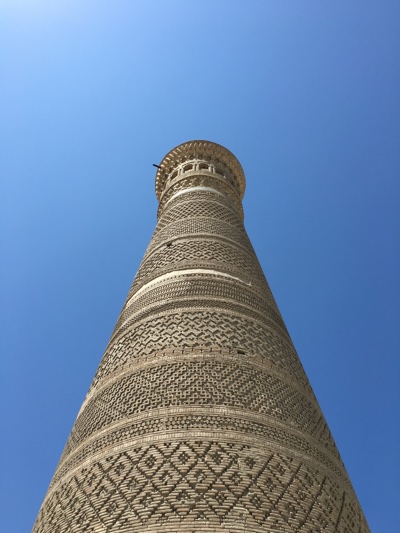 Time spent there – 3 days
Why go – the most historic and oldest of the Silk Road cities. The centre of old Bukhara is a full of former mosques, madrassas and mausoleums. Everything is accessible on foot, and the Kalyan Minaret is extraordinary to look at. Even Genghis Khan was apparently so impressed that he did not order it to be destroyed. The Ark has extraordinary walls. It is more of a fun place to discover and explore than Samarkand that feels more sanitised.
Where to stay – Bed and Breakfast Sarrafon (TripAdvisor | Google Maps | 39.772283, 64.419505) that was also booked by e-mail might not have been the grandest place we stayed, but Abdurahmon, the young gentleman who runs it with his family, went out of his way to help us – we had both fallen ill as a result of somehow having eaten the wrong thing in Tashkent, and he made sure we were looked after and sorted out medical care for us. The B&B itself serves an excellent breakfast, has good wifi, is clean and tidy, and is within walking distance of all the main sights.
Where to eat – Illness restricted what we could consume, but the pumpkin samsa (kind of filled pasty) from the guy with the portable oven on a trolley at the south east end of Lyab-i Hauz pool were excellent for 3000 Som! (€0,5).
Getting around – Marshrutkas are no longer allowed to go the whole way from the station (18km from the city, in Kogon) to the old city. You instead need a combination of a marshrutka 268 and bus 8 or 9. A shared taxi would hence be easier. Once in old Bukhara, everything is reachable on foot.
21 – Samarkand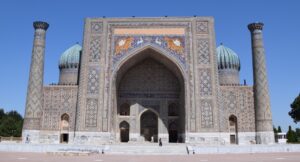 Time spent there – an afternoon and evening (curtailed due to illness) – you'd ideally need 2 days
Why go – Registan is the most grand ensemble of buildings in any of the Silk Road cities in Uzbekistan. The heavily reconstructed Bibi Khanym Mosque is also interesting, and quieter than Registan. With more time we could have explored Afrasiyab and Gur-i-Amir, and also spent time in the old town around Bibi Khanym and discovered some of the modern city of Samarkand.
Where to stay – we arrived and departed the same day, due to illness shortening this part of our trip. We had booked at Timur the Great hostel (TripAdvisor | Google Maps | 39.657162, 66.979383) but had to cancel.
Where to eat – Platan (TripAdvisor | Google Maps | 39.657571, 66.955555) was a super place to spend a few hours before taking our night train. With a mixed European and Central Asian menu, and large outdoor seating area and friendly service, this was a good place about a kilometre from the main sights of Samarkand.
Getting around – the railway station is 4km from the main sights – we took taxis to and from the station, and saw the rest on foot. Here, as elsewhere, we arranged the cost of the trip before getting into the taxi – although one driver then subsequently tried to demand more money. He didn't get it.
22 – Khiva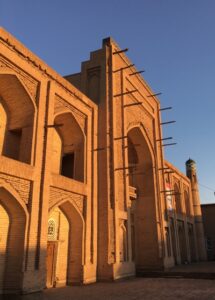 Time spent there – one and a half days
Why go – while Samarkand has grandeur, and Bukhara has a density of historic sites, Khiva has a kind of completeness of the old, walled town (known as Itchan Kala) that as a whole is UNESCO listed. Walking along the northern part of the walls (free) as the sun is setting is one of the memories of the whole trip. All the sights inside the walls are included in one combined ticket that costs 41000 Som. Few of the sites are as grand as in Samarkand, but there are plenty of fascinating details – woodwork, stonework and elaborate tiles and roof beams – that you can seek out and discover.
Where to stay – Hotel Islambek (TripAdvisor | Google Maps | 41.379741, 60.362419) that was booked by e-mail is a modern building but within the walls. The staff are friendly and helpful (and even organised a car to the airport in Urgench for us at 1am!) and the breakfast is excellent. The building itself is a bit strange though, and water in our room was intermittent – but reading reviews of other places seem to show this is a problem overall in Khiva.
Where to eat – Khorezm Art Restaurant (TripAdvisor | Google Maps | 41.377857, 60.361507) is as good as there is. The menu is short, but everything is well prepared, and the soups are good, and the views of the buildings around the restaurant's terrace as the sun sets make it all worthwhile.
Getting around – all the main transport connections (station, airport) are in Urgench, 25km from Khiva. A taxi from Urgench to Khiva cost 25000 Som (€4) although we were originally quoted 100000 Som! Within Khiva everything is done on foot.