The Council of the European Union today adopted Council Conclusions on railways, entitled "Rail at the forefront of smart and sustainable mobility" – you can read the press story about this, quoting Portugal's transport minister here. The full conclusions are here (PDF).
As I see it these are the two important parts (emphasis is mine):
24. WELCOMES the creation of, and the practical steps taken by the Platform for International Railway Passenger Transport (IRP), which involves wide range of stakeholders, and NOTES the evolution of the Trans Europe Express 2.0 (TEE 2.0) concept; WELCOMES the Commission's intention to present, in the course of this year, an action plan to boost long distance and cross-border passenger rail services, UNDERLINES the need for cooperation between Member States and the European Union to remove market barriers and INVITES the Commission to present a progress report by next year reflecting on the deliverables of its action plan;
38. RECOGNISES that major investment by the sector in international long-distance rolling stock is required. Financing could be supported through guarantees at Union level, so as to make use of innovations, upgrade to new technical specifications, increase flexibility, safety and comfort, and diversify the service offer; RECOGNISES also that investment is urgently needed from the private sector
Point 38 is especially important for our purposes at Trains for Europe – because exactly how to do that, in the case of night trains, is exactly the purpose of our campaign.
Greenpeace meanwhile is disappointed that the Council did not go further with its conclusions, and while we can understand that from their point of view, we are of the view that today's conclusions present a small step forward, and definitely add no new barriers with regard to the development of cross border rail in Europe.
Photos used in this post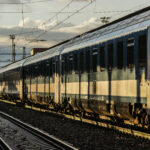 Albert Koch
MÁV coaches
November 6, 2012
License: Attribution-NoDerivs 2.0 Generic (CC BY-ND 2.0)