On 2nd May – just two weeks from now – I set off on my latest #CrossBorderRail adventure. This time I am going back to all of Germany's rail borders that I did not visit in 2022. You can find the background about the 2023 project here.
This post gives an update on the state of preparations.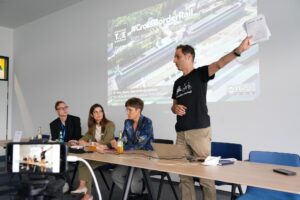 Firstly I have been working hard on the Events that will take place during this year's project – you can find out about all of them here. There is a mix of Formal and Informal events, and Formal events will also have a live stream. And all are free to attend. You are also very welcome to suggest other places I ought to stop on route, or join me for legs of the trip – please just contact me if you plan to do that!
Secondly there have been some small tweaks to the Route, including now going to the Waldkirchen (Bavaria) to Nové Údolí (Czechia) missing link, and some alterations around Münster and Enschede too, and an event in München has replaced one in Mühldorf. As ever the Google Sheet is the most up-to-date and accurate plan of the project, and everything is correctly plotted on uMap here.
Thirdly I have been working on the Live Blogging system for the project, and I now have that almost prepared – you can see an example of how that looked from a test trip here. The best way to follow the project though is to follow me on Mastodon – https://gruene.social/@jon/. Also for anyone who prefers to follow the project by email then signup for email notifications.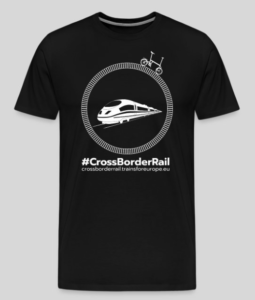 Fourth, there is now #CrossBorderRail merchandise available this year – you can find that on the Merchandise page.
Last but not least I have the costs for the project covered, but would also like to be able to pay myself the minimum wage for the time I am investing in this work – and there is still some way to go to crowd-fund that – donations are still most welcome! If you can instead help out in kind in some way, then please contact me.