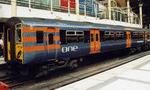 I write in this post a few weeks ago about the problems with the Stansted Express train service. After One Railway's own deadline to reply to complaints I have received the following answer:
————————-
21/Feb/2006
Contact reference: XXYYZZ
————————-

Dear Mr Worth,

Thanks for writing. I am sorry for the delay in our response.

We have noted all your comments and registered them on our system. They will be passed to the relevant Manager and any appropriate action taken.

All comments made about our services and facilities are categorised, and each four week period we supply the details of the comments made to the Department for Transport and to both Passengerfocus and London TravelWatch. We also use the feedback to provide a number of management reports so that we can examine the way we work and minimise cause of complaint where possible. I have added your comments into our database.

Thank you for your patience.

Yours sincerely,

A. N. Other
Customer Relations Advisor

I have to say I am really confused. What is that answer supposed to mean? Are they actually going to do something? They say the info will be passed to the relevant manager at least… I'm not taking the Stansted Express late in the evening for a while now (have forked out for a BA flight next month – quite shocking!) so I wonder whether anything will change. Doubt it somehow. But at least I have tried, and my conscience is clearer.