Following my post about the final EC Wawel, and the funding absurdity for PKP's new high speed trains in Poland, here's yet more bad news when it comes to Germany-Poland rail connections – the two daily regional trains each way in each direction between Frankfurt(Oder) and Poznań will not run from 1st January 2015, stopping only 5 months after they were first re-instated with some fanfare. Die Welt reported about the new train, and the German Foreign Ministry welcomed the establishment of the new connection.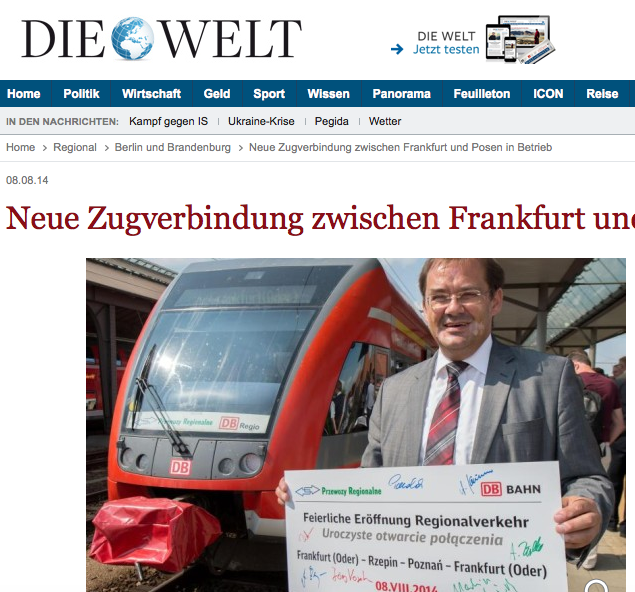 News about the cut can be found (in German) in the DBV's newsletter here, and this relates to a DB Regio press release about the closure that can be found here. This is the vital section:
Mit Bedauern hat DB Regio Nordost die Entscheidung der PKP PR zur Kenntnis genommen, die erst im August 2014 eingeführte Verbindung zwischen Frankfurt (Oder) und Poznan zum 31. Dezember dieses Jahres einzustellen, da die Leistungen auf der polnischen Seite nicht finanziert sind.
Basically the Poles don't want to run the service, and hence it will be axed. 4 EuroCity trains each way each day will continue to link Frankfurt(Oder) and Poznań, but those have limited stops along the way.
The problem – alluded to in the DBV press release – relates at least in part to the available rolling stock. The new service used DB 646 class DMUs for the connection, despite the fact that the line between Frankfurt(Oder) and Poznań is electrified the whole way.
The problem of course is in the detail – German signalling, and 15kV electrification for the short run to the marshalling yard just to the west of the river bridge, and Polish signalling and 3kV electrification for the main part of the route on the Polish side. The only passenger locomotives approved for through working are PKP's Class 370 designed for express passenger trains, and even those require a change of driver at the border, and there are not enough of them to put them into service on regional trains. Neither PKP nor DB owns regional EMUs capable of running on the other side of the border.
As if this were not enough, funding for the Dresden-Wroclaw regional services are only guaranteed until February 2015, according to World Car Free Network (point 7 in close here).
So much for improving German-Polish relations across the border! When it comes to railway services, things go from bad to worse it seems.