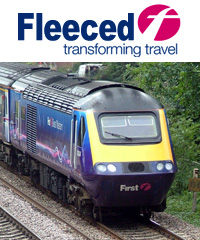 It should not be too complex. I needed to travel from London Paddington to Oxford on Wednesday this week, departing at about 1700 and returning at 2200. I pottered off to Victoria station, very close to my workplace, to get the ticket for my journey. The machine there – screen pictured below – informed me that a Saver Return was valid on any train after 0930. Fine, so I bought it.
I arrive at Paddington, operated by the grim travel congolmerate First Group, and the ticket I have bought at Victoria will not let me through the barriers, and the train I need will leave in 2 minutes. I speak to the attendant at the barrier and he just repeats 'Platform 13' to me. What is at Platform 13? 'Platform 13'. Anyway, off to the ticket office instead.
Me: There's something wrong with this ticket
First employee: That ticket won't work
Me: Saver tickets are not valid?
First employee: looks confused, and looks at the ticket
Me: Can you tell me what to do? Can I upgrade this ticket?
First employee: No.
Me: Well, can I get a refund?
First employee: No.
Me: So I have to buy another ticket?
First employee: You have the wrong ticket.
Me: At Victoria it stated this was valid.
First employee: (with a shrug) It's a privatised railway.
It's infuriating enough to be sold the wrong ticket in the first place, but to be treated as if I am so complete prat who has not got a clue about anything, and refuse to be even remotely helpful made me hopping mad. Essentially, unlike other rail companies, First had upped its evening prices as well as its morning prices, knowing that there's no other way for people to get reasonably swiftly to their destination from London. Further, unlike a firm such as Virgin Trains, First Group has no reputation that it needs to protect in public. It can just wring as much money as it wishes out of the people using its services, and treat them to lousy customer service as well. Southern Railway, whose machine had in some way caused the whole problem, were charming and pleasant at Victoria yesterday and gave me a complete refund.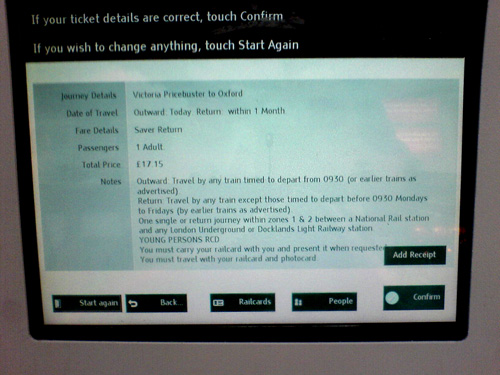 (and before anyone comments that I should get a car or something instead, or take the bus: no, it was a peak time and I could not leave London at 3pm so as to allow me time to get stuck on the M40)