Rail might correctly consider itself the greenest transport mode, but there is nevertheless plenty railways can do to decarbonise – not least by doing away with diesel as the primary fuel to power trains on non-electrified lines.
The question then comes: how best to do that?
Anyone who follows the discussion about the future of railways ends up hearing about hydrogen as the most hyped alternative power source. Alstom has been making waves with its iLint train – and that has been running between Cuxhaven and Buxtehude in Northern Germany since 2018. 16 hydrogen trains will serve that line, and a further 27 will run on routes around Frankfurt starting in December 2022. At some point in the future 7 further hydrogen trains will run on a line to the north of Berlin. 50 trains in total.
But there are a couple of major problems with hydrogen as a power source source for trains. The most notable is the difficulty obtaining adequate supplies of green hydrogen. Michael Liebreich has done a lot of work about this with his hydrogen ladders, and tried to break down what uses are appropriate for hydrogen in transport (see his hydrogen ladders here). The second is that while fuel cells might be lighter than batteries, the power efficiency of a hydrogen train is lower than a battery train.
Motivated by that, and using my Brexit Diagrams as a basis for how to explain complex problems, I tried to map out how decisions about the decarbonisation of rail should be made. These are the diagrams from the train and from the network perspective.
Train perspective (PDF here, high res PNG here)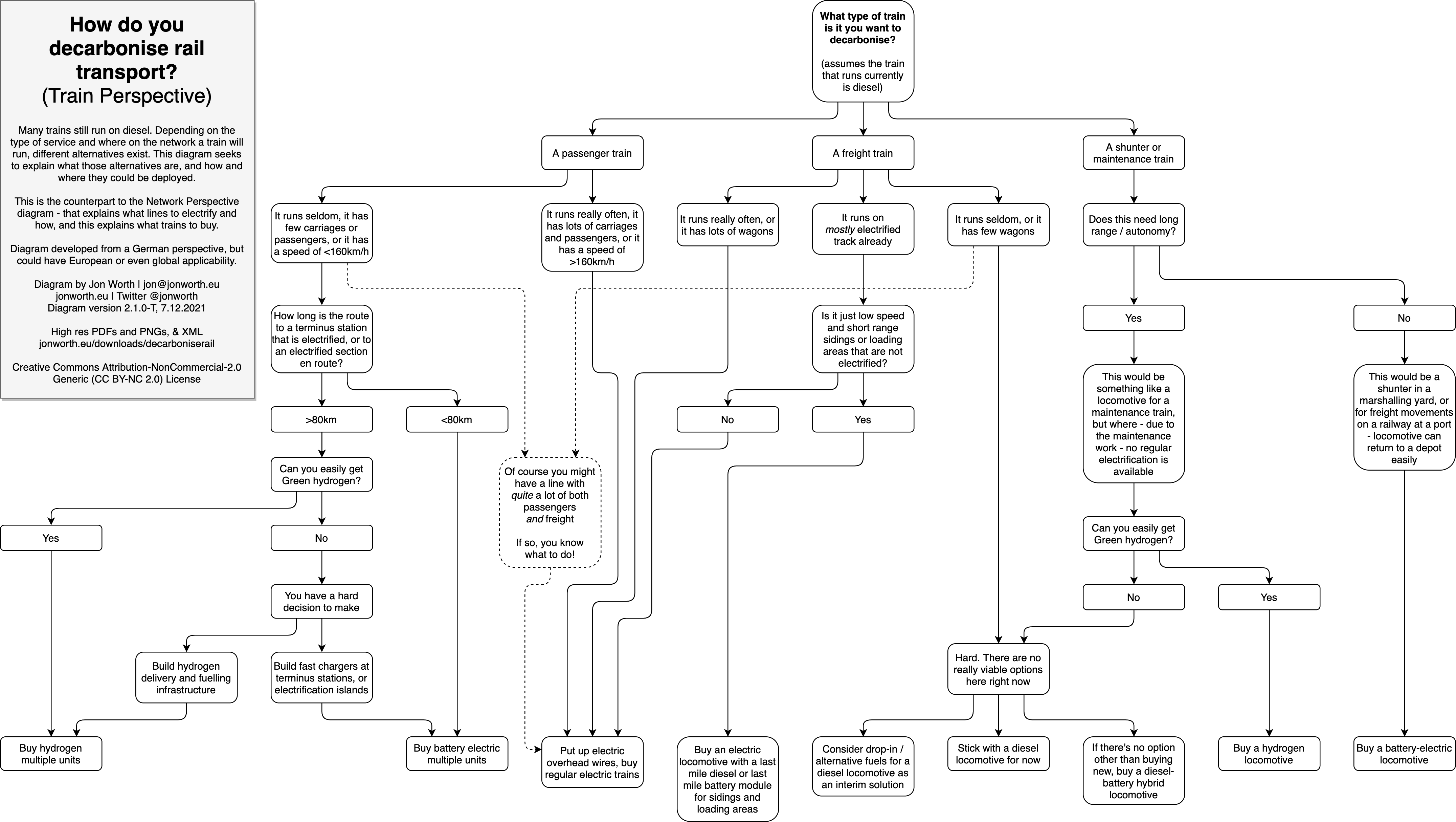 Network perspective (PDF here, high res PNG here)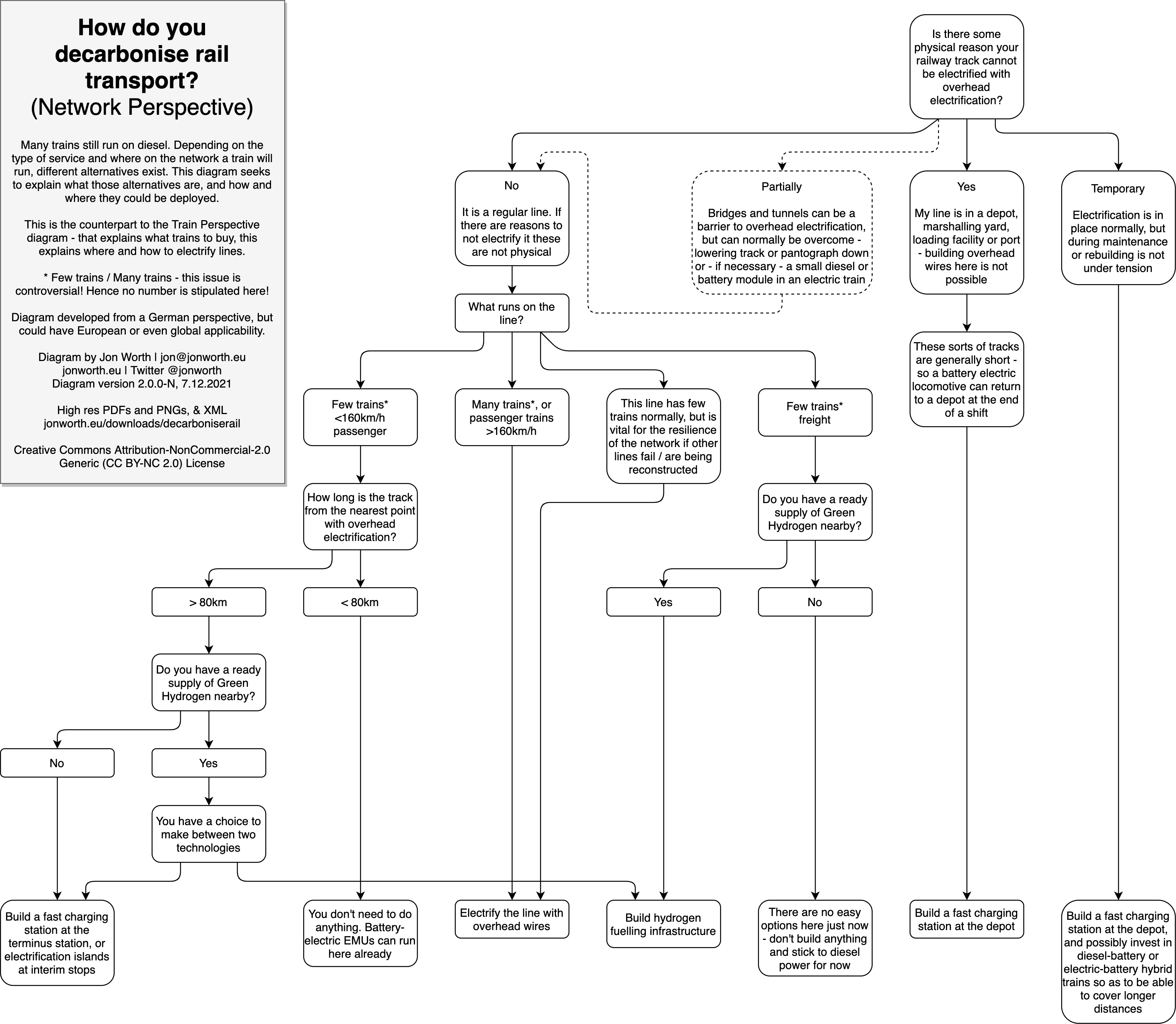 These diagrams were at least motivated by a further development in the decarbonisation of railways in Germany that has attracted not nearly as much attention as hydrogen trains – Battery-Electric Multiple Units.
When a first German Land – Schleswig-Holstein – launched an open Green Technology procurement process for trains for its non-electrified regional lines, stipulating only that diesel was not acceptable, it was Stadler's battery trains that won the day, not hydrogen trains. 55 trains will be built for the Schleswig Holstein contract. A further order for 44 Stadler trains will follow for lines in south west Germany, and 14 more have been ordered for lines in north east Germany. Siemens has meanwhile picked up orders for 20 battery trains for Baden-Württemberg, and 31 battery trains for lines in Brandenburg. That's 164 battery trains ordered in total – or more than 3x the number of hydrogen trains ordered in Germany. Schleswig-Holstein alone will have more battery trains than Germany as a whole will have hydrogen trains.
Having analysed this issue, assembled the diagrams, and having batted off dozens of hydrogen-is-the-solution-for-everything tweets, it was then a nice surprise to get an email from Stadler to go and visit the plant in Pankow in northern Berlin where the battery trains for Schleswig-Holstein are being assembled!
Why, I asked the Stadler employee showing me around, did Stadler focus on battery trains? "We make hydrogen ones too!" she laughed (literally two have been ordered – in the USA), before proceeding to explain Stadler's logic. When Stadler's planners looked at Germany's railway map, they realised that 80% of the routes covered by diesel multiple units were routes of 80km or less (so 160km for a return trip), and that could be covered by a battery train. Stadler had a DMU/DEMU/EMU platform it could comparatively easily use to make battery-electric trains, and built a first test train in 2016 that it has been using for tests since then – including setting a new world distance record for a battery train. It was not only the train itself that helped win the Schleswig-Holstein contract, but the complexity of having to build hydrogen fuelling infrastructure I was told – and that counted against that option. The battery trains will simply charge from the overhead wires that already exist in terminus stations (Kiel, Lübeck, Neumünster etc.) in Schleswig-Holstein. For further battery train projects installing Voltap quick charge stations (as trialled in Baden-Württemberg) is an option to increase range further.
I wanted to also test my diagrams with professionals in the sector and was told I was not wrong. So that's handy too!
Aside from the battery trains discussion, the visit to the Stadler plant was fascinating. Double deck EMUs for Schleswig Holstein, trams for various cities, Stadtbahn trains for Stuttgart and, perhaps most significantly as they are on the newest production line of all, new S-Bahn trains for Berlin are all being assembled there – in a mixture of old and new manufacturing facilities in Pankow in the north of Berlin. Carriage bodies are not made at the works and are shipped in, but all further assembly is done in Pankow.
Why invest in a works in this rather cramped location, bounded by a S-Bahn line to one side and the tower blocks of Märkisches Viertel to the other, I asked? Stadler took over the works from ADTranz in 2001, but rail manufacturing at the site has a long history, and Stadler has subsequently expanded its manufacturing capacity at the site. "It's about our people here" the employee showing me around said. "They are our strength here" – and judging by the strength of Stadler's order book at the moment she's probably not wrong.
Photos from the visit
All these photos are taken by Jon Worth on 14th February 2022, and are licensed with a Attribution-NonCommercial-ShareAlike 4.0 International (CC BY-NC-SA 4.0) license. Click each photo for the full resolution version.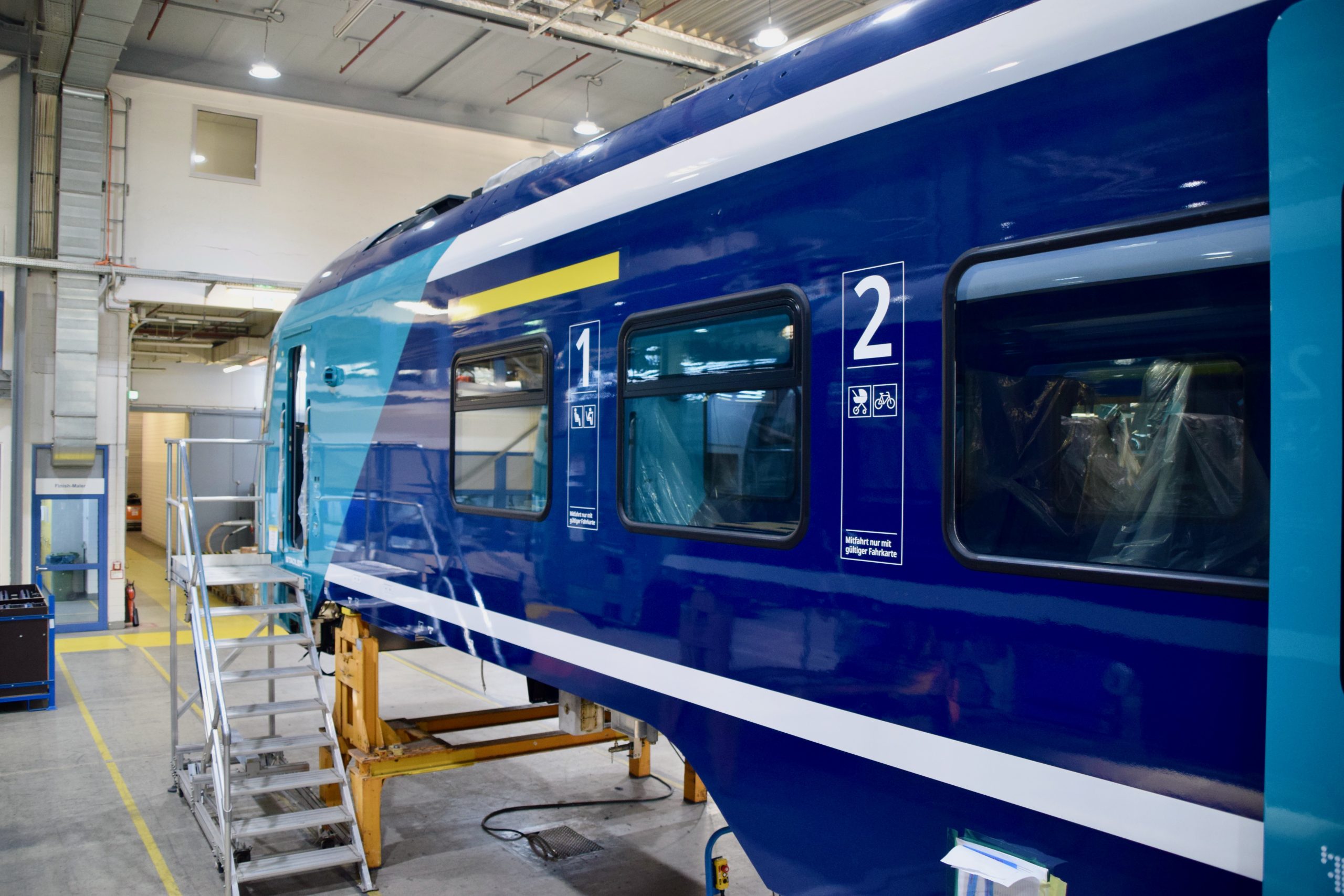 Stadler Flirt Akku for Schleswig Holstein – under construction – at Stadler in Pankow, side view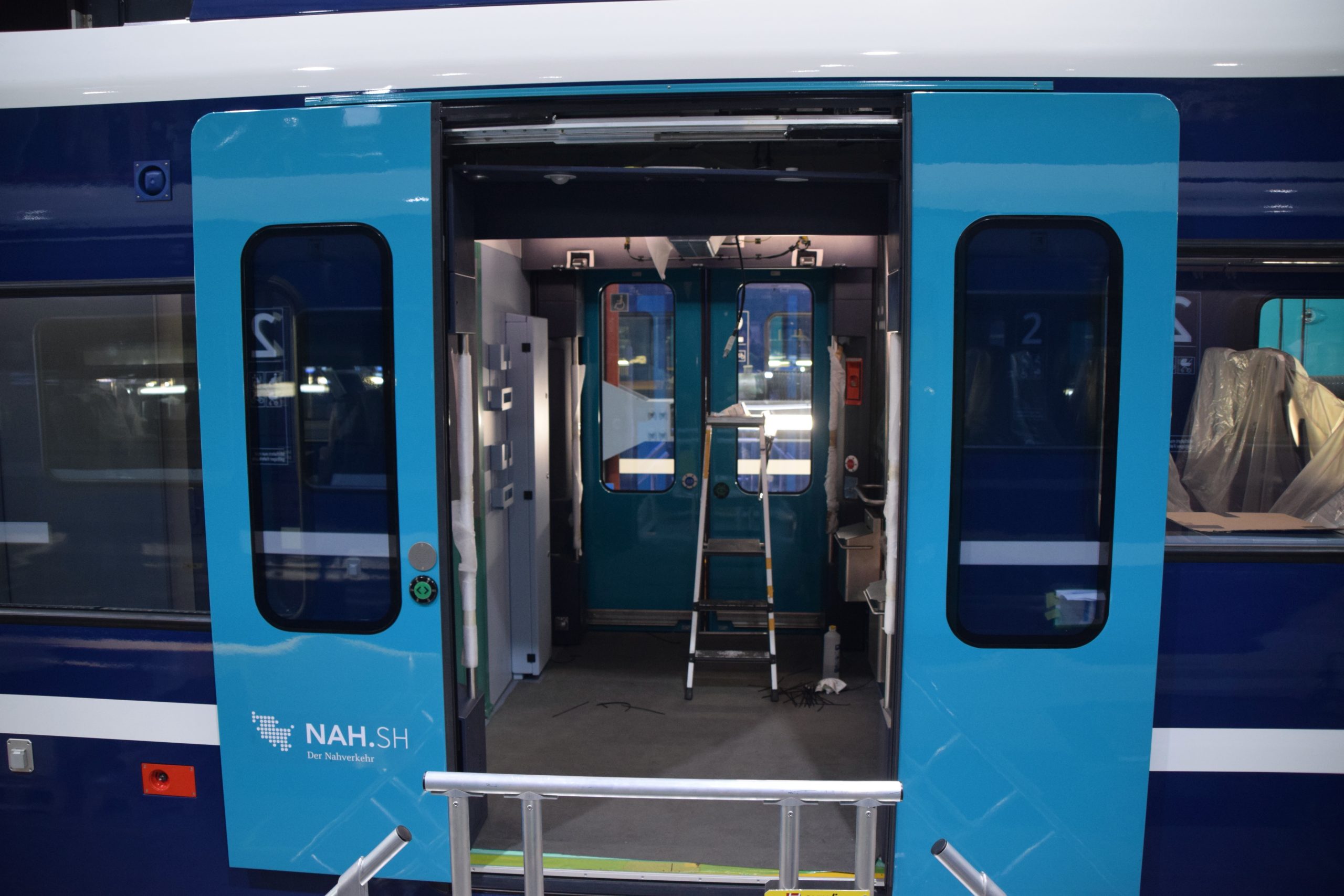 Stadler Flirt Akku for Schleswig Holstein – under construction – at Stadler in Pankow, door view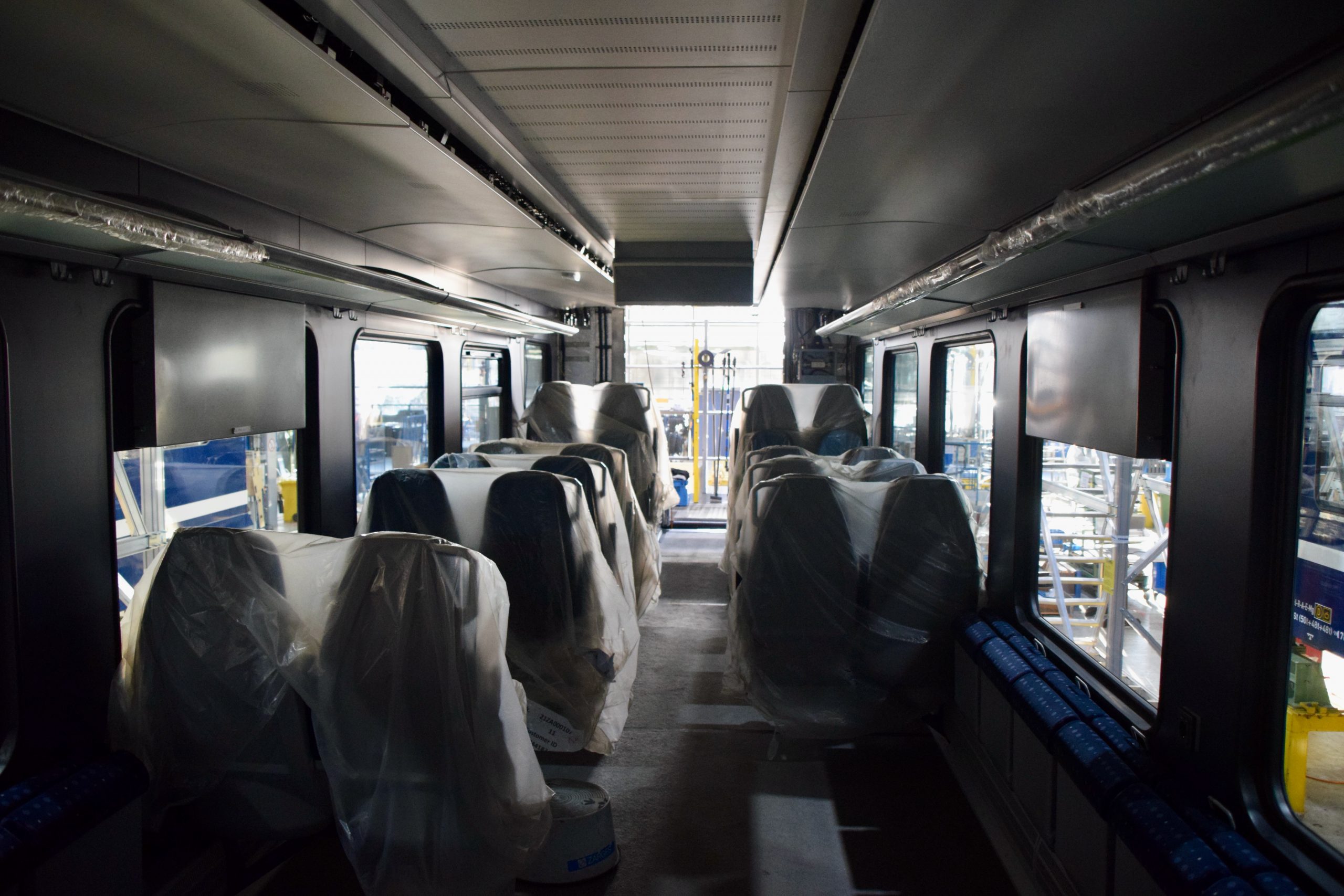 Stadler Flirt Akku for Schleswig Holstein – under construction – at Stadler in Pankow, interior view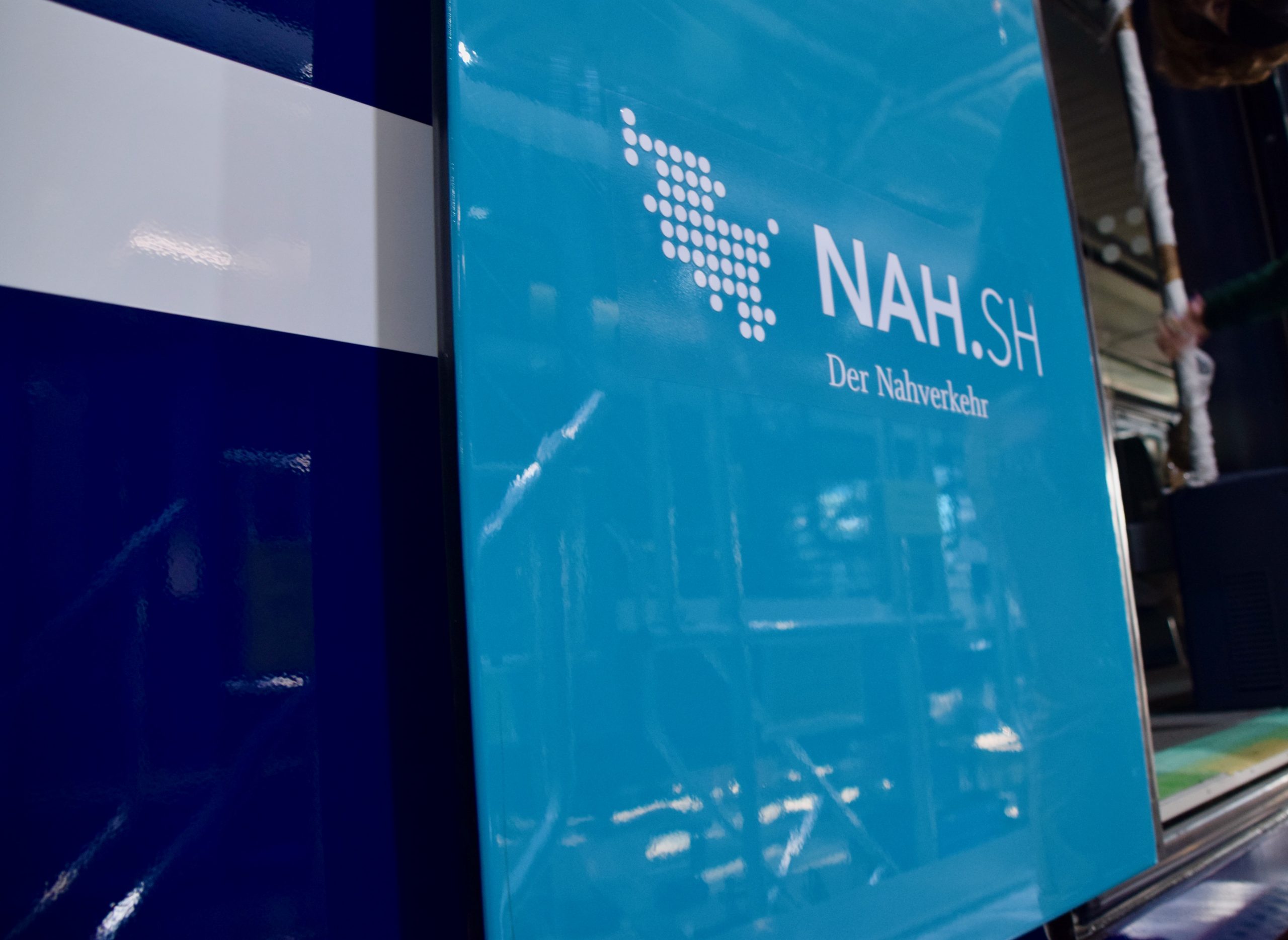 Stadler Flirt Akku for Schleswig Holstein – under construction – at Stadler in Pankow, door detail with nah.sh logo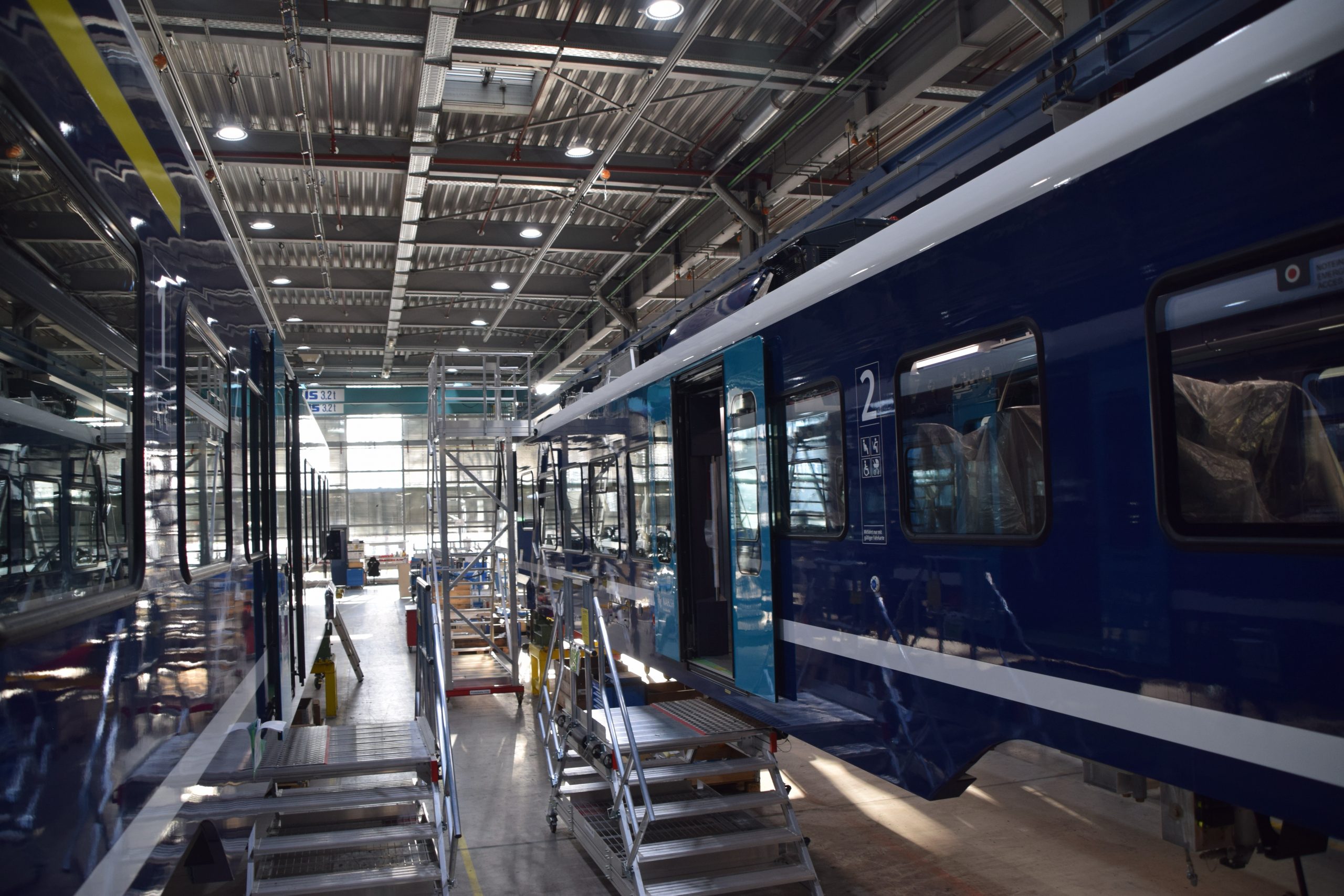 Stadler Flirt Akku for Schleswig Holstein – under construction – at Stadler in Pankow, two carriages being assembled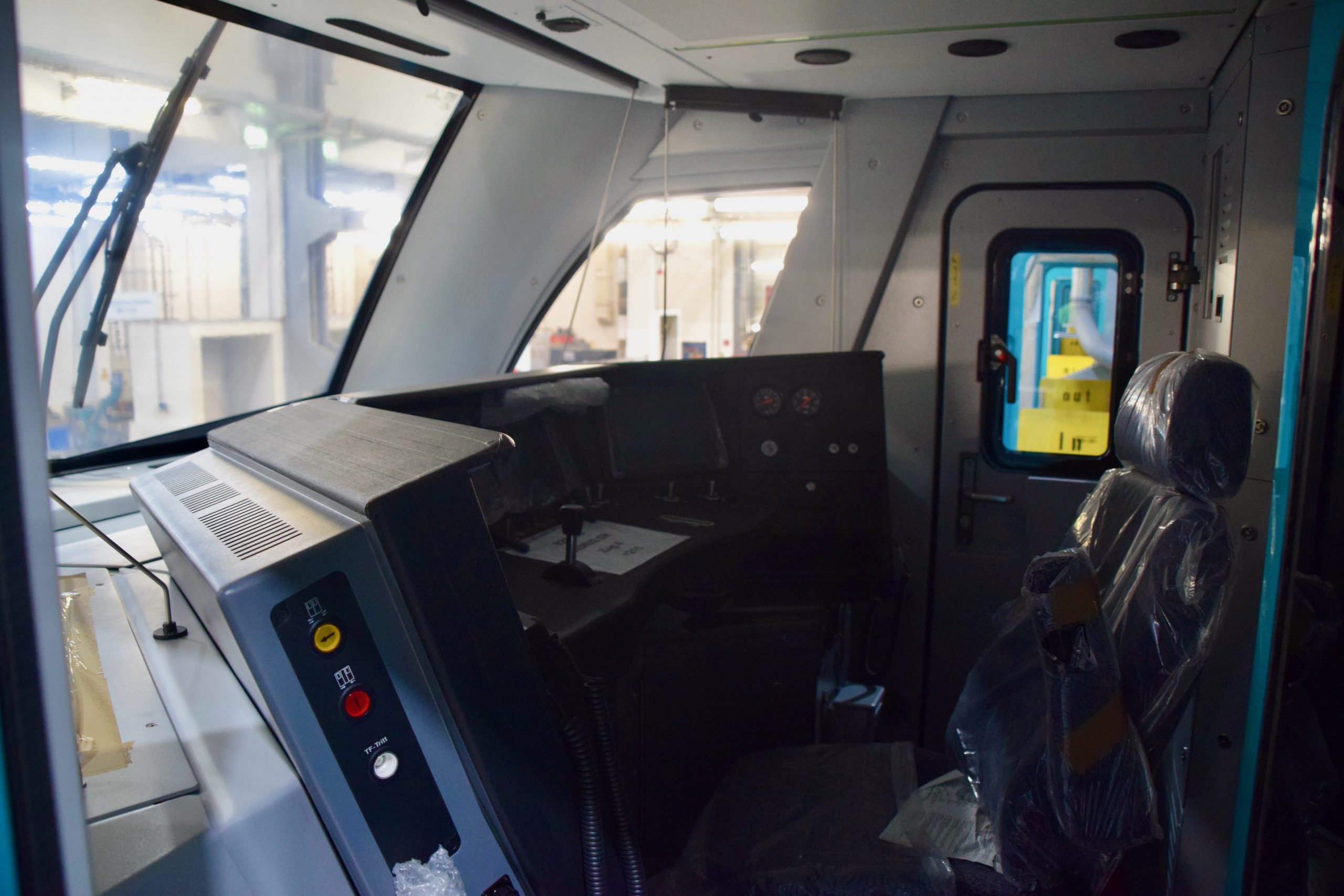 Stadler Flirt Akku for Schleswig Holstein – under construction – at Stadler in Pankow, driver's cab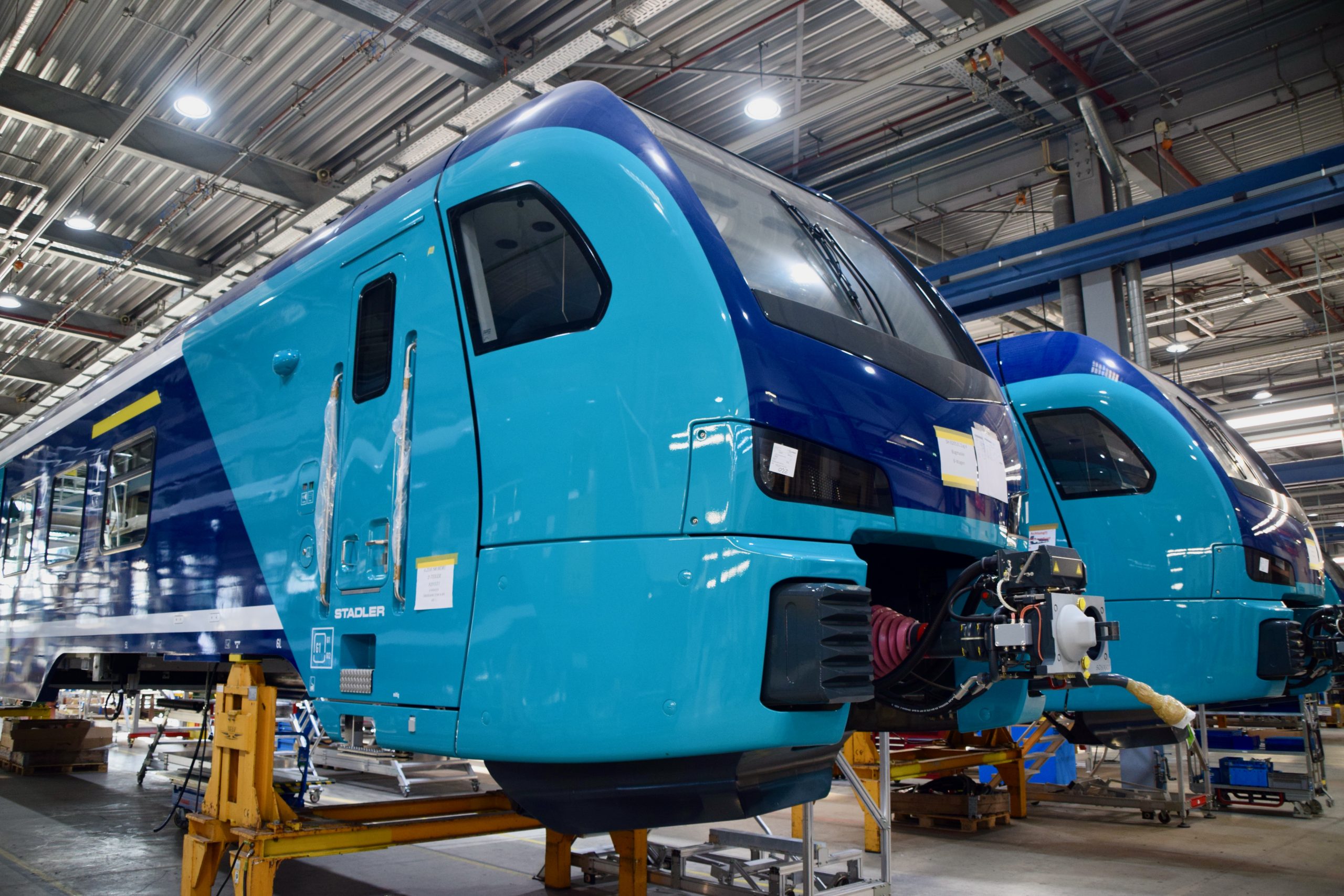 Stadler Flirt Akku for Schleswig Holstein – under construction – at Stadler in Pankow, front diagonal view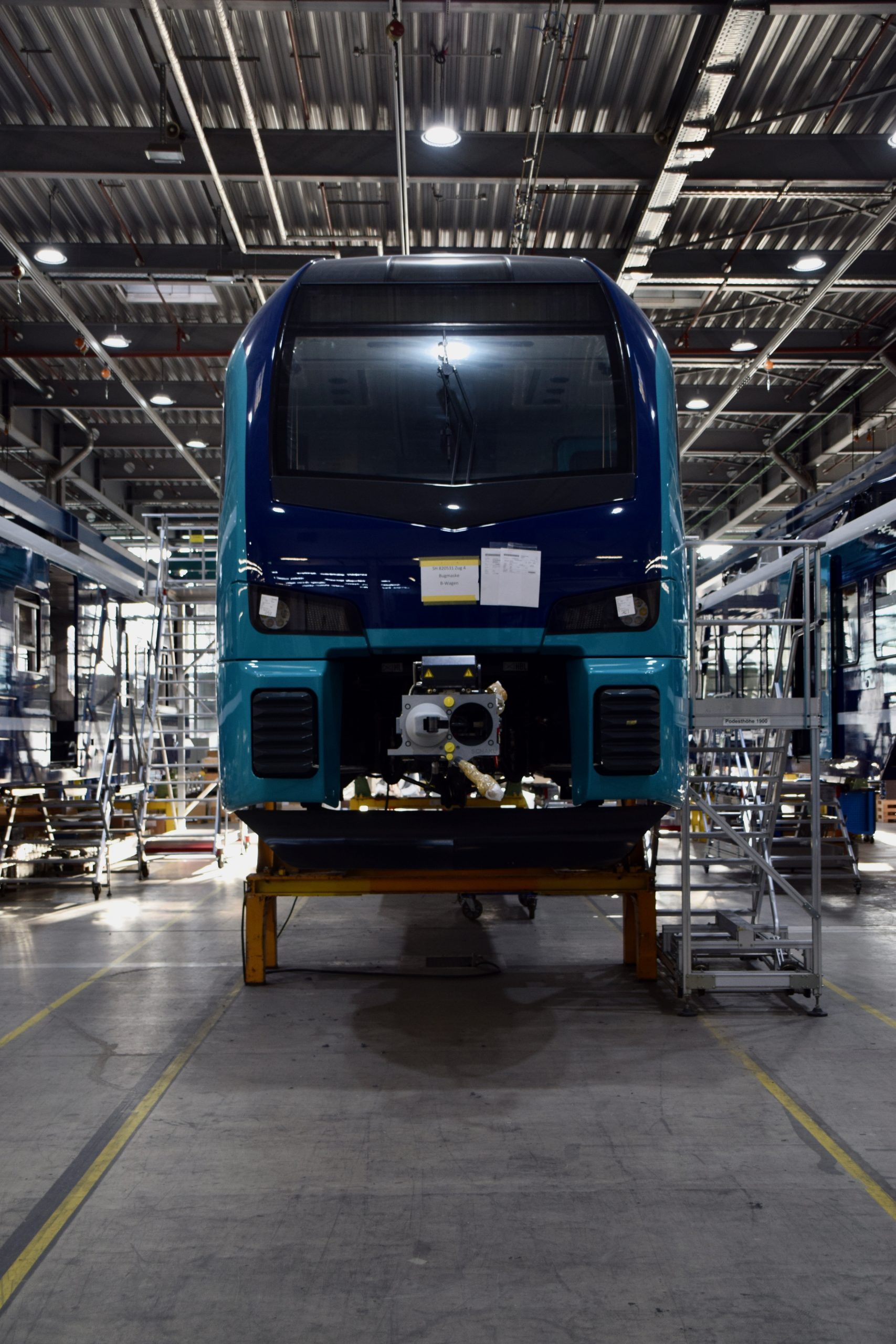 Stadler Flirt Akku for Schleswig Holstein – under construction – at Stadler in Pankow, front view
S-Bahn trains for Berlin, and Stadtbahn trains for Stuttgart behind – at Stadler in Pankow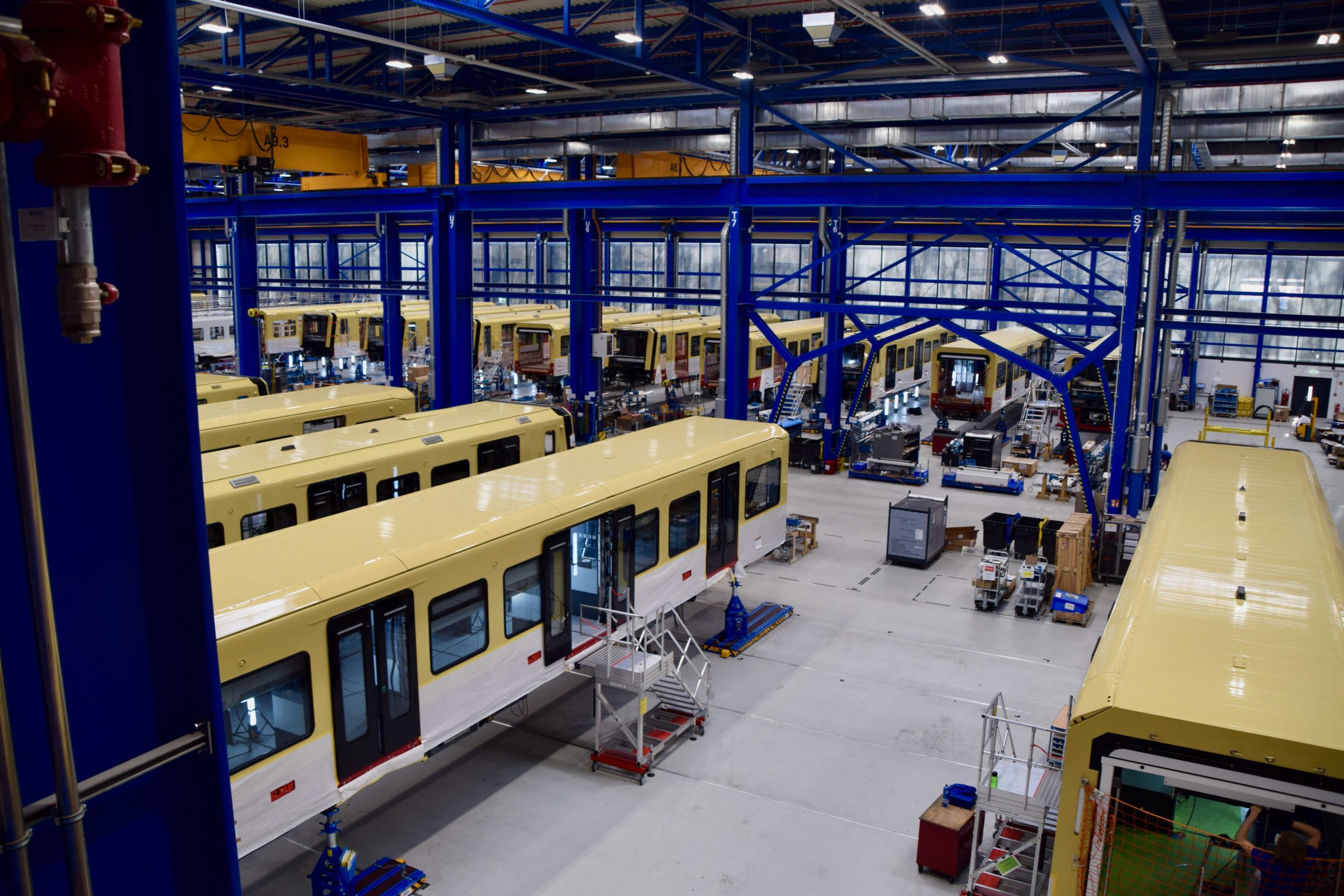 S-Bahn trains for Berlin – at Stadler in Pankow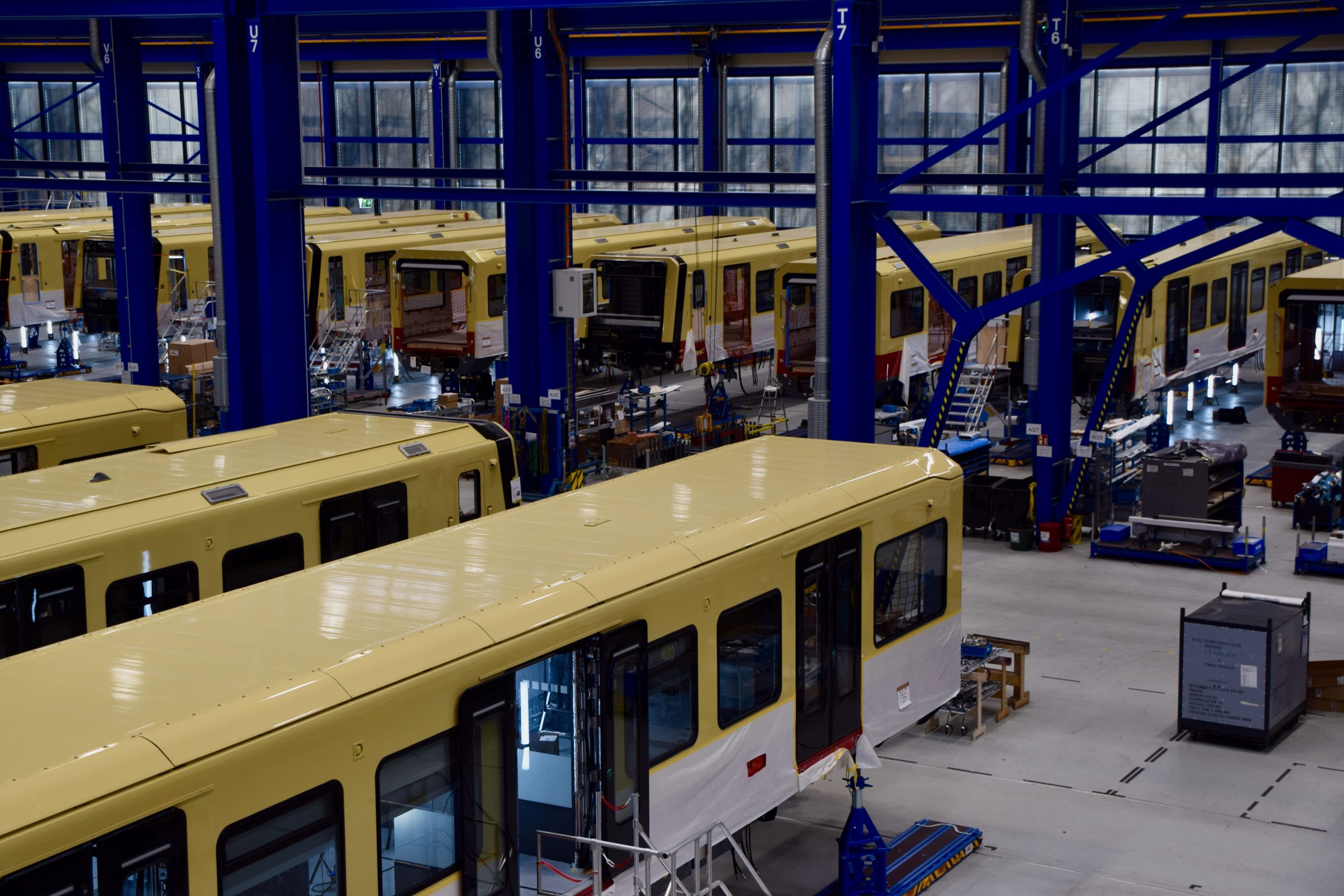 S-Bahn trains for Berlin, closer view – at Stadler in Pankow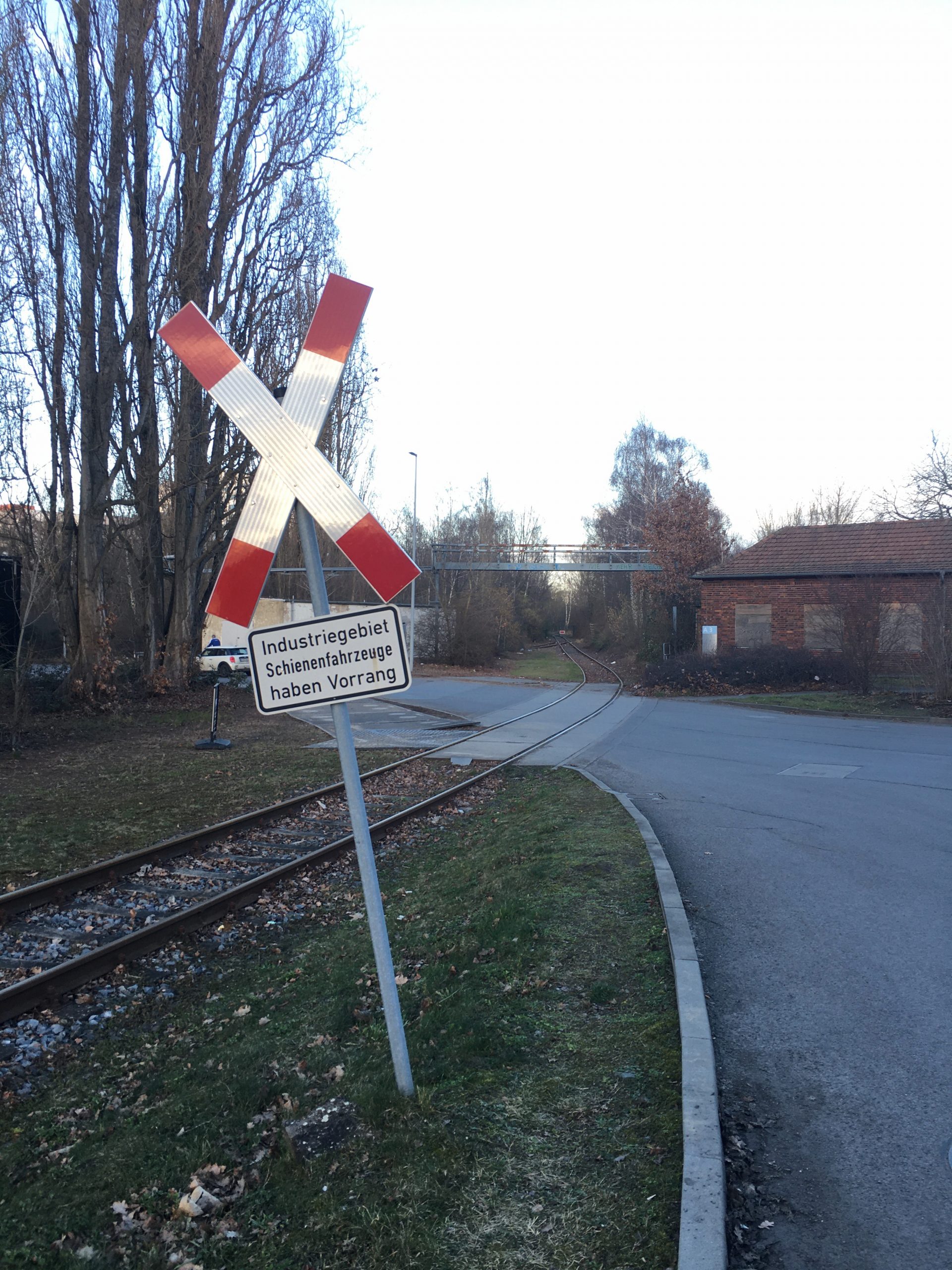 Most of Stadler's trains leave the Pankow works here – connection to the Heidekrautbahn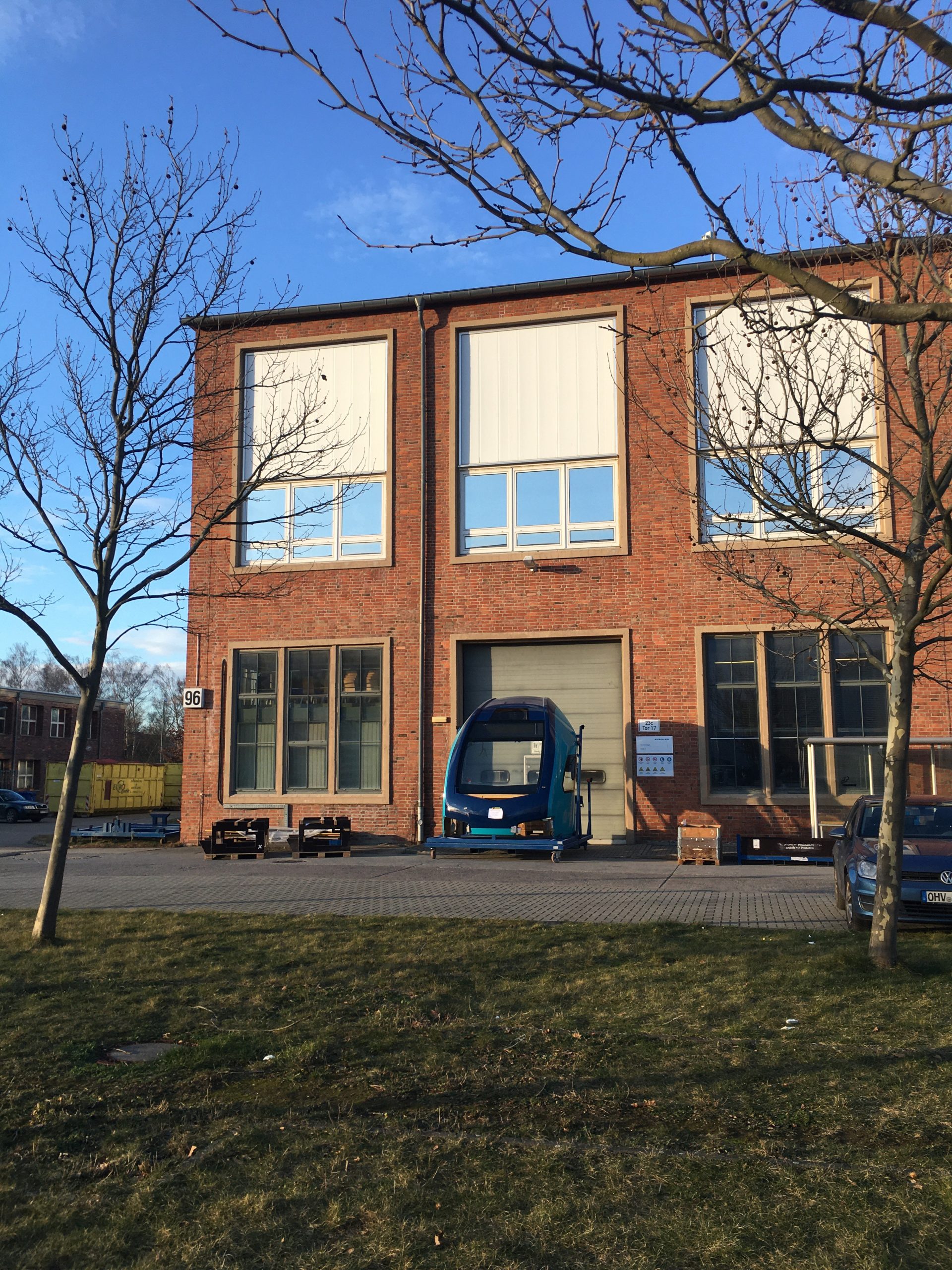 Nose of a Stadler KISS double deck train outside the works in Pankow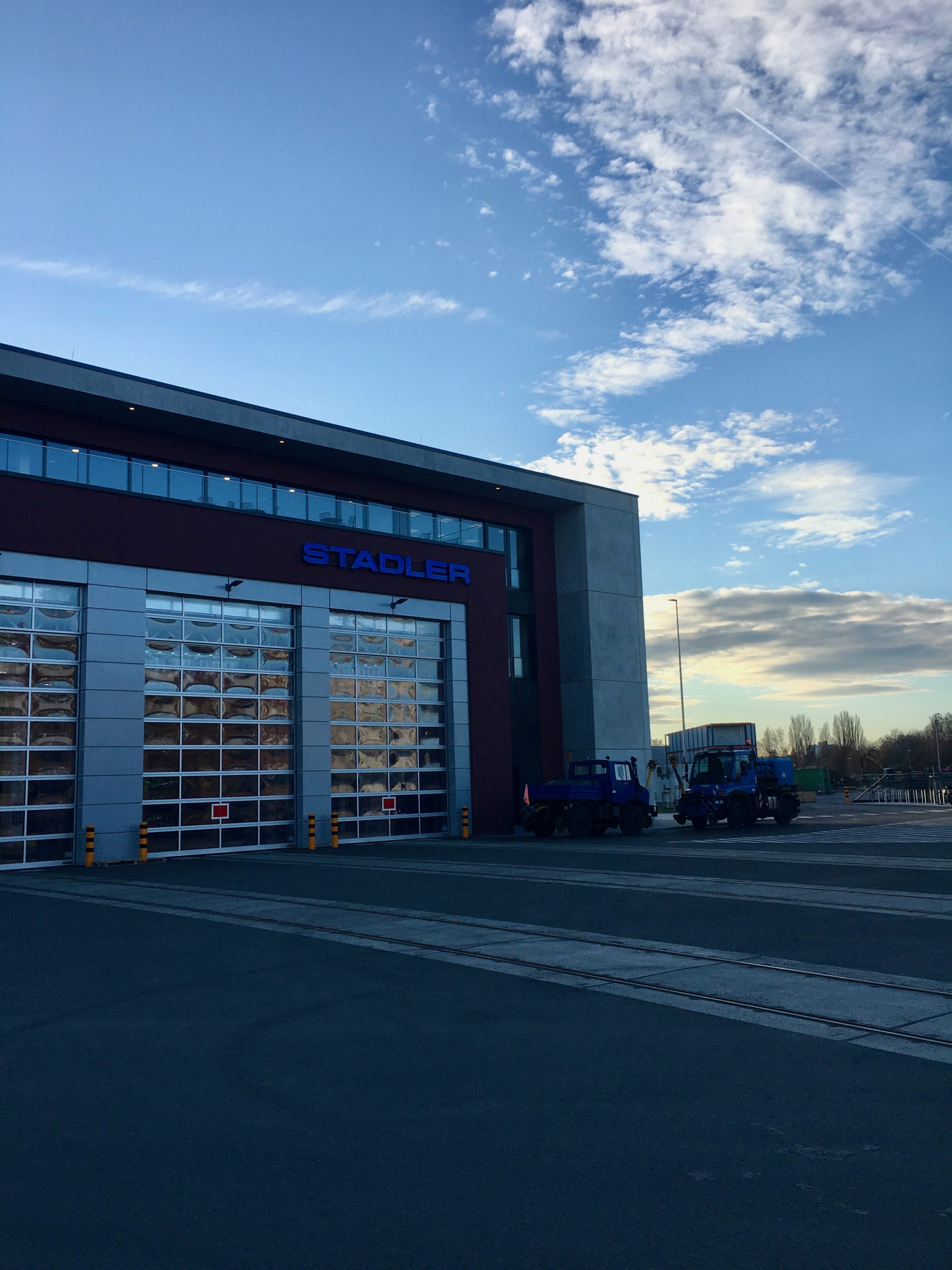 View outside the newest assembly hall, Lessingstrasse in Pankow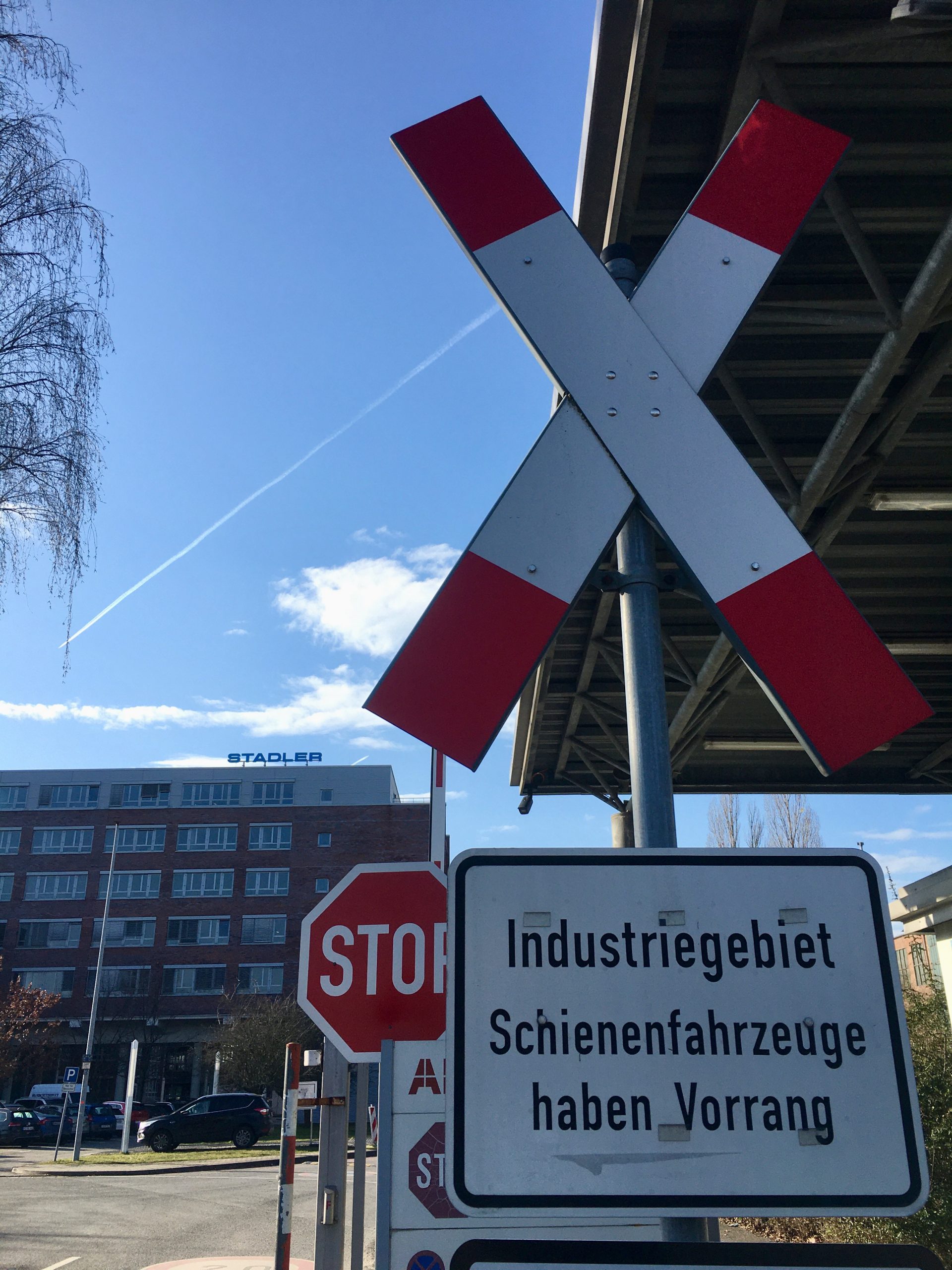 Entrance to the industrial estate, Lessingstrasse, Pankow