I am writing this blog post at the end of a 5 day trip from Berlin to Bled in Slovenia by train and back, through the 4th wave of the COVID pandemic and crossing Austria in lockdown. I've been tweeting about the trip as I went along on the hashtag #BerlinBledBerlin, but this blog post is a bit of a more systematic report – about the trains, how to book them, and what the on board experience was like. I also had my collapsible bike with me – and that really came in handy! My tweets about the Slovenian part of the trip even made it to the Slovenian news portal Zurnal24.
But before I come to the trains themselves, why even make a trip like this?
The answer to that is that I was the moderator of an event in Bled on Wednesday 1st December (all day) and the kind of studio set up was in Bled, as were some of the speakers, but the audience was online. So a dozen or so people had to be in Bled, myself included.
But I also had another completely online contract this week – but every morning Monday, Tuesday, Thursday and Friday mornings from 09:00 until 13:00.
So I had the peculiar task of doing the morning webinars as I went to and from Bled, and splitting the trip into stages around those.
This is how it looked
Monday 29 Nov
am – Webinar from home in Berlin
pm – Train Berlin-München-Villach
Night in Villach
Tuesday 30 Nov
am – Webinar from hotel in Villach
pm – Train to Bled, then prep for the event Wednesday
Night in Bled
Wednesday 1 Dec
am and pm – Moderation of the event in Bled
Night in Bled
Thursday 2 Dec
am – Webinar from B&B in Bled
pm – Train Bled-Zidani Most-Maribor-Graz-Selzthal
Night in Selzthal
Friday 3 Dec
am – Webinar from B&B in Selzthal
pm – Train Selzthal-Linz-Nürnberg-Berlin
These are the main parts of the route in Southern Germany, Austria and Slovenia mapped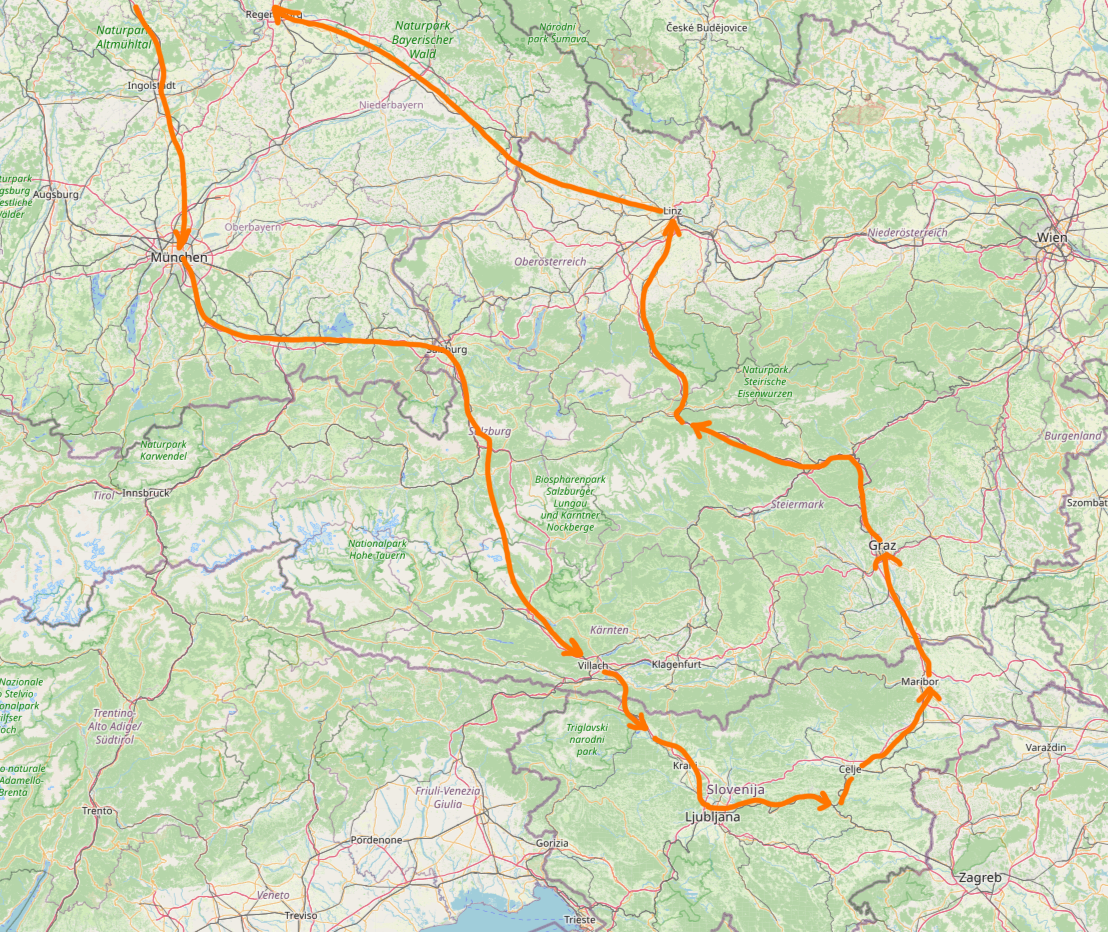 *** Click on each image to see a higher resolution version! ***
The trains, routes and tickets…
Train 1
ICE 707 – Berlin Südkreuz – München Hbf – D. 13:44, A: 18:03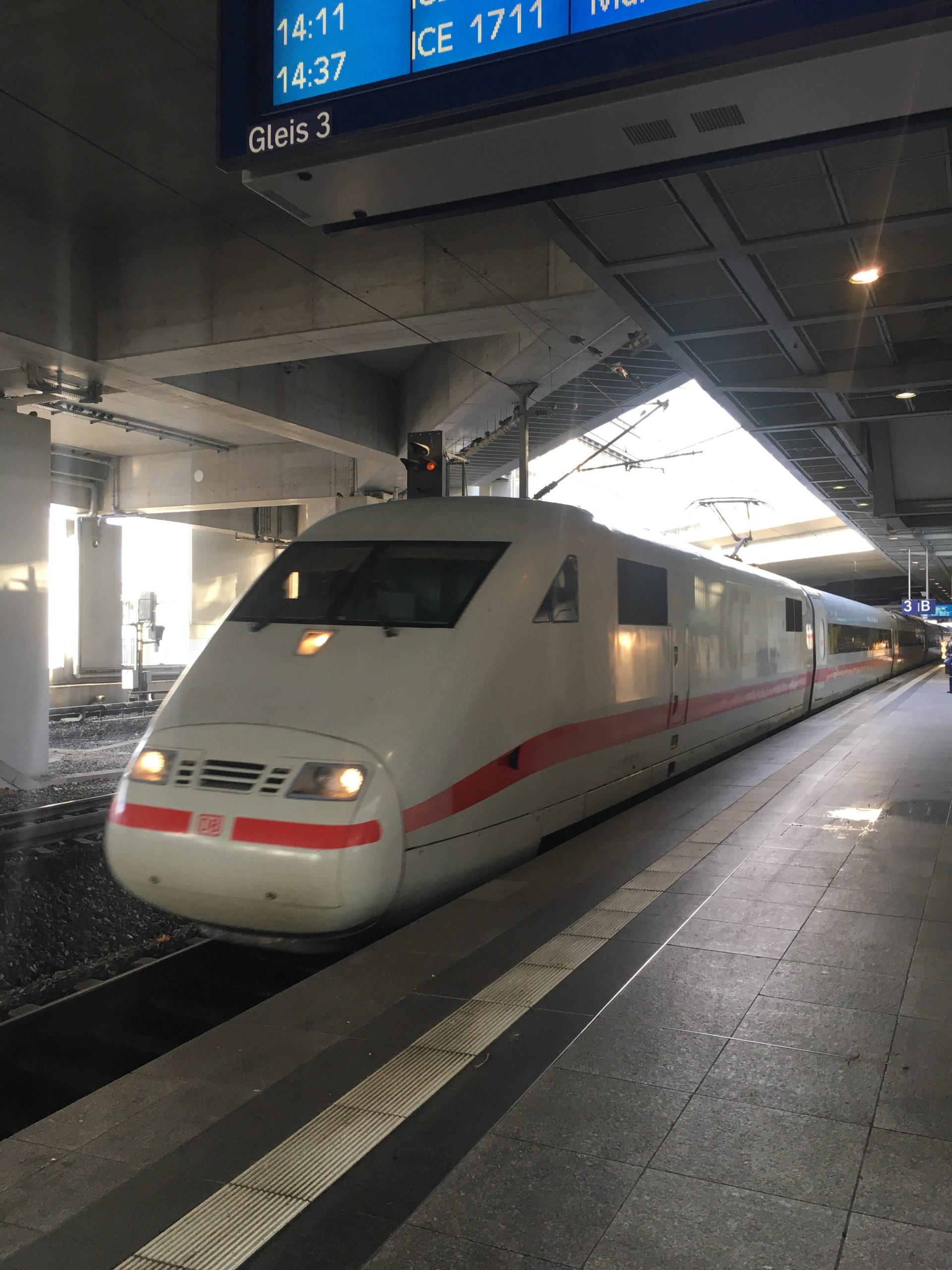 This one was booked together with Train 2 (München Hbf – Villach Hbf) in one ticket – €57,15 single ticket Super Sparpreis with BahnCard 25 First Class, 1st class, Berlin – Villach. Ticket booked 17 November (12 days before departure). Booked on the DB website, online ticket then automatically appears via my account in the DB Navigator App.
This was one of the older ICE1 trains – generally excellent, if a little bumpy and worn these days. These trains are undergoing a renovation, but this was an un-renovated one. The train departed on time, and arrived in München with 3 minutes of delay. About half the seats in 1st class were occupied throughout. ICE trains have wifi, and on this service it worked pretty much perfectly throughout – occasionally in tunnels it cut out. The trains also has a proper Bordrestaurant.
The trip was half in darkness in December, but this is a route I know well, and it is one of the better high speed routes in Germany – the plains of Brandenburg are followed by the rolling hills of Thüringen, then the higher and wooded Thüringer Wald after Erfurt. Bavarian villages and more rolling hills follow after Nürnberg. You can do the trip in 4 hours on the handful of non-stop trains each day, and routing on a ICE via Halle (as mine was) rather than via Leipzig is faster. The route via Leipzig also has a change of direction of the train there.
Train 2
EC 117 – München Hbf – Villach Hbf – D. 18:17, A: 22:43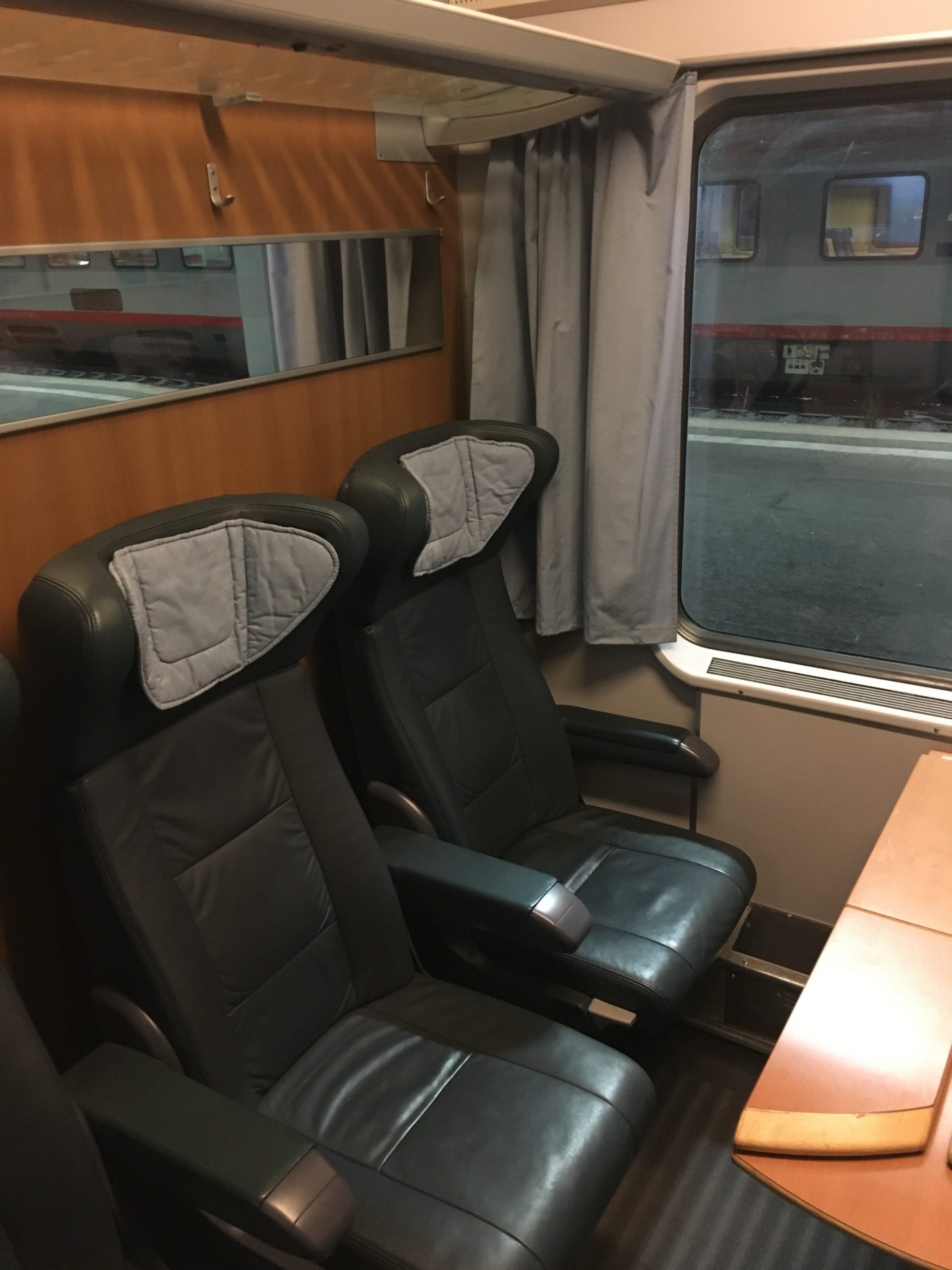 Booked together with Train 1 (see above)
This was the München – Villach portion of the Frankfurt (Main) Hbf – Klagenfurt Hbf service. You can find all the details on the composition of the train on Vagonweb here – it is an old style locomotive-hauled EuroCity, with compartments in first class. The train had wifi, but this did not work well between München and Salzburg, and was generally better after that – probably dependent on the lousy quality of German mobile networks in rural areas! The train has a Bordbistro that serves a more limited range of food than the Bordrestaurant in the ICE.
Due to the lockdown in Austria, and the late hour of arrival in Villach, I was literally the only passenger in my whole carriage for a good part of the trip! Slightly eerie. The train left München 15 minutes late (due to repairs on the track somewhere earlier) and caught up a little, arriving in Villach with 8 minutes of delay.
The route this train takes is one of my favourites (although darkness of course meant I could not appreciate it this time!) – it meanders its way through the hills and pastures of south eastern Bavaria, past the Chiemsee, and then turns south at Salzburg, crossing the Tauernbahn that reaches its highest point close to Bad Gastein at 1226 metres above sea level. For an Alpine route the Tauernbahn is comparatively straight (none of the loops to climb of some Swiss routes) but the views are fabulous – especially from the left of the train when climbing to Bad Gastein, and from the right of the train when descending the other side.
In Villach I stayed at B&B Hotel – it's 10 minutes on foot from the station, you get a code to get you in – after hours there are no staff. It's modern, basic, spotlessly clean, and the wifi works. It's a solid option.
Train 3
D 211 – Villach Hbf – Lesce-Bled – D. 12:53, A. 13:50
Booked on ÖBB's website the day before, €8,70 standard ticket, 2nd class – with RailPlus discount that comes with a BahnCard – is otherwise €10,10. eTicket as a PDF – I showed it to the guard on my phone.
This one is a trip back to the 1970s! Normally this would be composed of 5 carriages, the day I took it there were just 3 – two of them very retro Slovenian Railways with opening windows, and one more modern air conditioned one, today hauled by a leased modern Siemens Vectron locomotive. The trip on the day I took it was picture perfect – bright winter sun and fresh snow. Even without the snow this is a charming route – the pace is leisurely as the train winds along the hills and through small villages. The train has no catering, and continues via Ljubljana and Zagreb to Vinkovci that is on the border of Croatia and Serbia, towards Belgrade.
The problem if Bled is your destination is that the station is not in Bled but in Lesce – 4km from Bled! There is an excellent cycle path for most of the route to Bled – but this was icy in places, especially on the bridge over the Sava. But I was happy to have the bike with me for this part of the trip!
Bled
Bled is charming – there is a small church on an island in the lake, and the high peaks of the Triglav National Park rise on the other side of the lake. Do go! The snow turned to rain, but that made for some atmospheric pictures on a cycle around the lake!
Train 4
D 211 – Lesce-Bled – Zidani Most – D. 13:51, A. 15:41
Booked online on the SŽ website – ticket from Lesce-Bled all the way to Maribor (see Train 5 below) for €13,90 second class. The ticket is a PDF that you are asked to print, but I could not do at my B&B. So I showed this on my phone to the guard on the train who then printed a ticket with the same QR code on it, and stamped it. And then the guard in Train 5 tried to read the QR code from the paper that had been printed in Train 4! Not very efficient, but it worked.
This was the same Vectron-hauled D 211 train I had taken two days before to arrive in Lesce-Bled – on this leg it had 4 retro carriages. And the trip was in pouring rain throughout – that led to some atmospheric view on the cycle ride to the station, and a bike covered in grime! This is a super route – hills and villages and farms all the way to Ljubljana, and then along the Sava for much of the part after Ljubljana (and this continues after Zidani Most – pretty much the whole way to Zagreb!) – indeed this line is one of the best riverside rail routes in Europe – highly recommended. The train departed and arrived on time.
Train 5
S2 20 – Zidani Most – Maribor – D. 15:58, A. 16:58
Booked online as a through ticket together with Train 4.
First I had to find where my train from Zidani Most would depart – there are only 3 platforms, but it is one of the busiest junctions on the Slovenian rail network. Announcements are only in Slovene, timetables do not list platform numbers, and there are no info screens. The station could be charming on a summer day by the Sava though, and there is a café on the platform on Platform 1.
I've often travelled to Slovenia, but until now I have never taken SŽ's premium service – the ICS Pendolino. Honestly, it was not worth the wait. These trains are now 20 years old and are showing their age – everything feels worn and plasticky, and the air conditioning sounded like it had a hole in the pipes. Theoretically there is wifi but it did not work. The train departed a couple of minutes late, and arrived 10 minutes late – but the delay was not announced. There is a café point in the train, but this was closed – I presume due to Corona.
This part of the route is more varied than Ljubljana – Zidani Most (I've done it before in full daylight) – it passes small towns and villages and follows the path of some smaller rivers. It's interesting and scenic, and gives a view into life in Slovenia. Maribor station has been upgraded since I was last there, but it is a rather cold place, with stark and windswept platforms.
Train 6
EC 150 Emona – Maribor – Graz Hbf – D. 18:21, A. 19:20
Booked online with ÖBB – through ticket Maribor – Stadt Rottenmann together with Train 7, €9,90 Sparschiene (cannot be changed or refunded). PDF ticket, showed to guard on my phone screen.
With an hour between my trains I'd have gone for a brief bike tour had the weather been OK – bus as it was driving rain I sought refuge in the bar at Maribor station instead. Then upon returning to the station hall my train was listed as to be departing 7 minutes late. In the end it departed 28 minutes late – and no accouncements were made about this either on screens on the platform or over loudspeakers. And it seems ÖBB cannot get live running information from Slovenia, as any notifications did not appear there either.
The train – when it arrived hauled by an ancient SŽ series 342 locomotive – was a mix of SŽ and ÖBB carriages. I took a seat in one of the air conditioned ÖBB ones. The dining car on this service is legendary, but there was no dining car at all when I was on it – again perhaps due to Corona? The Maribor – Graz trip is pleasant enough (I have done it before in the daytime, it was night time for this trip) – rolling hills and small towns, and then along the plain south of Graz.
But what about my connecting train in Graz? I spoke to the ÖBB Guard and he assured me that even though our train was 28 minutes late, and the connection time only 25 minutes, the connecting service would wait in Graz. Not only that but he explained to me exactly how to do the change of platform in Graz. Now that is service!
Train 7
D 614 – Graz Hbf – Stadt Rottenmann – D. 19:45, A. 21:07
Booked online as a through ticket together with Train 6.
Sure enough the explanations from the guard on Train 6 worked, and I could hop onto my connecting service in Graz which, somewhat peculiarly, was a rather run down ÖBB seres 1142 locomotive hauling 4 SBB (Swiss railways) carriages. For a service within Austria. Not that I was complaining! I'm afraid I cannot tell you much about the route as it was dark and I haven't taken this line for more than 15 years! That's for another day…
But what about Rottenmann / Selzthal? Why the hell would I want to go there in the middle of winter, but outside the winter sports season? The answer was to take the scenic Train 8 (see below), but that required a good bit of searching – to even find a hotel or B&B near Selzthal that was open during lockdown, not least because the first place I had booked had cancelled my booking.
I ended up staying at Vidimo Se, half way between Rottenmann and Selzthal – and totally struck lucky! There is even a cycle lane to get there 4km along the hill from the north western end of Rottenmann station – in the dark with snow falling on the Birdy this was… well… bracing! Vidimo Se is a kind of guest house for truckers and travellers and is a kind of Austrian / Balkan mix. The place was deserted when I arrived, but they cooked me a Käsespätzle with an excellent salad and draught beer which – after the long trip – was just what I needed! Wifi worked and the bed was comfortable, and the people running the place very friendly. It's not deluxe, but it did the job – and I was very grateful for it!
Train 8
REX 3910 – Selzthal – Linz Hbf – D. 13:21, A: 15:04
This one took a bit of working out. My curiosity for rail travel, and the general joy of travelling by train in Austria, meant I wanted to take the Pyhrnbahn route from Selzthal to Linz as part of this trip. But putting Selzthal and Berlin into Deutsche Bahn's booking interface will route you via Salzburg instead – faster, but speed was not my aim here! The trick is to use the "Zwischenhalte" function: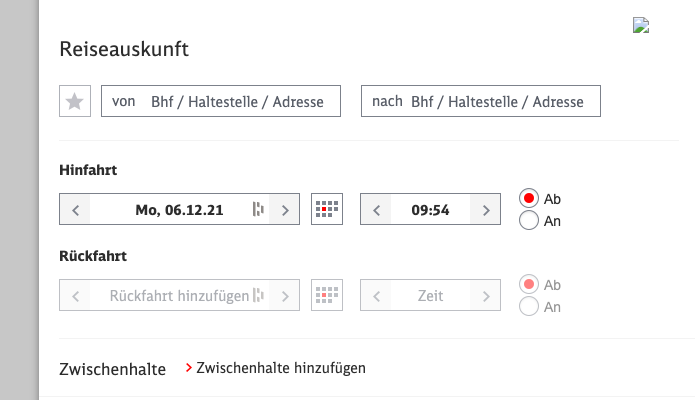 So strictly speaking my booking was Selzthal to Berlin via Klaus an der Pyhrnbahn. I booked this on 17th November – so 16 days ahead of the trip – and paid €47,40 1st class, with a BahnCard 25 1st class. My online booking appears in DB's Navigator app, and guards on Trains 8 and 9 scanned the code in this app.
Selzthal station is a slightly strange place – rather oversized for the small town in which it is located, and an important railway junction. The REX train to Linz was one of ÖBB's older locomotive-hauled regional trains – 4 CityShuttle carriages hauled by a 1144 series locomotive. The Pyhrnbahn on a sunny winter day does not disappoint, and the leisurely speed of the train gives you more time to enjoy the mountain scenery. The line predominantly follows a valley, with mountains to both sides. The stations have a sort of Alpine chalet style. Once you are north of Kirchdorf an der Krems – about the half way point of the line – the scenery suddenly widens and flattens, and you are passing through farmland. The train departed on time, and arrived into Linz Hbf 2 minutes late.
Train 9
ICE 22 – Linz Hbf – Nürnberg Hbf – D. 16:36, A. 19:28
Booked online as a through ticket together with Trains 8 and 10.
With a 90 minute stopover scheduled in Linz, there was time to unpack the Birdy and do a quick tour of the city. The cycle infrastructure strikes me as rather similar to that in Brussels (perhaps a strange comparison!) – lots of seemingly clever cycle paths, and routes the wrong way along one way streets, but cycling there still feels like you're in a very car dominated city. The last rays of winter sun at the Danube, and the elegant arches of the Neue Eisenbahnbrücke were worth the excursion.
Linz station is not as charming as some other ÖBB stations, but everything works and is impeccably tidy, and there is a large supermarket on the lower level – handy to stock up on food for the trip ahead. The DB ICE train to Dortmund Hbf (that would take me as far as Nürnberg Hbf) arrived on time… but inside things started to go wrong. This line is served by ICE T trains, and these are now showing their age. The one I was on had at least 3 broken toilets (I didn't walk far enough through the train to find a working one!), a broken PA system, and no wifi. The seats in the mini compartments in first class are comfortable though, and the train also did get to Nürnberg Hbf on time.
Train 10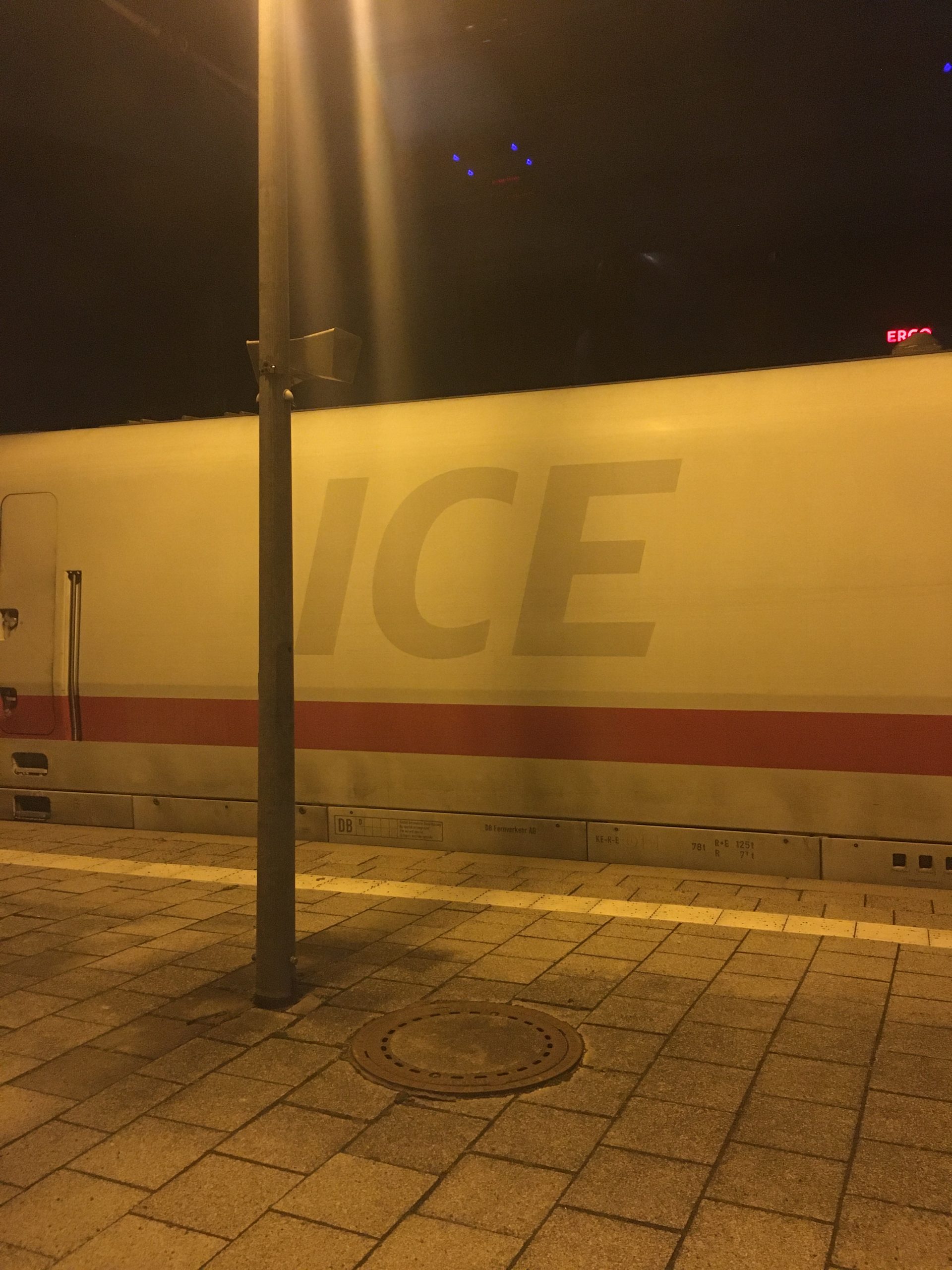 ICE 1700 – Nürnberg Hbf – Berlin Südkreuz – D. 19:48, A. 00:23
Booked online as a through ticket together with Trains 8 and 9.
Nürnberg Hbf. My next train – a further ICE T – arrives at a different platform to the one scheduled, but DB's Navigator informs me of this, so I am at the right place in good time. But then the problems start to mount… It turns out that the ICE service was meant to be composed of two ICE trains that are to be coupled together in Nürnberg and the second unit is late. Then when it gets to Nürnberg it cannot be coupled with the first unit, because there is some sort of technical problem. By the time the decision is taken to leave for Berlin with just 1 unit rather than 2, we are 50 minutes late. That the train is empty thanks to Corona makes this more easily possible I suppose.
Nürnberg – Berlin normally takes between 3 hours and 3 hours 30 minutes, but due to engineering works near Bamberg a diversion – via Würzburg and Fulda – is timetabled, making the trip close to 5 hours… and then with a delay on top. And on top of all of that, the train has some doors that won't open, and the electric socket at my seat is not working either.
One thing that does work however is the Komfort Check In system – that if I am sitting in my reserved seat I can check myself in through DB's Navigator app, and hence not be disturbed by the guard later in my trip.
When I finally get to Südkreuz at just after 01:00, I then walk up to the S-Bahn platforms… and witness a fight on the platform, where one guy head-butts another one. So my trip ends with me calling the police, although the fight dissipates before anyone arrives. Of all of the 10 legs of the trip, I managed to save the worst for last!