For a long time all my analysis of railway policy was bundled in with the rest of the things I have written over the years about other topics – Brexit, EU politics, UK politics and technology. But as I want to work more on railway issues, and develop campaigns and analysis on that topic, that was confusing for the people who follow what I do. Is he an EU guy? A railway person? A comms person?
So as of today, this website – jonworth.eu – will only be dedicated to my writing about transport. There will be four main sections. Analysis will be for the well thought out pieces. Quick takes are quick thoughts and first reactions to the news – here I will aim to give a reaction to breaking news, with the aim of correcting misconceptions before they get traction. Guides are where I explain things – how to book complicated trips, or how to attempt things like the World's Longest Train Journey. In the media will list when I am quoted somewhere else, or appear on someone's podcast.
As the site develops, Themes will become more important. Some – like Schengen and #CrossBorderRail – I know already. Others will develop as the topics I cover develop in the coming months and years.
In terms of social media, I am now mainly using Mastodon, and with a lesser role for LinkedIn and Flickr. The design of the site reflects that. And as ever all the content is Creative Commons Licensed.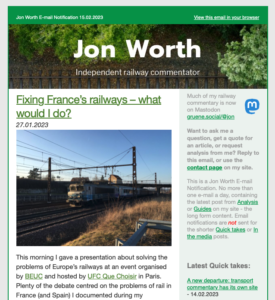 The newsletter tool was re-established on 15 February, and as before will automatically send latest posts using Mailchimp. Every time there is a new Analysis or Guides post the email notification will be triggered. The newsletter template has been updated and improved – screenshot shown here.
A German language and maybe also a French version of this site will eventually be added. I will fix all of these gremlins in due course. All the non-transport content has been migrated to euroblog.jonworth.eu, with redirections for individual posts. Project sites Trains for Europe, #CrossBorderRail, and Open Letter Trains to Kaunas are retained for now.